Where To Revel In the Magic Of The Christmas Week
From an outdoor cinema under a canopy of stars to dancing at the beach or indulgent fine dining
Update: 18 December 2019
Cape Town is a melting pot of people, cultures and religions, with so many different ways to celebrate the festivities around 24, 25, and 26 December. Some people get out of the city for the holidays, others go to the beach or spend time with family and friends. But even if you don't celebrate Christmas, there are plenty of reasons to enjoy a festive week of activities that culminates in the Day of Goodwill (26 December) - a day when many South Africans donate to the less fortunate. Here is our list of top ways to spend these fun and festive public holidays.
SOULFUL EATS AND LIVE MUSIC IN DE WATERKANT
The Piano Bar, tucked away among the cobbled streets of Cape Town's colourful De Waterkant neighbourhood, is offering a soulful festive menu plus live music. The menu includes a selection of tapas, salads, special meals, and desserts. A highlight is the fillet medallions towered on a crispy rösti, with leeks and mushroom ragout, grilled courgettes, balsamic-glazed roasted cherry tomatoes served with a jus. The lineup includes Mizz D & Friends, Luke Townsend & Friends, and Aston Wylie who will be performing everything from fresh, cool jazz to funk at The Piano Bar.
Price: R85 cover charge and food according to menu (R50–250)
Date and time: 24, 25, 26 December, 12 noon – 10pm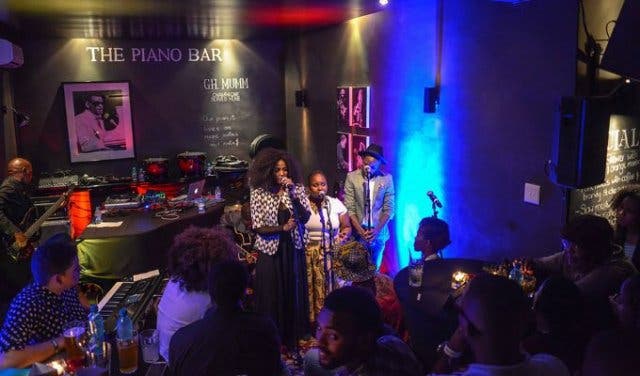 47 Napier Street, De Waterkant, bookings@thepianobar.co.za, +27 (0)21 007 5212, The Piano Bar website
A LEISURELY LUNCH ON THE BEACH
Dutchies is a restaurant a stone's throw from the Blue Flag Grotto Beach in Voelklip, five minutes' drive outside Hermanus. The Christmas menu spoils guests with an apértif of beetroot and cilantro gazpacho, and a choice of three starters: braised oxtail ravioli with parsnip purée, sautéed baby spinach and oxtail jus, and a prawn cocktail entrée. Choose from three options for mains; a highlight is the beef prepared three ways with cauliflower, swiss chard, and ravigote sauce. Dessert options include stewed pear served with winter berry coulis and strawberry ice cream. After a great meal, take a long stroll on Grotto Beach.
Price: R695 including gratuity (half-price for kids)
Date and time: 25 December from 12pm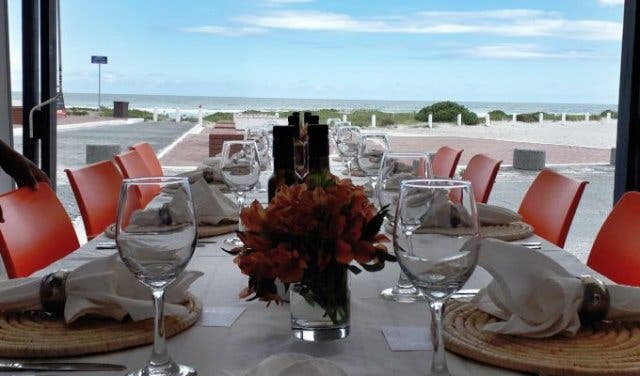 Grotto Street, Grotto Beach, Hermanus, +27(0)28 314 1392, Dutchies website
DINE OVERLOOKING THE STELLENBOSCH VALLEY
Celebrate with family and friends at Jordan Wine Estate's restaurant, The Bakery. A three-course lunch will be served on the deck, overlooking the exquisite Stellenbosch valley. The festive feast kicks off with Chef Thys's popular starter for sharing with the whole table: wood-fired garlic bread with mozzarella and herbs, served with Egyptian dukkah and a sweet soy chicken paté. Lunch puts the spotlight on sticky pork loin cutlets with pickled watermelon, caramelised cashews, and pepper salsa; there is also a lamb option. The cherry on top is the Amarula panna cotta with fudge and peppermint-chocolate topping, served with caramelized pears. Everyone can enjoy the feast: there's pizza and ice cream sandwiches for the kids this Christmas Day at Jordan Wine Estate.
Price: R150–R525 including gratuity book online
Date and time: 25 December, lunch time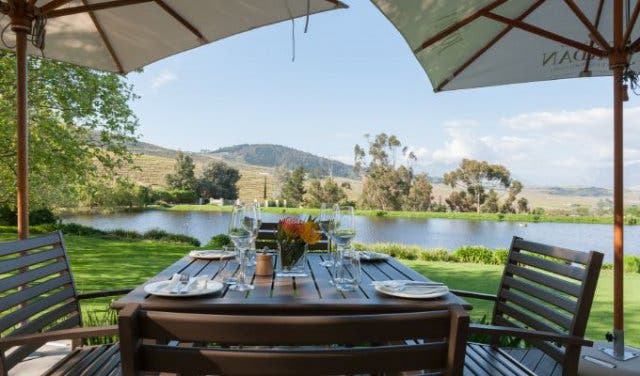 Jordan Wine Estate, Stellenbosch Kloof Road, Vlottenberg, Stellenbosch, info@jordanwines.com, +27 (0)21 881 3441, Jordan Wine Estate website
A DELICIOUS CHRISTMAS ROAD TRIP TO SWELLENDAM
The rustic Rotterdam Boutique Hotel in Swellendam is an incredible location for a weekend getaway, or a wedding. This is where chef Josh Conradie (2014 finalist of kykNET's popular cooking show Kokkedoor) makes country-style food to complement the rustic setting of lush grounds, towering oak trees and mountains views. Visit for a delicious Christmas lunch at the Rotterdam Restaurant. The menu includes a selection of hot and cold starters, and a hot buffet including glazed gammon with caramelised apples, roast beef rump with red wine jus, and plenty more. Choose from black forest Christmas trifle, malva pudding, and pavlova for a sweet ending at Rotterdam Boutique Hotel.
Price: R295, reservations essential
Date and time: 25 December, 1pm–3pm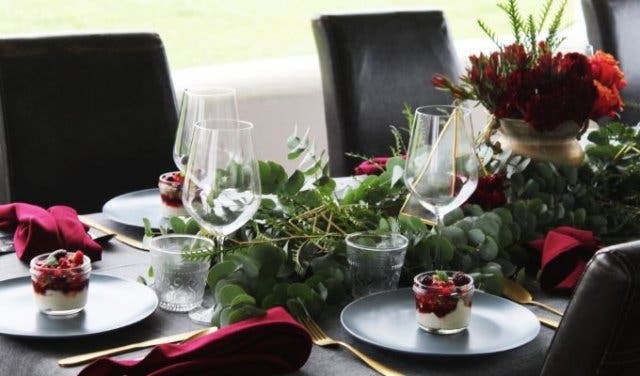 Rotterdam Boutique Hotel, Olivedale Rd, Buffeljags River Swellendam, +27(0)82 671 3548, chef@therotterdam.co.za, Rotterdam website
OMMM IN RED AND GREEN ON THE BEACH
Downward dog a stone's throw from the ocean with instructor Tammy Sullivan. Let the sound of the waves remind to breathe deeply because breath is, after all, one of the most important elements of your yoga practice. Calm your mind, celebrate Christmas Eve sunset, and set your intentions for a blessed festive season. There's no need to book; just bring along a yoga mat, towel or sarong. Wear anything that you can do yoga in that's red or green, wear a Christmas hat or anything Christmassy to celebrate at The Om Revolution outdoor yoga.
Price: R50 (Cash/SnapScan/MyPay)
Date and time: 24 December at 6:15 pm


Clifton 3rd Beach, yoga@theomrevolution.co.za, +27(0)63 868 0899, website
LUNCH WITH LAGOON, MOUNTAIN AND SEA VIEWS
Kick back and relax in Walker Bay as you indulge in a lunch experience with lagoon mountain and sea views. Executive Chef Annie Badenhorst has crafted a delectable menu with locally sourced ingredients. Start with a platter of cold meats and cheeses, breads, pâtés and canapés. Move on to a salad of dried pears, pickled apple, candy walnuts, Cremona blue and pancetta. The star of the show is slow-braised pork belly, crispy squid, ham hock pearl barley risotto, glazed baby carrots and charred cabbage. End sweetly with Benguela Christmas trifle consisting of layers of cuvée jelly, panna cotta, red velvet cake and coconut. Your booking includes a welcome drink upon arrival and Christmas crackers. There are two sittings to choose from for Christmas lunch at Benguela Cove.
Price: R600 (bookings essential)
Date and time: Christmas Day at either 11am or 1pm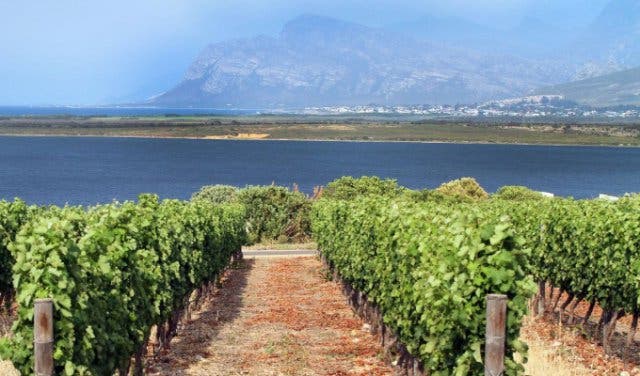 R43 Walker Bay, Hermanus, dine@benguelacove.co.za, +27(0)87 357 0637, website
EAT WELL AT THE BUFFET AND SOAK UP THE CITY
Overlooking the bustling Greenmarket Square, this heritage site's O'taste restaurant offers a great dining experience, and the hotel is within walking distance of the city centre. On Christmas eve, tuck into a buffet dinner with all the trimmings. Make your way from starters such as grilled Mediterranean vegetable salad and olive and basil pesto blackened chicken salad to smoked Mozzarella, black forest ham, Italian salami from the charcuterie. Follow with orange and honey-glazed gammon with grilled pineapple chutney at the carvery and Hasselback potatoes or lamb curry with röti and sambals. Save space for blueberry cheesecake and Christmas mince pies. Enjoy being in the heart of the city and all its gems at ONOMO Hotel Cape Town.
Price: R295 (bookings advised)
Date and time: 24 December, from 6pm/6:30pm onwards


10 Greenmarket Square, City Centre, +27 (0)21 423 2050, website
A MILLION-STAR FESTIVE CINEMA
Christmas special screening
Recline on a luxurious lawn in front of a giant inflatable screen as you catch the special Christmas screening of How The Grinch Stole Christmas at The Galileo Open Air Cinema. In this children's tale by Dr. Seuss, the Grinch (Jim Carrey) decides to ruin Christmas for everyone in Whoville. But as luck and Cindy Lou Who (Taylor Momsen) would have it, he struggles to unleash his evil plans on the happy residents.
Price: R190 (includes entry, backrest, blanket, festive decor, Santa hat and candy cane)
Date and time: 25 December, 8:30 pm
Day of Goodwill screening
In keeping with the goodwill theme, watch Kevin McCallister (Macaulay Culkin) stops bandits from robbing an elderly man's toy store just before Christmas in Home Alone 2. In this fun and festive sequel, Kevin is once again "home alone" after he catches the wrong flight and ends up alone in New York. Get lost in Kevin's crazy world at the Galileo open-air cinema.
Price: From R109pp
Date and time: 26 December, 8:30 pm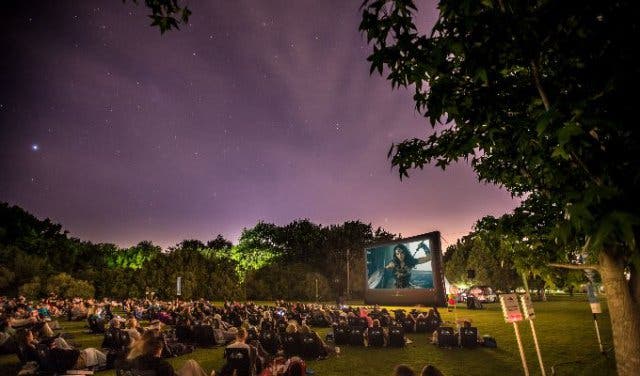 Kirstenbosch Gardens and various other venues, +27 (0)71 471 8728, hello@thegalileo.co.za, website
INDULGENT DINNERS AND WINE PAIRINGS
One Ingredient Christmas edition
Chef Matt Manning is pulling out all the stops as he showcases one star ingredient over five courses in this intimate One Ingredient dining experience. In keeping with the festive season, the chef will honour some of the nostalgic foods that are traditionally served at Christmas time, but with an elegant twist. Partnering wine farms include Luddite and Genevieve MCC, so expect to find the likes of Luddite's Saboteur White, Saboteur Red and Shiraz as well as Genevieve 2015 and Genevieve Zero Dosage 2015 being served.
Price: R750pp (includes five-course menu and wine pairing) Only 20 spots available per event. Booking is essential.
Date and time: 5 December
Christmas Eve
Join the bustle of patrons oohing and aahing over their five-course dinner delights at trendy Bree Street eatery, Grub & Vine. Luckily, you won't have to do the dishes after this indulgent Christmas Eve dinner. The menu (yet to be released) will offer a contemporary and elegant take on Christmas classics. It's fine dining with a social twist as Chef Matt Manning brings his London training, event experience and passion for social dining experiences to his kitchen and your table. Make a toast with your complimentary glass of bubbly at Grub & Vine.
Price: R750–R1200
Date and time: 24 December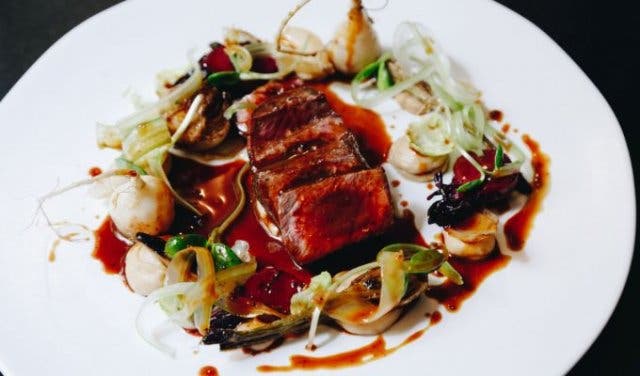 Grub & Vine and The Chef's Studio, 103 Bree Street, info@mattmanningchef.com, +27(0)87 898 2207, website
AFFORDABLE LUNCH GREAT FOR GROUPS
Enjoy a German/South African fusion feast at Beerhouse, with its curated library of over 25 taps and 99 bottles of local and international beer. Beerhouse is offering an affordable lunch option, which is perfect for groups of friends who want to share Christmas lunch together. The two-course meal includes smoked eisbein, roast potatoes, cauliflower, roasted butternut, gravy, and white sauce, followed by a sweet ending of malva pudding. Bookings are required to enjoy the festivities at the Beerhouse on Long.
Price: R175
Date and time: 25 December from 12 noon


223 Long Street, onlong@beerhouse.co.za, +27(0)21 424 3370, website
VEGAN FEAST WITH A BEET
Join a vegan and vegetarian feast celebrating fresh local produce with a festive twist, at the Oui Bar at Radisson Red. Picture a harvest table laden with a meat-free mushroom Wellington or squash and chestnut Wellington; broccoli and blue cheese soufflé, and a creamy root vegetable and chickpea crumble. Desserts include brandy Christmas pudding, Coco No 5 coconut pancetta with a blueberry coulis and shaved coconut, and more. The feast includes crackers, Santa hats and a RED Christmas surprise.
Price: R400 (children aged 5–12: R150 per person, under 5: free)
Date and time: 25 December, 12:30 pm – 4 pm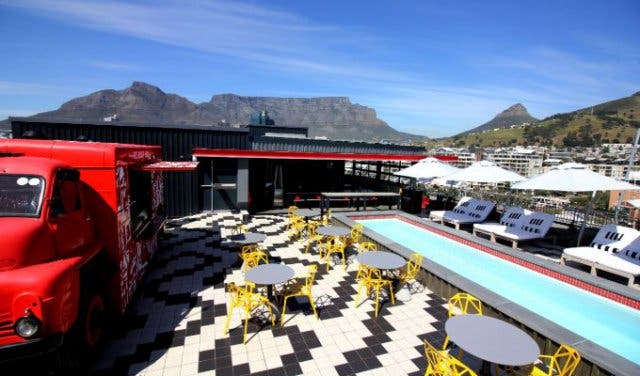 Radisson RED, Silo 6, Silo Square, V&A Waterfront, +27(0)87 086 1578, baxter@radissonred.com
THE SOUNDS OF SUMMER
Mixing African rhythms and melodies with South African house, Goldfish is bringing their explosive live performance to Shimmy Beach Club. The Goldfish duo, Dominic Peters and David Poole, are back from their 2019 global tour to take up residency at Shimmy Beach Club for their Summer tour, Submerged. The event offers feel-good sounds, festival-style food, ocean and mountain views, and more, at Shimmy Beach Club.
Price: R150–R300 (VIP grants you access via a separate entrance to the VIP lounge area with VIP toilets, waiter service and unreserved seating) book online
Date and time: 26 December, 5pm until 2 am the next morning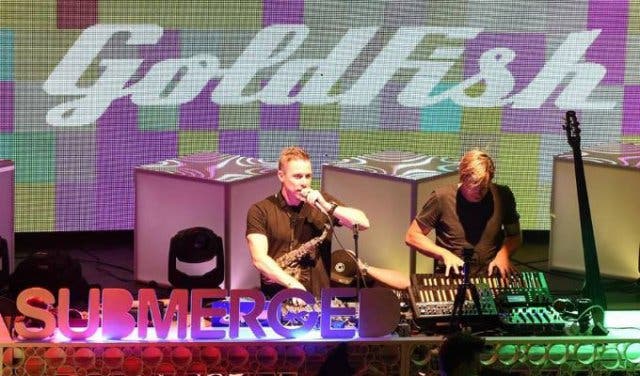 12 South Arm Rd, V&A Waterfront, shimmybeachclub.com, +27(0)21 200 7778, website
A JUMP TO THE LEFT AND A STEP TO THE RIGHT
Audience participation is the name of the game, at this slick local production of Richard O' Brien's 1973 cult classic, The Rocky Horror Show. It doesn't take long before the audience is grooving in their seats to musical hits such as "Sweet Transvestite," "Science Fiction/Double Feature," "Dammit Janet," "The Time-Warp," and more. Directed by Christopher Luscombe and featuring a talented South African cast, this popular production brings all its greatest hits and most outrageous outfits to the local stage. The show is a fantastical combination of science-fiction, horror, comedy, music and audience participation. So getting dressed up in fancy dress is not only allowed but actively encouraged.
Price: R100–R450
Date and time: 24, 25, 26 December, 8pm (sold out on 25 and 26 December)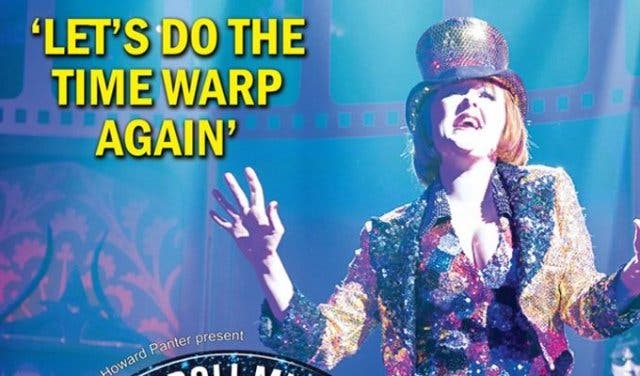 Artscape Theatre Centre, DF Malan Street, +27(0)21 438 3300, mail@theatreonthebay.co.za, website
BLUES, MOUNTAIN VIEWS AND SUPPORTING THE ELDERLY
Lay out a picnic blanket in view of the magnificent mountains of the Witzenberg Valley in Tulbagh for a day of blues and rock music. The Boxing Day Blues Bash is an annual event and this year it features the Gerald Clark Trio, BlackWater SA (Jhb), The Blues Broers, Albert Frost, Doc John Mostert (lead vocalist for Boulevard Blues), Steve Walsh, and more. Bring a picnic or support the stalls selling food, beer, soft drinks and wine. In keeping with the spirit of the day (of goodwill), guests are encouraged to bring gifts and bric-a-brac for the local retirement home, Huis Disa ACVV (Afrikaner Christian Women's Movement).
Price: R160 (children under 15 enter for free) tickets
Date and time: 26 December, gates: 1pm, music: 3pm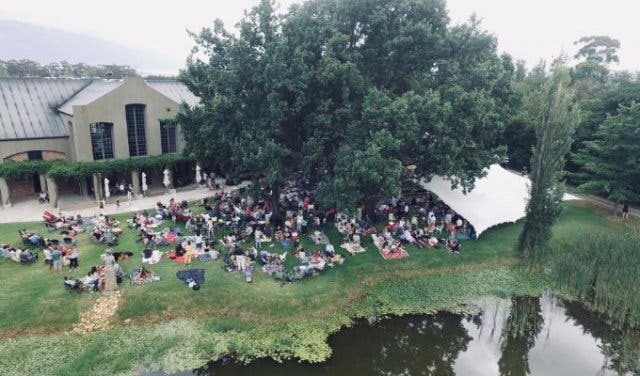 Saronsberg Cellar, Waveren Road, Tulbagh, Western Cape, +27(0)82 577 7711, maggie.nagel@gmail.com
KARAOKE AND HALF-PRICE PIZZA
Grab the mic to be part of karaoke night in Kalk Bay. The first people to sign up will get a shot of complementary "liquid courage" as two bottles are set aside as shooters on the night. You can also get any pizza for half price from 7 pm to 9 pm. Plus, there's happy hour and some all-night drinks specials too.
Price: R20 entrance fee
Date and time: 26 December, 7 pm
Brass Bell Restaurant & Bikini Bar, Main Road, Kalk Bay, +27(0)21 788 5455, info@brassbell.co.za
BUFFET ON THE LAWNS
The Lawns is part of the historic property that once housed the guardhouse at the foot of Table Mountain. Nowadays The Lawns is a place where soirées of all sorts are hosted on the grassy lawns or decked areas. It's the perfect place to enjoy a buffet-style lunch over the festive season. The food itself is worth celebrating. For mains, go wild with honey-glazed gammon, confit pineapple, and brandy raisins; deboned sage-roasted turkey, cranberry and pistachio filling; slow-roasted lamb ballotine with mint and rosemary jus; beetroot and coffee marinated-beef; pan-roasted chicken breast, orange and black cherries; and grilled linefish, fennel bulb ragout and saffron crème, and more.
Price: R595pp (R295 for children)
Date and time: 25 December, 12 noon – 6pm


The Lawns, Roundhouse Road, Camps Bay, Cape Town, +27(0)21 438 4347, info@thelawnsct.co.za
---
Customise private yoga classes or ask an instructor to come to your workplace with The Om Revolution yoga. The group classes are weather dependent and you can get the latest schedule online for outdoor yoga in Cape Town.
Quirky, sexy, cool last-minute Christmas gifts.
From the party of the year to Ibiza-style bashes at New Year's Eve 2019/2020.
First options announced: Ideas to pitch to your boss for your function or end-of-year party.
Looking for the perfect Christmas gift? Find something unique at these Christmas markets.
If you're really stuck for gift ideas, why not take a look at our big summer gift guide and our top ideas for local and fun gifts and experiences on our Festive Christmas gift guide.
Don't waste a minute of the summer – here's a list of stuff to do this December.

---
Use our events section for an up-to-date overview of what's happening in the city, suburbs and dorpies. Join our newsletter and add us to your mobile home screen for the ultimate guide to discoveries in Cape Town.
Follow and like us on Twitter ❤ Facebook ❤ LinkedIn ❤ Instagram ❤ Pinterest for updates.