Heavy rains in store for Cape Town
Dams supplying Cape Town are 55.1% full and that number is expected to rise
Latest update: 5 June 2020
The first few rainy winter days have boosted dam levels across the Western Cape, and it looks like we're in for even more. According to reports from 1 June, the City of Cape Town dams have reached 55.1% capacity. The Theewaterskloof Dam level increased 4% over the past week, contributing to the dams supplying the City of Cape Town standing at 55.1% full.
HEAVY RAINS ARE EXPECTED TO START ON WEDNESDAY
Although Cape Town has recently seen some drizzly days the rains are expected to hit full force on Wednesday, 10 June. The high of 21 degrees on Tuesday, 9 June will drop to a cloudy and cooler 16 degrees on Wednesday, 10 June. Cape Town can expect thunderstorms in the morning with rain throughout the afternoon. Heavy rains will continue into Thursday morning, with strong winds in the afternoon.
5 JUNE 2020: CAPE TOWN MAJOR DAM LEVELS AT 55.1%
The latest update from the City of Cape Town shows that the total level of the major dams is at 55.1%, up 2,1% from last week's level, compared to dam levels of 46,4% at the same time last year.
| | | | |
| --- | --- | --- | --- |
| Major dams | 1/6/2020 | Previous week | % 2019 |
| Berg River | 69,6 | 65,1 | 70,7 |
| Steenbras Lower | 47,7 | 46,5 | 39,5 |
| Steenbras Upper | 97,1 | 96,3 | 64,6 |
| Theewaterskloof | 52,0 | 49,9 | 36,8 |
| Voelvlei | 50,8 | 49,7 | 55,0 |
| Wemmershoek | 42,2 | 41,2 | 40,9 |
| Total Stored MI | 494,978 | 476,026 | 416,746 |
| % Storage | 55,1 | 53,0 | 46,4 |
Source: City of Cape Town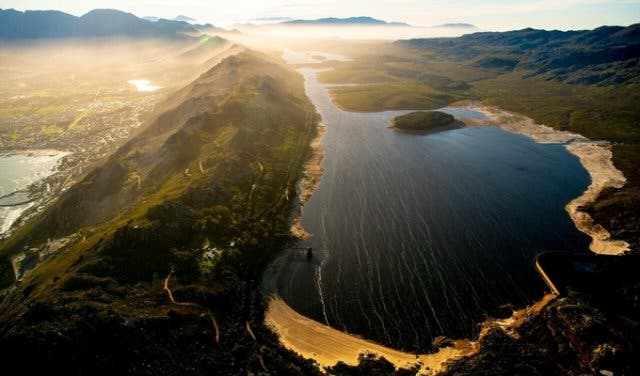 Steenbras Dam, 30 June 2018. Craig Kolesky / CapeTownMagazine.com
CAPE TOWN: LEVEL 3 WATER RESTRICTIONS
Cape Town is currently in level 1 water restrictions. You are allowed to water your garden between 5pm and 7pm every day, you can use handheld hose pipes between 4pm and 9am and you can top up your swimming pools.
THE VIDEO THAT GOT THE WORD OUT TO THE WORLD THINGS WERE GETTING BETTER
At the end of June 2018, after heavy rainfalls, we decided to go and see the levels of the dams for ourselves. After the horror images of a near-empty Theewaterskloof went all over the world it was important to see things looking up to some extent.
The footage was shared by hundreds of hospitality industry, thousands of readers worldwide – as well as featured on CNN. It reached over 600 000 people globally within the first 5 days.
THE BACKGROUND TO CAPE TOWN'S WATER SITUATION
In 2018 Cape Town came close to becoming the first major city in the world to run out of drinking water. However, Capetonians pulled through. We took two-minute showers instead of baths, we used "grey" water to flush our toilets and we only flushed when necessary. Those who could afford to buy water tanks did so and saved the rainwater off their roofs while the hospitality industry invested in water re-usage systems and the government installed desalination plants.
Cape Town has come a long way and is used as a water success story all over the world. We've learnt from our past and we've adjusted our future. Today, our dam levels are up, we can irrigate our gardens, wash our cars and have 3-minute showers because Cape Town pulled through together.
---
Find out the 6 innovative ways Capetonians are saving water.
Here are just a handful of reasons why we love Cape Town weather.
There is a lot you can do with just 87 litres of water.
---
Use our events section for an up-to-date overview of what's happening in the city, suburbs and dorpies. Join our newsletter and add us to your mobile home screen for the ultimate guide to discoveries in Cape Town.
Follow and like us on Twitter ❤ Facebook ❤ LinkedIn ❤ Instagram ❤ Pinterest for updates.