Looking for a Co-working Cafe with Better Perks?
Breakfasts, braais and buffets: Cartel Co-working Cafe serves up a variety of meals in an ideal setting near the Waterfront
Workers on the go, like entrepreneurs, thrive in co-working spaces. The Cartel Co-working Cafe at the refurbished Old Foundry building in Green Point gives power-launchers speed, efficiency and hearty meals. And unlike an ordinary coffee shop, Cartel Co-working Cafe is also buzzing with go-getters and good food. Plus, get a day pass or become a member to receive access to the lightning-fast wi-fi, boardrooms and a host of other features.


THE SETTING'S RIGHT
Cartel Co-working Cafe sits inside the handsomely decorated Ideas Cartel, at the refurbished Old Foundry building in Green Point, where modern architecture meets distinctive industrial design. The cafe is open to the public and is an integral part of Ideas Cartel, the unique office environment that offers some of the coolest luxury meeting spaces and co-working office solutions in Cape Town.
YOU CAN WORK AND CHILL
Cafe co-owner Roland Ncube says the location is ideal because the Foundry is a lot quieter than the city centre, and the V&A Waterfront is right down the road. "It's also more of a chill office," he adds of their cosy nook under the staircase. He is not wrong. Music plays gently in the background, and the array of plants scattered around the spacious building make you feel at peace. You will probably spot a vintage knick-knack here and there. This isn't your average space, because in which other cafe can you work at a king-size table beneath a towering bookshelf and antique light fixtures?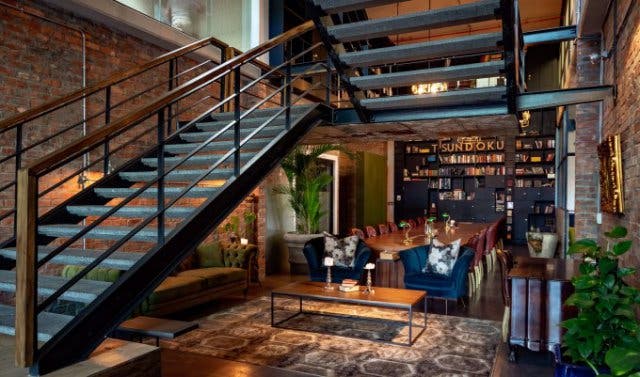 SOLID BREAKFASTS AND POWER LUNCHES
Coffees are from R20 and breakfasts start at R45, from eggs on toast to their fruity health bowl and gym buddy (avo on toast with two boiled eggs). At lunch for R35, you can snack on a grilled cheese sandwich layered with cheddar and mozzarella, or enjoy a toasted BLT. Wednesday and Thursday buffets and the Friday Grill are the days to diarise for power lunches.


DRINKS WITH A DIFFERENCE
Coffee? Of course, but also speciality teas. Give the Enmasse Cleansing Detox or Devil's Advocate herbal teas a try. Or their Black Boost with activated charcoal, lemon, ginger and apple. It's meant to aid your liver and digestive health. Otherwise, grab a coffee from R20. The kitchen is open between 8am and 3:30pm.
PLUS: SUPER-FLEXIBLE OFFICE AND CO-WORKING SOLUTIONS
Ideas Cartel is all about creating unique and stylish office, meeting and event spaces in Cape Town. With various established locations around the city (yes, members have access to all the locations), it provides a host of office solutions that are ideal for entrepreneurs, startups and established businesses alike.
A hot desk in one of the swanky co-working areas comes with lightning-fast internet, a business address and access to boardrooms. Day passes are also available at R350 per day, including 3 GB of data. You just have to pay for any additional internet data you may need (at greatly reduced rates) and for the use of a boardroom should you need one. Ask them for a quick tour if you're not sure where to start.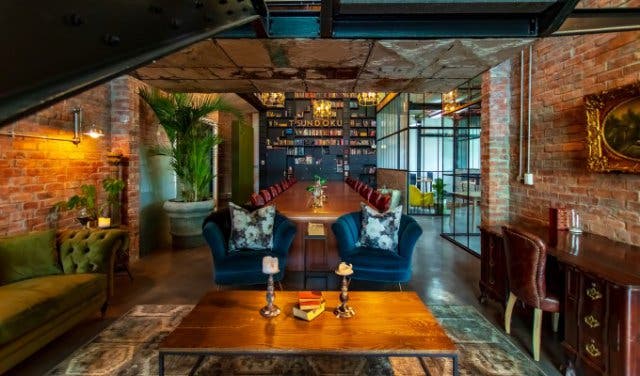 Tip: Secure a really sweet deal by purchasing a membership for R4000 per month. It gets you a fully serviced co-working desk (with all the bells and whistles) plus unlimited access to all the lifestyle features like the gym and rooftop, as well as discounted rates at the in-house coffee bar, barber and tailor. Plus, you can order coffee, food or book a boardroom quickly and easily via the in-house app.
Also, check out Ideas Cartel's other locations:
CARTEL HOUSE ON LOOP STREET

113 Loop Street | +27 (0)21 824 1781 | innercity@ideascartel.com
WATERKANT STREET IN THE FORESHORE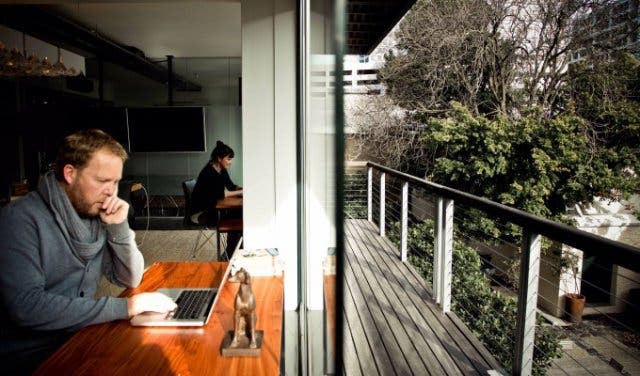 71 Waterkant Street | +27 (0)21 824 1781 | innercity@ideascartel.com
---
Cartel Coworking Cafe at the Old Foundry
Address: 16 Ebenezer Road, Green Point, Cape Town, 8001
Tel: +27 (0)21 824 1781
E-mail: innercity@ideascartel.com
---
Read more about Cartel Coworking Cafe's midweek buffet or their Friday grill.
This is why you should choose the Ideas Cartel for meetings and office spaces in Cape Town.
Looking for something to do after your Friday feast? Then check out these nightclubs and bars in Cape Town.
---
ABOUT #CapeTownMagNew:
#CapeTownMagNew discovers exciting new places in and around Cape Town and the Western Cape. We celebrate entrepreneurship and we tell their unique stories.
Follow #CapeTownMagNew on Twitter and Facebook for the latest updates or read more here about new places in Cape Town.
---
Use our events section for an up-to-date overview of what's happening in the city, suburbs and dorpies. Join our newsletter and add us to your mobile home screen for the ultimate guide to discoveries in Cape Town.
Follow and like us on Twitter ❤ Facebook ❤ LinkedIn ❤ Instagram ❤ Pinterest for updates.
---