Trendiest Places in Cape Town
Restaurants and bars trendier than a hash tag
Last Update: 8 June 2017
Drape your Missibaba handbag securely over your shoulders and adjust those haute couture glasses. There's no room for fashion faux pas during this tour of Cape Town's chic.
Looking for NEW?
Looking for any and everything new? From restaurants to kids experiences and from new shops to new bars: Find it in our updated selection of the best and most unique new places and eateries in Cape Town.
THE MOST STYLISH OF THEM ALL
Nestled in the vibey area of De Waterkant, you'll find the Cape Quarter Lifestyle Village. With high ceilings and a European-feel, this centre is the epitome of trendy. Walk in through the large arch way and feel as though you've been transported to to a stylish remote shoppers paradise. You'll find a wide variety of boutique retailers selling everything from baby couture to unusually flavoured macaroons. Enjoy an indulgent brunch at one of the restaurants on The Square, an open central courtyard-like area that allows its various eateries and shops to spill over onto its cobbled floor.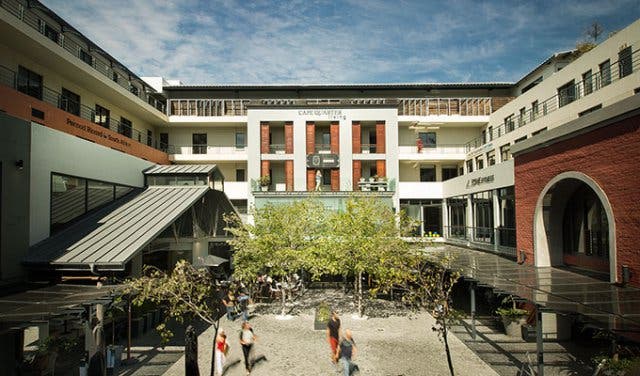 27 Somerset Rd | Green Point | Cape Town | info@capequarter.co.za | 021 421 1111
Arcade
Old school style mixed with contemporary vibes is what you will find at Arcade. It is a chilled hangout spot, which often turns into a bit of party at night, especially on weekends. Arcade is best known for its First Thursday events, which takes place on the first Thursday of every month. They offer a wide variety of good food, including burgers such as the 200 gram organic free-range beef on a sesame seed brioche bun, and pizzas, which includes their Pink Flamingo and Margherita pizza. Favourites on their drinks menu are tequila and whisky sours.

152 Bree Street | City Centre | +27 (0)60 861 0511
The Gin Bar and Honest Chocolate
This hidden Gin Bar oozes quality over quantity. The bar menu consists of a variety of Gin cocktails made locally and internationally. Gin enthusiasts are able to choose their own tonics. Their gin is extremely pleasing and wonderfully tasty and will have you coming back for more. Honest chocolate, situated at the front entrance of the hidden Gin Bar, offers handmade chocolate made from unroasted organic Ecuadorian cacao. It contains no dairy, processed sugar or artificial flavouring. Why not try their mouth-watering truffles, brownies or spiced nut and salted caramel dark chocolate ganache? Feel free to pair it up with a Gin cocktail and voilà you have a winning combination.

219 Bree Street | City Centre | +27 (0)76 765 8306
The Bungalow
If you're looking for a highly-sophisticated place to unwind, while overlooking Clifton Beach then The Bungalow is for you. Their exotic food menu consist of plump sushi, line fish, prawn tempura, beef Carpaccio, oysters and burgers such as their crayfish burger. Look out for their classic and signature cocktails; such as their Pomegranate Mojito, champagne; which includes French champagne, wine, ports and sherries, along with many other drinks to sip away on, while enjoy their out of this world dessert such as their Bungalow Sundae, which is made of bar one sauce, caramelised banana and almond brittle.

Glen Country Club | 3 Victoria Road | Clifton | +27 (0) 21 4382018toria Road (Old LA Med)
The Potluck Club
Ever heard of the green Thai curry cocktail? Well, those are great drinks you get to taste when you hang around cool places. The Potluck Club offer the best beverages served with delicious food like ciabatta made from masa that is well served with chimichurri, braaied cauliflower dip and anchovy and kelp butter.

6 The Silo | The Old Biscuit Mill | 373-375 Albert Rd | Woodstock | Cape Town | +27(0)21 447 0804
Café Caprice
Camps Bay beach is the best place to watch the sunset, but Café Caprice provides a perfect view of all time. It combines crafty cocktails, a list of a well-set menu and a sidewalk seating that gives you the pleasure of experiencing the refreshing breeze from the sea as you sip on a Bacardi rum cocktail. Visit the restaurant and taste their affordable signature cocktails that are uniquely made by their gorgeous bartenders and try their mouth-watering food listed on their menu.

37 Victoria Road | Camps Bay | Cape Town | +27 (0)21 438 8315
Moyo
Moyo is an accolade to the beauty and tradition of African ancestry. The menu is a delight that offers food prepared with an array of fresh ingredients including rose petals and saffron spice. Enjoy tantalizing traditional food, dessert and drinks on offer. We can't wait to taste the Berbere venison loin; grilled cubes of venison loin, presented on a hanging skewer and seared with mealies, served with hand cut chips and Madagascan green peppercorn sauce. They also offer live entertainment every evening and on Sundays a live DJ or musician entertains patrons. Moyo is known for the buffet menu that they put together over weekends.



Shop 50 | Eden on the Bay Shopping Centre | Blouberg Strand | +27 (0)21 554 9671
Sevruga
This celebrity favourite promises a feast for the senses. The walnut interior has a temperature controlled wine wall. Try the line fish with pomme purée, tomato salsa, lemon crème fraiche and citrus beurre blanc.
Sevruga is definitely one of the most popular restaurants in Cape Town and it has become known as the spot where the who's who loves to wine and dine. They offer signature drinks such as "The Sevruga", made of Lanique vodka, freshly squeezed lime and crushed ice. What a perfect way to relax and take it easy.



Shop 4 | Quay 5 | Waterfront | +27 (0)21 421 5134
Mzoli's Place
Meat lovers should pack their beers and take a taxi to Gugulethu. Celebrity chef, Jamie Oliver, called their grilled meat, 'incredible' – quite a stamp of approval. This is where Cape Town's movers and shakers come together for more than just a good time. The team at Mzoli's demand that you arrive without pretences; so leave your stilettos at home. Expect local musicians and rocking DJs to create a jovial atmosphere.



Gugulethu | Cape Town | +27 (0)21 638 1355
Asoka
This chic bar is said to be one of the best cocktail bars in Cape Town and it celebrates the cream of Cape Town's musical crop, in trend-setting surroundings. Sample deep house Mondays and jazz on Tuesdays. Enjoy tapas, a range of beverages and a wide variety of cocktails, including their own signature long and short cocktails. On Tuesdays and Sundays some of the best jazz bands take to the stage to entertain the crowd beneath a mystical olive tree in their open air courtyard.



68 Kloof Street | Cape Town | +27 (0)21 422 0909
The Old Biscuit Mill
A dose of Saturday treatment from the Neighbourhoods Market is just what the doctor ordered for Cape Town's trendy foodies. This is where everyone goes on a Saturday morning. Expect fine food, gourmet products, boutique wine estates, handcrafted crafts, clothing and micro-breweries. The market is open from 9am-2pm. At the Old Biscuit Mill you can also be the first to become acquainted with up-and-coming artists. 'What if the World Gallery' is fast becoming a favourite gallery amongst curators and collectors alike. Go and check it out, you know you want to.



373 - 375 Albert Road | Woodstock | Cape Town 021 447 8194
The Power and the Glory
The Power and the Glory situated in Tamboerskloof is the place to be. Skinny jeans and geek glasses abound at this bar-slash-bistro on Kloof Nek Road. They are best known for their crafted beers, ciders and wines and they dish up hot dogs and sandwiches if you're feeling peckish. Join the arty individuals of Cape Town at this quirky neighbourhood haunt.



Corner Kloof Nek and Burnside Roads | Tamboerskloof | Cape Town | +27(0)21 422 2108
Jason Bakery
Expect to find groups of Cape Town creatives huddled together over their first cup of coffee for the day at this city bowl bakery. You'll have to get there early if you want to try the bacon croissants – best served warm out the oven – as these delicious, buttery treats will disappear in a flash. Sit down and enjoy their bistro style lunch menu or a breakfast pastry. Popular treats on their menu are Korean-style pulled pork rib sarmie and their meringue chocolate ganache 'cookies'.



185 Bree Street | City Centre | Cape Town | +27 (0)21 424 5644
Yourstruly
All you have to do when walking down busy Long Street is to follow the hypnotising coffee aromas, and you'll know you've reached Yourstruly. This café offers a variety of yummy sandwiches and deluxe coffees. If you love local art, you'll be rewarded with a variety of works exhibited on their walls. Look out for their popular classic salami, avo, rocket and olive sandwiches that go well with the cider and beers options that are also on offer.



175 Long Street | City Centre | Cape Town | +27 (0)21 422 3788
Field Office
They say that all good things are the fruits of originality. This definitely rings true for this creative hub situated in District Six. With an equally creative owner, young professionals of all backgrounds can come to Field Office, which offers free Wi-Fi, excellent coffee, and delicious pastries and sandwiches to feed the hungry minds. It has a chilled atmosphere and here you will find coffee junkies, freelancers, designers and tourists working on laptops or having informal meetings.



37 Barrack Street | District Six | Cape Town | +27 (0)21 461 4599
Deluxe Coffeeworks
If you feel like savouring your daily caffeine fix in tasteful, seventies-inspired minimalist surroundings, then pop in at Deluxe Coffeeworks. Run by an enthusiastic duo of coffee-lovers, this café boasts an impressive array of coffee, including beans from Kenya, Nicaragua, Ethiopia, Brazil and Guatemala. The quality of the beans and roasting is reflected in Deluxe's customers, including Yourstruly,Cookshop and Superrette.



25 Church Street | City Centre | Cape Town|+27 (0)79 416 1109
El Burro
El Burro offers Mexican fare and authentic Mexican tequila. Literally meaning 'the donkey' in Spanish, this unique eatery offers spicy gems such as Chilli Rellenos (grilled smoked jalapeños in adobo sauce stuffed with Queso fresco) which can be washed down with one of the 37 tequilas from Mexico. The colourful and bold interior, gives the restaurant a Mexican feel which makes it warm and welcoming.



81 Main Road | 1st Floor Exhibition Building | Green Point | Cape Town | +27 (0)21 433 2364
Superette
Woodstock-based café, Superette, has almost reached cult-status amongst Capetonians who flock there for the delicious organic and healthy eats. Whether your needs only extend to a caffeine fix, or something more substantial, this quirky institution will satisfy any craving. Nothing beats their mouth-watering sandwiches and fresh salads. Browse the café's shop while you wait for your food, or see unique art pieces at 'What if the World Gallery' gallery.



66 Albert Road | Woodstock | Cape Town | +27 (0)21 802 5525
The Kitchen
Imagine yourself seated around the kitchen table with the bantering and chit chat of loved ones filling the room. If you want an eating experience reminiscent of this, then this Woodstock eatery is the place to go. Famous for its ever fresh greens, sandwiches and perfect treats, The Kitchen knows how to attract and keep its customers with their excellent service and delectable food. Try their Love Sandwiches; served on artisan rolls with different types of pesto, meats, salads and dressings, you will soon develop an affinity for them. Alternatively, tuck in to one of their delectable 'World Peace Brownies': the perfect way to end off a lovely meal.



111 Sir Lowry Road | Woodstock | Cape Town | +27 (0)21 462 2201
Skinny Legs Luxury Café
Owned by twin sisters, this Loop Street based café offers a variety of delicious salads and sandwiches, soups and mains, including Franschhoek trout and rosemary chicken. Healthy breakfasts and lunches are served at this famous café and nothing tastes better than their raw muesli, soft scrambled eggs, French toast, scones, soup and salads. Although the space is predominantly modern, custom made crockery provides a quirky contrast. Even though this spot has grown humongously, it still serves healthy food made from sincere hearts.



70 Loop Street | City Centre | Cape Town | +27 (0)21 423 5403
Sotano
With the sound and smell of the sea, and colourful Mediterranean-inspired tapas, you'll think you're sitting in Spain. As the sea is just a stone's-throw away, you can expect the freshest produce it has to offer that includes the crustacean platter for two, or potato fish cakes made with salted cod. Evening meals are made equally impressive with options ranging from beer braised rabbit, crayfish and zucchini ravioli or rosemary glazed duck breast. The café has a combined drinks selection of 80 reds, whites and bottles of bubbly and an assortment of nearly 40 different wines by the glass. Their cocktails are quite luscious and be sure to try their mojito before you leave.



121 Beach Road | Mouille Point | + 27 (0)21433 1757
Royale Eatery
It's no mere coincidence that this Cape Town eatery is still regarded as one of the best burger joints in town. It's known for its witty waitresses and prime people-watching location. Not only do they offer more than fifty (and counting) different types of burgers, but they also do lip-smacking good pizzas and salads. But let's be honest, you go to Royale Eatery for their burgers; they're just that good.



273 Long Street | City Centre | Cape Town |+27 (0)21 422 4536
The Waiting Room
If you have managed to control the urge to stuff your face at Royale Eatery, and are still able to walk with a remote amount of decorum, then pay a visit to their upstairs bar. The Waiting Room is a first rate bar that boasts an impressive array of seventies-inspired furniture, beautiful people and sights of the city from the upper level. Expect the night to be filled with the sounds of funk, hip hop, dub, jazz, reggae and breaks.



273 Long Street | Cape Town | +27 (0)21 422 4536
Bombay Bicycle Club
As you drive amongst the numerous nightspot haunts of Kloof Street, it's impossible to overlook the decidedly quirky front of the Bombay Bicycle Club, with its numerous old bicycles hanging from the roof at all angles. The exterior is only a whisper of its opulent interior and boasts a menu that caters for a variety of tastes. Try the delicious Tandoori chicken or pan-fried salmon.

158 Kloof Street | Gardens | Cape Town| +27 (0)21 423 6805
Weinhaus + Biergarten
Set in what used to be a church, this bar-come-restaurant is a paradise for all beer lovers and connoisseurs alike. Long wooden benches, stone walls and hung cured meat create an authentic German Brauhaus feel. Beer-inspired dishes, such as the minestrone soup made with Berne Unfiltered Amber Lager, is perfect for those cold, rainy Cape Town nights. Or try their famous beef Prego or pulled pork sandwiches that are bold enough to handle the complex beers on offer. Weinhaus + Biergarten also pull off an impressive breakfast. Their coffee is made from certified, organic espresso beans from a family owned farm in Nicaragua.



Shop 7 | 110 Bree Street | City Bowl | Cape Town | +27 (0) 21 422 2770
Cape Quarter
Cape Quarter boasts a wide variety of retailers such as Spar, Tops, Banks and Nap, to name just a few. This centrally located village is ideal for all your retail therapy needs and offers some of the best restaurants in town to silence hunger pains after some strenuous shopping.



27 Somerset Road | Green Point | Cape Town | +27(0)21 421 1111
Tjing Tjing Rooftop Bar
Tjing Tjing is a rooftop bar in the centre of Cape Town located in a re-established, heritage building. As dusk draws near, one can visit the vibey Tjing Tjing Bar upstairs from Dear Me. The interior consists of Japanese-style décor, and serves up a delicious choice of tapas and some of the city's best cocktails.


165 Long Market Street | City Centre | Cape Town | +27(0)21 422 4920
La Parada
La Parada is one of the most hospitable bars in Cape Town, with friendly waiters and the best food in town. The atmosphere and vibe integrate really well. Their stylish Mediterranean decor, with joint tables, banquette seating and their big transparent window lets you to see the happenings of Bree Street. Nothing tops their tapas served with traditional Spanish dessert and a glass of wine.



107 Bree St | Cape Town | +27(0)21 426 0330
The Village Idiot
The favourite bar and eatery, The Village Idiot, is conveniently located on Loop Street in Cape Town's city centre. This fabulous inner-city haunt has become known for its eclectic bohemia-meets-1980's-plaashuis interior, nostalgically South African menu and party starting bar offerings. Launched in 2015, the owners envisioned creating a place that would serve as a hangout where people meet and enjoy great food and handsome drinks in a chilled environment.



32 Loop Street | Cape Town | +27 (0)21 418 1548
---
PLUS: Discover farm-fresh cuisine and an awesome atmosphere at the place where the winelands' famed chefs eat on their day off. As well as live music and dining every Friday night at La Paris Bistro in Franschhoek.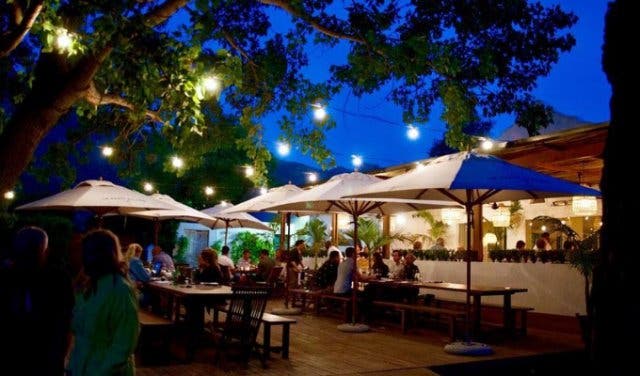 The coolest and most relaxed restaurant and rooftop bar in the city.
Looking for some other cool hotspots to visit in the Mother City? Then make sure you check out these awesome places in Cape Town that offer great happy hour specials.
Find out more about trendy tapas bar and restaurant, La Parada
---
Use our events section for an up-to-date overview of happenings in Cape Town. Also, don't forget to subscribe to our newsletter and if you have a smart phone, add m.capetownmagazine.com to your home screen for quick access on the go!
Follow us on Twitter, like us on Facebook, join our Google+ circle, connect with us on LinkedIn, check out our photos on Instagram and follow our Pinterest boards for updates on what's happening in and around the Mother City!
Camps Bay beach is the best place to watch the sunset, but Café Caprice provides a perfect view of all time. It combines crafty cocktails, a list of a well-set menu and a sidewalk seating that gives you the pleasure of experiencing the refreshing breeze from the sea as you sip on a Bacardi rum cocktail. Visit the restaurant and taste their affordable signature cocktails that are uniquely made by their gorgeous bartenders and try their mouth-watering food listed on their menu.