Our Favourite Places to Find Delicious Cakes in Cape Town
Indulge in the happiest treat there is
Updated: 21 December 2018
Wondering where to go to get your cake fix? Perhaps you need a glorious cake for a special occasion? Or you have a sweet tooth you can't satisfy because you avoid sugar, dairy or gluten? Well, don't sweat it – we've found something just for you. You can certainly have your cake and eat it, take a look at some of these great cakeries we've found!
GORGEOUS BAKES AT THIS FRANSCHHOEK DELI
As a famously versatile winelands wedding and functions venue, it's no surprise La Paris Estate has its own bakery. Cakes, cake pops, brownies, sweets and freshly-made bread – it's all made right here on the farm from locally-sourced ingredients and caters to gluten-free, vegan, lactose intolerant – whatever your dietary needs. Discover the La Paris Bakery and Deli in Franschhoek.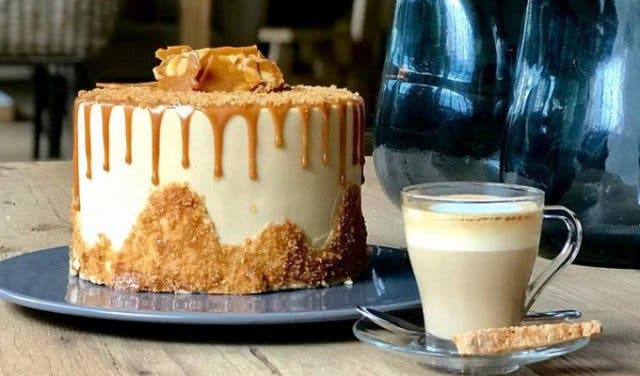 R301, Wemmershoek Road, Franschhoek | +27 (21) 8670171 | events@laparis.co.za
BOBOTIE OR CHOCOLATE CROISSANTS — THIS SEA POINT CAFE HAS IT ALL
Known for their gorgeous patisserie, Coco Safar is no stranger to recommendations to try their delicious baked goods. From their gourmet coffee to their sweet and savoury croissants, which are unlike anything you have tasted before, it is worth it to visit their flagship store and indulge in the confectioneries that make Coco Safar special.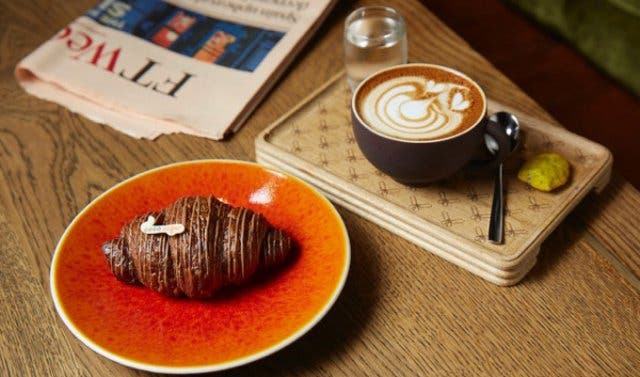 Artem Centre, 277 Main Road, Sea Point | +27 21 433 1336 | generalenquiries@cocosafar-sp.co.za
District Café
All I know is that I need to try a slice of the decadent-sounding Hot Choc Cake, which is served with ice cream on the side. The Grilled Vanilla Cake with berry sauce is tempting too – and it also comes accompanied by a dollop of ice cream. There's nothing better than indulging in a piece of cake in a cool café; this one has a clean, modern interior with quirky touches here and there and is nestled in uber trendy Woodstock.

Opening hours: Mon - Thu & Sat: 8:30am - 11pm; Fri: 8:30am - 12:30pm, 1:30pm - 11pm
115 Roodebloem Road | Woodstock | Cape Town | +27 (0)21 447 3444
BillyBoo's Cakery
These cake makers have become well-known for their saucy-sounding Naked Drip cakes, with which they have set a beautiful trend. These look divine and taste heavenly. The "drip" look involves artfully drizzling icing over the cake so that it appears to overflow and 'spill' from the top all down the sides, like streaks of rain sliding down a window pane. The choices inculde: candy-coloured, chocolate, caramel, and more, with toppings ranging from flowers to oreos to little macaroons. BillyBoo's also has a make-to-order service, which has you covered for any special occasion. Pop an email through to their address, Info@billyboos.co.za, to place your tasty request.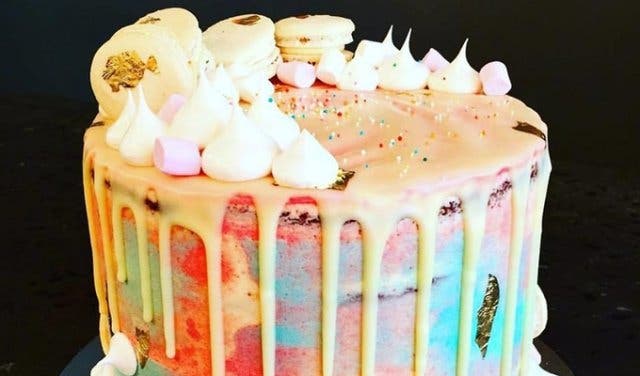 Opening hours: Mon, Tue, Thu & Fri: 7am - 5:30pm; Wed: 7am - 1:30pm; Sat: 8am - 2pm
61B Station Road | Observatory | Cape Town | +27 (0)72 846 1908
Dinkel Bakery
This patisserie is a traditional German one, and it looks just like the kind of cute delightful German bakery you see in the movies, giant pretzels, pretty decor and all. You can relax in its quaint in- and outdoor café setting, which feels worlds away from the busy street it is situated on.
The bakery also boasts delectable, hearty cakes from authentic German recipes, including Apple Crumble Cake, Plum Cake and Bee Sting (Bienenstich) Cake along with many more mouth-watering flavours. Wait a minute – bee sting cake? Yup, this is a classic recipe from Deutschland. And no, it won't prick or sting you, don't worry. The name is thought to come from the fact that it is topped with honey, which attracts bees. Unlike your usual sponge cake, this one has a pastry-like texture and cream inside it all the way through, and is baked with a finishing of honey-glazed almonds. Be sure to pass through Dinkel the next time you're in town because it's not one to miss!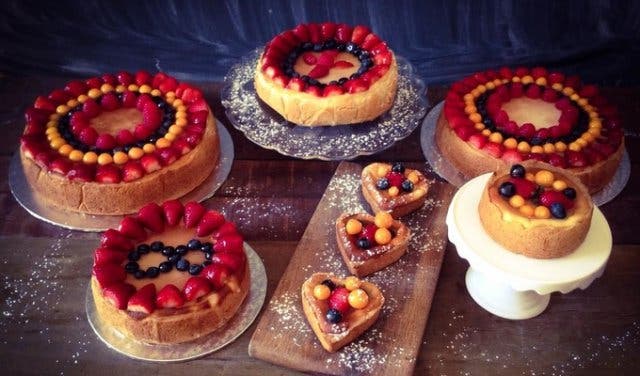 Opening hours: Mon - Fri: 7:30 am - 5pm; Sat: 8am -1pm
91 Kloof Nek Road | Tamboerskloof | Cape Town | +27 (0)21 424 3217
Limnos Bakers
This family-owned patisserie handmakes fresh cakes that it says taste as good as they look – and they look pretty darn good! Its pretty baked circles come in dozens of flavours, accompanied by all sorts of toppings and frostings. The cappuccino cake looks gorgeous and rich, and the red velvet and chocolate mousse cakes are just a few of the flavours you will find; there's likely a cake to suit your every craving.
Limnos Bakers also has an entire section on its site dedicated to different cheesecakes! You'll find a classic plain, a chocolate brownie, caramel, raspberry, lemon meringue and several more cheesecakes. You can order a whole cake or pop into one of its cafés around Cape Town.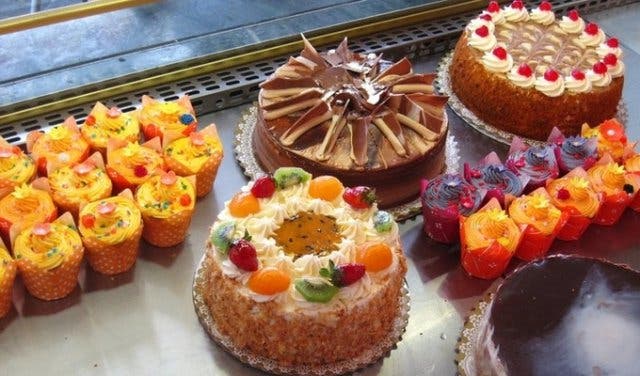 Opening Hours: Claremont: Everyday: 8am - 7pm | Green Point: Everyday: 6:30am - 7pm | Kuils River: Mon - Fri: 7am - 6:30pm; Sat - Sun: 8am - 6:30pm | Century City: Everyday: 9am - 9pm | Bo Oakdale: 6:30am - 6pm | Brackenfell North: Mon - Thu & Sat: 9am - 7pm; Fri: 9am - 8pm; Sun: 9am - 5pm
General contact: +27 (0)21 903 8889
Honest Chocolate
If you're mad about chocolate cake, you'll find one of the best right here! I don't know how Honest does it, but this dark chocolate dream is super moist, and more like pure fluffy chocolate than cake (unfortunately, this cake is not one for the sugar-free or vegan options though). True to its name, the cocoa bean-dedicated company uses simple, straightforward ingredients and transforms them into drool-worthy indulgent treats that chocolate lovers will go ga-ga for (I know I do).
Although they taste sinfully yummy, Honest also has a whole batch of healthy vegan, sugar- and gluten-free tarts, brownies and other baked goodies. The cake to go for, if these are your dietary requirements, is the gluten-free banana-bread bunny chow with vegan coconut milk ice-cream. The usual version is filled with dairy ice cream and oozing chocolate lined with macadamia nuts and the bunnies soak up all the flavours of melty goodness!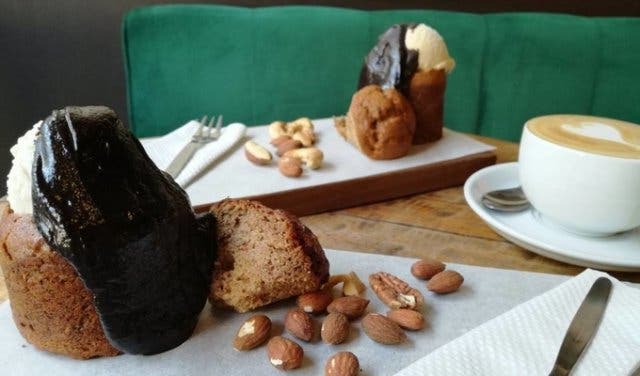 Opening hours: Sun - Thu: 9am - 6pm; Fri - Sat: 9am - 9pm
64A Wale St | Cape Town City Centre | Cape Town | 076 765 8306
Celebration cakes
Tessa's Bakery
This boutique bakery has a cake for literally every occasion! Its original, pretty spongy items contrast with the kitschy image many novelty cakes have. I could speak about each one in extensive detail, but I'll try to just mention a few: a black-frosted Batman birthday cake with a sprinkle of gold glitter; a cake you can scribble on with edible-ink markers, great for a party; a yellow emoji option; all kinds of magical unicorn cakes… Okay. I'll stop there.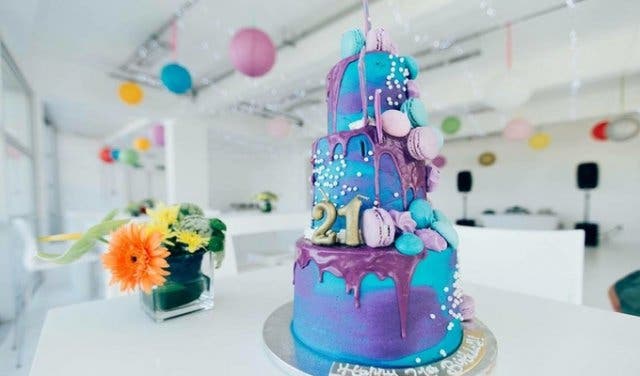 Opening hours: Mon - Fri: 8am - 5pm; Sat: 8am - 2pm
U nit 5, The Gables | Prime Park | Printers Way | Montague Gardens | Cape Town | +27 (0)21 551 6107 or +27 (0)84 300 1452

Rozanne's Cakes
With a full range of personalised cakes, including baby shower cakes, luxury cakes, kids' cakes, chocolate wedding cakes, christening cakes and birthday cakes, it also offers bespoke sponge creations for any celebration. Its decadent drip cakes are slathered with creamy frosting and will have you drooling. There are also various classic flavours to be found amongst the luxury cakes, including a rich chocolate mousse and a divine vanilla raspberry. There's no shortage of creativity when it comes to the toppings Rozanne's uses; you can expect to find anything from green macaroons and fresh fruit, to golden icing, biscuits and fine sugar flowers adorning your cake.
Feel free to send in your order by emailing rozannehenning@gmail.com. Rozanne's requests that all emails include the date of your function and cake order.
Tip: Rozanne's has baking classes! Find out more on its website.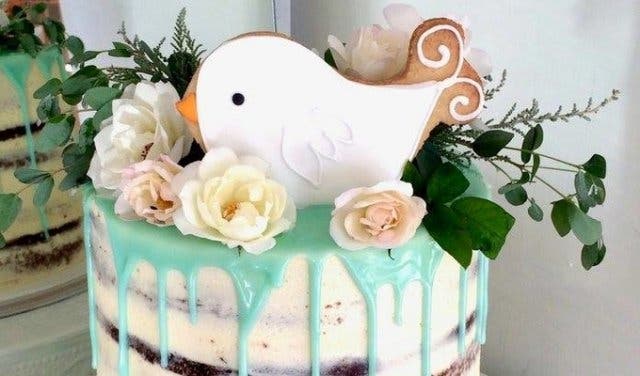 Hanepoot Street | Sonstraal | Durbanville | Cape Town | +27 (0)72 259 4790
The Velvet Cake Co.
As the name sweetly suggests, this bakery specialises in cakes made from a red velvet recipe. The best part though is that you can find dreamy looking velvet cakes in nearly every colour, from blue to pink to rainbow-layered! If velvet cake is not your thing they have other delicious flavours too, such as chocolate, carrot and even a cookie flavour. Then there's the extravagant red velvet cheesecake with a meringue frosting on top, which has our mouths watering! This cake company is the go-to place for birthday cakes and other occasions that call for special sponges, like baby showers.
Choose from a range of sublime spongy marvels, which can easily be ordered on their website, Thevelvetcakeco.com.
Tip: Check out their creative Candy Stix cakes. These beauties are multi-layered with colourful buttercream frosting in-between each layer. They are topped with wooden skewer sticks strung with bright sweeties. You can collect your cake straight from their store in the CBD.



Opening hours: Mon - Fri: 9am - 5pm & Sat: 9am - 2pm
16 Loop Street | Cape Town City Centre | Cape Town | Order enquiries: +27 (0)21 914 0482 | Shop tel. +27 (0)21 286 1082
Pastry Princess
It's all about personalised novelty goodies with this cakery, where anything under the sun takes the shape of a cake. Why can't there be cake versions of pregnant tummies with a kicking baby foot, minions from Despicable Me or giant ladybirds, after all? Celebrations call for the extraordinary. Everything is lovingly produced and tastes like you baked it right in your own oven (shh! We won't tell anyone).
You can place an order for your frosting-covered item at Pastryprincess.co.za and its team will help you out from there.

Bluewater Estate | Kommetjie | Cape Town | +27 (0)82 775 4324
Wedding cakes
Hunt House Kitchen
This patisserie specialises in decadent dessert-style chocolate wedding cakes with light buttercream textured frosting. The ingredients include nothing other than Belgian and Lindt chocolates. Decorations can include beautiful crinkled chocolate sheets arranged around the sponge and chocolate ribbons placed on the top like gift-box bows. There's no sweeter way to tie the knot or impress your guests!
Tip: You can arrange for Hunt House Kitchen to craft a bespoke cake for you by placing an order on its website: Kanyahunt.co.za. It advises all customers to get in touch and place orders three to six months before their special day, because of the extensive planning needed for wedding cakes and the high demand for them.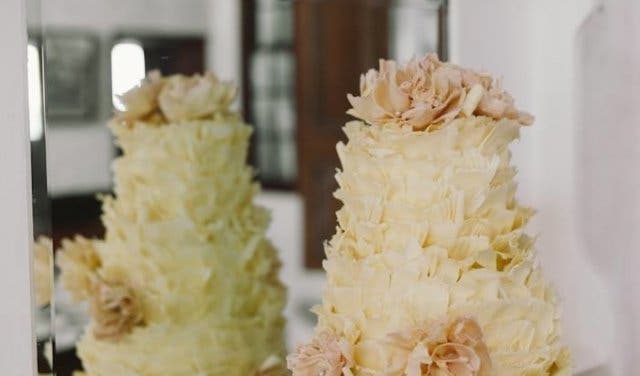 4 Star Fish Way | Atlantic Beach Golf Estate | Melkbosstrand | 082 375 5200
Sugar Cakes
This boutique cake business makes wedding cakes on request. The magnificent, many-tiered creations often come in delicate pastel shades and are finished off with details like hand-crafted lace, flowers and intricate figurines added on top. Even while adhering to the desires of its customers, Sugar Cakes' products have a definite signature look and an air of elegance, perfect for your special day.

You can request a quote either directly through its website, Sugarcakes.co.za; through an email to linda.sugarcakes@gmail.com; or over the phone to one of its numbers.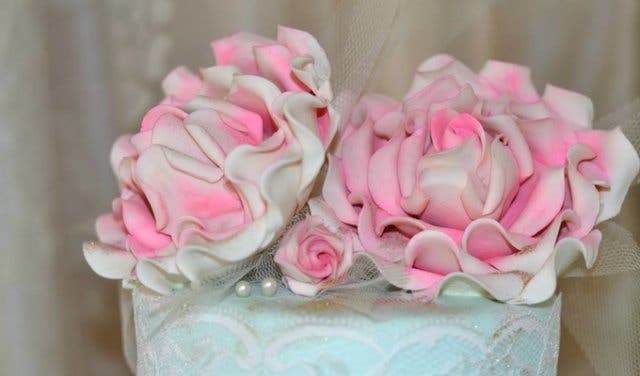 7 Boegoe Close | Vierlanden | Durbanville | Cape Town | +27 (0)21 976 3280 | +27 (0)82 341 6037
LionHeart Patisserie Studio
One look at LionHeart's jaw-dropping gallery of bridal cakes will have you saying "I do!". The range defines "simple yet brilliant"; subtle touches of glamour turns fairly quiet shapes (as opposed to extravagant towers) into beautiful, mouth-watering works of art. A partially-transparent layer of frosting is drizzled with caramel or white chocolate creating watercolour or marble effects, and some are topped with fresh-cut flowers and fruits.
Please note: LionHeart is an online shop and does not have a shop front. If you want to visit the LionHeart kitchen, please send them an email, or call them to arrange an appointment or to discuss your order.
Order online: Sweetlionheart.com

Opening hours: Mon - Fri: 9am - 5pm; Sat: 9am - 12pm
Unit 2, Brickfield Junction | 20 Brickfield Road | Salt River | +27 (0)71 394 0273
Miss Muffet's
When you hear the sound of wedding bells ringing, get in touch with Gisela Varcacel, Miss Muffet herself, maker of delicate masterpieces with an edge of glitz. Her process involves working with a client to make sure the cake is as unique as the bride! She'll create something spectacular to fulfil your perfect-wedding dreams.
You can request your cake online: Missmuffets.co.za; or you can give her a call: +27 (0)79 140 4459.

Opening hours: Mon - Fri: 9am - 5pm
La Barrage Avenue | Somerset West | +27 (0)79 140 4459
But, I can't eat sponge cakes!
Your dietary requirements might require you to avoid all sorts of foods. Luckily, it doesn't have to mean that you have to avoid cake, too! Here's where to go and enjoy a slice with no worries.
Raw and Roxy
A raw vegan cake, you say? You'd better believe it! Everything in this restaurant is raw, solely plant-based, healthy – and positively delectable. To find out how good these sugar-free, gluten-free, superfood cakes are, just sink your teeth into a moist slice of vegan heaven. These cakes are actually good for you.
A few of the nutritious delicious creations include: a gorgeous avocado chocolate ganache containing black cherry mousse topped with lime cashew icing; a creamy red berry "cheesecake"; and an exquisite fig and blackberry mousse cake with banana ice cream, drizzled with raw chocolate sauce. Ooh and aah indeed.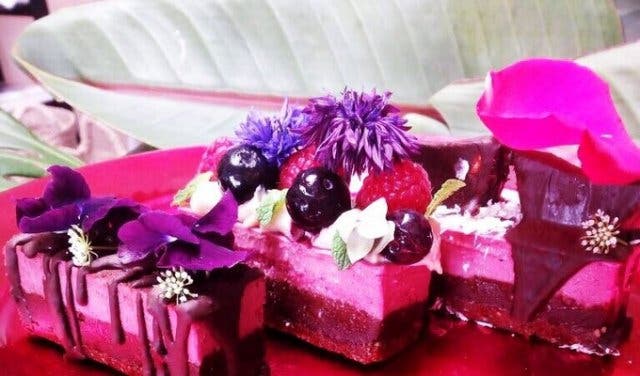 Opening hours: Mon - Fri: 9am - 5pm; Sat: 9am - 3:30pm
8 Bree street | Cape Town | +27 (0)79 599 6277
Kirstenbosch Tea Room
Situated in the lush Kirstenbosch Botanical Gardens, this venue is the perfect place to go for some good old tea and cake after a wander through the gardens. The Tea Room's gluten-free cakes, chocolate mousse cake and chocolate rum puddle cake with vanilla ice cream, are a pure sinful decadence at R59. They're gluten-free, but most likely not sugar-free!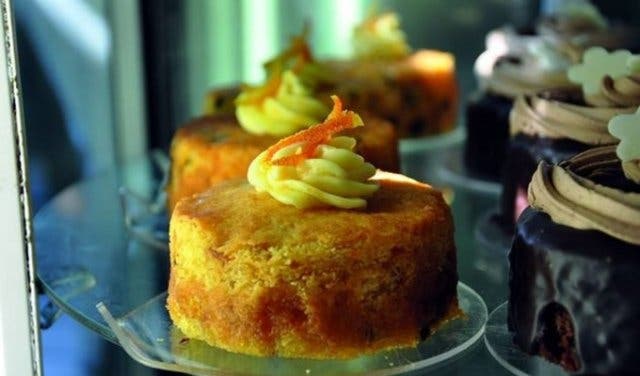 Opening Hours: Everyday: 8:30am - 5pm
Gate 2, Kirstenbosch Botanical Gardens | Rhodes Drive | Newlands | Cape Town | +27 (0)21 797 4883
La Cuccina
This restaurant in dazzling Hout Bay has got some rave reviews about its banting choices – and these extend to its sweet baked treats! Those in the banting crowd can rejoice and savour La Cuccina's delicious wheat- and sugar-free dark chocolate and almond cake and a gluten- and sugar-free orange and almond cake, no problem. The place also has some must-try banting-friendly chocolate muffins. The ingredients used is fresh and the eggs are free range.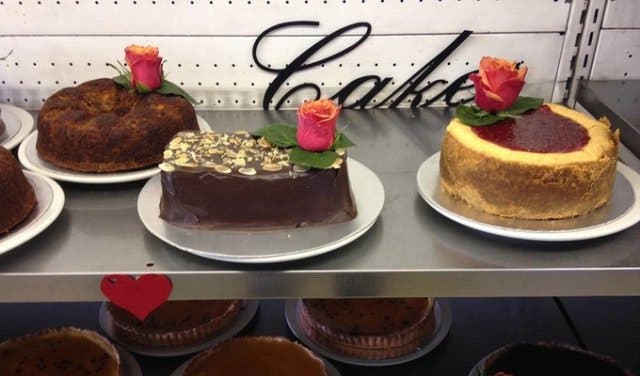 Opening hours: Everyday: 7:30am - 5pm
Shop 1, Victoria Mall | Cnr Victoria & Empire Rd | Hout Bay | Cape Town | +27 (0)21 790 8008
Dolce Bakery
With a slogan like "No Regrets. Just Happiness", you know you can eat cake here without feeling guilty about a thing. The menu boasts vegan and banting options! Dolce has a wide range of mini cheesecakes, which includes a delectable gluten-free, low-carb high-fat (LCHF) cheesecake for all the banters out there. Vegans can opt for all sorts of flavours from the café, from slices of vanilla, coconut and hazelnut cake, to carrot and orange stacked cake, to vegan chocolate cake (also available to order as a whole cake).

Opening hours: Mon - Fri: 7:30am - 5pm; Sat: 8am - 2pm
239c Lower Main Road | Observatory | Cape Town | +27 (0)21 486 9007

By Emily Moir
---
New Place: On the Blouberg beachfront, for affordable prices and delicious food, bring your family to Our Place.
Discover exciting new experiences, from delicious pastries, beautiful breakfasts and excellent lunch and dinner options, plus: double-your wine on Wednesdays and a new DIY gin bar. Explore Nom Nom restaurant.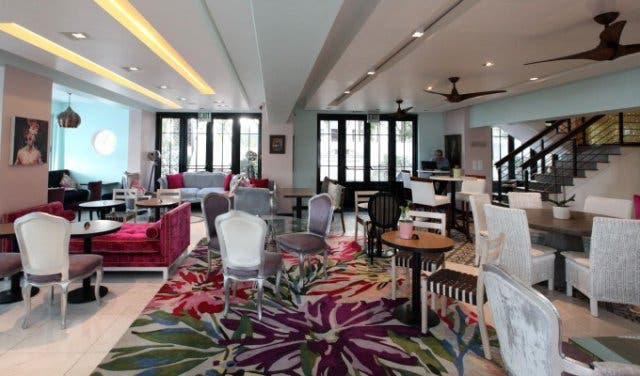 ---
Enjoy decadent treats without compromising your health at Sea Point's newest spot – Guiltless Protein Bakery.

Learn to make the perfect cookie with this cookie decorating class.

Create your own cake on a stick at this DIY cakesicle class, and discover an even sweeter side of life at Tessa's Bakery.
---
Use our events section for an up-to-date overview of happenings in Cape Town. Also, don't forget to subscribe to our newsletter.
Follow us on Twitter, like us on Facebook, connect with us on LinkedIn, check out our photos on Instagram and follow our Pinterest boards for updates on what's happening in and around the Mother City!