Happy Hour Specials in Cape Town
Your guide to the when, where and what of after-work drink deals in the Mother City
Last Update: 22 November 2019
It doesn't really matter where you're from, what language you speak or what customs you follow, if there's one thing that's as universal as the stars in the sky, it's happy hour. That magical time just after work when bars, pubs and restaurants around the world offer incredible drink specials, cheap cocktails, 2-for-1 deals and maybe even a few discounted nibbles to loosen the throat.
As devout followers of these sacred hours (fortunately in the Mother City, the deals usually go on for even longer than just one hour), we have searched high and low to bring you a guide to the top spots offering happy hour specials in Cape Town. So, gather the crew, synchronise your watches and collect your spare change, because the bargain boozing starts NOW.
HAPPY HOUR SPECIALS IN CAPE TOWN
THERE ARE 15 HAPPY HOURS: COCKTAILS, GIN AND WINE
Directly translating from German to "the bit more," Cafe Extrablatt in Green Point offers 15 hours of happy hour each week. Choose from reduce-price fruity, Caribbean, creamy, and classic cocktails and mocktails. Try African Colada (white rum, Amarula Cream liqueur, coconut and pineapple), flamingo (gin, Bols Apricot Brandy, strawberry, lemon, lime and granadilla) or the "Stress Free" jumbo (500ml) cocktail (vodka, Passoa, Bols Apricot Brandy, Bols Triple Sec, granadilla and grenadine). Craft gin and wine is on special, too, during happy hour at Cafe Extrablatt in Green Point.
The deal: Reduced price for cocktails (R42, jumbos R46, mocktails R32,) wine and gin specials change regularly
The time: 5pm–8pm Monday–Friday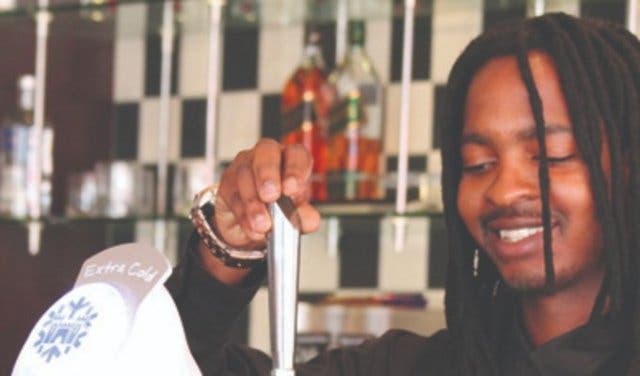 Exhibition Building, Green Point, Cape Town, info@cafe-extrablatt.co.za, +27(0)21 434 3759, website
END YOUR WEEK RIGHT WITH HAPPY HOUR AT THIS CITY HOTSPOT
Why settle for one hour when you can have two? La Parada Constantia Nek and Bree Street have a Happy Hour promotion from Monday to Friday between 5pm and 7pm where you get 2-for-1 selected beers and wine. Instead of going straight home, catch up with a few friends and enjoy these excellent specials at La Parada. Also check out the Sunday Funday event with DJ Rene the Frenchman.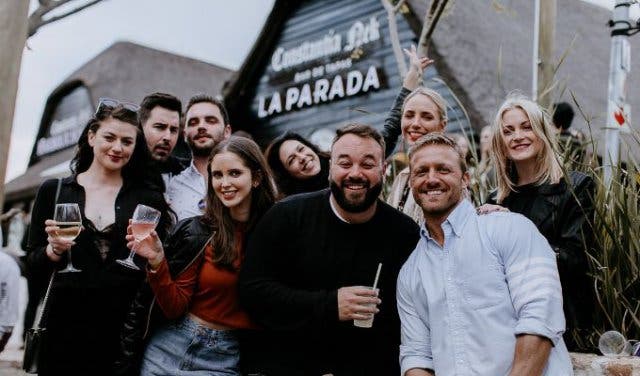 Constantia Nek: 1 Hout Bay Road, Hout Bay | +27 21 795 0620 | constantianek@laparada.co.za
Bree Street: 107 Bree Street, Cape Town | +27 21 426 0330 | breestreet@laparada.co.za
CAFÉ EXTRABLATT
Green Point's Café Extrablatt offers a Happy Hour(s) special that will top all others! And the venue is conveniently located just a hop, skip and jump from Cape Town Stadium in Green Point. The international franchise, with roots in Germany and Morocco, stocks a wide variety of beer, including Castle Lite, Black Label, CBC craft beer and the German beer Paulaner for the guys who may not be into pink drinks. The two-storey eatery offers an upstairs smoking section which features sunny seating and stunning views of the Green Point area from the balcony and patio. With two bars, one on each floor, Café Extrablatt gives you the freedom to get in on this special from either spot.
The deal: Standard cocktails at a cost of R34 each, which includes everything from the classic Cosmopolitan, Mai Tai and Pina Colada to the Screaming Orgasm, El Diablo, the Bahama Mama, and everything in between. Jumbo cocktails, which include drinks like the Long Island Ice Tea, The Hurricane and Models Flash, will cost R39 each and mocktails like the Coconut Kiss, Cape Town Stadium and Virgin Mojito will cost R29.
The time: Monday to Friday from 5pm to 8pm.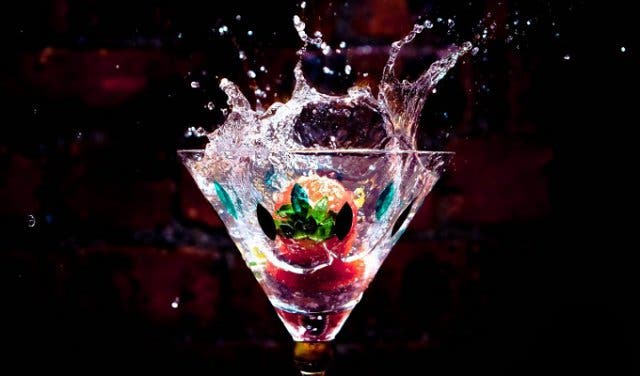 LOLA'S
This Long Street daytime institution transforms into a lady of the night during the summer months and, in honour, the graceful dame runs an all-night happy hour special and serves up tasty street-style food and chilled-out tunes. The drinks deals extend to everything from cocktails and shooters to bottled beers and draughts, so nearly every thirsty bargain hunter can find something to throw back. And as Lola's integrates her purist culinary values into the easy-to-eat after-dark grub, you can expect mouth-watering nosh made entirely from scratch (think falafel tacos and authentic bratwurst). Best of all, this madam of Long Street calls on some of the Mother City's vinyl junkies to spin old-school beats every Thursday – and sometimes a live band will even make an appearance. By the way, just in case you were wondering, entry is completely FREE!
The deal: Cocktail jugs go for R105, El Jimador tequila shots cost R30, a bucket of six Black Label beers rings in at R90 and two 500ml CBC Pilsner draughts add up to a mere R60 (this special is only valid between Thursday – Friday: 5pm –7pm


228 Long Street | City Centre | Cape Town | +27 (0) 21 423 0885
CAPE TOWN COMEDY CLUB
Sit back, relax and spend your evening at Cape Town Comedy Club, where big laughs and even bigger happy hour specials are on the night's menu. From 6pm to 7pm, guests can ease into a night of festivities by purchasing a Savanna Bucket, getting five bottles for the price of four, at R80! During this hour, R15 tequila shots will keep your insides warm and keep the laughter rolling throughout the night. A second happy hour special after the show ends will keep the spirits high, and is the perfect way to conclude a night in the Mother City!
The deal: A Savanna Bucket can be purchased for R80, while two 500ml Savanna draughts go for R65 and tequila shots are R15 throughout the night.
The time: 6pm until 7pm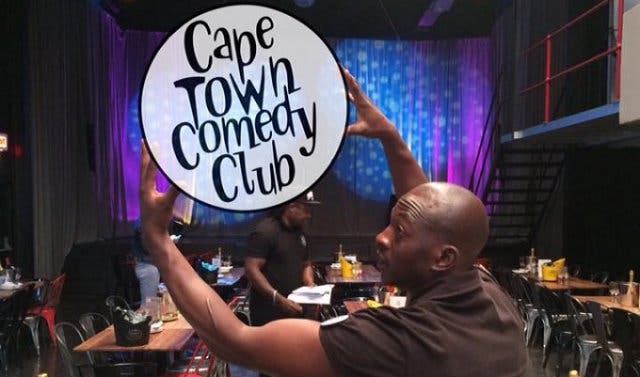 The Pumphouse| V&A Waterfront| Cape Town
HUDSON'S: THE BURGER JOINT
With three outlets in the Mother City (one on Somerset Road in Green Point, one on Kloof Street in Gardens and one on Protea Road in Claremont), Hudsons is something of an institution in Cape Town. Not only is it known as one of the best burger places in the Mother City, but also as a home to a brilliant happy hour every single weekday. From Monday to Friday between 4:30pm and 6:30pm, Hudsons offers a two-for-one deal on all appetisers, beers and cocktails. Our recommendation? The killer cocktails. Why killer? Well, because the colourful creations are served in goblet-style glasses! Options include the usual suspects, such as cosmos, margaritas and bloody marys, while mojitos can be made in mint, granadilla and berry variations and daiquiris come in pineapple, granadilla and strawberry versions.
The deal: All appetisers, beers and cocktails are on a buy-one-get-one-free deal.
The time: Monday – Friday: 4:30pm –6:30pm

Shop 1A, 25 Protea Road | Claremont | +27 (0) 21 674 5152
69 A Kloof Street | Gardens | +27 (0) 21 426 5974
Cnr Somerset & Upper Portswood Roads | Green Point | + 27 (0) 21 433 1496
RICK'S CAFÉ AMÉRICAIN
With over 600 beverages to choose from, you're certainly spoilt for choice at this Casablanca-themed restaurant! Rick's Café Américain is one of the swankiest joints in the city and is, interestingly enough, housed in a historic Victorian house in Gardens. The Moroccan restaurant has a gorgeous rooftop deck where patrons can dine while taking in the view of Table Mountain and Signal Hill. So you can soak up the sun with a pitcher of Margaritas, or cosy up to a glass of Gluhwein next to the outside heaters during the colder seasons – either way, Rick's staff will ensure you dine and drink in comfort. Treating you to generous happy hour specials will ensure the 'hour' (more like four hours) turns into an entire evening. Snack on tasty tapas and hearty North African fare while sipping on creative cocktails, delicious jugs and ice-cold beer. Passionate and friendly owner Per Menkö ensures the crowd is always happy.
The deal: During happy hour cocktails are priced from R44 and Jack Black Lager is R26 for 330ml, R35 for 500ml and R68 for a litre. Pale Ale is R27 for 330ml, R36 for 500ml and R70 for a litre. Jack Black Weiss is also available at R30 for 33ml, R38 for 500ml and R75 for a litre.
The time: Monday - Saturday: 3pm - 7pm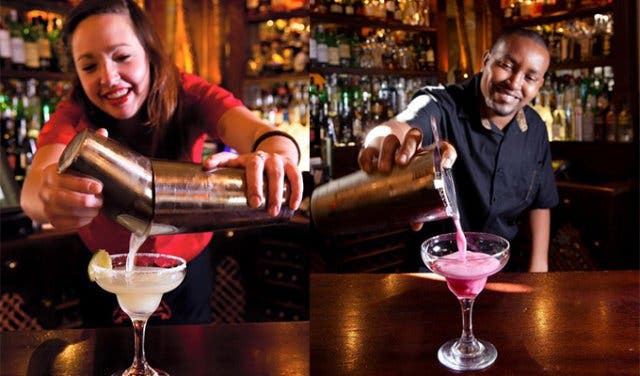 2 Park Road | Gardens | Cape Town | +27 (0)21 424 1100
THE FOREX BAR
West meets East meets South meets North at The Forex Bar, an Observatory-based United Nations-like drinking spot where expats, exchange students and extra-friendly locals go to mix and mingle. Known by its regulars as Forex, the bar is popular for its beer pong tournaments and is considered as the go-to venue for any big foreign national occasion, like Saint Patrick's Day, Fourth of July or Bastille Day. Not to mention, the already pocket-friendly drinks prices are slashed during the daily happy hour session, which feels as good as any holiday. With a laidback, hostel-type vibe and an abundance of interesting accents to be heard alongside cheap dops, Forex will make any local feel like they're in a different country and any foreign traveller feel right at home.
The deal: During happy hour, all the delicious cocktails go for R30, with the exception of mojitos and Long Island ice teas, which go for R35 (cocktails are usually R50 to R55). Castle and Hansa draughts cost R25 and craft beer draughts are priced at between R30 and R35. Look out for specials on buffalo wings, pastries and chilli poppers too.
The time: Monday – Sunday: 5pm – 7pm


92 – 95 Station Road | Observatory | Cape Town | +27 (0)21 448 0083
BANANA JAM CAFE
If a student budget has you strapped for cash, then head down to Banana Jam for happy hour! Situated in Harfield Village, Kenilworth, is the striking yellow presence of the vibrant cafe, Banana Jam. This Caribbean-inspired café has been around for almost 13 years and offers a carefree and cosy atmosphere to destress and unwind after work or a day on campus with a few drinks. Their happy hour special, which runs from 5pm to 6pm daily, features reduced prices on most cocktails, including the popular strawberry daiquiri infused volcano cocktail layered with pina colada. If you're a bit peckish, sink your teeth into one of their exotic Jamaican-flavoured dishes, or bite into one of the burger options that have become a favourite among locals. With a daily happy hour special and a menu that caters generously to both meat lovers and vegetarians, we can see why Banana Jam is such a hip and happening hotspot.
The deal: Reduced prices on selected cocktails
The time: Monday – Sunday: 5pm-6pm
157 2nd Avenue| Kenilworth| Cape Town
---
There's live music every night of the week at The Piano Bar. And there's bottomless bubbly every Sunday.

Start your weekend early at La Parada's Finery Thursdays.
Check out the wholesome buffet breakfast and Sunday brunch with the buffet at Cafe Extrablatt.

It's two-for-one burgers on Tuesdays at Robin Hood Burger and Grill.
Party in an underwater world, hang out on a city rooftop or escape into nature at these great birthday party places.
Sticky, succulent spare ribs, and as much of it you can eat at Knife Restaurant's Wednesday rib special.
Discover a Tuesday treat to share with a friend at Royaltea's Cape Town tea special.
AC Hotel Cape Town has live music and a happy hour every Thursday and a weekly Sunday roast.

Experience the magic of each of the Madame Zingara restaurants in Cape Town. Plus, check out their everyday drink specials.
Rock the night away with legendary pizzas, classic tunes, musically inspired cocktails, friendly vibes and weekly pizza and burger specials at Sgt Pepper on Long Street. They can also host your party for free on Mondays.
Have a meal or glass of wine on the shaded terrace at Devonvale Golf and Wine Estate, and take advantage of their daily double brandy special.
Discover R25 draughts and R39 cocktails at Moyo's Friday drinks specials.
Watch the sun go down on another week in the Winelands at the Avondale Garden Bar.
Check out the Corona cocktail special at House of H.
Enjoy a bespoke cocktail for half the price during Primal Hour.
Get festive with bottomless beer and more at the Beerhouse Bierfest.
Discover the spank-tjing new Tjing Tjing Momiji.
If happy hour drinks get you in a party mood, pop into one of these top dance clubs in Cape Town to jam it out.
In the city, you might want to check out the live house DJ and rooftop sundowners on the Foreshore.

Get SA food with an international flair at The 41 in Camps Bay. And they have live music every Thursday.