Dizzys - a home away from home
Laid-back and lovely, relax and feel at home at Camps Bay's oldest pub.
Last update: 3 April 2017
As I sit outside in the sunshine, a rock shandy in one hand, and a slice of pizza in the other, that terribly addictive Cheers theme song, 'Where Everybody Knows Your Name' rolls into my head. Why I can't say exactly – it could be the regulars conversing at the bar, the 'be nice or go home' sign on the wall or maybe the smug looking poodle at the table next door, tucking into the hamburger she chose from the pet menu. Can you food envy a poodle? It's a first for me.
I've been to Dizzys countless times before – it's a go-to haunt for a good-time jaunt, with legendary pizzas, and the kind of unpretentious warmth that makes it a favourite with families and young people – including many local and international students. This time, I order the Hangover on a banting base, and am extremely happy with my choice. Crowned with chicken, bacon, feta, peppadews and avo, the wood-fired pizza has a thin crispy base, decorated with a sprinkling of herbs grown in Taryn's garden.
Husband-and-wife team Taryn and Cedric own Dizzys, and it's their brand of salt-of-the-earth hospitality that's given the Camps Bay icon its flavour. Their love for the pub is evident in the details, from the vast selection of local craft beers to the organically grown herbs and vegetables fresh from their garden. Taryn mixes up her own spice and herb blends from scratch and these are used for all the hearty homemade food featured on the menu.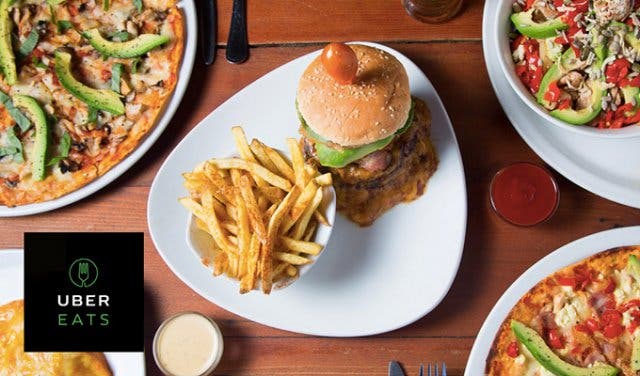 This includes the lasagne, which Cedric says is the best thing on the menu. If you've tasted the pizzas, you'll know that's quite a claim. But picture a bubbling golden crust of cheese, a layer of rich tomato sauce, and home-grown, organic vegetables fragrant with spice – hungry yet? Follow that up with a Lindt chocolate brownie for a meal you won't forget. You can also always make use of UBEReats, if you want a delicious meal in a hurry, without stepping foot out your door! There are lots of healthy options too, including fresh salads served with crispy focaccia.
It's not just the food that keeps patrons coming back. Taryn's been integrally involved with the pub for 18 years, and she's given it an irresistible home-away-from-home feel. She became the part owner at the tender age of 20, surviving financially from waitressing tips, and putting everything she had into it. Dizzys is her family – from the staff who have been there for years, and Cedric who now runs it alongside her, to the customers who see it as their second home.
For Taryn, it's all about creating a homey, loving environment where everyone feels welcome. "Customers come in alone, and within a week they know everyone. I always wanted this to be a place where you'd walk in and be greeted by name." Over the years Taryn has evolved Dizzys to keep with the times – always with customers' suggestions at heart. People's passion for Dizzys gives them a vested interest in its well-being so Taryn has to get her community's approval for every change – including the introduction of Cedric!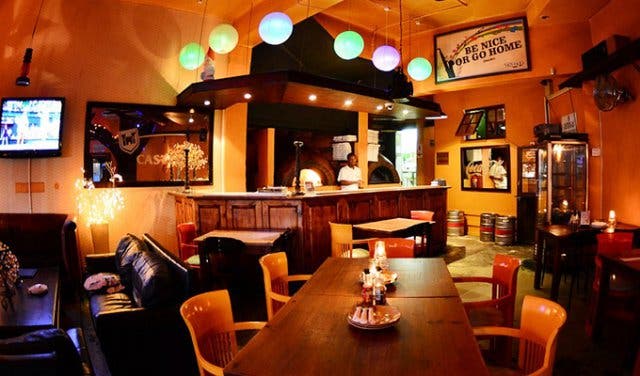 A sense of community is at the pub's core – from supporting local brewers to providing free pizzas for medics and coffees for the cops. One regular had this to say, "Growing up in Camps Bay my whole life, watching it change from a small tight community where we all knew each other, it was difficult to find a non-pretentious hang-out. I came across Dizzys 20 years ago and I haven't left. And I'm sure I'll be here for another 20 years to come." It's very much a family affair, with Cedric managing the pub, Taryn's sister doing the designs, dad doing all the DIY and fun after-party repairs, and the neighbours deciding on the decor.
Humans aren't the only community members either. Pets like my friend the poodle are welcomed with open paws – Dizzys loves dogs, which is evident in the recent launch of their fabulous pet menu. Now your fur-child can choose from burger patties and other meaty delights, along with frothy puppacinos for hipster hounds in the know.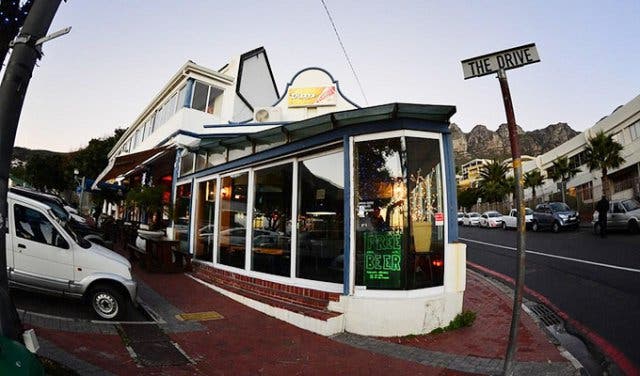 This love of animals is very much intertwined in the establishment's history. Dizzys is the oldest pub in Camps Bay, and it was also once home to Nellie and Philly – a pair of loveable if unlikely friends. Philly the horse was rescued from a Hout Bay farm by Roy de Beer in 1932. The sweet-natured animal was illicitly stabled, but every time inspectors asked the neighbours about the secret stallion, they pretended they didn't know anything about him, and soon the health inspectors did the same. Everyone loved Philly – local ladies even made him cakes.
During the war he was carted off to the countryside, but, being a city horse at heart, he found his way back to Camps Bay, where he officially became the village pet – so much so that he was awarded the honour of being an Official Freeman of Camps Bay by the area councillor, who rode him proudly into the bar of the Camps Bay Hotel. In 1964, de Beer rescued Nellie the donkey, and she became Philly's best friend. Documents show that the pair lived in the same building where Dizzys is now – a special spot with a heart-warming history.
Today, Dizzys is as much a place for a superb family supper as it is for a good night out. It's the only Camps Bay premises with a 4am liquor licence, plus pizzas are served until 1am. This means you can gather your clan and dance until your feet hurt or just pop in for a late night snack. It also makes Dizzys the perfect spot for a celebration – especially as there's a free venue hire policy. Add to this the cosy seating clusters, crackling fireplace, big-screen TVs for major sporting events, in-house DJ, karaoke host, and a range of original bands on Fridays, and you have yourself a party! Seriously, patrons get a FREE shooter voucher on Tight Ass Tuesdays that can be redeemed at any of their Sunday Beer Pong competitions.
Cedric and Taryn joke that minimum dress requirements are shoes and a top (no pants, I note). They don't want people to feel obliged to dress up – this is not a pretentious establishment. It's simple, wholesome, and fun-oriented – a place where you can leave bad vibes at the door and be nice or go home.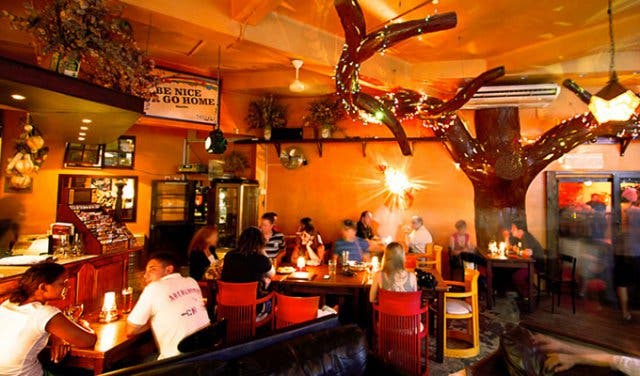 Tip: Dizzys might be famous for its pizzas but its homemade lasagnes are the real star of the show. They're made from scratch with Taryn's home-grown herbs and delicious spice blends.

The Bill: All food is homemade, often with organically grown herbs and vegetables from Taryn and Cedric's garden. Pizza prices range from R38 to R120, and the lasagnes (meat or veg) are R95. Burgers start at R88, while the gourmet range is a little bit pricier (but oh so good!).

by Samantha Corbett
---
Also, don't forget to follow us on Twitter, like us on Facebook, join our Google+ circle and check out our Pinterest boards for updates. Not to mention, subscribe to our newsletter to keep up to date with what's hip and happening in our pretty city.