Top African restaurants in Cape Town
African food's got game.
Last Updated: 19 December 2016
South African food is often described as 'rainbow' cuisine, influenced by Dutch, English, Cape Malay and Indian settlers. Cape Town's restaurants are abundant with traditional bobotie, milk tart, spicy sosaties, curries, pap, game and boerewors. But it's not just about eating the food. Music, dancing, culture and unique South African hospitality are sure to make your dining experience memorable.
Dine With Khayelitsha
This setting will give you an authentic dining experience complemented by deep conversations and a serving of true African cuisine. The township dinners are held at up to eight various homes, to give you a true Mzansi experience. The space hosts up to 11 guests at a cost of R250p/p for general dinners and R350p/p for private dinners. The three-course meals are set around topical conversations and practical solutions to problems. After dinner, guests head off to a local lounge, where entertainment by a variety of local artists is the main for the night.

Soloman Tshuku Avenue | site C | Khayelitsha | +27 (0)21 005 1842
Kubu Cuisine
Kubu cuisine gives you the entire Safari in-front of you, captured in a noble hunt part of a thousand years of tradition. This inspiring cuisine was birthed from their passion of all things African – combining a menu that's broad and bold, with African decorations and delicious food. This restaurant is open Monday to Sunday from 10am to 8pm.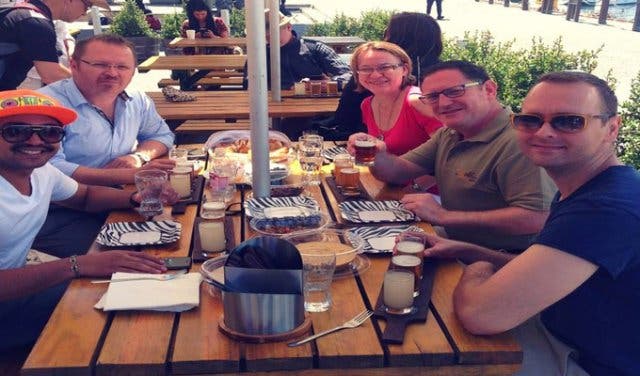 Old Power Station | 19 Dock Road | V&A Food Market | Waterfront | +27 (0)21 811 2606
Marco's African Place
In this vibrant orange building, you'll not only encounter authentic décor, but live music and dancing too. The menu specialises in game such as, springbok, kudu and ostrich accompanied by pap and other staples. There's also an extensive list of local wines. Read more about Marco's African Place.

15 Rose Lane | Bo'Kaap | Cape Town | +27 (0)21 423 5412

Gold Restaurant
Though recently relocated from its city centre location to a spot just adjacent to Green Point's super club, Trinity, this golden restaurant still treats visitors to an authentic 14-course African menu. The dishes range from Cape Malay-inspired to those with Timbuktu origin. Entertainment includes dancing Mali puppets and Djemba drumming lessons.

15 Bennett Street | Green Point | Cape Town | +27 (0)21 421 4653

Addis in Cape
Talented chefs and a one-of-a-kind coffee ceremony give Addis an Ethiopian feel. A pancake-like sour dough base lines an intricately woven basket and is filled with aromatic stews and sauces to share. Read more about Addis in Cape.

41 Church Street | City Centre | Cape Town | +27 (0)21 424 5722
The Diplomatic Bar and Restaurant
This bar and restaurant brings the Southern African home cooking to South Africa. The Diplomatic Bar and Restaurant specialise in authentic traditional cuisine. The food is handcrafted from scratch with fresh and natural ingredients. The menu is designed to reflect ethnic, cultural, political and social themes. So if you looking for elegant dining combined with tasty stews, pap, lamb shank, chicken curry and pens (tripe) – then make a reservation now. You can enjoy their service from 11am till the last customer leaves, seven days a week!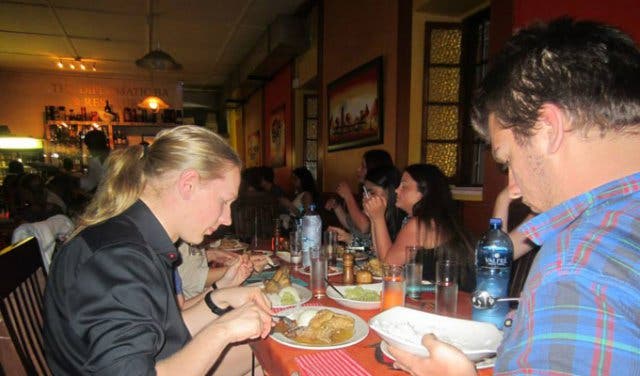 35 Long Street | Cape Town | +27 (0)21 424 5000
Mzoli's
No trip to Cape Town is complete without a pilgrimage to Gugulethu's church of meat. Fill a bowl with the freshest of meat and head over to hot, hot braais where your lunch will be cooked with skill. Next, crack open a bottle of Captain Morgan rum and dance the day away to kwaito beats. Read more about Mzoli's.

NY115 | Shop 3 | Gugulethu | Cape Town | +27 (0)21 638 1355

Marimba Restaurant
Indulge all of the senses with décor that celebrates the African origin of the marimba. Congolese, Mozambican and South African live music plays in the background while communal dishes such as wild game, seafood and decadent desserts are served to hungry patrons.

Corner Coen Steytler Ave & Heerengracht Blvd | Cape Town International Convention Centre | Foreshore | Cape Town | +27 (0)21 418 3366

Mama Africa
This iconic Long Street restaurant plays host to a colourful display of wooden carvings, paintings and furniture. Look out for the live marimba bands on weekends. On the menu there's a little something for everyone. Tuck into game, seafood, curry, steak and even vegetarian options. Read more about Mama Africa.

178 Long Street | City Centre | Cape Town | +27 (0)21 424 8634
Amazink
Amazink is situated in the idyllic Stellenbosch Mountains. Owner Loyiso Mbambo has added contemporary flair to the traditional Xhosa cooking style he learnt from his aunt. The restaurant is a favourite among Khayamandi residents and visitors alike.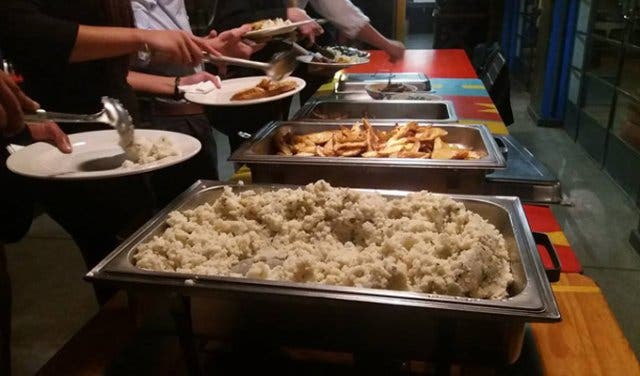 118A Masithandane Street | Stellenbosch | Cape Town | +27 (0)21 889 7536

---

---
Get a taste of Ethiopia in the city centre at Addis in Cape.
New: Strictly African food in a unique Mzansi-style at Afrobar & Pitso's Kitchen.
Discover one of the most unique and quintessential Cape Town beach restaurants in Moyo Blouberg at Eden on The Bay.
---
Use our events section for an up-to-date overview of happenings in Cape Town. Also, don't forget to subscribe to our newsletter.
Follow us on Twitter, like us on Facebook, connect with us on LinkedIn, check out our photos on Instagram and follow our Pinterest boards for updates on what's happening in and around the Mother City!