There's a New Beer in Town
I'd tap that
Cape Town's craft beer industry just got bigger. Metal Lane Brewery has been occupying a 90sqm space just off Kloof Street, in Gardens, since July 2017. The micro-brewery's innovative and hands-on approach to brewing is a welcome addition to the ever evolving industry.
A passion project turned profession for founder Murray Middleton; the local entrepreneur who studied at both Stellenbosch and University of Cape Town (UCT) is learning as he goes along. "I was in love with beer the way any student would be, but I didn't know much about it other than it was made with malted barley, hops, water and yeast," the enthusiastic beer producer shares. After spending a short while working at a home brewing company, learning about the industry from barley to bottle, Murray decided to try his hand at craft beer brewing.
This inner city brewery may still be new to the industry but they certainly have character and heart.
In three months, Metal Lane has established itself as an up and coming brand. Having recently been awarded Silver at the South African National Beer Trophy competition and Gold at the Craft Brewers Powwow, it is clear that Metal Lane is a product craft beer fundis are excited about. The brewery participated in the 3rd Annual Woodstock Winter Beer Festival earlier this year, and is set to feature at the 8th annual Festival of Beer happening in December 2017, proving that this underdog has hit the ground running.
"The industry hasn't gotten to a stage where being competitive is necessary. If your beer is good, or better than mine, we're opening up the industry and changing people's palettes and perceptions about craft beer," Murray explains. Marvelling at how helpful and welcoming his fellow craft beer brewers have been, the entrepreneur intimates that some brewers are even generous enough to help you out with ingredients and man power if needed. "The better the quality of all our beer the bigger the industry and culture grows," Murray says.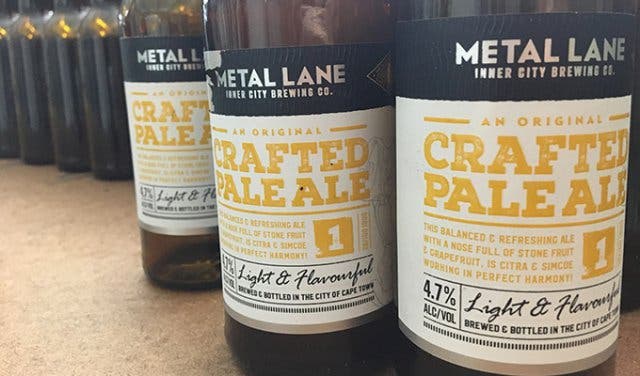 Walking through the brewery I get a real sense of the Metal Lane. With only one other employee, the space is crisp, clean, refined and intentional – a sentiment echoed in the product. Everything about Metal Lane has been thought through and streamlined. From the colour of the bottle as well as the the texture and font of the label to the malted citrus taste profile, everything has been produced to give you a no fuss, no frills, all flavour beer.
Murray welcomes compliments and criticisms on the chin. Metal Lane, currently offering the Crafted Pale Ale, has an open door policy so beer fundis can pop in at any time and walk through the brewery to make sure they are getting bang for their buck.
Metal Lane only produces 3500 litres of beer a month. Distributing that to the restaurants they have taps at, while ensuring they have enough to provide for the bottle stores they partner with too, is a tightrope this micro-brewery walks regularly. Luckily, their age and the nature of the craft beer industry affords them the allowance to play and experiment until they find the right combination – much like the act of craft beer brewing itself.
"Our location lends itself to so many great opportunities," Murray begins. "We're hoping to incorporate ourselves into First Thursdays in the near future. A rooftop bar is also on the cards so keep an eye out for us," he says.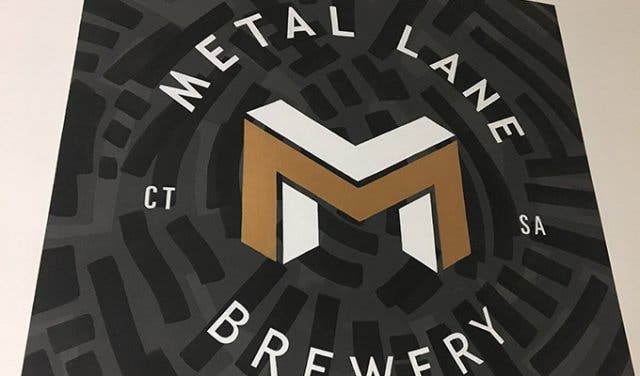 Tip: If you want to pair your Metal Lane Crafted Pale Ale with a meal, any meat dish will do. A burger that comes with a sweet cheese is a safe choice, you won't be disappointed with a steak either. More adventurous diners can pair the beer with a curry or salsa for a carnival of flavours.
The Bill: A 340ml bottle of Metal Lane Crafted Pale Ale is currently going for R29 and is available at a number of different bottle stores in the CBD. Ask for it by name at Roeland Liquors, Norman Goodfellows, Woodstock Liquors, Queen and Peasant and Blue Bottles on Kloof Nek. Metal Lane is also on tap at Motherland Coffee in Greenmarket Square and they are a guest tap at Beerhouse on Long Street.
Opening Hours: Patrons wanting to have a beer tour, and talk to Murray about Metal Lane are welcome to call him on +27 (0)84 442 1212 and arrange an appointment.
By Inga Sibiya
---
ABOUT #CapeTownMagNew:
#CapeTownMagNew is a long-standing project that is dedicated to discovering exciting new places in and around our pretty city. We tell their stories, find out what they offer, and delve into what makes them unique. From cafés and restaurants to trampoline parks and dog hotels, there is always one new place in the city that we uncover each week. You can follow #CapeTownMagNew on Twitter and Facebook and subscribe to our newsletter to track recent features or read more here about more Hot Spots and New Restaurants in Cape Town and Surrounds.
DISCOVER OTHER EXCITING NEW SPOTS IN THE CITY:
STAY TUNED AND SUBSCRIBE TO OUR NEWSLETTER FOR MORE INFORMATION
---
Use our events section for an up-to-date overview of happenings in Cape Town. Also, don't forget to subscribe to our newsletter and if you have a smartphone, add m.capetownmagazine.com to your home screen for quick access on the go!