The James Sedgwick Distillery in Wellington
Africa's first commercial whisky distillery is now open to the public for tours and whisky pairings
The story begins in 1850 with Captain James Sedgwick, one of the greatest South African liquor industry forerunners. Sailing into Table Bay on the clipper, Undine, Captain Sedgwick took refuge on the Cape's beautiful shores retiring from sea and later founding the firm J. Sedgwick & Co. – a purveyor of quality liquor, tobacco and cigars.
After his death in 1872, two of the skipper's four sons continued their father's business, which grew exponentially under their leadership. In addition to selling imported wines and spirits, the company expanded with the sons wishing to create their own brandy and fortified wines and so, the duo purchased buildings in 1886 on the banks of the Berg River, which was once known as Katryntjiesdrift. These buildings are today the very place that house Africa's only commercial whisky distillery, The James Sedgwick Distillery in Wellington.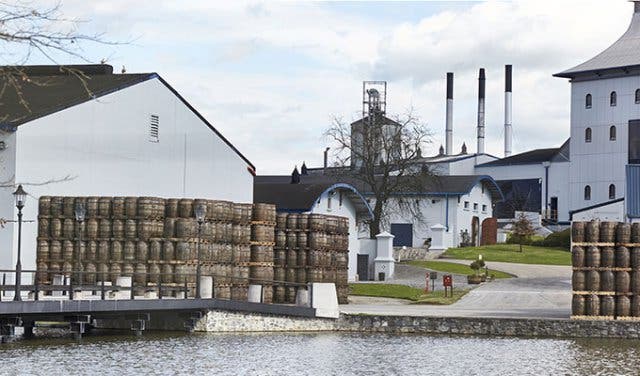 Lucky for us, and whisky-loving folk worldwide, we too can now become part of the rich heritage and prestige that is so synonymous with The James Sedgwick Distillery. Operating as the only commercial whisky distillery in Africa (more on that later) and home to the internationally award-winning range of Three Ships and Bain's Cape Mountain Whisky, the establishment's doors are now officially open to the public on selected dates and times for distillery tours and food pairings.
Set in the picturesque Cape Winelands region of Wellington, approximately 55-minutes from Cape Town, The James Sedgwick Distillery invites all to explore the true passion and craftsmanship of South Africa's whiskies, come to understand the art of whisky-making, learn about the history of the distillery spanning 130 years – we've only just touched on it above – as well as to taste some of the world's finest malts and grains.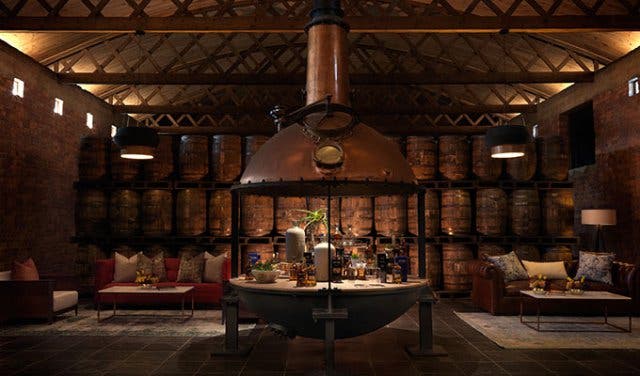 "By visiting [the distillery] you'll learn about the quality of the grain and barley used, how the whiskies are distilled and matured, and experience the dedication and passion in each whisky produced," expands Simon Dicks, brand home manager of The James Sedgwick Distillery. "You don't need to travel to Scotland or Ireland to experience this – right here in South Africa we're making whisky that is currently being awarded the top international awards, ahead of all those traditional whisky producing countries."
An innovator in its own right the distillery is home to many firsts for the South African whisky industry; the first whisky brand, the first 100% South African whisky blend and the first single malt and grain. Not to mention, functioning as the only commercial whisky distillery in Africa, the institution also handles the entire whisky process on-site from milling the raw ingredients through to maturation and blending, proving itself worthy of the countless awards and accolades secured to its name.
"It's the sheer volume that makes The James Sedgwick Distillery the only commercial distillery in Africa," explains Simon. "At any given time there are more than 150 000 casks maturing in the maturation cellar to keep up the local and international demand for our whiskies."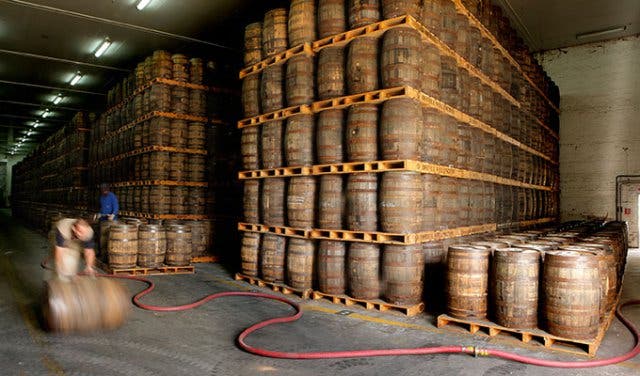 The pre-booked distillery tours and food pairings are limited to 10 people and are offered at set-times (10am and 2pm) on a Friday and Saturday to ensure a more personal and exclusive experience. On arrival, guests will enjoy a welcome whisky-cocktail – a tot of Three Ships Select mixed with a dash of bitters, lots of ice and topped with ginger ale, a few mint leaves and a cherry – followed by an informative video.
"The cocktail is very refreshing and a reminder that whisky can be just as enjoyable in a simple mixed drink as it is drunk neat with a block of ice and a dash of water," explains Simon who welcomes tour groups as well as presents the distillery tour to the respective members.
After the film, visitors are led on an on-foot tour to witness first-hand how the whiskies are crafted through the various stages from raw material to distillation to maturation. Once completed and back at the tasting room, members will then be presented with an unconventional pairing of three whiskies and five generous sample dishes. Striving to guide, rather than to predict, tasters are encouraged to discover for themselves how the different flavours of certain dishes complement the aromas found within a particular whisky.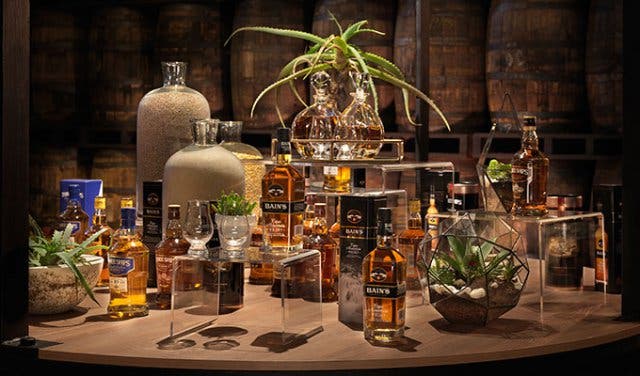 "We decided to offer guests a unique experience. Everyone appreciates a really good whisky. Add food and you have an extraordinary taste experience," says Simon.
The whisky tastings comprise Bain's Cape Mountain Whisky, Three Ships Bourbon Cask Finish and Three Ships 5 Year Old Premium Select whereas the food samples include apple chips, smoked apple chips, smoked beef, blue and goats cheese with fennel and celery, smoked snoek, 70% dark chocolate mousse and pumpkin pie.
"The cross-dual dishes were selected in such a way that they don't only match one particular whisky – try them with the various whiskies and decide for yourself which pairing strikes gold," Simon adds.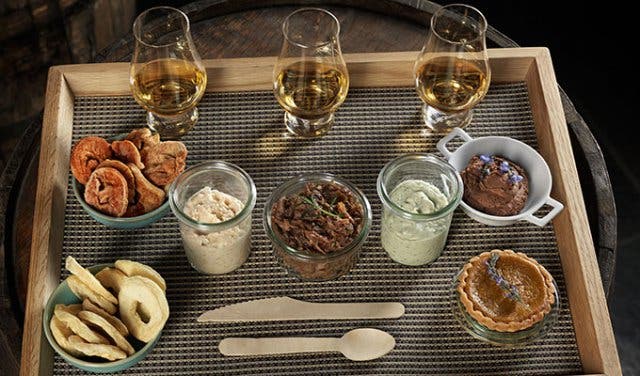 Owing to the South African whisky industry's youth, especially in comparison to the more traditional whisky producing countries, the distillery has become innovative in its approach by experimenting with various styles and finishes, despite following the exact same set of whisky-making 'rules' as in Scotland. In addition, our warmer climate too plays a role in accelerating maturation and flavour extraction from the casks thus resulting in South African whiskies portraying a far smoother texture at a younger maturation age – a characteristic that is often associated with an older whisky. These factors have all contributed to bringing South Africa's whisky to a level where it can compete with the best in the world.
"It's best to set a couple of hours aside for this unique whisky experience," concludes Simon. "It's a languid affair of whisky making, the South African whisky industry and the whiskies that have become some of the most talked about around the world."
Tip: The South African whiskies – Bain's Cape Mountain and Three Ships – will be available to purchase at the end of the tour and tasting. Keep your eye on the limited edition whiskies launched under each brand, and only available at the distillery, which will from time to time also be offered for purchase.
NOTE: Tastings and tours are limited to 10 people only.
Booking Info: Booking in advance through Webtickets is essential. Please note that no bookings can be made at the distillery or on arrival. This experience is only offered to those aged 18 years and older. For more information, call +27 (0) 72 415 3440 or email info@jamessedgwickdistillery.co.za. Alternatively visit www.bains.co.za and www.threeshipswhisky.co.za.
Opening Hours: Friday and Saturday: 10am and 2pm.
The Bill: R350p/p | Welcome drink, distillery tour and three whiskies paired with five food samples.
57 Stokery Road | Wellington | +27 (0) 72 415 3440
---
ABOUT #CapeTownMagNew:
#CapeTownMagNew is a long-standing project that is dedicated to discovering exciting new places in and around our pretty city. We tell their stories, find out what they offer, and delve into what makes them unique. From cafés and restaurants to trampoline parks and dog hotels, there is always one new place in the city that we uncover each week. You can follow #CapeTownMagNew on Twitter and Facebook and subscribe to our newsletter to track recent features or read more here about more Hot Spots and New Restaurants in Cape Town and Surrounds.
DISCOVER OTHER EXCITING NEW SPOTS IN THE CITY:
---
Test and try the best whisky and gin at the Whisky And Gin Live 2019.
Use our events section for an up-to-date overview of happenings in Cape Town. Also, don't forget to subscribe to our newsletter and if you have a smartphone, add m.capetownmagazine.com to your home screen for quick access on the go!
Follow us on Twitter, like us on Facebook, join our Google+ circle, connect with us on LinkedIn, check out our photos on Instagram and follow our Pinterest boards for updates on what's happening in and around the Mother City.