World Environment Day 2017
It's time to connect with nature in celebration of World Environment Day!
In a world of tarmac, smartphones, supermodels and concrete jungles, connecting with all things natural is for many modern-day humans a fleeting notion. Although many of us are majoritively preoccupied with our next Instagram post, office job paycheck or latest model of supercar, let us take a moment to remember where it all began. The Earth and her volatile eco-climate is something that we as humans are all responsible for, whether we'd like to admit it or not, and is something we should all be making an effort to appreciate and care for.
June fifth marks the largest annual event for environmental action. Started back in 1972, World Environment Day has seen forty-five years of communities across the globe coming together to partake in events like neighbourhood clean-ups, replanting of forests, beach clean-ups and action against perpetrators of wildlife crimes.
Every year, World Environment Day is hosted by a different country. This year's host is Canada. The host country gets to pick a theme; Canada's theme is Connecting People to Nature. This year's theme implores us to kick off our shoes and submerge not only our toes into nature but our minds, too. Take this day to reconnect with nature in order to appreciate its beauty and the role it plays in facilitating our existence. Think of how intimately we as human beings depend on nature and find your own fun and interesting way to cherish the vital relationship you have with nature.
Cape Town is one of the most unique and breathtaking natural landscapes in the world. We have kilometres upon kilometres of picturesque white sandy beaches that are in need of clean-ups and acres of vacant soil that could be replanted to their former green splendour. Get some sand between your toes, sun on your skin, your hands dirty and do your bit to show your appreciation for your own environment while enjoying time with friends and family as you do it. Here are five fun ideas for things you can do this World Environment Day:
1. Organise a beach clean-up
With over five and half trillion pieces of trash in the ocean the fatal effect it has on the creatures that are forced to exist amongst it, what better way to do your bit than to gather your family and friends for a stroll on one of our many beautiful beaches to each fill a black bag with trash preventing it from killing innocent sea life? Even if you go alone and pick up as much as you can, this is a great way to enjoy the Mother City's natural wonders while doing your bit.
2. Plant a tree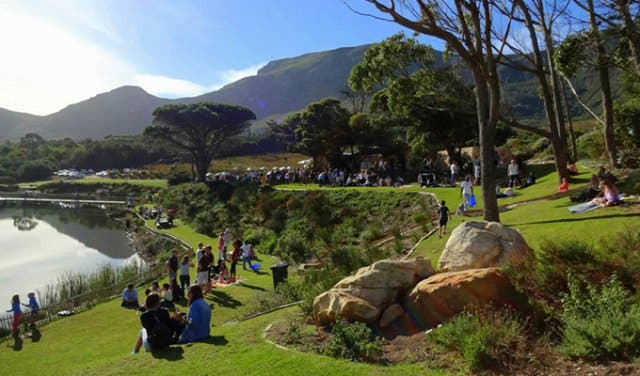 During one year, a mature tree will absorb more than twenty-one kilogrammes of carbon dioxide from the atmosphere and release oxygen in exchange. The point is: we would not be able to breathe if there weren't trees doing what they do. Get down to your local nursery, buy some trees and get your hands dirty. It's rewarding to watch your once-little tree grow over the years and you'll also be supporting local nurseries at the same time.
3. Plant a vegetable/herb garden
A garden that gives back; what better type of garden is there? Your yard hasn't had any attention for years, why not turn it into a space that produces organic tasty goods that you can serve to your family and friends? If you already have a veggie/herb garden, why not offer to plant one in a disadvantaged community that needs it the most? Doing your bit for the environment has never been so rewarding!
4. Vow to use less non-biodegradable packaging
We've all done it and continue to do it - the polystyrene, the once-off coffee cups, the plastic cutlery and the straws in our drinks; just to name a few. These simple pieces of non-biodegradable utensils will stay in our environment long after we have passed and even generations after that. It may seem impossible to steer away from these products, but it really isn't! If you need to get a takeaway, give the places you buy from your own container to put your food in as opposed to using a non-reusable one every time. Keep your glass packaging and reuse it for storing food and drink. Buy a reusable coffee mug; they keep the contents warmer for longer and many places offer discounts on your coffee if you bring your own mug. Say no to unnecessary things like straws, plastic cutlery and grocery bags. It takes a little more planning to have your reusables ready when you need them, but the environment will thank you for it.
5. Join Green Building Council South Africa on a walk in Newlands Forest
Green Building Council South Africa is inviting everyone to come on a (weather permitting) walk in Newlands Forest on Monday, 5 June from 9:30am to 11:30am in an attempt to reconnect people with nature. Grab your family, friends and colleagues and snap pictures of each other enjoying nature in an attempt to create the largest World Environment Day photo album. It's an easy walk that anyone can do and will be followed by coffee at Cassis before everyone heads back to the office. It's free to join in, but you do need to book on gbcsa.org.za.
You're advised to bring some water, good walking shoes and your cell phone for the picture snapping. In order to have your photos included in the album, you need to tag @gbcsa and tag #withnature and #worldenvironmentday. You're also encouraged to share why nature is important to you in the caption. Please consider carpooling to save fuel and carbon emissions!
If all else fails, just get outdoors! Go for a walk in the forest, have a picnic in the park or simply just take in the beauty and try to appreciate the environment in which we are blessed to live. Be conscious and do consciously. Every little bit helps. If everyone did one thing, that'd be six billion things done to better the environment that is so deserving and in need of our care.
Happy World Environment Day!
---
Want to know more about Cape Town? The Mother City is fast developing so to keep you clued up; we've rounded up some of the hottest latest additions to Cape Town in our New Restaurants and Hot Spots overview. Discover it
---
Words by Cheri Morris
---
Use our events section for an up-to-date overview of happenings in Cape Town. Also, don't forget to subscribe to our newsletter and if you have a smartphone, add m.capetownmagazine.com to your home screen for quick access on the go!
Follow us on Twitter, like us on Facebook, join our Google+ circle, connect with us on LinkedIn, check out our photos on Instagram and follow our Pinterest boards for updates on what's happening in and around the Mother City!