This is What She's Hoping for When You Say, Let's Go Camping
Cosy in winter, romantic and the freedom for the kids to roam
Cherry Glamping, the luxury secluded camping site in Elgin's apple country is it's most gorgeous at night. It's an experience of calm and wellbeing with bright stars above, the smell of evergreens all around and nothing but the sound of rustling leaves from the gentle breeze.
Lanterns mark the wooden walkways to the 12 luxury bell tents, each equipped with the comforts of your heart's desire. The massive lounge is warm and wooden with a fireplace and a family table, chairs and couches.
Each tent, hoisted on its own wooden deck, has real beds and wooden bathrooms that have huge windows, so you shower looking out over the mountains and grazing zebra.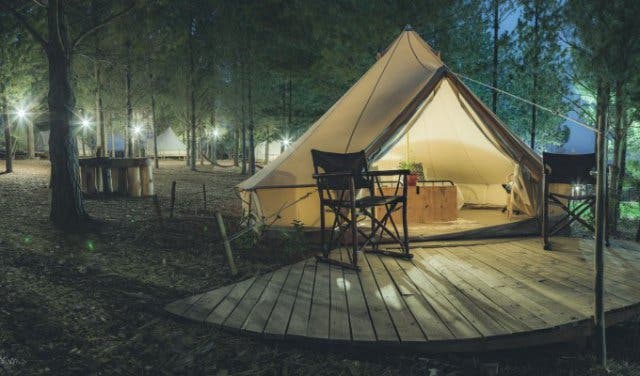 There are nightstands with reading lamps, a kist, warm hide underfoot, armchairs and enough pillows and creature comforts to make having a lie-in tomorrow really tempting.
The deck extends out and looks out over the Elgin Valley and the braai. Outside there's room to play: Hammocks everywhere and lush green grass where friendly zebra and springbuck greet you in the morning.
"I mean, just look at all this luxurious space," says co-owner of Cherry Glamping Magriet Cherry. She echoes the sentiments of most people who stay at Cherry Glamping, including that of those (mostly women) who learn about them from the social media pages.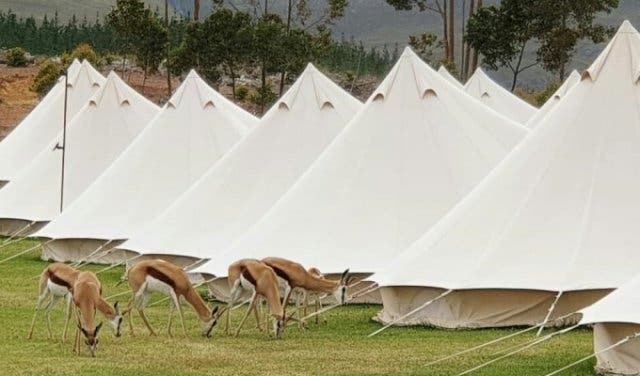 GLAMPING IN ELGIN APPLE COUNTRY
Managers Magriet and her husband Richard, who live down the road and are here to attend to guests practically every weekend, are in awe of what they have built.
Cherry Glamping is a special find. Just off the N2 near Paul Cluver, through a couple of orchards and vineyards past the old Groenrug Station, the luxury tents are built in the heart of a cluster of pine trees near the Hottentots-Holland mountains.
"I look at how much the kids love this place, and I just think we've created something so special," says Magriet, whose role includes prepping the charming continental breakfast, coffee and tea on the viewdeck while Richard usually mans the braai, supplies the drinks and shares stories of the Elgin Valley with guests.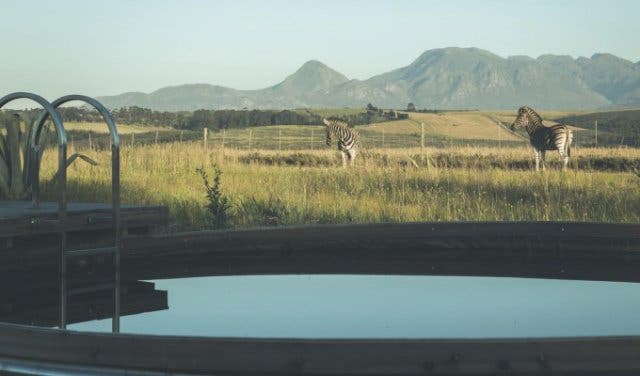 ROMANTIC WINTER GETAWAY
"What I love is that you don't mind the cold here," says Richard. "Once the braai is going and you get into a conversation, with a beer or glass of wine in hand, and the kids are playing, it's just magical. "There's no one to bother you. It's safe, you can just let the kids run and kuier (visit) as late into the night as you like."
"You know, we had this plan of building a play area," Richard says, "but then, when we opened, families would arrive and the kids would just go out and play on the grass and among the trees.
Parents love that their children can play the way we used to growing up, that they decided no jungle gyms. "We let the kids be kids and play the old way."
So, Richard and Magriet instead put up two "rain queen" reservoirs for swimming and a whole bunch of hammocks, which are dotted around the site.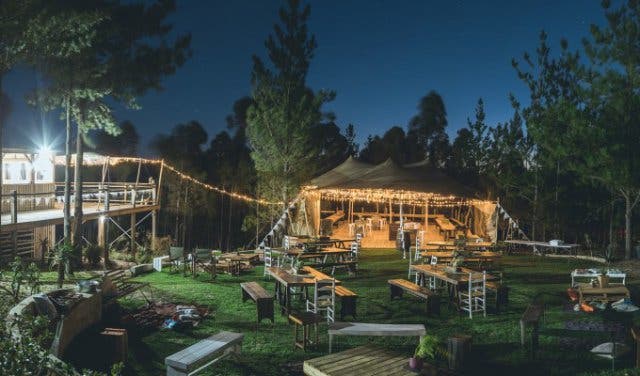 PLENTY OF ROOM TO PLAY
There is more than enough to discover beyond the 35-hectare plot Cherry Glamping is situated on. It's right on the Absa Cape Epic route and has gorgeous hikes along the Green Mountain Trail to cycling at Oak Valley and Paul Cluver to Wildekrans.
There are canopy tours and Segway tours, biking, and the farm is very close to the Overberg birding route. There are naturally loads of interesting farm stalls and restaurants nearby – including the Elgin Railway Market and an outdoor-concept smokehouse and rib shack just down the road.
And, of course, everything from Betty's Bay to Hermanus, Caledon to Cape Town is less than an hour from the Cherry Glamping site.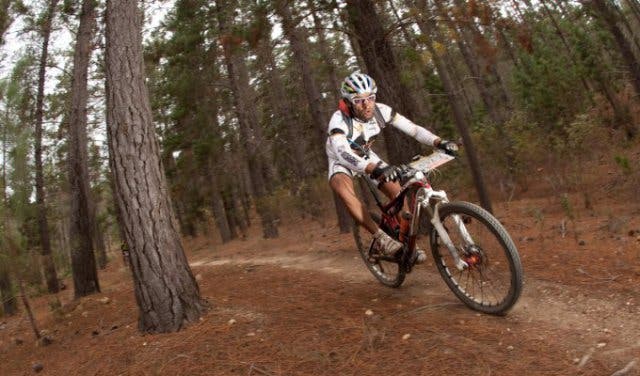 SUPER RELAXED WEDDINGS AND EVENTS
"I was here for a wedding a few months back," says a regular guest. "And everyone was just so relaxed. You know how stressful weddings can get nowadays. Well, I don't know if it's the fresh air or just this place, but that wedding was just so chill."
It's for that very reason that, since opening in October 2018, the Cherry Glamping site with its massive tented events space is often fully booked. So much so that Richard and Magriet are expanding. "I don't want to turn a family away when it's booked, so we're developing a new camp a little further down," says Richard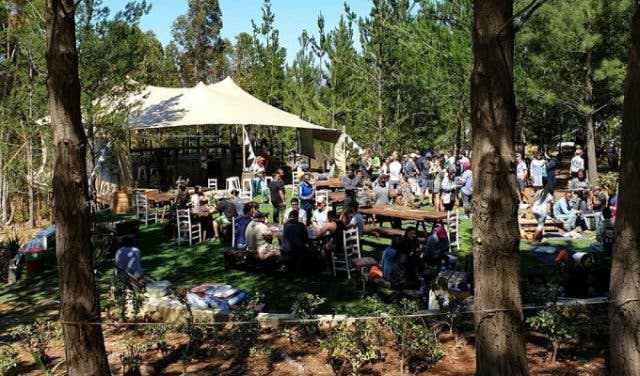 MORE CAMPS COMING SOON
"We accommodate up to 200 people, and we get booked up for weddings, birthdays and teambuilding quite often," Richard says.
It's a magical space for a 40th up to a 60th birthday and idyllic for companies looking for a mid-week low-tech company breakaway, where there's no Wi-Fi or plug points, so colleagues can get off their screens and connect.
The venue's also hosted a number of mini-festivals. "We've had top Cape Town DJs and bands like Freshlyground play here. Events organisers love us because we're so secluded, safe and we don't charge a venue fee, just the accommodation," Richard says.
All this and Cherry Glamping is just 50 minutes' drive from Cape Town. Close enough to warrant checking out whenever you're looking for a good excuse to get out into nature a little bit.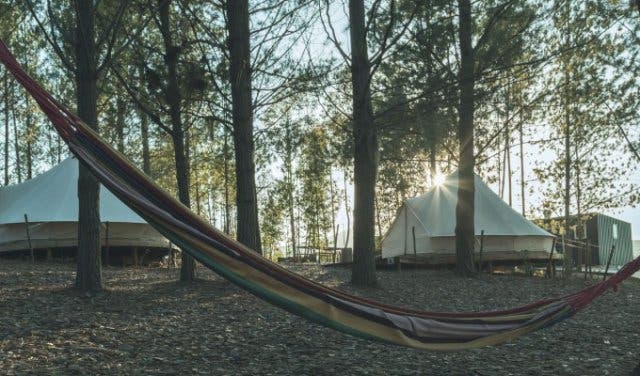 Looking for an epic bonding experience? Go on a mid-week team building getaway.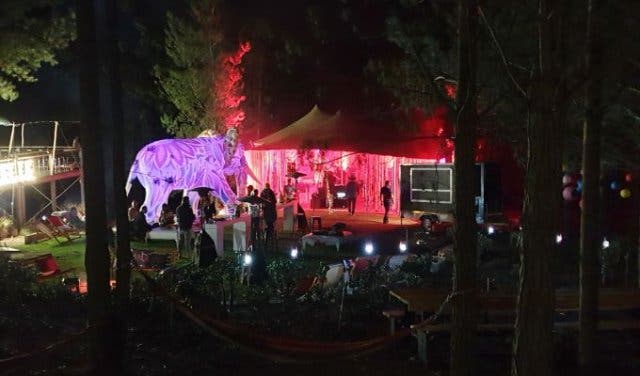 ---

Take camping to the next level across South Africa with AfriCamps.
Discover awesome camping spots near Cape Town, idyllic places for a romantic getaway and unusual accommodation in the Western Cape.
Alternatively, find loads of adventure tours and things to do with kids, as well as free and cheap things for families.
---
Use our events section for an up-to-date overview of what's happening in the city, suburbs and dorpies. Join our newsletter and add us to your mobile home screen for the ultimate guide to discoveries in Cape Town.
Follow and like us on Twitter ❤ Facebook ❤ LinkedIn ❤ Instagram ❤ Pinterest for updates.