A Visual Guide to the Magical and Vibrant Flower Season
Here are 13 blooming good images of the spring flowers in the Cape Region
before you read any further we'd love to share this tip: For the ultimate Cape wild flower experience glamp on a private game reserve at this luxury Wild Flower Camp.
and regarding the 2019 season: Get the 2019 Spring and wildflower season info in our overview guide of spring flower season in the Cape and spring flowers you can eat.
About the wildflower season in South Africa
It all begins around mid-July taking place along South Africa's magnificent West Coast, which is approximately an hour away from Cape Town's bustling CBD. With little warning (and a little bit of magic), every coastal town and inland village, mountains and fields alike, are lit up in a rainbow of colour as an endless display of wild-flowers burst into full bloom transforming the once wintery-dull area into a mecca of vibrant shades.

On a recent visit to the WCNP, we had the incredible opportunity to visit the Postberg region and see all the beautiful flowers on display. And so, in an attempt to get you excited about the blossoming period, here are 13 awesome flower pics to encourage you to check the beautiful flora out.
Here are 13 wildflower pictures to get you excited about the blossoming season. From gorgeous Gousblom and Sporrie to picturesque White Rain Daisy and Elandsvy, there are many beautiful and enchanting buds to be seen…
West Coast Flower Season and opening times
Although the West Coast National Park flower season usually takes place during August and September, many times the beautiful natural glories can already be seen by the end of July and still during early October (depending on the weather conditions).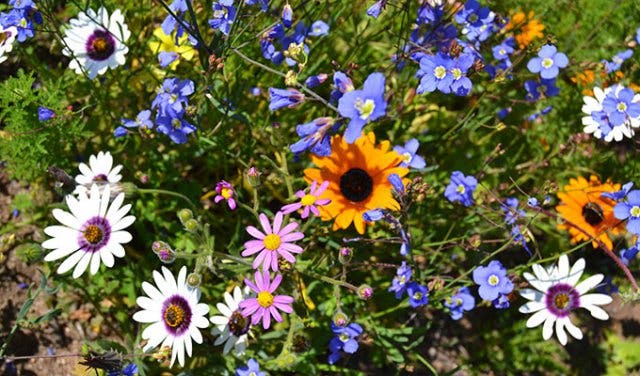 Flora AND Fauna
Flower-enthusiasts (and everyone else in between) flock to the nature reserve during these two months of the year to see carpets upon carpets of brightly coloured and breathtakingly gorgeous flowers as well as an array of other interesting fauna and flora found in the park. (If lucky, guests may spot bontebok, duiker, eiland, zebra, ostrich as well as many other animals and birds whilst visiting.)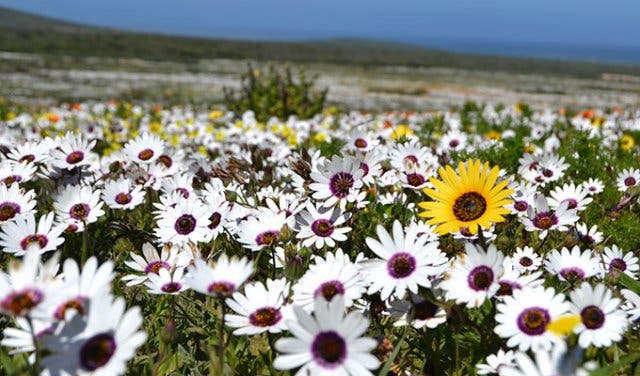 Special opening Postberg for Wildflower season
The Postberg section of the park serves as a major highlight during the wild flower season since this section is only open to the public during the flower season.
West Coast National Park: Open all year through
It must be noted that the entire park is a nature-lovers dream with its vast areas to explore and wide array of activities to indulge in such as hiking, biking and birding trails. Please note that the West Coast National Park is open to the public all year round.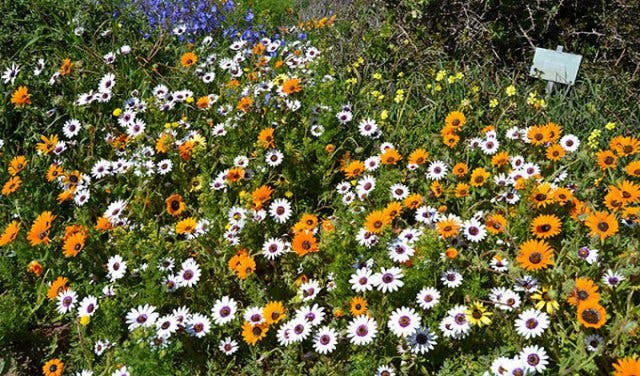 Continue the journey of spectacular images of spring on South Africa's West Coast: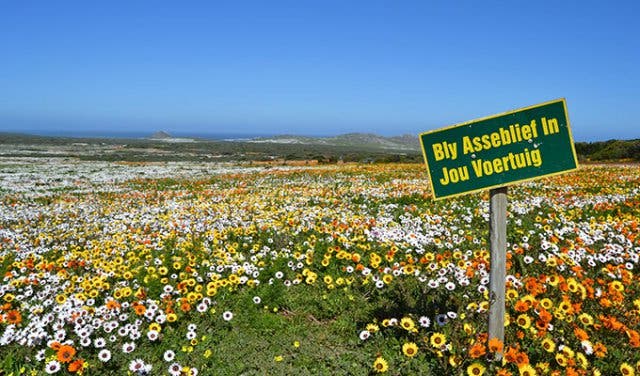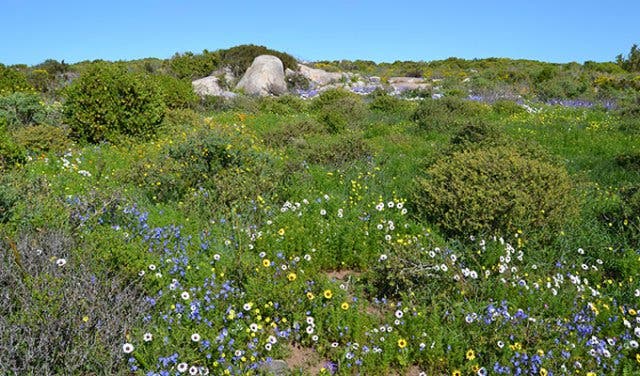 Geelbek Restaurant
Whilst visiting the West Coast National Park enjoy a home-cooked meal at the beautifully rustic Geelbek Restaurant situated inside the reserve (a mere 15-km from the R27 entrance gate). The country-style eatery boasts a homey farm-style cuisine made from only the freshest produce available – everything at Geelbek is made from scratch (and with love). The West Coast spot serves an array of foodie items ideal for those looking to sit back and relax – hearty boboties and fresh grilled hake and chips are well-recommended – as well as an array of on-the-go type options – think freshly-made gourmet sandwiches, pancakes and salads as well as daily-baked treats – for those looking for a quick bite.
Featuring a quirky tea garden out front, various private inside rooms, a shady veranda and cool tent area – there is enough space for everyone to join and something on the menu to tickle everyone's palate. On peak-season weekends, Geelbek also offers a coupon system for those looking for a quick snack. Guests can purchase a coupon for the eatery's outside braai area serving fresh boerie rolls with home-made tomato smoor.
Owing to the masses during flower season, guests must please remember to be patient regarding service and food as the hotspot is known to be very busy. Patrons can expect to pay from around R65 for breakfast, from R76 for light meals and from R115 for main meals. Freshly baked scones, muffins and desserts will cost from around R36. Geelbek also caters for weddings, functions and conferences.
NOTE: During the flower season Geelbek does not take bookings (only for tour groups of 10+)

Opening Hours: Daily: 9am – 4:30pm
+27 (0) 22 772 2134 | +27 (0) 72 698 6343 | https://www.geelbek.net/

TIP: During flower season head to the nature reserve early in the morning to avoid the visitors-rush, especially over weekends! Be patient during your trip – and make use of both the R27 and Langebaan gates – this is the park's busiest time and although rangers have put extra measures in place to try and alleviate as much congestion as possible, please be prepared for queues.
NOTE: There are three different self-drive flower tours visitors can check out. Explore the entire national park, not just the Postberg section (although definitely make sure you visit the area) but flowers can also be seen at the Seeberg lookout point and throughout the whole park. Take your time and enjoy the spectacular flowers!
by Krysia Gaweda
Images: Krysia Gaweda
---
Read more about West Coast National Park.
Also don't forget to check out these 10 Incredible Photos That Prove Cape Town Is The Most Beautiful Place On Earth or drive further north for snoek, bokkoms and vetkoek at the Bergrivier Carnival on the West Coast.