The Quick Guide to Dream Weddings In Cape Town
Tips, timelines, checklists and where to start on planning your wedding – simple or extravagant
Update: 4 September 2018
Before we get to the planning part, have a look at this idyllic boutique wedding spot on a working dairy farm in Swellendam ...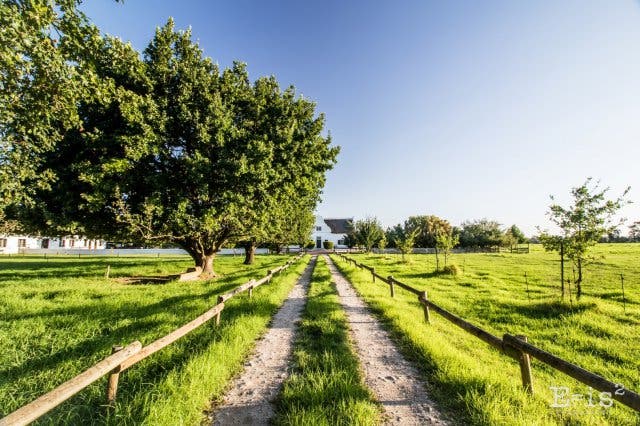 A quaint private chapel, big braai boma, swimming pool and rustic-luxury accommodation for 38 people. And, there are loads of cool extra experiences: a tour of the citrus plantations and sunset safari picnics.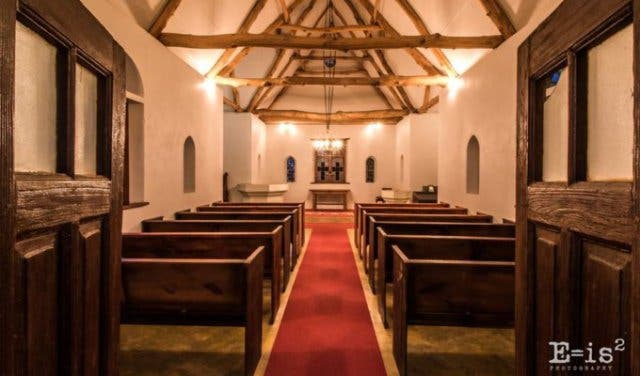 Olivedale Rd, Buffeljags River, Swellendam | +27 (0)79 200 9098 | info@kambati.co.za
Plus: Wedding special: book the entire venue and the bride and groom stay for free. Have a look at Rotterdam Guest Farm in Swellendam.
BACK TO WEDDING PLANNING
Planning a wedding can be a tremendously stressful process, one that's typically jam-packed with daunting demands. A myriad of tiny details need to be considered, a whole host of entities and service providers need to be researched and booked long in advance (think wedding venues, a dress, decorations, catering companies and photographers), and, without a structured schedule in place, a number of small essentials can easily slip through the cracks amidst the panic and excitement.
Thus, in light of wedding season in Cape Town, and in honour of the fact that the Mother City – with its vast variety of stunning venues and outdoor wedding locations – is one of the world's top destinations for marriage ceremonies, we, together with the help of Senior Wedding Coordinator Kim Werner from the top-notch planning enterprise Wedding Concepts and Aleit Swanepoel, founder and CEO of premier consultancy The Aleit Group, have compiled a wedding timeline to guide happy couples in their preparation. Whether you're getting married for the first, second or fifth time, this comprehensive checklist covers all you need to know and do to pull off the picture-perfect day.
12 TO 11 MONTHS PRIOR TO GETTING MARRIED
1. Start consulting with an experienced wedding planner, should you wish to work with one. Although not a necessity, hiring a professional with a wealth of relevant knowledge and several invaluable contacts to coordinate every detail of the celebration will both take the pressure off you and help to ensure the day runs smoothly.
2. Compile a wedding folder to serve as an organising tool. Use it to file all forms of correspondence, to record all decisions made and to collect inspirational images and magazine cut-outs that can form the basis for décor and dress ideas.
Budget:
Discuss and decide on the size of the wedding, the proposed budget available for it, and the respective family members that will contribute to the various costs involved.
Set aside a sizeable amount forunforeseen or easily-overlooked expenses, such as breakages, transport costs, accommodation for guests, legal documentation, fashion accessories, additional resources that may need to be hired, and overtime charges (carefully study the fine print of each contract you sign to make sure you're aware of potential extra hidden costs).
Identify those aspects of the wedding that are most important to you (i.e., a spectacular venue versus a large guest list), and allocate significantlylarger sums to these elements. Don't underestimate the cost that's attached to certain typically expensive service providers.
Venue:
The wedding venue ultimately sets the tone for the whole occasion and must be booked early on in the process, particularly if the date chosen falls in the popular peak season (February and March in Cape Town). To reduce costs on sites, it may be worthwhile considering a midweek or winter wedding.
Decide on whether you want to hold the ceremony and reception at the same site or at two separate locations.
Consider the weather at this time of the year, and, if any aspect of the event is being held outdoors, make sure the venue offers a plausible, easily-implemented plan B (one that looks as if it were plan A).
When visiting various venues during the decision process, be sure to check: a) what facilities and equipment are available and included (i.e., multiple venue spaces to accommodate a storyline wedding, tables, chairs, glassware and cutlery), b) what condition these facilities are in and whether they suit the look and feel you're after, c) whether they offer in-house catering, d) whether the price is VAT inclusive or not, e) what their closing time is, f) what the noise regulations in the area are, g) whether they arrange the bar themselves or have a set wine list, and, if drinks can be brought in, what corkage prices are involved, h) whether there are restrooms nearby.
Although we can't claim to be partial, it should also be noted that Cape Town is home to a broad array of stunning spots to tie the knot, so be sure to consider some of these sites (have a look at our overview of top wedding venues in the Cape Winelands for some great ideas).
Ceremony:
Book the services of a preferred officiant (e.g., a minister, rabbi or marriage commissioner).
Choose someone who you personally connect with and who shares your belief system and understands your values and goals. Meet with this person two to three times prior to the special day.
Photographer:
Start researching wedding photographers and look into hiring one's services.
Arrange meetings with between two and six photographers that align with your style and preference.
During consultations, be sure to look at portfolios and remember to ask: a) what precisely the package includes, b) how many hours they will be available for on the day (eight is generally ideal), c) whether prints or a professional album are included in the price, and, if not, what the extra cost for these will be, d) whether they work with an assistant (an aide can increase coverage), and e) how long you can expect to wait for final photographs to be ready.
10 TO 9 MONTHS PRIOR TO GETTING MARRIED
Retinue:
Choose your bridal party (maid of honour, bridesmaids and groomsmen).
With regards to numbers, there are no rules and anything between one and six is generally acceptable.
Guests:
Start compiling a guest list database.
If you have to cut down the list, as a rule of thumb, exclude anyone that you have not seen or spoken to in the last six months (unless they live abroad), anyone that your fiancé has not yet met, partners of friends or family members that you do not have a relationship with, or if you're really struggling, anyone who does not know the names of your pets.
Send 'save the date' messages to all your invitees, informing them that the official invitation will follow soon. A simple, well-designed emailer should be fine for this purpose.
Attire:
Make decisions about the specific design and style of your wedding dress, and hire the services of a dress designer that you personally click with.
Page through wedding and fashion magazines and try on a range of different types of dresses at large-scale retailers, like Bride & Co.
Narrow down a selection of three different designers and set up meetings with each (bearing in mind that there are often quite hefty consultation fees involved).
Don't book the services of someone who is outside of your budget (get a range of quotes as they can vary greatly), and remember it's not essential to pay exorbitant fees for the perfect dress. Consider up-and-coming designers as opposed to established ones as they are often just as competent but more cost-effective.
8 MONTHS PRIOR TO GETTING MARRIED
Catering:
Book a caterer if in-house catering is not an option at your chosen venue.
Consult with three different catering companies or chefs to get three counter quotes (remember most enterprises will charge for tastings).
Be sure to ask about any potential additional costs, such as transport fees or the hiring of platters or assistant chefs if required.
Discuss and put together a rough menu once you've decided on your caterer.
Choose dishes that are broadly reflective of your guests' tastes and general dietary requirements, not your own, and remember to include vegetarian options.
Entertainment:
Start considering hiring bands, performers, musicians or DJs (especially if they're very popular).
If you'd prefer live music, look into booking up-and-coming local talents, and attend their gigs to get a feel for their sound and stage presence.
Do remember that if you choose to go with a live band, you will also need to book the services of a DJ (or make use of a sound system), as live musicians generally only perform for short sets. In fact, a good way to cut down on costs altogether is to only employ a DJ.
Venue:
Start determining the overall look, style and colours of your wedding and making decisions about décor, floral arrangements, lighting, accessories and furniture for both your ceremony and reception venues .It's recommended to book the services of specialists in these areas at this stage, and when it comes to decorations and furniture hire, we suggest you get in touch with Goeters, a hiring company on the other side of normal.
When deciding on specific décor and lighting elements, consider the venue location, scale, dimensions and type to make sure they are appropriate for the setting (chic decor in a rustic venue may not work, for example).
If there's furniture, equipment or accessories (such as tables, chairs, portable loos, cutlery and crockery) that will need to be hired, look into these and reserve them for the day.
When consulting with florists ask to see their portfolio to get a feel for their arranging style, inquire about potential additional costs (like vases and containers), and check whether you can keep the flowers after the occasion to give as gifts to guests and key role players.
Guests:
Start looking into booking affordable accommodation for guests travelling from afar. Be sure to give these guests a range of options (close to the reception) from which to choose.
7 TO 6 MONTHS PRIOR TO GETTING MARRIED
Guests:
Sign up with a few select online or retailer bridal registries.
When selecting items to go on the registry, be sure to include both affordable and expensive pieces to cover all budget ranges, and choose a mix of practical, necessary items and more indulgent wants.
Consider signing up with a broad registry service that will source a range of pieces from various shops for you; alternatively, register with two or three specific stores that specialise in different fields.
Also, start designing your wedding invitations, ensuring that the layout and style reflects the general look and feel of the occasion. Include the time and date, the dress code, correctly-spelt names of the invitees and their partners, the right postal address, the RSVP date, and a request that guests let you know if they have any specific dietary requirements.
Attire:
Direct the dress designer to start making the wedding gown, and attend the first fitting. It's advisable to buy wedding shoes at this stage so that the correct length of the dress can be determined.
Design or purchase bridesmaids' dresses.
Hire the services of seasoned hair and makeup artists. To choose a professional, first consult with friends to get recommendations and then attend two or three trials (do note that artists may charge for trials).
Ceremony:
Schedule an appointment with the chosen officiant at this point to discuss the details and exact sequence of the marriage ceremony.
Administrative:
Book the services of transport companies to carry the bride, bridal party and guests to and from venues if required (a fancy bridal car for the couple and a minibus or shuttle service for guests generally work well).
5 TO 3 MONTHS PRIOR TO GETTING MARRIED
Settle on a specific wedding cake and book a baker.
Start by selecting several potential cake makers based on the style in which they specialise (e.g., chocolate versus sugar work), and attend several tastings to make your decision.
Do not forget to also purchase cake toppers.
Attire:
Purchase or hire the groom and groomsmens' suits.
Uniformity is important; so, ensure all suits have the same cut and colour.The groom can be distinguished by a tie of a different shade and the use of a boutonniere.
Ceremony:
Decide on which passages and poems will be read at the ceremony and by whom. Consult friends and family members as they may have a few good ideas for meaningful readings.
Design or purchase wedding rings, so that there is ample time for any required resizing or alterations.
Guests:
Mail out all wedding invitations.
Select and notify the individuals you would like to say speeches/toasts at the reception. Be sure to emphasise that speeches should be short and entertaining.
Administrative:
Finalise the following:
The exact dishes to appear on the menu.
The flower arrangements and décor (doing a trial of the table layout is advisable).
The design of the stationery (e.g., service programs, menus, seating plans and place cards).
An exact timeline of both the wedding ceremony and reception.
2 TO 1 MONTH PRIOR TO GETTING MARRIED
Administrative:
Consult with a lawyer about any legal nuptial contracts that may need to be drawn up and signed.
Send a detailed programme for the day to all service providers, stating their exact arrival and end times.
Ensure that any transport services you may be employing have clear directions to all venues.
Make all payments that can be made at this point.
Guests:
Contact any invitees who have not yet responded.
Develop a seating plan, bearing the following in mind:
Try to seat friends together and place quiet individuals or those that don't know anyone next to chatty, sociable people.
Decide on whether the bridal table will comprise mainly of the retinue, friends or family, or whether the bride and groom will sit separately.
Catering:
Place an order for all booze and beverages required, either with the supplying venue or with an outside source.
Attire:
Attend the final wedding dress fitting, and make sure bridesmaids visit dressmakers for their last fittings too.
2 TO 1 WEEK PRIOR TO GETTING MARRIED
Administrative:
Provide the ceremony and reception venues and the caterer with a final indication of the number of guests expected, along with any specific dietary requirements.
Collect all outstanding items, such as the wedding dress (make sure it still fits), the retinue members' outfits, the stationary and any décor elements.
Assign specific individual tasks for the event to the bridesmaids and groomsmen, being sure to also supply them with a timeline. Consider asking chosen retinue members to be in charge of the following on the day: a) supervising service providers and the whole set-up process, b)handing out the order of service pamphlets, c) carrying your possessions, d) touching up makeup when required, e) ushering guests from one venue to the next, f) transferring all wedding gifts to the honeymoon suite afterwards.
Photographer:
Meet with the photographer at the venues to discuss specific angles, compositions, key locations for pictures, and lighting issues, and provide them with a list of the precise shots and family photos that you would like taken.
Ceremony:
Hold a formal rehearsal with the officiant and bridal party at the venue at the same time of day that the ceremony will take place (for lighting purposes).
Attire:
Treat yourself to a soothing massage at a nearby beauty spa; you may want to have a facial, manicure and pedicure at the same time.
THE WEDDING DAY:
While some final preparation and setting up will still take place on the actual day of the occasion (overseen predominantly by vendors, retinue members or a wedding planner), the key thing for the couple to remember at the wedding is to relax, enjoy each moment and step back regularly to take it all in. Also bear in mind that this event is not meant to be centred on the small, irrelevant details, but rather on celebrating a beautiful union in the company of close family and friends.
Images by Jean-Pierre Uys, Sybrand Cillie and Photofuzion Photography Service
---
You can throw one helluva party at Rooftop on Bree.
From lofts among the trees to a luxurious seven bedroom villa surrounded by vineyards at Marianne Wine Estate. Plus, if you're an SA or SADC resident, you get a 20% discount off your stay.
Grand luxury weddings deserve this winelands setting of 20 000 fairy lights at the Bona Dea wedding venue.
Getting Married? Find everything you need at Simon's Town Wedding Expo.
Boutique wedding in a unique farm setting? Have a look at Rotterdam Guest Farm in Swellendam.
For ideas on various specific aspects of the wedding preparation process, have a look at our piece about planning a memorable wedding in Cape Town. Alternatively, if you're considering a somewhat unconventional ceremony and reception, check out our guide to unusual wedding ideas.
There are four hot pools, accommodation for all budgets and various entertainment options at Goudini Spa. Newlyweds get a free stay in the Slanghoek Villas.
---
Also, don't forget to follow us on Twitter, like us on Facebook, and check out our Pinterest boards for updates. Furthermore, be sure to subscribe to our newsletter for the most up-to-date info about our pretty city.