Wet Weekend Puts A Spring In Cape Town's Step
Dams supplying the City of Cape Town are over 80% full
Latest update: 28 October 2019
Rain across the Western Cape has boosted dam levels. The Western Cape average dam levels are currently 65.9% (2018: 65%). The Theewaterskloof Dam level increased 4% over the past week, contributing to the dams supplying the City of Cape Town standing at 82.9% full.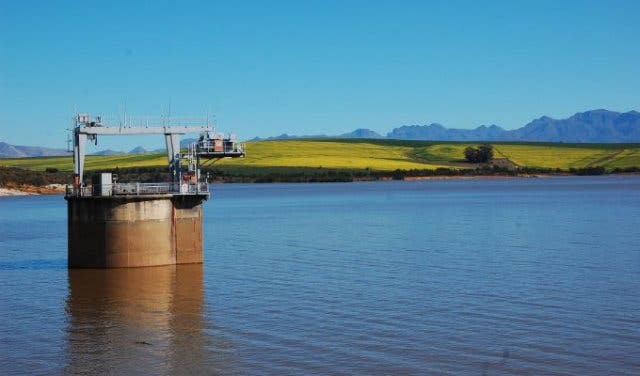 FARMERS ARE GOING TO GET DROUGHT RELIEF
There's good news for farmers in the drought-stricken areas of the province, too: The Western Cape cabinet has decided to make an additional R50m in emergency drought relief available to them.
"These funds will be allocated specifically to provide fodder support for farmers in the drought-stricken Central Karoo District, Matzikamma and Little Karoo areas. In addition, the provincial government has also asked the national agriculture department for another R147m for further drought support," confirms Anton Bredell, the minister of Local Government, Environmental Affairs and Development Planning in the Western Cape.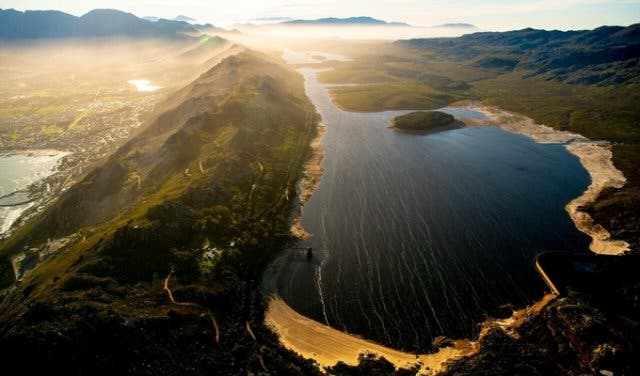 Steenbras Dam, 30 June 2018. Craig Kolesky / CapeTownMagazine.com
28 OCTOBER 2019: CAPE TOWN MAJOR DAM LEVELS AT 82.9%
The latest update from the City of Cape Town shows that the total level of the major dams is at 82.9%, up 3.2% from last week's level, compared to dam levels of 74.8% at the same time last year.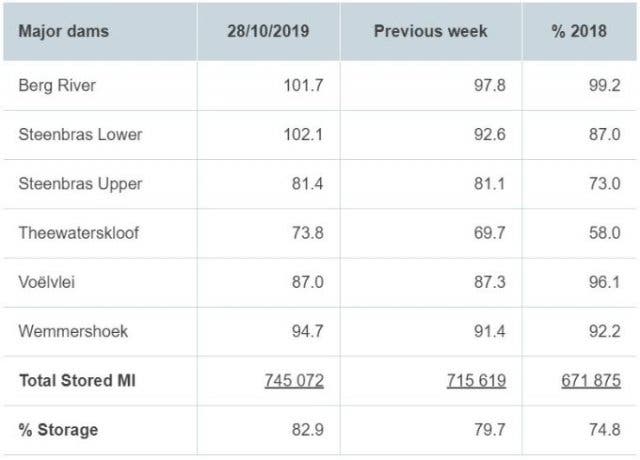 28 OCTOBER 2019: WESTERN CAPE DAM LEVELS AT 66.84%
The latest update shows that dams in the Western Cape are 65.84% compared to 65.06% at the same time last year.
| | | | |
| --- | --- | --- | --- |
| DAM | % FULL THIS WEEK | % FULL LAST WEEK | % FULL 2018 |
| CAPE TOWN SYSTEM DAMS COMBINED | 82.81 | 79.28 | 74.71 |
| BERG RIVER CATCHMENT | 94.13 | 91.10 | 94.82 |
| BREEDE RIVER CATCHMENT | 64.42 | 62.06 | 61.11 |
| GOURITZ RIVER CATCHMENT | 16.84 | 17.77 | 19.33 |
| OLIFANTS CAPE/DOORN RIVER CATCHMENT | 88.42 | 91.35 | 96.81 |
| WESTERN CAPE STATE OF DAMS | 65.84 | 64.03 | 65.06 |
The Western Cape State Dams is the total of the combined storage of the Cape Town System Dams and the four catchment areas.
CAPETONIANS ARE SAVING WATER 28 OCTOBER
Average daily water consumption is at 625 million litres per day, below the target of 650 Ml/d, showing that Capetonians are remaining water-conscious.
WHEN WILL RESTRICTIONS RELAX?
We will only know this towards the end of the year. Restrictions are determined at the municipal level and, according to Minister of Local Government, Environmental Affairs and Development Planning Anton Bredell, these discussions are held at the end of the winter rainfall period when the National Department of Water and Sanitation informs the different sectors how much bulk water they can consume in the coming year. Once these numbers are known, the municipalities translate it into specific water restrictions. The Western Cape's new hydrological year begins on 1 November. To stay informed, subscribe to our newsletter.
CAPE TOWN: LEVEL 3 WATER RESTRICTIONS
A few months back, the City announced a slight relaxation in Level 3 water restrictions with regard to irrigation at home. You're now allowed to water your garden with municipal water, but only on specific days and times, using specific irrigation systems.
Photo: Cape Town Gov: City Wemmershoek Dam–25 September 2018
2019 WATER TARIFFS EXPLAINED
"We acknowledge residents' calls to lower water tariffs," said the City's Mayoral Committee Member for Water and Waste, Alderman Xanthea Limberg in a statement released 9 September. "This will be reassessed at a meeting of all users of the Western Cape Water Supply System around November this year." As of 1 December 2018, water restrictions have been lowered to Level 3, meaning that personal water use can increase from 70 to 105 litres per person per day whether at home, work, school, gym or elsewhere. Here's what you'll be paying.
Residential tariffs (ex VAT)
0–6 kL: Down 35% from R24,37/kL to R15.73/kL
6–10,5 kL: Down 60% from R39.59/kL to R22.38/kL
10–35 kL: Down 47% from R60.25/kL to R31.77/kL
Above 35 kL: Down 79% from R345/kL to R69.76/kL
Commercial and Industrial tariffs
Down 33% from R43.13/kL to R28.82/kL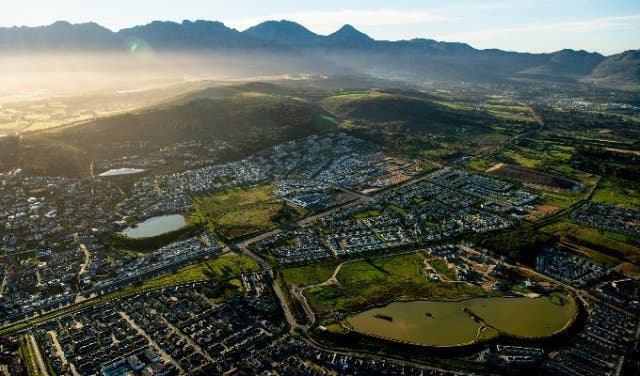 Franschhoek Area, 30 June 2018. Craig Kolesky / CapeTownMagazine.com
LEVEL 3 WATER CAPE TOWN DOs
You can now:
Top up or fill your swimming pool, only if you have a non-permeable solid pool cover; the recovery of backwash water, and the use of rainwater for pool topping up where possible
Irrigate gardens with a bucket or watering can before 9am or after 6pm on Tuesdays, Thursdays and Saturdays, for a maximum of one hour per day, per property
Wash vehicles, trailers, caravans and boats using a bucket.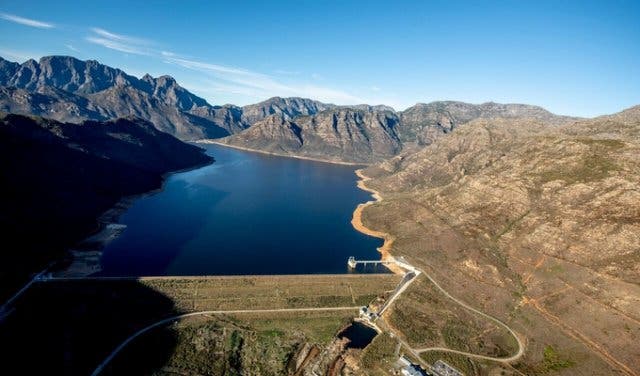 Berg River Dam, 30 June 2018. Craig Kolesky / CapeTownMagazine.com
THE VIDEO THAT GOT THE WORD OUT TO THE WORLD THINGS WERE GETTING BETTER
At the end of June 2018, after heavy rainfalls, we decided to go and see the levels of the dams for ourselves. After the horror images of a near-empty Theewaterskloof went all over the world it was important to see things looking up to some extent.
REACH OF OVER 600 000 PEOPLE GLOBALLY IN SIX DAYS
Footage was shared by hundreds of hospitality industry, thousands of readers worldwide – as well as featured on CNN. It reached over 600 000 people globally within the first 5 days.
THE BACKGROUND TO CAPE TOWN'S WATER SITUATION
Throughout 2018, reports said Cape Town could be the first major city in the world to run out of drinking water, and images of dry dams were beamed all over the world.
However, Capetonians took on the challenge to save water. They gave up baths and took two-minute showers instead. "If it's yellow, let it mellow" became a mantra to live by. The toilet was only flushed when absolutely necessary, and then only with "grey" water. Those who could afford to buy water tanks did so and saved the rainwater off their roofs, while collectively we educated ourselves and our neighbours on water-conscious usage. The hospitality industry invested in water re-usage systems and desalination plants were installed.
We believe as things improve, it's important to also read about how Capetonians pulled together, and for tourists to know that they make up only 1% of the population at peak season, and they should still consider Cape Town their top destination of choice.
At the end of June 2018, after heavy rainfalls, CapeTownMagazine.com decided to go and see the levels of the dams for ourselves, and we've been following it ever since so we can inform our fellow citizens and the world out there. After the horror images of a near-empty Theewaterskloof went all over the world, we felt it was important to show how things are looking up to some extent.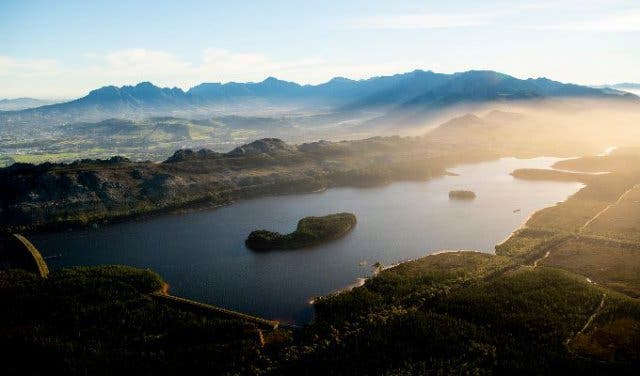 Steenbras Dam, 30 June 2018. Craig Kolesky / CapeTownMagazine.com
A TRUE EFFORT FOR THE BIGGER PICTURE
The video and images of Cape Town from above were shot and edited by Red Bull photographer Craig Kolesky. The flight – it was a big investment – was courtesy of our super-helicopter partner Cape Town Helicopters.
We flew over three of Cape Town's major dams. What we saw inspired our readers to share the news far and wide because the story of Capetonians pulling together was an inspiring one and needed to be shared.
At the same time business and citizens of Cape Town could do with an opportunity to erase that empty dam image from their memory and see something that could turn "fear of day zero" into "pride in being water conscious". The numbers show water consciousness is now embedded in Cape Town culture.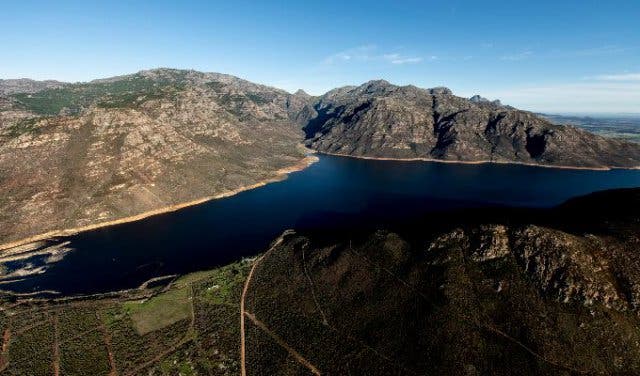 Berg River Dam, 30 June 2018. Craig Kolesky / CapeTownMagazine.com
WHERE TO COOL OFF
Luckily, we live in a province where there are more than enough options for cooling off on hot days, like these beautifully clean, safe and uncrowded hidden tidal pools.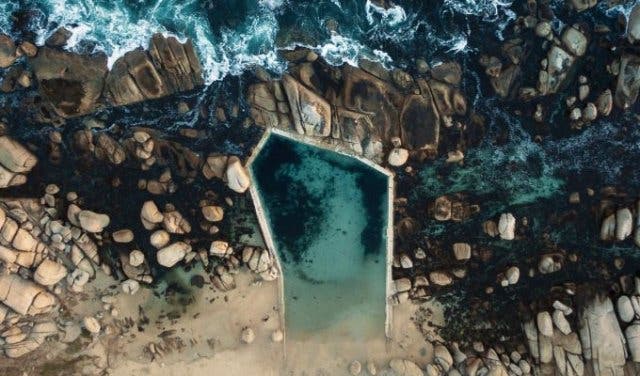 Image: Finding Dan | Dan Grinwis on Unsplash @finding_dan
---
Idea for cold weather: Discover these awesome heated pools and natural hot springs.

Support Cape Town's biodiversity at the 7th Annual False Bay Birdathon.
Power off again? Keep up to date with the latest in loadshedding in Cape Town.
Find out the innovative ways that Capetonians have been saving water. This winter, check out things to do during bad weather. Or check out our day tours for families.
---
Use our events section for an up-to-date overview of what's happening in the city, suburbs and dorpies. Join our newsletter and add us to your mobile home screen for the ultimate guide to discoveries in Cape Town.
Follow and like us on Twitter ❤ Facebook ❤ LinkedIn ❤ Instagram ❤ Pinterest for updates.