Unique and Surprising: Wine Tastings With a Difference
Our selection of interesting wine tastings in and around the Cape Winelands
The Western Cape is spoilt for choice with world-class wine regions and top-notch farms – there's definitely something for everyone and every budget.
We've rounded up a few of the coolest wine tastings in the Cape Winelands and surrounds.
YOU WON'T FIND THESE WINES ANYWHERE ELSE
This wine bar overlooking Bree Street serves a selection of the country's best boutique and limited-production wines, as well as imported superstars that you won't find anywhere else. Taste options include "no skin contact" (white wines), "bubbly bitches" and "exotic, erotic" (imported delights). Pair your wine with a cheese and charcuterie board or one of the bar snacks at Frogitt & Vonkel Wine Bar.
Opening times: Tuesday – Saturday 12:00pm – 12:00 am, Sundays 12:00pm – 6:00pm
Tasting price: From R9 for a taste (up to R569 for a limited-production wine)

103 Bree Street | +27 (0)87 898 2206 | winebar@frogitt.co.za
GO ON A HORIZONTAL TASTING JOURNEY
The Wine Glass is a wine-tasting venue and restaurant in Hermanus wholly dedicated to showcasing the Walker Bay region's wines, which means a lot of wines: 96 to be exact. A horizontal tasting lets you taste a range of wines of the same varietal, or test your skills with a blind tasting, led only by the tasting notes. The traditional tastings are divided into three flights of six wines, from entry-level pricing to top-end wines. Then there's the Apex Tasting, which is 10 of the best wines in the region at The Wine Glass.
Opening Times: Monday–Saturday 8am until late, Sunday 11am–10:30pm
Prices: R40–R150 for six wines. R300 for Apex Tasting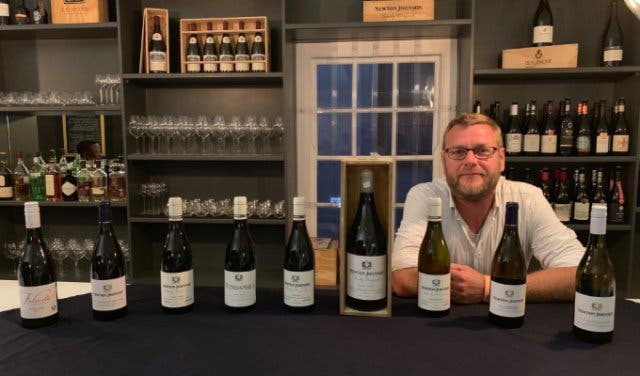 2 Harbour Rd, Hermanus | +27 (0)82 082 0007 | info@thewineglass.guru
KANU WINES – A NEW ERA
This winery, situated between the Stellenbosch mountains and the rolling Polkadraai Hills, is under new management after being closed to the public for a year-and-a-half. There have been some changes, including the new tasting room, which pays homage to the past, with a splash of modernity. Sample some award-winning wines (especially the world-class Chenin Blanc) at Kanu Wines.
Opening times: Tuesday – Friday: 9am – 4pm; Saturdays and Sundays: 9am – 5pm
Tasting price: R60 for five tastings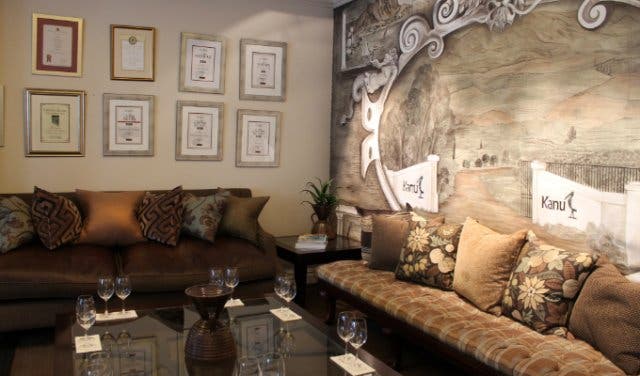 R304 | Stellenbosch | +27 (0)21 865 2488 | info@kanu.co.za
TAKE A WINE TOUR ON AN E-BIKE
Grab an electric bicycle and take a guided tour of Banhoek, Franschhoek or Stellenbosch through scenic routes, visiting some of the Cape's top wine farms on the way – and not even raising a sweat. These unique experiences are family-friendly (there are kids seats and half-wheelers) and the e-bike assists with pedalling, thanks to its battery. If you plan on taking some bottles home, the bikes have saddlebags. So get into some spectacular mountain and vineyard views with Vine Bikes.
Opening Times: Tours start at 9am and 1:30pm (Tuesday – Saturday)
Prices: R885pp (e-bike riders) | R350 for half-wheeler (kids 5 – 9 years) | R150 for kids star seat (kids 3 – 5 years)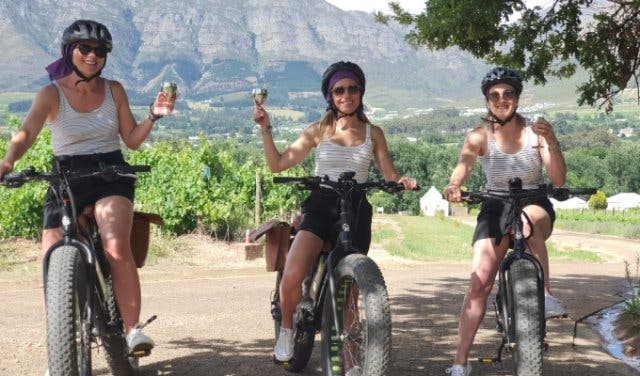 1 Lanzerac Road, Karindal, Stellenbosch | +27 (0)82 776 0557 | scootours.capetown@gmail.com
SIGHTSEEING ADVENTURE IN ROBERTSON
From self-guided hop on-hop off tours to pre-packaged wine tours, let this wine tour company be your personal chauffeur for the day as you sit back and enjoy an excursion through the historic town of Robertson. The open-air safari vehicle takes you through the Robertson Wine Valley, where you'll be treated to award-winning wines, MCCs, craft beers, gins, and grappas, as well as olive tastings, a lavender-farm and cellar tour, and a river cruise. There's a smorgasbord of tours to choose from, from freestyle to a Sunday lunch safari to an overnight special. Don't forget to soak up the fresh country air while gazing at the mountains with Wine Valley Safari.
Opening Times: Tours and packages start at different times and happen on different days. When you book your safari, make sure to check out those details.
Prices: Safaris start at R180 p/p per day (you'll be quoted for self-guided tours)

1 Voortrekker Avenue | Robertson | info@winevalleysafari.com | +27 (0)81 740 0145
A VINEYARD TOUR IN A LAND ROVER
There are a variety of experiences to choose from at this family-run farm, like the terroir tasting, in which you sample five wines in the tasting room or on the terrace. The Chardonnay Brunch Experience offers a three-course breakfast paired with one of their award-winning Chardonnays. Then there's the exclusive vineyard and cellar tour. The 360° tasting experience is a tour of the vineyards in an open Land Rover, during which a selection of wines is savoured in the vineyards. It includes a cellar tour with additional wines to be tasted in the barrel cellar or on the terrace at Jordan Wine Estate.
Tasting Price: Tastings start from R60pp (R600pp for the Exclusive Vineyard and Cellar Experience)
Opening Times: Monday – Sunday 9:30am–4:30pm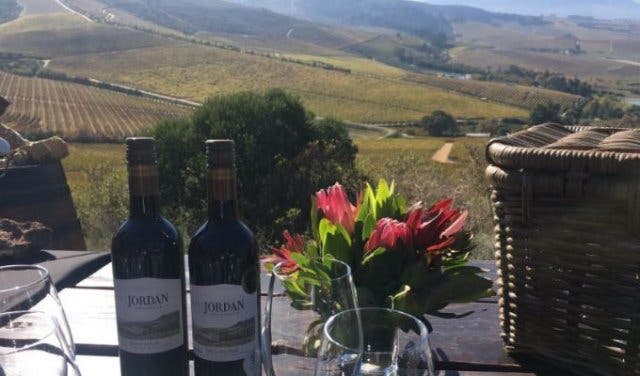 Stellenbosch Kloof Road | Stellenbosch | +27 (0)21 881 3441 | info@jordanwines.com
TASTING ROOM WITH A VIEW
Sample locally and internationally acclaimed wines in a cosy setting on the slopes of the Helderberg mountain range in Stellenbosch. In the Old Barrel Cellar tasting lounge, you'll get to experience award-winning vintages, such as The FMC (named after pioneering Chenin-making duo, Ken Forrester and Martin Meinert) and Petit Chenin Blanc 2017 (Wine Spectator's top 100 value wines in the world) at Ken Forrester Wines.
Tasting Price: R60–R150
Opening Times: Monday– Friday: 9am–5pm; Saturday: 9:30am–3:30pm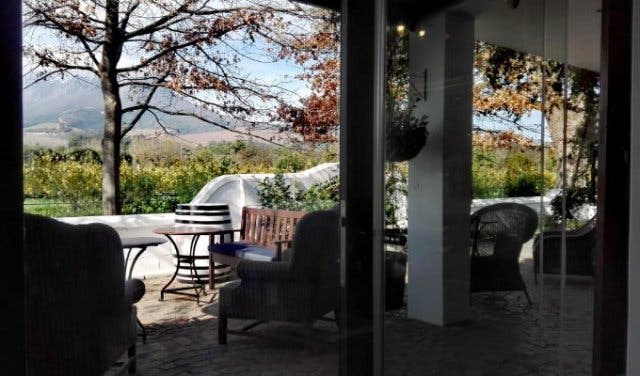 Cnr Winery Road & R44 | Stellenbosch | +27 (0)218552374 | tasting@kenforresterwines.com
VINTAGE REDS AT VERGENOEGD LÖW WINE ESTATE
Sample their Classic Range, Runner Duck Range and their award-winning Vintage Range. The Vergenoegd Löw estate boasts remarkable terroir and climate. Perfectly positioned between Table Mountain to the east and the Hottentots-Holland mountain range to the west, the soil quality is highly diverse and produces a distinct classic wine that has enjoyed consistently good ratings.
Tasting Price: R55 for 6 wines
Wow Factor: They offer some of the oldest vintage reds available to taste on the wine route.
Opening Times: Monday–Saturday, 9am–5pm. Sunday, 10am–4pm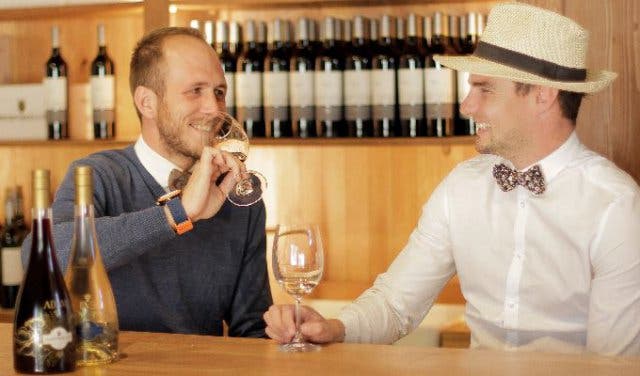 Vergenoegd Löw Wine Estate, Baden Powell Drive | Faure | Stellenbosch | +27 (0)21 843 3248 / +27 (0)63 629 3629 | reservations@vergenoegd.co.za
TASTE THE ACCLAIMED WINES FROM THIS FRANSCHHOEK VALLEY
This estate offers a variety of wine tasting options. Guests can opt for the current vintages of the estate's popular La Motte Sauvignon Blanc, Millennium, Syrah and elegant Cabernet Sauvignon. The tasting also includes the limited release premium Pierneef Collection. Limited releases such as the La Motte Hanneli R, MCC and Straw Wine are available. Also, book for the Vinoteque tasting or Wine and Food Tasting at La Motte Wine Estate.
Tasting Price: R50–R325 depending on which tasting
Opening Times: Current Vintage Wine Tasting: Monday to Saturday, 9am - 5pm | Vinoteque Tasting: Tuesdays and Thursdays at 10:30am | Food and Wine Pairing: Friday, 10:30am | Varietal Glass-specific Wine Tasting: Mondays and Wednesdays at 10:30am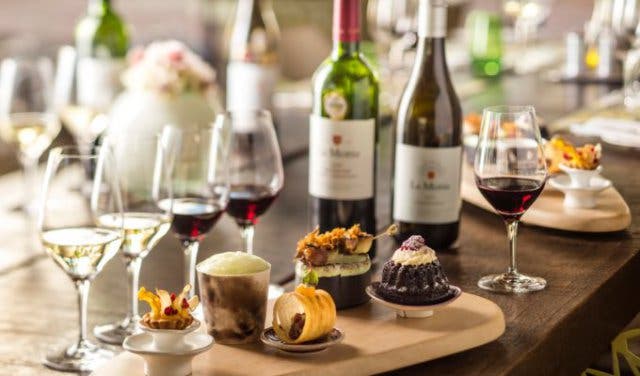 R45, Franschhoek | +27 (0) 21 876 8000 | tasting@la-motte.co.za
FYNBOS CUPCAKE AND WINE PAIRING
Delheim is known as a pioneer in Stellenbosch wine, not only for award-winning wines and promoting sustainability but also for their pioneering tastings and ideas. Check out their new Fynbos Cupcake and Wine Pairing at Delheim Wine Farm.
Tasting Price: R65 for five wines; R120 for the cupcake and wine tasting
Wow Factor: Delheim also produces two vegan wines – the 2018 Delheim Pinotage Rosé and Sauvignon Blanc.
Opening Times: Mon–Sun: 9am–5pm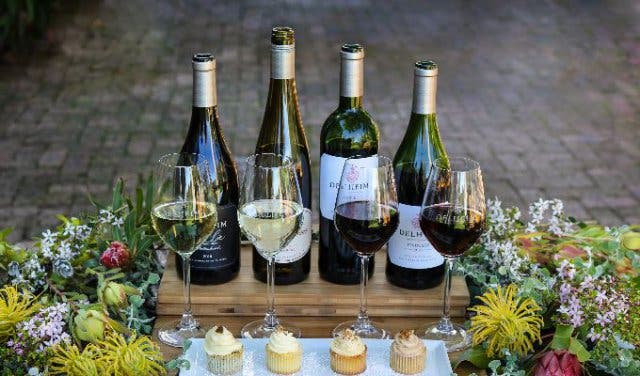 Knorhoek Road, Stellenbosch, 7599 | +27 (0) 888 4600 | info@delheim.com
MIX YOUR REDS AND WHITES AT BOSCHENDAL WINE ESTATE
Boschendal has been producing delectable wines for over 330 years and have perfected their balance of rustic tradition and modern innovation, which produces more classic, fruity wines. They produce wine ranges which includes Chardonnay, Sauvignon Blanc, Cabernet Sauvignon, Merlot and Shiraz. Both premium wine tastings and food and wine pairings take place in the historic Manor House (dating back to 1812) at Boschendal Wine Farm.
Tasting Price: R200–R350 pp.
Wow Factor: They have various food and wine pairings such as the MCC and Oyster Tasting, the Angus Beef and Shiraz Pairing, MCC and Canape Pairing.
Opening Times: 10am–5pm daily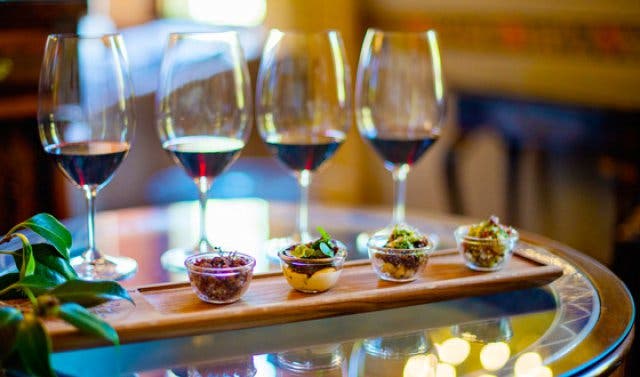 Pniel Road | Groot Drakenstein | Franschhoek | + 27 (021) 870 4200 | enquiries@boschendal.co.za
SIP AMONG THE VINES AT THIS STELLENBOSCH ESTATE
The award-winning Haskell Vineyards has two different ranges of wine: Haskell wine, their flagship range and Dombeya wine, which is their lifestyle range. Since its opening in 2002, the wine farm's emphasis has been on unique, terroir-driven wines. To experience this delicious wine, you can make bookings for groups of up to 12 people for private wine tastings and cellar tours. Read about their 2019 Platter's award and find out about Haskell's 2019 sundowners and picnics.
Tasting Price: The Lifestyle Tasting, which consists of five pre-selected wines (four Dombeya wines and one Haskell wine) is R50. The Premium Tasting consisting of four pre-selected wines (three Haskell wines and one Dombeya wine) costs R70.
Wow Factor: They also offer customised food and wine offerings at their excellent on-site restaurants, such as their outstanding steamed bun and Shiraz pairing.
Opening times: The tasting room welcomes visitors: Tues–Fri: 9am–5pm. Sat–Sun: 10am–5pm.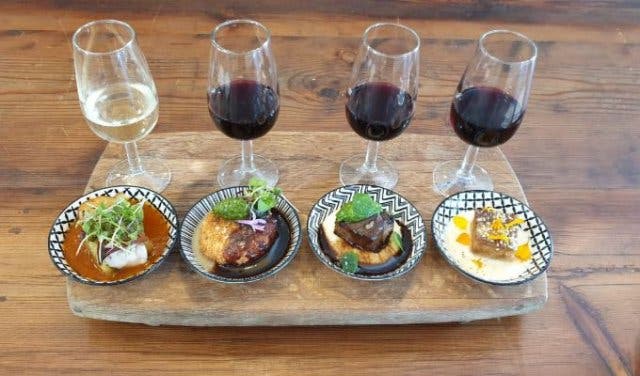 Annandale Road, Lynedoch, Stellenbosch | +27 21 881 3895 | info@haskellvineyards.co.za
A VERSATILE RANGE
Indulge in an affordable wine tasting experience in Leopard's Leaps modern tasting room. In terms of the varietal that you will be sampling, you get to choose any six wines from the estate's Family Collection, Classic or Lookout ranges at Leopard's Leap Family Vineyards.
Tasting Price: R55pp
Wow Factor: On weekends, the winery serves a colourful range of wine cocktails. These cocktails are ever-changing, so visit the winery and discover your new favourite flavour.
Opening times: The tasting room welcomes visitors: Tuesday - Saturday: 9am - 5pm. Sunday: 11am - 5pm. The tasting room is closed on all Christian religious holidays.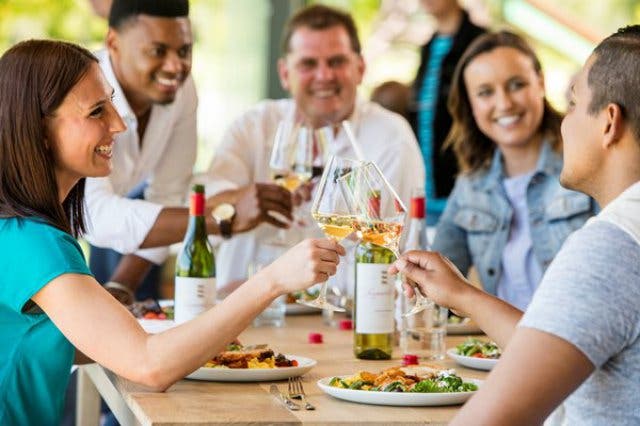 R45 Main Road | Franschhoek Valley | +27(0)21 876 8002
SEVEN SISTERS
Located east of the Drakenstein mountains, Seven Sisters is a black-owned winery, owned by seven biological sisters from the small town of Paternoster on the West Coast. The sisters returned to Paternoster 20 years after being evicted from their home at a young age to create fine wines that suit the style and personality of each sister. Their tasting includes all six of their house wines.
Tasting Price: R50/p for local and R100/p for international visitors
Wow factor: Seven Sisters is a black-owned company that has a turnover of more than R2 million a year and exports wine to 42 American states.
Opening times: Seven Sisters arranges tastings per request. Contact them to make a booking.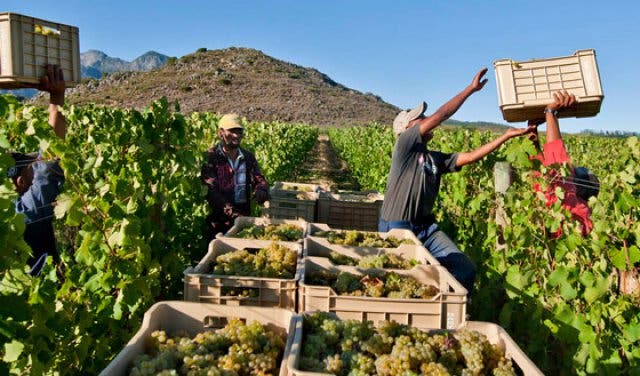 Welmoed Road, off Annandale Road | Lyndoch | Stellenbosch | +27 (0)86 514 5569 | vivian@africanrootswines.com
CAPE ROCK WINES
Cape Rock Wines embodies the spirit of the West Coast. Located in Vredendal, the boutique farm creates unfiltered wines, made as naturally as possible. Their Amnesty and Asylum wines both don't contain any added yeast, acid or enzymes, and are made with as little artificial intervention as possible. Their wine tasting includes five wines.
Tasting Price: R50/p. The fee is waived on a purchase of four or more bottles.
Wow Factor: Cape Rock Wines handpicks all their grapes and stop their pressing process before harsh tannins are released, making for a smooth wine that can be enjoyed young.
Opening Times: Cape Rock Wines are open to the public by appointment. Contact them to make a booking.

R363 | Vredendal | +27 (0)27 2132567
WELTEVREDE WINE ESTATE
This family-owned wine estate offers both vintage and non-vintage MCCs, dessert wines and award-winning chardonnays. They also boast a range of interesting wines like Turkish delight gewurztraminer, vanilla chardonnay, cherry-choc merlot and a cigarbox shiraz.
Tasting Price: Wine tasting costs R60/p.
Wow Factor: Weltevrede offers a candlelit wine tasting of the estate's premium wines in the underground tunnels which were used as cooling vaults for wine during the earlier days of winemaking. The underground candlelit tasting costs R100/p.
Opening times: Monday to Friday, 8am to 5pm. Saturdays, and Public Holidays, 9am to 3:30pm.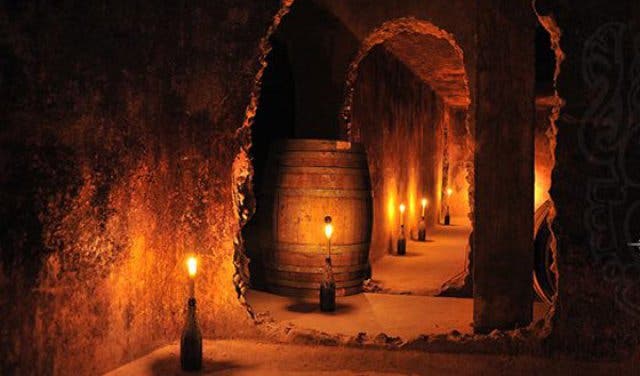 R317 | Bonnievale | +27 (0)23 616 2141 | info@weltevrede.com
DIE BERGKELDER CELLAR
Home to award-winning Fleur du Cap wines, Die Bergkelder Cellar offers some interesting tastings. Guests can enjoy an hour-long guided tasting of 5 wines, which is limited to 25 people, but bigger groups can be arranged with prior booking. They also offer Fleur du Cap Wine and Salt Pairings, where you'll experience a unique tasting of great wines and artisanal salt.
Tasting price: The hour-long guided tasting and tour costs R60/p. The wine and salt pairings cost R110/p.
Wow factor: Their cellar is tucked under the historic Papegaaiberg mountain, and is the only underground bottle-maturation cellar of its kind in the Southern Hemisphere.
Opening times: Monday to Friday October to April, 9am - 6pm | Monday to Friday May to September, 9am - 5pm | Saturdays October to April 9am - 4pm | Saturdays May to September, 9am - 2pm.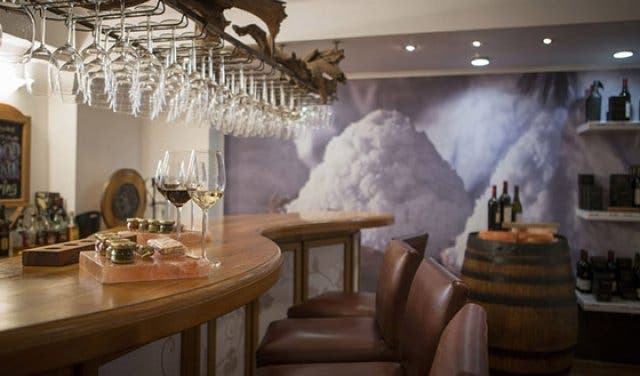 George Blake Street | Stellenbosch Central | Stellenbosch | +27 (0)21 809 8025 | info@fleurducap.co.za
DEMORGENZON WINE ESTATE
Demorgenzon describes their estate as a 91-hectare garden intermixed with 55 hectares of vineyard, and a high altitude means awesome views of Table Mountain, Cape Point and the Stellenbosch and Franschhoek mountains. They offer a tasting of 7 of their award-winning wines.
Tasting price: A tasting costs R50/p.
Wow factor: The estate believes that music can influence the growth of a vine and the fruit it bears. They've been playing Baroque and early Classical music to their growing vines in the vineyards, in the winery and in the cellar every day for the past seven years.
Opening times: Monday to Sunday 10am to 5pm.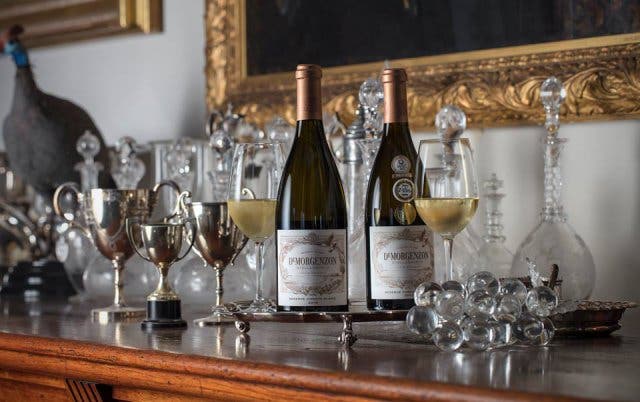 Stellenbosch Kloof Road | Stellenbosch | +27 (0)21 881 3030 | info@demorgenzon.com
MARIANNE WINE ESTATE
Owned by French winemaker Christian Dauriac – Marianne Wine Estate adds a little à la française to the Cape Winelands. An extensively knowledgeable wine tasting team means you'll come away knowing a great deal more about wine than you did when you arrived. There are several tasting options available including a red wine and biltong pairing and a vertical tasting of at least six Marianne wines. You can also sign up for a highly informative and fun blending tour.
Tasting Price: Tastings start at R50/p. Wine and biltong pairing costs R75/p. The two-hour blending tour is R300/p, including a bottle of wine blended by and labelled for you.
Wow Factor: Most of their wines are made to improve with age and are released later than any South African wines, meaning you get to taste older wines that are generally unavailable in the Cape.
Opening times: Open every day of the year from 10am - 7pm. We suggest you call in advance for larger groups or special occasions.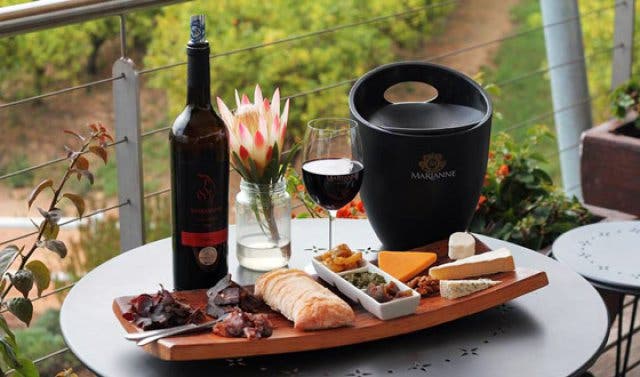 Valley Road on the R44 | Klapmuts | Stellenbosch | +27(0)21 875 5040
STELLENBOSCH HILLS
Few things pair better with wine and cheese, but biltong and droëwors are definitely up there. Discover this unique flavour combo at Stellenbosch Hills; the estate partners six of its premium wines with a selection of cured and dried meat and sausage. Apart from the Biltong & Droëwors Adventure, the winery also offers a straightforward tasting session where you can select a maximum of five wines to savour.
Tasting Price: The meat pairing option costs R40/p while the regular session will set you back a measly R15/p. Do note: should you choose to purchase a bottle of vino after the tasting, the fees will be waived.
Wow Factor: Stellenbosch Hills created the Biltong & Droëwors Adventure back in 2005, making them the pioneer of this pairing, and it has been going strong ever since.
Opening times: Tastings are on the go from Monday - Friday between 8am - 5pm and on Saturday from 10am - 3pm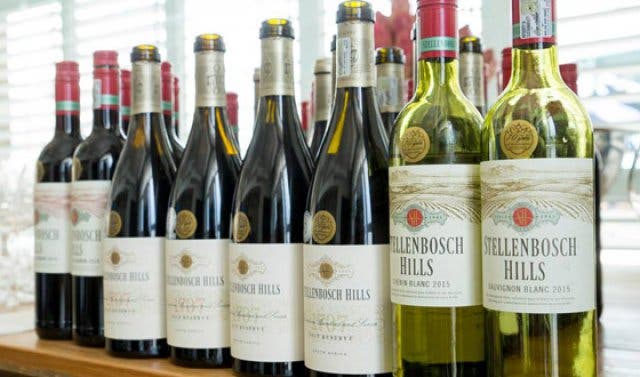 R310 | Stellenbosch | +27(0)21 881 2828/9 | info@stellenbosch-hills.co.za
DE GRENDEL WINE FARM
Sip and savour top-notch reds and white on the De Grendel in Durbanville's sprawling veranda, which boasts gorgeous views of the Atlantic Ocean and the surrounding vineyards. In terms of the actual tasting, you have the option of sampling the full range of De Grendel vino or any three special varietals that are available that day. Furthermore, cheese and charcuterie platters are available to elevate your already fantastic wine tasting experience. Accessibility-wise, De Grendel is roughly 15 minutes away from Cape Town CBD.
Tasting Price: Tastings will set you back between R60/p and R80/p.
Wow Factor: De Grendel is the only estate with sea views, cool ocean breezes and misty nights.
Opening times: The tasting room is open every day of the week: Monday - Saturday: 9am - 7pm; Sunday: 10am - 4pm. Booking is essential for groups of eight or more.

Plattekloof Road | Durbanville | +27(0)21 558 6280
CREATION WINES
Gourmet canapés served with a specially curated selection of wines and a vino and chocolate pairing to a non-alcoholic tea and snacks combo and secret wine and food pairing, Creation Wines in the Hemel-en-Aarde Valley certainly caters for all. Not to mention, there is a specialised kids' offering that features juices, flavoured milks and a selection of tasty treats.
Tasting Price: With prices ranging from R75/p to R250/p, wine tasting at Creation Wines is a little pricey, but totally worth your hard-earned pennies. Do note: the price includes the food pairings.
Wow Factor: State-of-the-art equipment imported from Germany, Switzerland and France makes Creation Wines' modern cellar worthy of the superb grapes harvested on their farm.
Opening times: The tasting room is open daily: 10am - 5pm. However, food and wine pairing run until 4pm daily.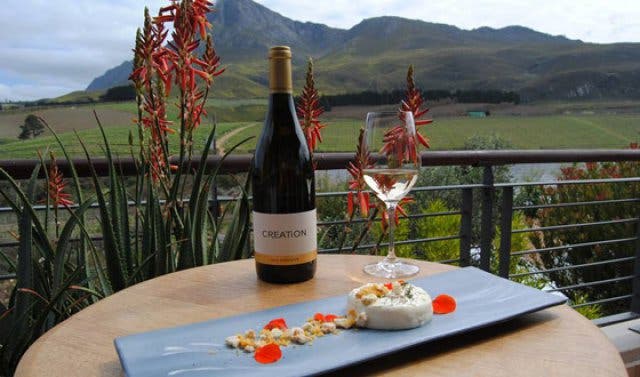 Hemel-en-Aarde Road | Hermanus | +27(0)28 212 1107
DOOLFHOF WINE ESTATE
Nestled in the Bovlei Valley near Wellington, wine tastings take place in the Doolhof Wine Estate farm's original 19th-century wagon house, which has been transformed into a classy tasting room. Channel your inner wine connoisseur and indulge in any five of Doolhof's award-winning varietals. If you work up a bit of an appetite during your tasting, you can order a light lunch that will be prepared by the estate's chef. Options include gourmet sandwiches, salads, pastas and a "wrap of the day".
Tasting Price: A wine tasting session costs just R25/p for five vinos, and pensioners get to indulge for FREE on Wednesdays. This fee is waived if you purchase any bottle(s) over R100. The light lunches range from R50 to R100.
Wow Factor: Doolhof also offers outdoorsy activities in their tranquil setting, where picnics and hikes can be enjoyed on their estate for a full day of fun, food and of course, wine.
Opening times: The tasting room is open every day of the week including public holidays: Monday - Saturday: 10am - 5pm; Sunday: 10am - 4pm. Lunch; Tuesday - Sunday: 11am - 3pm. Reservations should be made 24 hours in advance for groups of six and more.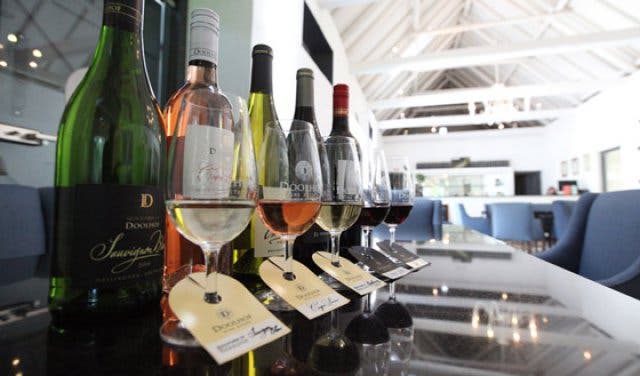 Bovlei Road | Wellington | +27(0)21 873 6911 | wine@doolhof.com
HAUTE CABRIERE WINE ESTATE
Experience the dramatics of Haute Cabrière's Cellar Master's Tour. Every Saturday at 11am, owner and founder Achim von Arnim and his son, Cellar Master and Production Director Takuan, will treat you to the ultimate in wine theatre in the auditorium within the Pinot Noir barrel maturation cellar. The pair will regale you with stories of the estate's history and wine philosophy in the Haute Cabrière intimate vault while allowing guests to taste some of the estate's finest reds and whites in their natural habitat. You'll get to sample the estate's signature Pierre Jourdan Cap Classique range as well as other exquisite still wines.
Tasting Price: The tour costs R70/p
Wow Factor: See the owner and cellar master use a French cavalry sabre to lob the tops off of the bottles.
Opening times: Saturday from 11am. Although bookings are not necessary, for larger groups it is recommended.

Lambrechts Road | Franschhoek | +27(0)21 876 8500 | reservations@cabrier
WATERFORD ESTATE
The Waterford Estate which is nestled in the slice-of-heaven Blaauwklippen Valley offers a number of delectable wine tastings, such as the ever-popular Wine & Chocolate Experience. Chocolatier, Richard von Geusau and winemaker Kevin Arnold pair a series of dark and white chocolates with a variation of wines for a unique flavour sensation.
Tasting Price: A standard session will cost R65/p, the chocolate and wine pairing will set you back R75/p, and the sip-and-swirl safari is priced at R850/p.
Wow Factor: A Wine Drive Safari! The tour will take you on a game drive-type tour of the biodiverse estate followed by a sipping session in one of the surrounding vineyards.
Opening times: Waterford tastings sessions can be enjoyed: Monday - Friday: 9am - 5pm; Saturday: 10am - 5pm. Bookings are necessary.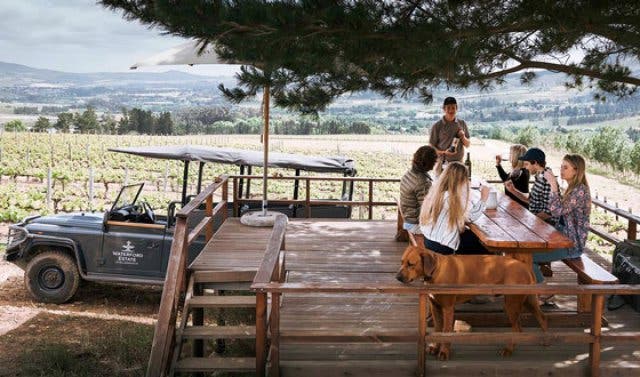 Blaauwklippen Road |Helderberg | Stellenbosch | +27(0)221 880 5300
UNDER OAKS FARM IN PAARL
If your palate is craving boutique-style wines that are made from premium grapes, then you will want to make a short trip (roughly 50 minutes from Cape Town CBD) to the Under Oaks Farm near Paarl. This winery's tasting list features Michelangelo award-winning varietals such as Cabernet Sauvignon Reserve, Shiraz Reserve and Pinotage Reserve. What's more, Under Oaks also offers an SA heritage wine pairing.
Tasting Price: A standard tasting (five wines) costs R50/p.
Wow Factor: Under Oaks hosts wine appreciation mornings where wine lovers can learn about wine (and drink it!) with a down to earth approach without being overwhelmed by all the heavy scientific information. To see future dates, stay up to date on their Facebook page.
Opening times: The tasting room is open: Tuesday–Sunday: 11am–4pm.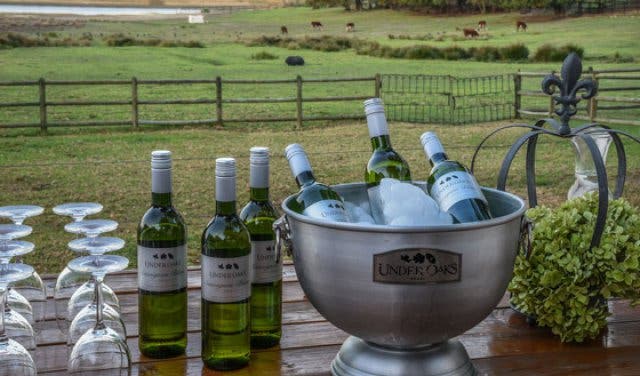 Northern Paarl | Paarl | +27(0)21 869 8535
DE OUDE DROSTDY IN TULBAGH
Known as the 'spiritual home' of Drostdy-Hof Wines, De Oude Drostdy, which was built in 1804, is certainly a unique venue for a wine tasting experience. The old manor house also doubles up as a museum that features a collection of early Cape furniture and household items. The tasting session takes place in the historic slave quarters where you will be surrounded by candlelight and wine barrels, and you can look forward to sipping on reds, whites and sherries from Drostdy-Hof.
Tasting Price: For just R20/p you will get to experience the wines and stroll around the museum.
Wow Factor: De Oude Drostdy is home to one of South Africa's oldest private sherry cellars.
Opening times: You can drop in for a sampling session on: Monday - Friday:10am - 5pm; Saturday: 10am - 2pm.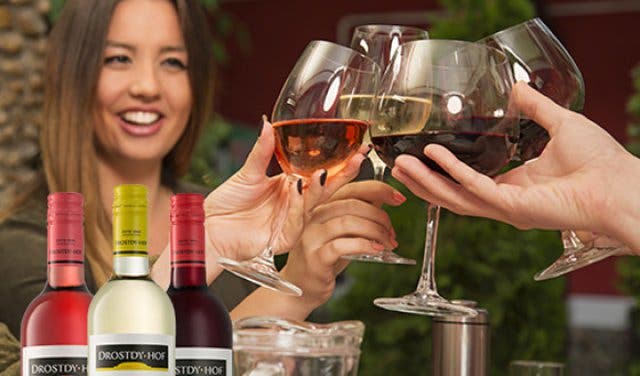 Winterhoek Road | Tulbagh | info@drostdy.co.za | +27 (0) 23 230 0203
THE WHALE, WINE AND WORS TOUR BY WINE FLIES
This unique day trip offering will whisk you off to (re)discover a number of charming spots in the Cape Winelands. Do some whale watching in Hermanus and indulge in a boerewors and cider pairing in Grabouw, while also stopping off at the family-owned Middelvlei Wine Farm to sample some top-quality reds and whites and take a cellar tour. Not to mention, you'll also make a pit stop at the Wildekrans Boutique Wine Estate where you will get to know some of the estate's award-winning wines and Grappa with the Whale, Wine and Wors tour.
Tasting Price: R880 per person, this includes all tastings, pairings and lunch.
Wow Factor: You'll get to experience unique spots that you wouldn't normally see such as Oom Samie Se Winkel in Stellenbosch and a boutique winery in Hermanus.
Opening times: Tours run every Tuesday and Thursday from 7:30am to 6pm (July to December).

+27 (0) 21 462 8011 | info@wineflies.co.za
---
Make sure to view the new exhibition: Celebrating the love of Art at the La Motte Museum.
Enjoy award-winning steaks and wines at The Hussar Grill. Also, check out their daily lunchtime special.
Check out First Thursdays at Frogitt & Vonkel.

Check out the live music every Monday at Frogitt & Vonkel.

There's a variety of wines on offer at boutique wine shop and tasting bar, Frogitt & Vonkel.
Family vibes in the winelands at The Saturday Market at Bloemendal Wine Estate.
Vote for your favourite vino at a blind wine tasting.

For the ultimate wine pairing experience, check out Polkadraai & Popcorn.
Enjoy seafood and wine in a gorgeous heritage site at Proe Pringle Bay.
From lofts among the trees to a luxurious seven bedroom villa surrounded by vineyards at Marianne Wine Estate. Plus, if you're an SA or SADC resident, you get a 20% discount off your stay.
See private art collections and meet the world-famous Pigcasso at Art Franschhoek.
It's all-day, Mediterranean-inspired dining at Sotano on Bree. Check out the 2-for-1 lamb burger special every Wednesday and half-price sushi and bubbly every Monday.
Expect big things (and a big party) at the 10th anniversary of the Cape Town Festival of Beer.
Enjoy delicious Mediterranean dishes with a Lebanese twist at Sotano in Mouille Point. Check out their 2-for-1 lamb burger special on Wednesdays and their Monday Sirloin & Sauvignon special.
Fabulous fair, sumptuous interiors and fine wine at Tryn at Steenberg.
Inspiring people with 50 sculptures made of material offcuts and discarded items at the Rodan Kane Hart exhibition.
Make the best choice of wine for you every night at the southern suburbs new boutique wine store, Wine Tonight.
The pre-drinks (or date night) spot that's livening up Sea Point at Chicha.
Discover the artisanal and unique wines of the Western Cape at the Publik Wine Fair.
New place in Stellenbosch: Built on beer and ice-cream: Wingerd Vista.
Vegetarian and vegan fine dining at Grub & Vine's Veg & Vine.
New: Strictly African food in a unique Mzansi-style at Afrobar & Pitso's Kitchen.
Check out a trio of new offerings including a wine bar and interactive chef experiences at Grub & Vine.
It's here. The official 2019 Platter's selection of South Africa's best wines.
Keen to learn more about the fine art of wine tasting? Check out our step-by-step guide.
Check out the new Publik Wine Bar at the trendy Kloof Nek corner.
Already checked wine tasting off your bucket list? Here are a few things you need to do in Cape Town before you die.
---
Use our events section for an up-to-date overview of what's happening in the city, 'burbs and dorpies. Join our newsletter and get quick access on the go by adding us to your mobile home screen for the ultimate guide to discoveries in Cape Town.
Follow and like us on Twitter ❤ Facebook ❤ LinkedIn ❤ Instagram ❤ Pinterest for updates.