Dinner Theatres in Cape Town
A look at the top Mother City spots to enjoy dinner and a show
It's no secret that whiling away an evening at a top restaurant or appreciating the arts at the theatre are great ways to spend an evening. So why not combine the two? In an effort to give you the skinny on the places where fun meets fare, we've compiled a list of top dinner theatres in Cape Town and surrounds.
DINNER THEATRES IN CAPE TOWN

Cape Town Comedy Club
It's not just the comedians cooking up fresh fare at Cape Town Comedy Club. With full restaurant and bar service available throughout the shows, the kitchen at this funny venue serves local and lekker food with an awesome menu of good grub. Whether you're looking for a spot for the perfect date night or starting the weekend early with a meal out with mates, laughs are always on the halaal-friendly menu, along with bar-style finger food, pizzas, tasty salads and sizzling steaks. The V&A Waterfront's historic Pumphouse makes for a trendy setting. Its vaulted ceilings and original stone walls don't just ring with laughs – after the curtain comes down on the night's four comedy acts, an occasional DJ on decks is there to bust out the beats.
Show Times: Wednesday–Sunday: Doors open at 6pm and the show gets rolling at 8:30pm.
Tickets: Tickets cost between R95 and R120. Enjoy R60 tickets with their half-price Sunday special. Buy at the door, or get ahead of the queue via Computicket.com, as shows often sell out. Check out the week's line-up at CapeTownComedyClub.com.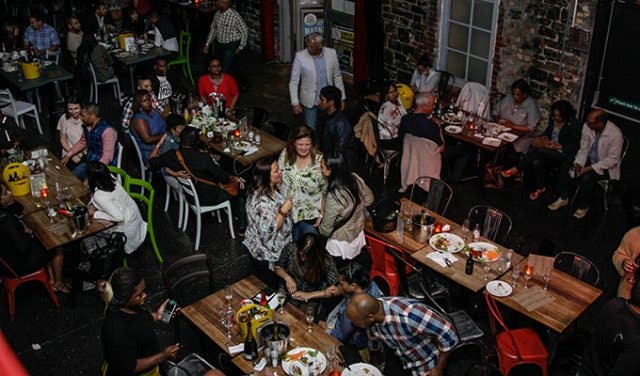 The Pumphouse | The V&A Waterfront | Cape Town | +27 (0) 079 495 3989
"Kaapse Stories from the Mother City" at The Rockwell Dinner Theatre
A lot of enjoyable evenings out include a meal and a movie, but what if you didn't have to change locations to get your dinner and a show? This buffet restaurant serves delicious local and international fare with a side of musical fun. Every Tuesday, Thursday and Saturday (and most other days, depending on demand), from 7pm, guests will bear witness to a quirky, charming and humorously relatable musical production that celebrates all the children of the Mother City. Guests will not be disappointed by the melting pot of colourful characters, soulful harmonies and delicious Kaapse kos. Bookings can be made through Computicket.com, by calling the venue or by emailing bookings@rockwelldinnertheatre.co.za.
Show times: Tuesday, Thursday and Saturday: 7pm – late
32 Prestwich St | Green Point | Cape Town | + 27 (0)76 144 4809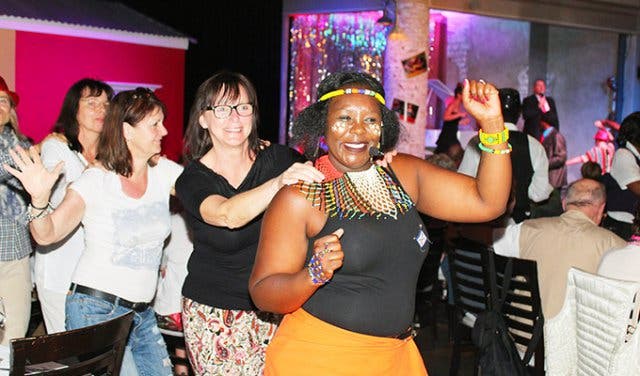 AmaZink Live
Enjoy an unforgettable theatre experience at AmaZink Live, a township-based performance space situated in the Kayamandi settlement in Stellenbosch. Guests will be treated to a lively, interactive show full of Mzansi-inspired beats and choruses alongside proudly South African fare in the form of potjiekos. Apart from the supper and stage treats on offer, visitors can also browse a craft market or join in a rhythmic drumming circle. Tickets for the show can be booked via Webtickets.co.za or by phoning the number below.
Show Times: Friday: 8pm – late
118A Masitandane Road | Kayamandi | Stellenbosch | +27 (0) 72 993 9173
Stardust
Known as the home of the singing waiter, this eatery-cum-theatre will razzle and dazzle you all night long with performances by the very same people who are serving you food. Be entertained by a host of talented local stars, up-and-coming singers and acting impresarios while you feast on an à la carte offering or Mediterranean-inspired set menu or sample from the wine bar.
Show Times: Tuesday – Saturday: 4pm – late
118 Sir Lowry Road | Woodstock | Cape Town | +27 (0)21 462 7777
The Barnyard Theatre
The Barnyard Theatre at Willowbridge Shopping Centre is where tasty food, good company and great entertainment come together. Be enraptured by a host of talented singers, musicians and actors performing in a lively show (productions change regularly) as you while away the evening with a drink from the fully stocked bar or munch on a scrumptious pizza from the on-site deli. The theatre also offers a selection of delectable sweet and savoury platters that are perfect for sharing and snacking (do note that these need to be booked 48 hours in advance).
Show Times: Tuesday – Saturday: 8pm – 10pm; Sunday: 2pm – 4pm
Shop F09 | Willowbridge Shopping Centre | 39 Carl Cronje Drive | Tygervalley | +27 (0)21 914 8375
Kalk Bay Theatre
Located inside an old Dutch Reformed Church in the bohemian suburb of Kalk Bay, this quirky playhouse marries a spectacular view of Cape Town's seafront with an intimate and eclectic theatre experience. The 78-seater spot is the perfect place to cosy up (there are even 11 love seats perfect for pairs) and enjoy an evening of fun entertainment (expect anything from musicals and comedy to dramas and cabaret). The upstairs restaurant serves mouth-watering seasonal meals before the show and the bountiful bar offers a range of quality wines, beers, spirits and even a few cocktails. Dessert is then served upstairs again once the performance is over. Patrons should note that seating is unreserved and works on a first-come-first-served basis.
Show Times: Tuesday – Saturday: dinner: 6:30pm; show: 8pm – 9:30pm
52 Main Road | Kalk Bay | +27 (0)79 361 8275
Villa Pascal Theatre
Nestled in the heart of Durbanville, Villa Pascal Theatre is a boutique playhouse that brings you the best in music, comedy, theatre games and spoken word acts. Known as 'the Cape's only theatre in a house', (the theatre is located in the private residence of singer Danielle Pascal) this special spot invites you to bring along a picnic basket as you pleasantly pass the hours with some top-notch entertainment. Note that as they do not have a liquor licence, bringing along your own wine or bubbly is recommended.
Show Times: Friday (although days may vary): 7:30pm – 10pm
28 van der Westhuizen Avenue | Durbanville | Cape Town | +27 (0)21 975 2566
Theatre on the Bay
In the beautiful beachside suburb of Camps Bay lies producer extraordinaire Pieter Toerien's Theatre on the Bay, which plays host to a number of spectacular performances, from musicals and comedy to cabaret and dance. The in-house Sidedish Theatre Bistro offers up a seasonal menu and is open before and after shows. The coffee and bar area also gives visitors the chance to grab something hot or frosty, which can be enjoyed during the spectacle. And if you find yourself brimming with energy after the show, there are plenty of trendy bars and nightclubs to attend on this prime suburb's main strip.
Show Times: Tuesday – Friday: 8pm – 10:15pm; Saturday: 5pm – 7:15pm and 8pm – 10:15pm (the restaurant opens at 6pm)
1a Link Street | Camps Bay | Cape Town | +27 (0)21 438 3301
Die Boer
This entertainment hub is situated in the centre of the Durbanville CBD, and with an average of six shows running every week, it goes without saying that all types of artistic and musical tastes are catered to. Whether you're of a mind to enjoy a solo performance, a big band, a comedy act, or theatre production, a memorable evening is guaranteed. And to top it off, the in-house restaurant, which is part of the theatre and looks onto the stage, boasts a sumptuous menu and extensive wine list. Be warned that guests are expected to purchase dinner, and orders must be placed an hour prior to the show.
Show Times: Wednesday – Saturday: doors open at 6:30pm and the show begins at 8:30pm (note that opening days are dependent on the show, and the theatre does occasionally open on other days for special functions)
6 Chenoweth Street | Durbanville | Cape Town | +27 (0)21 979 1911
By Georgina Selander
---
Watch Juliet Jenkin's hilarious new satire, Woolworths, at The Courtyard Playhouse.
Discover a fusion of flavours at The Melting Pot.
Catch legendary playwright Tennessee Williams' masterpiece The Glass Menagerie at Artscape.
Experience the city's hottest new live, local music venue – The Jagger Lounge.
Catch Fugard's classic Statements at The Fugard Theatre.
Le Cabaret De Curiostiés brings cabaret, circus (and burlesque) to Cape Town this month.
Don't miss the award-winning musical, Kinky Boots.
Here's your weekend special: A Night of Headliners at Cape Town Comedy Club.
See legendary flamenco band the Gipsy Kings in an intimate performance at Grand Africa Cafe & Beach.
Try a pop-up five-course gourmet dinner at this exclusive cooking event.
Keep the kids entertained with this enchanting family theatre festival.
Looking for something to do in Hout Bay? Catch the queen of underground at this live acoustic show.
The Road to Mecca, a story about freedom, is now showing at The Fugard Theatre.
Staying on the theme of a theatrical night out, why not browse our overview of theatres in Cape Town for some inspiration?
Discover the other side to the story with this live production of Hansel and Gretel.
---
Use our events section for an up-to-date overview of happenings in Cape Town. Also, don't forget to subscribe to our newsletter.
Follow us on Twitter, like us on Facebook, connect with us on LinkedIn, check out our photos on Instagram and follow our Pinterest boards for updates on what's happening in and around the Mother City!