30 Years Since Mandela's Release: An Event To Celebrate
A performance by Thandiswa Mazwai and a speech by Ramaphosa
Last updated 11 February, 2020
On this day (11 February) 30 years ago, Nelson Mandela was released from prison. Within hours of his release, Madiba was standing on the balcony of Cape Town City Hall to address the nation for the first time in 27 years, delivering his famous speech for freedom. To commemorate that day, President Cyril Ramaphosa will be joined by other dignitaries on the same spot of that iconic moment to commemorate this famous day.


WHAT'S HAPPENING AT THE FREE CELEBRATION
The event starts at noon (12pm) and will include a live performance by Bongo Maffin's Thandiswa Mazwai, a lecture by Liberian Nobel Peace Prize Laureate Leymah Gbowee, a panel discussion featuring the author of Feeling and Ugly Danai Mupotsa and co-founder of Black Lives Matter Opal Tometi, and will be closed with a speech titled "The Speech That Built A Nation" by president Cyril Ramaphosa.

The area will also be cordon off, and you can find those road closures here.

SOME MORE MANDELA MEMORIES
Nelson Mandela spent 27 years of his prison sentence in and around Cape Town, and it is here where he was first seen by the world on his release. Cape Town is a politically significant site for Madiba, his struggle for freedom, and his quest to unite the nation. Here are some Cape Town memories of him.

WATCH THE UNVEILING OF MADIBA'S BRONZE STATUE AT CITY HALL



THE LAST BARRICADE TO FREEDOM
Victor Verster Prison, now named Drakenstein Correctional Centre, is located between Paarl and Franschhoek. During the Apartheid era, it served as a low-security prison acting as a stepping stone for the release of lower-risk political prisoners. It was here where Nelson Mandela spent the last three years of imprisonment in a warden house.
ICON MEETS ICON IN BISHOPS COURT
Nelson Mandela and his then-wife, Winnie, visited Archbishop Desmond Tutu's official residence in Bishopscourt, Cape Town, on the day after his release from prison. Members of the Mandela family and struggle icons including Walter and Albertina Sisulu were present. On the 20th anniversary of Mandela's release, Tutu commented: "The day Nelson Mandela walked free from Victor Verster Prison, our collective spirit soared. It was a day that promised the beginning of the end of indignity."

GARDENING, COOKING AND FRIENDSHIP AT ROBBEN ISLAND
During Nelson Mandela's many years on Robben Island he developed a friendship with prison guard Christo Brand, a lifelong relationship of mutual respect. "Robben Island had an open yard at the top of the prison where there was a vegetable patch," says Christo. "Mandela loved gardening and was proud of his garden. He grew brinjals, tomatoes, onions and spinach, which, every Friday, the wardens would combine with meat to make a stew. Mandela always shared his stew with the wardens."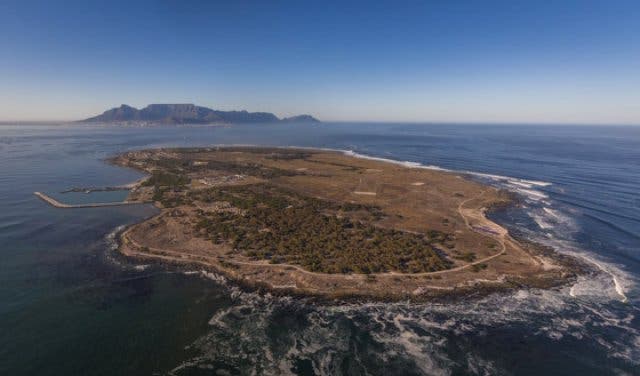 TABLE MOUNTAIN: A BEACON OF HOPE
It serves as a backdrop for many Cape Town landmarks, including Robben Island. Nelson Mandela recalls fond memories of the view from the island: "During the many years of incarceration on Robben Island, we often looked across Table Mountain at its magnificent silhouette. To us on Robben Island, Table Mountain was a beacon of hope. It represented the mainland to which we knew we would one day return."

MADIBA'S OTHER BIG CITY HALL MOMENT
It was from the City Hall's balcony overlooking Cape Town's main public square that Nelson Mandela first addressed South Africans on the day of his release from prison, in 1990. On 9 May 1994, he once again delivered a rousing speech from the same venue after his election as president of South Africa.

---
What are you doing for Mandela Day this year? We've got a list of great causes for you to get behind. For more articles about Nelson Mandela check out Madiba's Greatest Film Moments or Touring Nelson Mandela's landmarks in Cape Town.
---
Follow us on Twitter, like us on Facebook, join our Google+ circle, connect with us on LinkedIn, check out our photos on Instagram and follow our Pinterest boards for updates on what's happening in and around the Mother City!