Outdoor restaurants with a sea view in Cape Town and surrounds
A guide to Mother City eateries with refreshing ocean vistas and menus to match
Last Update: 7 January 2020

Sun-drenched decks, glistening crystal waves and moreish morsels to munch on are as good a summer concoction as any bright-hued cooling cocktail. In Cape Town, we are spoilt for choice with a vast array of outdoor restaurants with spectacular sea views. From those that boast sweeping panoramic vistas of our naturally beautiful coastline to those located right on the beach but metres away from lapping ocean waves, there are a whole host of seaside eateries ideal for drinking in the good life. Here's a selection of beachside dining spots where those in the know choose to go.
PINCHOS WITH A SIDE OF SWIMMING
Ficks Restaurant is a spectacular Hermanus venue, set around a tidal pool by the beach. The wooden decks hug the cliff and wrap around the pool, with spectacular sea view. Let the little ones go for a swim while you snack on delicious pinchos (pronounced: "peen-chos") like duck breast with orange and green olives, deep-fried calamari, deep-fried cauliflower, borlotti bean salad or one of the popular Flammkuchen. Or chill in the water while you wait for your food to arrive. The chef, Fadzi, is dedicated to bringing guests simple food with big flavour at Ficks.
TIP: Hermanus is a popular whale-spotting zone from June to November, so keep your eyes on the water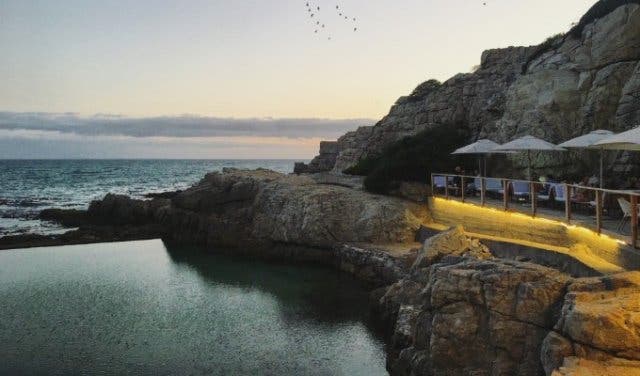 8 Marine Drive | Hermanus | +27(0)28 312 4082 | info@ficks.co.za
COME STRAIGHT OFF THE BEACH AND ONTO THE DECK
Build your own breakfast over coffee, snack on a biltong and fig salad in the afternoon or enjoy a grilled ostrich steak with a Blooming Protea or Aperol spritz as the sun sets over Camps Bay Beach. And there's no need to dress up – sandy slops are welcome at The 41 in Camps Bay.
TIP: All classic cocktails are half-price during their happy hour from 3pm to 5pm every day.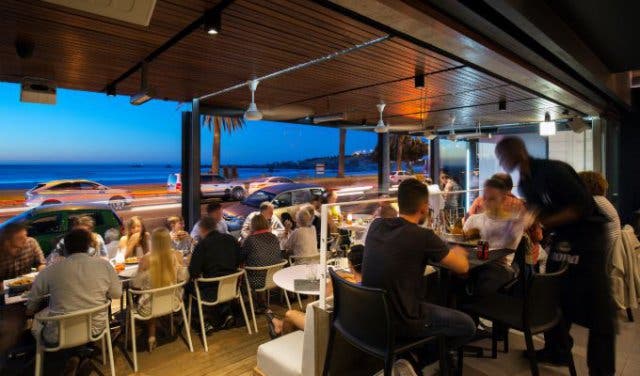 41 Victoria Road | Camps Bay | info@the41.co.za | +27 (0)21 437 0558
EPIC ATL VIEWS, SURFBOARD TABLE AND YOUR FEET IN THE WATER
Crocodile tail pie with pineapple-chilli salsa. R&R cocktail with Mozambican rum. Red velvet beetroot cheesecake. And your feet dangling in the shallow water below your Corona surfboard table. As far as beach restaurants go, this is by far our favourite hidden gem. Discover moyo at Eden on The Bay.
TIP: Come on a Friday, between 12pm and 6pm, for R25 draughts and R39 cocktails during moyo's drink specials.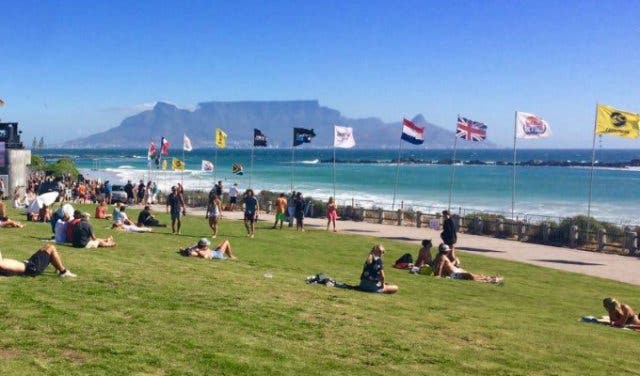 Eden On The Bay Mall | Otto Du Plessis Dr | Big Bay/Blouberg | blouberg@moyo.com | +27 (0)21 286 0662
Check out the Corona Sun Deck at Strolla Restaurant & Bar
You don't get more local or lekker than this seaside eatery. Perched like a cheeky seagull on the edge of the Peninsula Hotel along Sea Point's Platinum Mile, this 140-seater venue boasts a fresh and fuss-free menu that caters for everyone. And did we mention that Strolla is a lot more than just kid friendly? There's a Kiddies Corner where the little ones can build their own pizzas, complete with their own aprons, little chef's hats and a childminder to guide their creativity. Your jaw will definitely drop when you see their games room, complete with bean bags, games, colouring in books, a PS4 and a DVD player. Go midweek and get their awesome half-price rotisserie half chicken every Wednesday. What about the weekend? Also, check out Strolla Saturday Reggae Nights.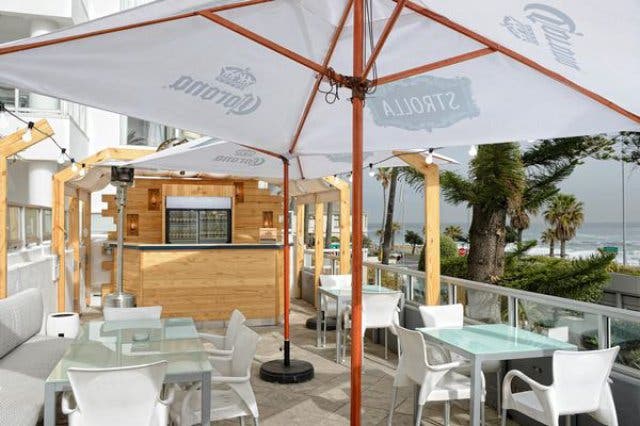 Opening Times: Monday–Sunday: 7am–11pm
313 Beach Road | Sea Point | Cape Town | +27 (0)21 430 7778


Shimmy Beach Club
With an uninterrupted view of the Atlantic Ocean's waves crashing against the shore a mere stone's throw away from your table, sitting down for a meal at Shimmy is one of the best things you can do in the city. This world-class beach club serves sushi so fresh you'd swear is was caught as you ordered it. Not to be left out, meat eaters and vegans/vegetarians can pick from a summer menu boasting 70 delectable dishes (think bacon-wrapped sliders, lamb lollipops, vegan penne pasta and truffled wild mushroom risotto). The little ones are catered for with a kiddies menu created to tantalise their tastebuds.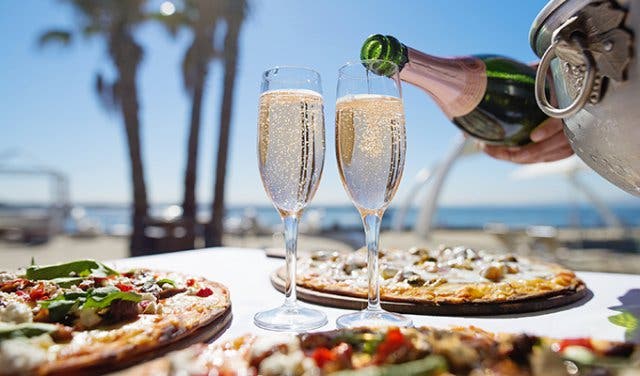 Opening Times: Monday–Friday: 11am–11pm, Saturday: 11am–4am, Sunday: 11am–2am
12 South Arm Rd | V&A Waterfront | Cape Town | +27 (0)21 200 7778
Tobago's Restaurant at the Radisson Blu Waterfront Cape Town
Five-star hotel Radisson Blu's flagship restaurant, Tobago's, is well worth the visit. Perfectly positioned at the water's edge, you can enjoy the refreshing salty sea breeze and expansive view of the Atlantic Ocean from the eatery's spacious terrace. Tobago's makes allowances for Cape Town's temperamental weather; you can opt for indoor dining on cooler days and still be treated to a spectacular view through the floor-to-ceiling windows. The menu serves delicious seasonal dishes, as fresh as the surrounding ocean, that can be washed down with a number of refreshing cocktails.

Opening Times: Monday – Sunday: (Breakfast) 6:30am - 10:30am; (Lunch:) 12:30am - 3:30pm; (Dinner) 6:30pm - 10:30pm
Radisson Blu Waterfront Hotel | V&A Waterfront | Beach Road | Cape Town | +27 (0)21 441 3414
MAReSOL
This new addition to the V&A Waterfront is becoming a welcomed part of the calabash of cuisine options available at the seaside shopping mall. Housed in the old Hildebrand building, the setting was designed to reflect the natural beauty of its surrounds. You get a specular sweeping view of the Atlantic Ocean on the one side, but you're also treated to an eyeful of the iconic Table Mountain on the other side. MAReSOL is an authentically Portuguese restaurant, with a few Mozambican influences. The food is filling, flavourful and fairly priced. Diners can look forward to a comfortable and casual atmosphere and convenient dining. MAReSOL is open for breakfast, lunch and dinner so you can dine at the restaurant any time of the day. It's the perfect place to grab a bite or host an event; MAReSOL avails itself for birthday celebrations, corporate functions, anniversary parties or wedding receptions. What's more, the outdoor dining is on the marina so you're as close to the water as you can possibly get.

Opening Times: Mondays - Friday: 8am - 10pm
Old Hildebrand Building | V&A Waterfront | Cape Town | +27 (0)21 425 3385
RESTAURANTS IN GREENPOINT, SEAPOINT, MOUILLE POINT & CAMPS BAY
Based just opposite the Mouille Point promenade, this late 2016 addition to Cape Town's oceanfront stretch looks out on a strip of azure Atlantic. Though it doesn't claim an outdoor section, floor-to-ceiling glass panes let you enjoy that gorgeous view. As the name implies (manga is a style of Japanese comic books), the restaurant specialises in reinvented Asian cuisine that's been given a fun spin, and the décor reflects this focus with various references to Asian pop culture. In keeping with the theme, you'll find a wide assortment of sushi on the menu, including both the regulars and imaginative options, like the Tommy Taco (a corn tortilla layered with tuna tartare, sashimi and avocado) and the Vietnamese-style Summer Lovin' Roll (salmon and prawn wrapped in rice paper). Otherwise, if raw fish doesn't appeal, you could opt for anything from Pork Wontons or Thai Green Chicken and Prawn Curry to Szechuan Beef Fillet or Noodle Stir-fry. And on the drinks side, you can toast to the sea beyond with craft beer, wine, cocktails and even saké, Manga has you covered

Opening Times: Monday – Friday: 11:30am – 10:30pm; Saturday – Sunday: 8:30am – 10:30pm
Corner Beach Road and Rothesay Place | Mouille Point | Cape Town | +27 (0)21 202 2720
Sotano by Caveau
With a sweeping view of the Mouille Point promenade as one of its main draw cards and the iconic candy stripe lighthouse as its beacon, Sotano is the ideal spot to drop anchor and disembark for a culinary adventure through the tantalising tastes of the Mediterranean. Let your taste buds explore a delicious selection of starters and mains (think fresh flatbreads, grilled calamari and beef tartare), while your eyes traverse the beautiful sea view before you. The name 'Sotano' means 'cellar' in Spanish and this theme is pulled through in the wood-dominated décor and neutral colour palette of the casual and comfortable eatery as well as in the extensive wine list. Pop in for a quick bite to eat with friends and let the mouth-watering food do the talking while you take in the dazzling sunset, glass of red or white in hand.
Opening Times: Monday – Sunday: 7am - 10:30pm
121 Beach Road | Mouille Point | City Bowl | Cape Town | +27 (0)21 433 1757

RESTAURANTS IN CAMPS BAY AND GRANGER BAY
Azure Restaurant
From its kingly throne on the hilly slopes of Table Mountain National Park, Azure Restaurant at The Twelve Apostles Hotel claims a view to rule all views. The fine dining eatery boasts a vast veranda that appears to levitate above the sparkling Atlantic Ocean, and even if you're forced to sup inside amidst the plush furnishings, you'll enjoy a floor-to-ceiling vista of the watery depths beyond and the atomic sunsets that draw the day to a close. Not to mention, the restaurant's chef is passionate about conjuring up creative fare that's on par with the panorama, so you can rest assured that your meal will be as memorable as the dramatic setting. Azure is open for breakfast, lunch and dinner seven days a week.

Opening Times: Monday – Sunday: 7am – 10:30am (breakfast); 12:30pm – 3:30pm (lunch); 6pm – 10pm (dinner)
Victoria Road | Camps Bay | Cape Town | +27 (0)21 437 9029
Café Caprice
Perched on Camps Bay's famous seaside strip, this trendy Cape Town institution flaunts views of the glittering Atlantic Ocean and the butter-yellow beach sand that runs up to it, and as it features an outdoor sidewalk seating zone, it's possible to enjoy this vista while sitting under open skies. Though most well-known for its award-winning cocktails, Café Caprice also puts ample effort into its fare, with an emphasis on fresh ingredients and winning flavour combinations. The eatery is open for breakfast, lunch and dinner, and must-try items include the roast butternut and beetroot salad with feta and toasted pumpkin seeds; the deboned, free-range chicken espetada, which is coated in a chilli, garlic and rosemary marinade; and the succulent Royal Burger, which is stacked with streaky bacon, cheese, fresh chilli and beer-battered onion rings. In essence, there are few sexier places to dine when you're craving the scent of the sea and the feel of the sun on your skin.

Opening Times: Monday – Thursday: 9am – 10pm; Saturday - Sunday: 9am - 2am
37 Victoria Road | Camps Bay | Cape Town | +27 (0)21 438 8315
RESTAURANTS IN CAPE TOWN SURROUNDS
HOUT BAY
Wharfside Grill Restaurant at Mariner's Wharf
Rub shoulders with gung-ho fishermen at Africa's first harbourfront emporium, Mariner's Wharf in Hout Bay. Situated upstairs is the celebrated Wharfside Grill Restaurant offering a wide selection of seafood options, including, amongst others, calamari, prawns, kingklip and sole. Sit outside on the deck to take in the expansive view overlooking Hout Bay's harbour, or for a more intimate dining experience, choose one of the private dining cabins named after famous ships that once frequented the Cape. For those wanting an authentic seaside experience, the Wharfette Bistro downstairs offers tasty takeaway finger fare pulled fresh from the surrounding ocean that can be eaten right on the beach while watching the fishermen bring in their catch and seals playfully duck in and out of the tranquil waters.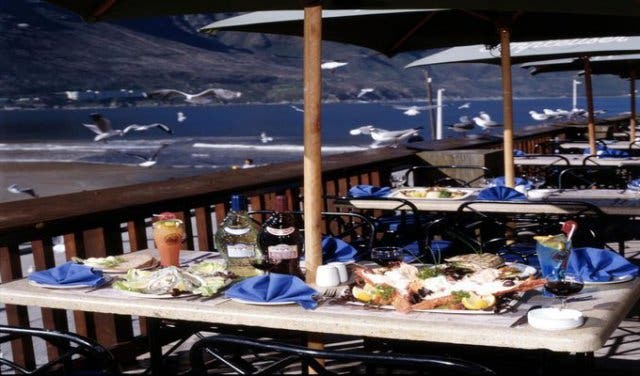 Opening Times: Wharfside Grill: Monday – Sunday: 9am - 9:15pm; Wharfette Bistro: Monday – Sunday: 9am - 5:30pm
Mariner's Wharf | Hout Bay Harbour | Hout Bay | Cape Town | +27 (0)21 790 1100


CAPE POINT PENINSULA
Two Oceans Restaurant
Situated at Cape Point, the narrow stretch of land that marks the most southwesterly tip of Africa, the Two Oceans Restaurant sits amidst a flurry of fynbos crowning the sheer cliffs of what has been known by sailors for centuries as the Cape of Storms. Owing to extensive renovations made in July 2012, the 'storm' has been brought into the kitchen with Head Chef Phil Alcock and Thai Sushi Chef Sarawut Sukkowplang cooking up a mouth-watering selection of fresh fare. Indulge in an assortment of inventive individual rolls from the chic new sushi bar or treat yourself to the signature seafood platter or ostrich burger and savour it alongside one of the Cape's most exquisite, edge-of-the-world views of the ocean. The eatery's innovative new design has created a stylish space as inspired by the expansive South African sea view as the menu is.

Opening Times: Monday – Sunday: 9am - 5pm
Cape Point Peninsula | +27 (0)21 780 9200


BLOUBERG

Blowfish Restaurant
Perched above the dunes just beyond the kitesurf mecca of Dolphin Beach, Blowfish Restaurant in Blouberg treats diners to a vista that stretches from the shimmering Atlantic shoreline on the West Coast all the way to the rounded hump of Lion's Head and the plateau of Table Mountain. From nearly any seat in the laidback, family-friendly eatery, guests can gaze out over the bay and drink in the stunning scenery while tucking into fresh seafood, sushi or rustic bistro fare. The food, like the ambience, puts on no airs and graces and, rather, is dependent on generous portions and good produce that's been prepared well. So, whether you park at the sushi conveyor belt, settle in for shellfish on the covered outdoor deck or chill out with a cocktail or cold beer in the loungy section of the restaurant, you'll find something to suit your palate and style. And as the longtime eatery is open for breakfast, lunch and dinner, you can accompany your meal with occasional ocean glimpses at any time of day.

Opening Times: Monday – Sunday: 6:30am – 10pm
1 Marine Drive | Blouberg | Cape Town | +27 (0)21 556 5464
On the Rocks
Whether it's your big day, Christmas lunch with the family or a brunch with friends after a morning of running and cycling along Blouberg's picturesque coastline, On the Rocks has much to offer in the way of delectable seafood and other fine cuisine, including the authentic Cape Malay Curry (with seafood or chicken) the Open Saffron Crayfish and Prawn Ravioli and Patagonis calamari tubes. Its terraced seating area with a view of Table Mountain and Robben Island is an added bonus and great for summer sundowners. The Venetian fire place is also a warm accompaniment to fine dining during the Cape winter. On the Rocks is sure to live up to its reputation of providing a pleasant dining experience.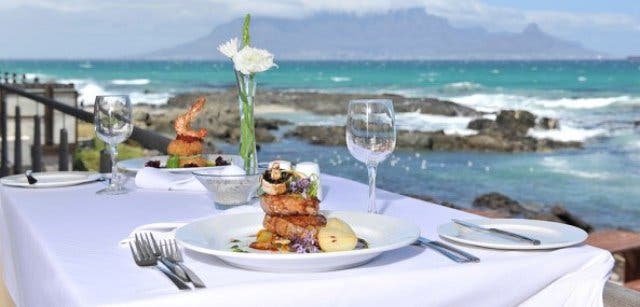 Opening Times: Monday - Sunday: 9am – 10pm
45 Stadler Road |Bloubergstrand |Cape Town | + 27 (0)21 554 1988

MELKBOSSTRAND
Café Orca
This beachfront cottage-styled restaurant situated on Cape Town's West Coast area of Melkbosstrand is an all-time favourite among Capetonians and visitors alike. Café Orca has been in existence for 18 years and offers a very wide variety of locally sourced food. Its menu offers a vast array of seafood, in addition to meat and salads. Why not try the creamy garlic mussel starter with the beef medallion as a main. The Moroccan line fish is also a very tasty option; you are guaranteed to enjoy whatever you choose from Café Orca's extensive menu while enjoying a panoramic view of Melkbosstrand's Atlantic coast.


Opening Times: Mon: Closed | Tues: 12pm – 15:30pm & 6pm – 9pm | Wed – Sat: 11:30am – 3:30pm | Sun: 11am – 3:30pm
88 Beach Road | Melkbosstrand | Cape Town | + 27 (0)21 553 4120
MILNERTON
Maestro's on the Beach
Feel the fresh sea breeze on your skin and the sun on your face as you dine on the large deck of this beachside restaurant in Woodbridge Island, Milnerton. Traditional Italian cuisine with a South African twist is the order of the day and can be enjoyed alongside scintillating 180-degree views of Cape Town's unravelling coastline. In cooler weather, there is also ample seating indoors where floor-to-ceiling windows help to maximise the incredible vistas. Whether you choose to sit indoors or out, this eatery prides itself on providing a splendid sea view from every seat.
Opening Times: Monday – Friday: 10am - 11pm; Saturday – Sunday: 9am - 11pm
Bridge Road | Woodbridge Island | Milnerton | Cape Town | +27 (0)21 551 4992
SIMONSTOWN
The Salty Sea Dog
Established in 1925 as a fish market, this popular Simon's Town fish and chips joint has stayed true to its original purpose by serving up simple and honest seafood caught fresh from the adjacent ocean. Located near the harbour, the laid-back eatery is a model spot to enjoy the accompanying taste of tomato sauce and tingle of vinegar while watching the boats come and go. On clear summer days when the weather is fine and the food even finer, take your meal outside on the protected patio and languish in the sun, or when the sea breeze is chilly, keep warm inside the rustic but endearing restaurant. With cold beer on tap and only the freshest seafood on offer, The Salty Sea Dog promises an authentic seaside experience.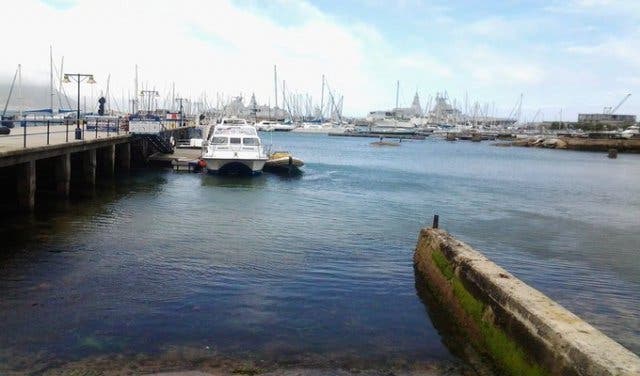 Opening Times: Monday – Saturday: 8:30am - 9pm; Sunday: 9:30am - 4:30pm
2 Wharf St | Simon's Town | Cape Town | +27 (0) 21 786 1918

NOORDHOEK
Thorfynn's Restaurant
Nestled in a Milkwood forest and part of Noordhoek's Monkey Valley Nature Resort, Thorfynn's boasts an upstairs deck that skims the tree tops and offers a sweeping vista of unspoilt coastline from Chapman's Peak to Kommetjie. The relaxed venue is steeped in country-style charm and serves up a tantalising assortment of homecooked meals, such as wood-fired pizzas and burgers, as well as a number of vegetarian options and a regular weekend brunch buffet. A welcome retreat from the buzz of the city, Thorfynn's is the ideal nook for friends and families (there's also a kiddies' menu) alike.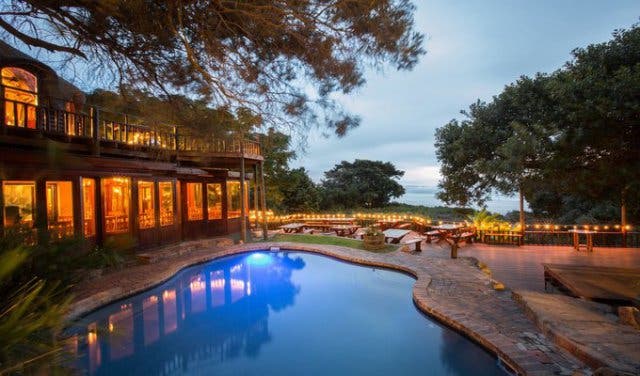 Opening Times: Monday – Friday: 7am - 10pm; Saturday – Sunday: 7am - 11pm
Mountain Road | Monkey Valley Beach Resort | Noordhoek | Cape Town| +27 (0)21 789 1391

KOMMETJIE
Blue Water Café
Looking for a great outing the whole family will enjoy with a beautiful sea view to boot? Then look no further: Blue Water Café on Imhoff Farm in Kommetjie is the perfect answer. A back veranda (or 'stoep' as South Africans say) opens onto a lush green lawn that leads the eye to a panoramic view of the Atlantic Ocean. There's a jungle gym on-site and kiddies' parties can also be booked in advance, leaving grown-ups free to relax and dine while the little ones are entertained. Other activities on offer in the complex include camel rides and a visit to the neighbouring Higgeldy Piggeldy Animal Farm or the Snake Park for the more daring.

Opening Times:Tuesday: 9am - 5pm; Wednesday – Saturday: 9am - 10pm; Sunday: 9am - 8pm
Imhoff Farm| Kommetjie Road |Kommetjie | Cape Town | +27 (0)21 783 2007


KALK BAY
Brass Bell Restaurant & Bikini Bar
This beloved restaurant in the heart of the trendy harbour of Kalk Bay gives visitors some of the most beautiful views in Cape Town. The cosy atmosphere of this establishment will make you feel the energy of the ocean while you enjoy a divine meal and great company. It is perfect for any occasion; whether it be an intimate evening with friends or a sunday lunch with the family. Be sure to enjoy the tidal pools, the music and the vibe at The Brass Bell.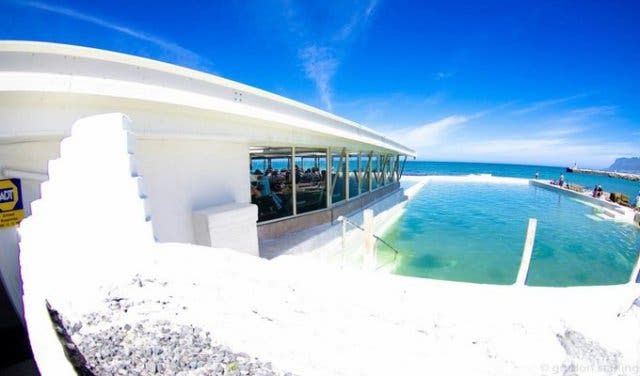 Main Road | Kalk Bay | +27 (0)21 788 5455
Live Bait in Kalk Bay
Live Bait is loved by locals in Muizenberg (where it recently opened) and has been a gem in Kalk Bay for ages. Both venues are sure to provide you with the most breathtaking views of the ocean, mountains and the occasional family of seagulls flapping about. The two vibrant restaurants serve the freshest seafood dishes around. A crowd favourite is the Hake and Chips with a basil Mayonnaise… YUM!
Opening Times: Monday - Tuesday: 11am - 11pm
70 Beach Road | Muizenberg | +27 (0)21 788 4133 | +27(0)21 788 2705 | Kalk Bay Harbour | +27 (0)217885755

FALSE BAY
Octopus' Garden
This quirky, colourful False Bay eatery near Muizenberg draws its name from the popular Beatles song with the well-known lyrics: "I'd like to be under the sea in an octopus' garden with you". While it may not be under the sea, the charming café is a mere pebble's throw away from it and features splendid views of the iconic St James bathing huts punctuating an endless blue backdrop with spots of bright colour. Love is a central theme pulled throughout both the restaurant's design and its delicacies; thus, while taking in the eatery's eclectic décor and the assortment of odds and ends, you can choose from a selection of erotically-named menu items, such as the Organic Orgy Wrap and the Orgasmic Brownies.
Opening Times: Monday – Sunday: 9:30am - late
The Old Post Office Building| Main Road | St James | Cape Town | +27 (0)21 788 5646

PATERNOSTER
Gaaitjie
Do not be deceived by this very unassuming 70-year-old fisherman's cottage. Its rustic appeal and Asian-infused menu provide its patrons with the idyllic escape from the mundane hum-drum of city dining. All of its produce is locally sourced to provide diners with a fresh and delectable meal, rendering this an unforgettable dining experience. Reservations are essential to have a meal at Paternoster's hidden gem.
Opening Times: Monday: 1pm – 3:30pm | Tuesday - Wed: Closed | Thursday: 1pm – 3:30pm/6pm – 9pm | Saturday: 1pm – 3:30pm/6pm – 9pm | Sunday: 1pm – 3:30pm/6pm – 9pm
Off Sampson Street | Paternoster | Western Cape | + 27 (0)22 752 2242
HERMANUS
Harbour Rock
Known to regulars simply as "The Rock", Harbour Rock is a very popular dining spot among local and foreign tourists in the Western Cape's bustling seaside town of Hermanus. Situated atop a cliff that spoils diners with a splendid view of the Hermanus harbour "The Rock" is the perfect venue for your dining experience. Try one of its many succulent dishes, such as the line fish with tomato dressing, gremolata, tapenade and baby marrow. There is plenty from which to choose.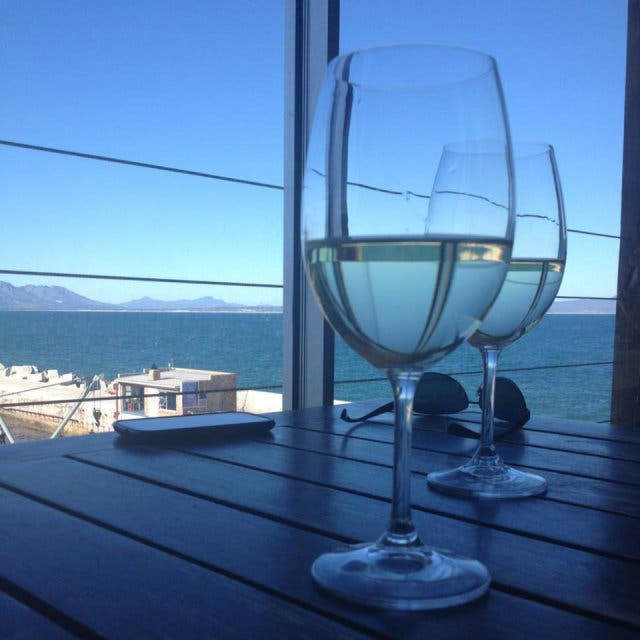 Opening Times: 9am – 11am (breakfast) | 12:30pm – 3:00pm (lunch)| 6:30pm – 10:30pm (dinner)
New Harbour | Hermanus | +27 (0)28 312 2920
---
Enjoy award-winning steaks and wines at The Hussar Grill. Also check out their daily lunchtime special.
First options announced: Ideas to pitch to your boss for your end-of-year party.
Enjoy delicious Mediterranean dishes with a Lebanese twist at Sotano in Mouille Point. Check out their 2-for-1 lamb burger special on Wednesdays and their Monday Sirloin & Sauvignon special.
Check out the all-new beach-style Folk Cafe in St James.
The new Canal Cafe, with incredible Foreshore and Roggelbaai Canal views, opens late 2018 at the Harbour Bridge Hotel in the CTICC precinct.
Looking for the best cocktail spots in our pretty city? Check out our selection of the most scenic Mother City hangouts for sipping on sundowners. Enjoy a lazy Sunday lunch by the sea at the First Sunday Rhythms.
Looking for something new to try in? Discover The Shop restaurant.
---
Also, don't forget to follow us on Twitter, like us on Facebook, and check out our Pinterest boards for updates. Plus subscribe to our weekly newsletter for what's happening in and around Cape Town.