Valentine's Day Recipes
Tasty treats to make to make their hearts skip beats
Last Updated: 13 February 2017
"Roses are red, violets are blue! Food is delicious, may I have some too?". My rhyming couplets are a bit of a Valentine's Day flop, but what I'm about to serve should definitely make up for my poetic flaws.
The day of love is here and it's time to get those romantic juices flowing. What is more romantic than anything though? It's sitting down to a meal prepared by that special someone, of course! It's time to ditch the idea of a dinner at a French bistro, a lavish six-course feast at a hotel or a movie and picnic under the stars. Woo your lover with your way around the kitchen and ladies - it's been said that the quickest way to a man's heart is through his stomach.
V-Day comes with a lot of romantic gestures and surprises, but what could be more romantic than preparing a meal from scratch with your own hands? Try spoiling your better half with a few of these quick and easy-to-make treats.
FIG SMOOTHIE
Figs have a high nutritional value, they are a good source of potassium which helps to control blood pressure. The fruit is also seen as an ancient aphrodisiac, because of its appearance and sweet luscious flavour. Valentine's Day is about love and romance so one will need food that will help keep the mood. The smoothie is made with banana which contains bromelain and vitamin B, which have been shown to increase male sexual desire too.
Serves: 1 couple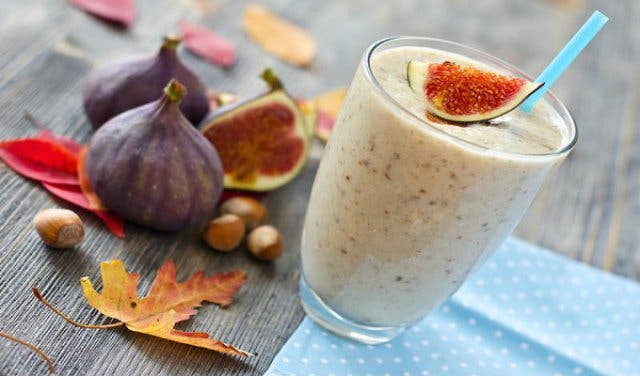 Ingredients
½ Cup of almond milk
½ Cup of Greek yoghurt
4 fresh figs (remove the stems and cut figs in half)
½ Banana
1 tablespoon of honey
1 teaspoon of lemon juice
Pinch of cinnamon
1-2 scoops of ice
Method
To prepare the smoothie pour the almond milk, yoghurt, figs, ice and banana into a blender and blend for 20-30 seconds.
Then add the honey, lemon juice and cinnamon and blend again until it is fully combined. Pour and serve.
STRAWBERRY SODA
Strawberries are like perfect little hearts, there is no Valentine's Day menu that doesn't feature them. They are also packed with minerals such as folate, magnesium and potassium which are known to support a healthy lifestyle. There are many ways to enjoy strawberries. You can dip them in chocolate or cream or you could also do something totally different with them and make a strawberry soda.
Serves: 2 couples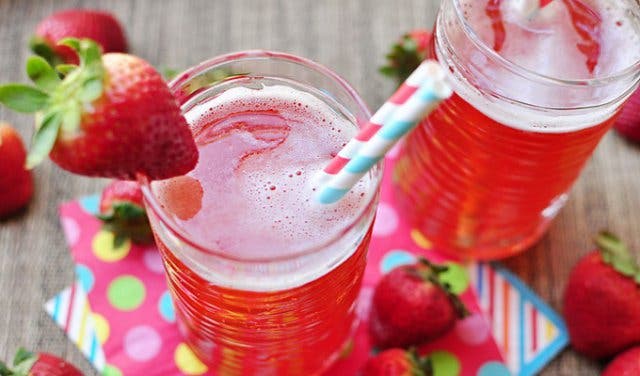 Ingredients
2 cups of strawberries (cut in halves)
3 cups of soda water or sparkling water
2 cups of sugar
Method
To make the strawberry syrup add the strawberries and water to a medium-sized pot and bring the mixture to boil.
Then turn the heat to low, stir the mixture and let it simmer for about 15 minutes. Strain the juice and throw away the strawberries.
Add the sugar to the juice and stir it until the sugar dissolves. Boil the juice again, turn the heat to medium and let it simmer for five minutes. Turn off the heat and let it cool down.
Tip: You can add a teaspoon of lemon to the juice to extract the flavours.
To serve: Fill up a jug with the syrup then add soda water or sparkling water.
CLASSIC ITALIAN-STYLE SPAGHETTI AND MEATBALLS
It's finally your time to cook, to take charge, to shine - and we bet you're freaking out (we are too!) We've got you covered with a step-by-step recipe to make your loved ones a fabulous meal that will have them speechless this Valentine's Day. It's time to channel your inner Jamie Oliver!
Here is a classic Italian-style spaghetti and meatballs recipe - it's simple and delicious. There is no need to spend hours in the kitchen, but just enough to make it look as if you have - that is the real goal here. You only need an hour at most to get these ingredients together and in a well set out bowl on the table.
Serves: 2 couples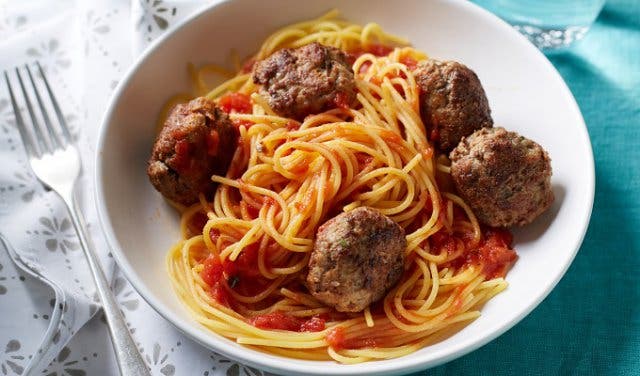 Ingredients
For the meatballs:
2 onions (diced)
¼ Cup parsley (chopped)
3 cloves garlic (minced)
2/3 Cup fresh breadcrumbs
1 egg (lightly beaten)
2 teaspoons Italian seasoning
230g ground beef
230g ground turkey
2 tablespoons oil
¼ Teaspoon salt
For the sauce:
2 cans tomato sauce
1 can diced tomatoes
2 tablespoons sugar
2 tablespoons Italian seasoning
Method
To make the meatballs, sauté the onions, parsley, and garlic in a couple teaspoons of oil. Cook, stirring often, for eight to 10 minutes or until the onions are soft. Remove ¼ cup of the onion mixture, place it in a large bowl and set the remainder aside.
Then, in a mixing bowl, combine the breadcrumbs, milk, egg, Italian seasoning, salt, and ¼ cup of the onion mix you've just made. Use your hands to stir in the beef and turkey, and then form the mixture into five-cm balls.
Next, warm a tablespoon of oil in a Dutch oven or stock pot. Add the meatballs to the pot and cook, turning often, until they're browned on the outside (about five minutes).
To the pot, add tomato sauce, diced tomatoes (with juice), sugar, Italian seasoning, and the remainder of the sautéed onion mix. Bring to a boil over high heat, then reduce and simmer for 20 to 25 minutes, until the meatballs are cooked through.
Cook the pasta according to the directions on the package. Place the cooked pasta in a serving bowl and spoon the sauce and meatballs over the top.
There you go - you've done it! Well done! Now decorate the table with some candles, your fancy cutlery and crockery and enjoy your Lady and The Tramp moment!
TRIFLE
What Romeo is to Juliet is what a trifle should be to anybody's tummy. This dessert is packed with layers and layers of nutritious sweetness and will leave you wanting more after every serving.
A trifle is a dessert that one would consider messy as it contains a lot of ingredients that you'll have to eat at once. As much as this recipe brings together various ingredients it also has a way of bringing people together - that is more than enough reason to prepare it for Valentine's Day, right? This recipe is not only for those with a sweet tooth, but it has a taste of everything one wants in a dessert.
You want to know how to make your lover's heart skip a beat - try the recipe yourself.
Serves: 4 couples
Ingredients
1 sponge cake
2 tins of sliced peaches
4 packets of jelly (two different colours to give the dessert more personality)
1 box of custard
1 tin of Nestle Caramel Treat
1 packet of Brazil nuts
2 Cadbury Flake chocolates
500ml fresh cream
Method
Before you do anything, make sure you have prepared your powdered jelly with some boiling water (according to the packaging) and then put it into the refrigerator to set.
After that you can start off with the foundation for your dessert. First off you slice the sponge cake and layer it across or around your dessert bowl to build that stable base for the trifle.
Next you layer some sliced peaches on top of the sponge cake slices.
Once the jelly has set, you slice and layer it on top of the peaches. Then you pour a layer of custard on top of that.
Thereafter, you repeat the exact same layers again.
You then top the layers with caramel and the brazil nuts. Now cover the bowls with foil and leave it in the fridge overnight.
The next day you top everything with your whipped cream and crumbled flakes, then leave it in the fridge for 30 minutes before serving.
Tip: The trick to making the perfect trifle is to make sure that it looks like an attractive mess. Make sure that your layers are applied equally.
CHAMPAGNE DESSERT
Valentine's Day requires some champagne - so we decided to spice it up a bit and combine our two favourite things; champagne and dessert! You'll need some time to prepare this one, but the result is so worth it. You will be able to enjoy a light and palate cleansing treat after an incredible meal. Spoil yourself and loved ones with a sophisticated glass of deliciousness. This dessert combines a dash of alcohol, sweetness and bitterness, making it one of the most unique dishes around. The stunning dessert which is preferably served in a champagne glass, will delight even the person who dislikes desserts. A real winner when hosting people for a dinner party.
Serves: 3 couples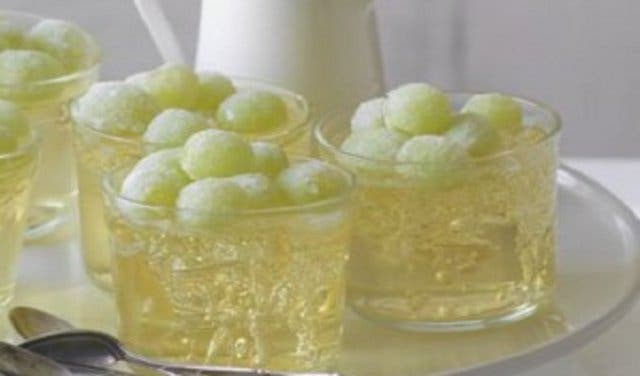 Ingredients
For the Jelly:
275ml champagne or medium-dry sparkling white wine (very well chilled)
1 large lemon
85g caster sugar
10g leaf gelatine
For the Syllabub:
1 tablespoon champagne or medium-dry sparkling white wine
½ tablespoon brandy
1 tablespoon lemon juice
10g caster sugar
75ml double cream
For the Frosted Grapes:
110-150g seedless white grapes
1 egg white (beaten)
Castor sugar
Method
Start with the jelly, because it takes the longest to set. Begin by pouring 450ml of hot water into a saucepan. Next, pare the zest of the lemon using a peeler. Add the zest to the saucepan, together with the sugar and adjust the heat until it's reached a simmering point.
Meanwhile, soak the gelatine leaves in cold water for five minutes to soften. Then take the saucepan off the heat. Squeeze the excess water out of the gelatine and whisk it into the saucepan mixture.
Next, add the juice of the lemon and strain the contents of the saucepan into a bowl (use a large bowl to avoid spills). Leave to cool, then cover the bowl and chill the mixture in the fridge until the jelly is just on the point of setting - give it about an hour and a half, but to be safe keep your eye on it after about an hour.
Now comes the exciting part; uncork the champagne! Measure out 275ml and pour it into the jelly. Stir it once or twice to blend everything together, then using a ladle gently scoop it into serving glasses (gently means conserving as many bubbles as possible). Cover the glasses with clingwrap and chill the jellies for four hours, until they are deliciously soft set. They should be firm enough to support the syllabub but not rubbery.
To make the syllabub you will need to combine the champagne, brandy, lemon juice and sugar in a bowl. Put this to one side, while stirring it occasionally until the sugar dissolves. Now pour the cream and chill until you are ready to serve it. Just before you serve, make it look superb with a blob of syllabub cream on top and decorate with a frosted grape!
Finally, make the frosted grapes to garnish your dessert with. For the best effect separate the grapes into clusters of two or three depending on their size and leaving them attached to a stalk. Wash them and dry the grapes thoroughly and then dip them into the egg white and then the sugar. Make sure each one gets an even coating of sugar. Spread the out on a baking parchment to dry for a couple of hours before using them to decorate.
There you are – a delicious dessert to serve after your Valentine's dinner, or as a treat whilst opening some Valentine's Day pressies.
STUFFED STRAWBERRIES
What is Valentine's Day without the all-time favourite, sharing strawberries and cream with your partner? Strawberries have become the staple food for romantic evenings with your significant other and seems to be one of the most romantic treats for an intimate night. Here is a strawberry and cream recipe with a difference that'll have your mouth watering and you savouring the moments with your lover even more. Trade the traditional strawberries and whipped cream for strawberries with a delicious twist. Preparation will take about 15 minutes – so this recipe is most definitely suited to someone who wants to spend more time with their loved one than in the kitchen.
Serves: 1 couple (10 each, for you and your partner)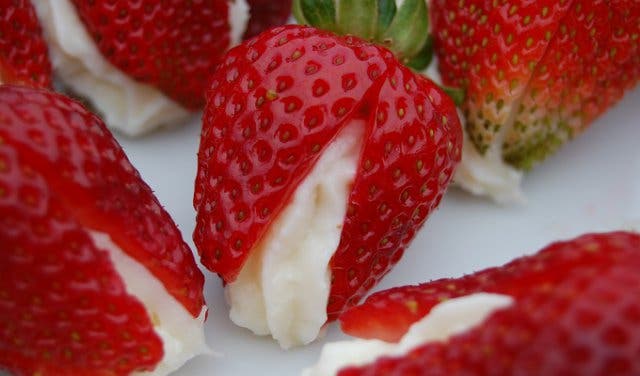 Ingredients
20 large fresh strawberries
85g package plain cream cheese (softened)
1/2 tablespoon confectioners' sugar
100g crushed walnuts
Method
Dice two strawberries and set aside.
Cut the stems off of each of the remaining strawberries, forming a base for the strawberries to stand on.
Slice each strawberry into four wedges - starting at the pointed ends and cutting most of the way, but not completely through the stem end.
Whisk the cream cheese until fluffy; stir in the diced strawberries, walnuts, and powdered sugar.
Spoon or pipe about a teaspoon of the mixture into each strawberry and serve.
Now that you know how to treat your lover this Valentine's Day, there's no way of getting anything wrong!
Recipes Courtesy of CapeTownMagazine.com Team
Compiled by Jaye-Dee Jansen
---
Want to eat out instead? Have a look at the feature on various restaurants you can visit for Valentine's Day.
---
Check out our events section for an up-to-date overview of happenings in Cape Town. Also, don't forget to subscribe to our newsletter and if you have a smartphone, add m.capetownmagazine.com to your home screen for quick access on the go!
Follow us on Twitter, like us on Facebook, join our Google+ circle, connect with us on LinkedIn, check out our photos on Instagram and follow our Pinterest boards for updates on what's happening in and around the Mother City!