Enjoy Simple, Sophisticated Luxury at Radisson Blu Hotel Waterfront
Simple, sophisticated luxury sans the stuffiness
The only thing missing from my Radisson Blu Hotel Waterfront Cape Town room is Richard Gere; he's neither hiding provocatively on the two-bedroom business suite's sea-facing balcony nor has he tucked himself away into one of the two king size beds.
I briefly entertain the idea of drawing a bubble bath, putting on headphones and singing loudly (and terribly) to Prince, but something tells me that just because the opulent furnishings and breathtaking views have me feeling as spoiled as Julia Roberts in "Pretty Woman", it doesn't necessarily mean that the film's knight in shining armour has scheduled an aligning cameo.
Then again, perhaps he's squeezed himself into the room's stainless steel refrigerator...
Fantasies aside though, the reality is that the five-star V&A Waterfront accommodation is one of Cape Town's best, and since it refurbished its business class rooms and suites in 2009 there's only a handful of Mother City hotels that can contend with the impressive combination of location, service and style that it offers guests.
"Our challenge was to create a hotel experience which matched the uniqueness of the location. Fresh colours, quality materials and an exciting blend of modern and classic design elements have been combined to give the guest the ultimate experience of luxury," commented Paul Luck from Arkiteckto Lightspace, on the idea behind the look and feel.
Though, the architect's description does little justice to just how aptly the hotel has, in a simple yet sophisticated way, asserted itself as a mere extension of the shimmering Atlantic Ocean cascading below.
Spacious suites with floor-to-ceiling windows and sliding doors invite both the sea and sunlight into rooms, Scandinavian-inspired, light wood furnishings add just the right flourishes of colour and texture, and an open lobby atrium and a suprisingly tasteful nautical theme lend a relaxed atmosphere to the accommodation.
Though only one side of the hotel entitles visitors to sweeping views of the ocean, those on the other side aren't exactly deprived; standard and superior rooms look out onto a panorama of Table Mountain, the Cape Town Stadium and Lion's Head.
Regardless, as enchanting as the rooms prove to be, no visit to the Radisson Blu Hotel Waterfront Cape Town is complete without the requisite cocktail at Tobago's Bar and Terrace.
"It recently was appointed best seaside bar by Condé Nast's House and Garden", proudly recounts Executive Chef Grant Kennedy on a whirlwind tour of the premises.
While he doesn't join us for one of the delectable creations – I'm sampling the Tanqueray mojito and my partner's swilling around a sweet melon margarita – even the omission of his good company can't ruin sunset on the terrace deck.
Lauded by both locals and those from farther afield for its world-class vistas and flawless mixology, Tobago's is second to none when it comes to Cape Town spots for sundowners.
Light snacks are also available for those who'd rather forego the slightly more formal dining experience at Tobago's Restaurant, and the infinity swimming pool is an easy way to splash out if you'd rather not exhaust your budget on the colourful bar creations.
As the sun winks below the horizon and dusk starts to fall, it's suddenly evident how peaceful a setting the five-star hotel has managed to create.
If I didn't know any better (and because I've had to come to terms with the lack of Richard Gere), the sounds of seagulls and the sing song of the waves crashing on the rocks below could easily fool me into believing that I was, in fact, on a tropical island catching the last bits of warmth from the day before the calypso band started serenading and congo line followed.
Sleep
The Radisson Blu Hotel Watefront Cape Town boasts 177 elegantly designed rooms. While recently refurbished two-bedroom suites and business class rooms flaunt ocean views and Scandinavian styling, superior rooms and standard rooms offer partial sea views and mountain views. The latter room types are scheduled to be refurbished in the same style as the former between 1 May and 15 August 2012. All rooms come complete with free high-speed Wi-Fi, minibar and coffee and tea provisions, satellite television, a bathrobe and slippers and on-demand movies.
The two-bedroom sea-facing suites also come complete with an office space and a fully-equipped self-catering kitchen; there's even a top-notch espresso machine primed to get your day humming along in no time.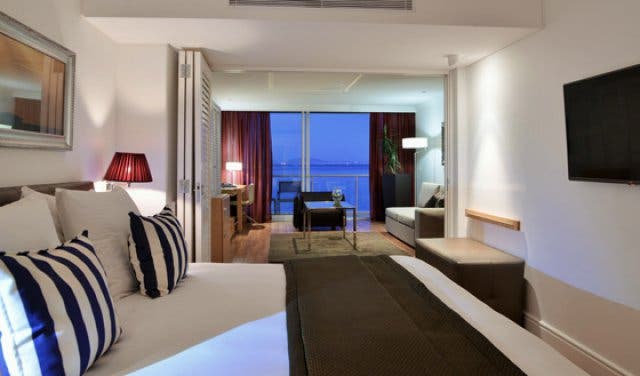 Eat
Tobago's Bar & Restaurant at the Radisson Blu features an innovative, continental menu designed by Executive Chef Grant Kennedy. For dinner, local mainstays, like seared tuna loin, Chalmar beef fillet and free-range lamb shank, feature, but diners can look forward to unique flavours and interesting textures that add a five-star flair to the well-known dishes. The wine list is expansive, and the views unrivalled. Guests can dine al fresco if they choose; enjoying a sunset for starters.
Breakfast is an impressive buffet that features a wide variety of mueslis, yoghurts, fresh fruits, meats and cheeses, and hot items. There are even ingredients available to throw together your own Bloody Mary if the hotel's french-pressed coffee or tea selection isn't quite going to cut it for you.
A light lunch menu, called the terrace menu, is also available for those in the mood for something mid-day.
Breakfast 06:30 - 10:30 (Daily)
Lunch 12:30 - 15:00 (Daily)
Dinner 18:30 - 22:30 (Daily)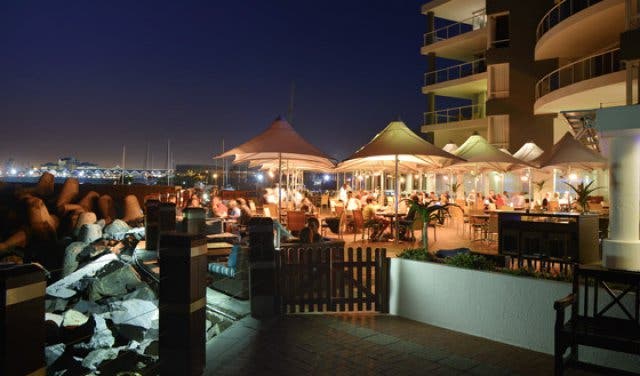 Spa
Leaders in the relaxation and rejuvenation department, the QauntumSpa has a treatment to indulge any fancy. From facials, massages and manicures for those simply in need of a bit of pampering, to the oxygenated vitality pool and relaxation deck for those feeling low on energy, to the crystal light therapy and magnetic-field therapy for those interested in alternative methods, the seaside sanctuary provides guests with packages as perfect for combatting jet lag as they are for relieving tension.
Use of the gym, the Vitality pool and the steam room are complimentary for all hotel guests; a personal trainer is on hand for those interested in booking an appointment.
Location
The five-star Radisson Blu Hotel Waterfront Cape Town is situated along the curve of Granger Bay just adjacent to the V&A Waterfront. Guests can take a five-minute walk to the reputable shopping centre or can opt to wait for the hourly complimentary shuttle provided by the hotel. On the opposite side, the Mouille Point and Sea Point promenade, a greenway perfect for jogging, walking and dog-watching, stretches out alongside the Atlantic.
Camp's Bay and Clifton beaches are fifteen minutes away, and the Cape Town city centre is a mere ten minutes drive; including the Cape Town International Convention Centre (CTICC). Additionally, Table Mountain, recently voted one of the 7 Natural Wonders of the World, and Lion's Head are also fifteen minutes by car from the Radisson Blu's doorstep.
---
Experience a new way to hotel at the AC Hotel Cape Town Waterfront.
Read more about Tobago's Restaurant, and have a gander at our Accommodation in Cape Town section for more information about the city's cutting-edge hotels.
See the new Park Inn by Radisson Cape Town Foreshore here.
Looking for a luxury hotel getaway? Reward yourself with one of our exclusive Arabella stay, play and spa package deals.
And if you are in the mood for a cityscape location, check out Radisson Blu Hotel and Residence.
For business accommodation with excellent harbour and Roggelbaai Canal views (the canal cruiser even goes straight through the property), take a look at the nearby and ultra-unique Harbour Bridge Hotel.
---
Like us on Facebook and follow us on Twitter to keep up-to-date with what's happening in our pretty city. Plus, subscribe to our weekly newsletter for a seven-day weather forecast.