This Restaurant Takes Braaied Meat (and Cocktails) to Higher Levels
Primal Eatery, the award-winning "meatery" is a fun-dining restaurant, with food cooked over a live open fire, creative cocktails and an upbeat ambience.
The New Church Street eatery looks like a fine dining establishment but feels more like a spot where the staff and management encourage a party in your seat. "We got bored of serving the same steaks with the same boring sauces," says co-owner Brynn Felix with a chuckle, while looking over at what he calls his "suave GQ waiter". "Restaurants should never be boring. It should be more than food. It's a night out." Primal Eatery is also particular about who they work with. "We employ people that are slightly quirky and just a little odd, but live and breathe the brand. This applies to every position, from our waiters to Executive Chef Ashraf Arendse."
A CELEBRATION OF THE BRAAI
The concept of Primal Eatery, run by partners in both life and business Brynn and Kristina Klonaris-Felix, is a celebration of South Africa's love of braaing. The eatery offers veranda seating, with a dedicated smoking area, as well as indoor seating where the DJ heightens the ambience. The bar and cocktail area is a lounge experience with sofas, which can be booked for birthdays and other celebrations, and bar seating where patrons can watch the mixologists work their magic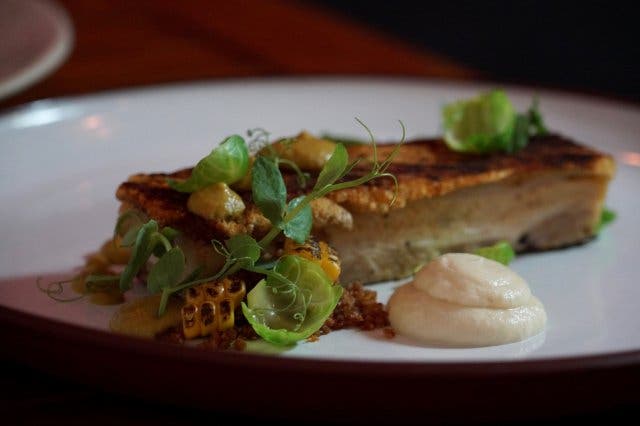 NOT YOUR AVERAGE STEAKHOUSE
The meat is prepared over a wood-fire grill. It takes two things to make their meat great, says Brynn. "A brilliant chef and ethically sourced meat." Primal Eatery is not your average steakhouse – more of a "meatery", as coined by Brynn. They plate quality braaied meat, using the best meat from various farms and suppliers in order to provide guests with the ultimate meat experience. And their formula paid off, winning the Eat Out Best Everyday Eatery: Tramontina Best Steakhouse award within their first year. They don't stick to traditional methods of preparation, says Brynn. "We use methods which include smokers and dehydrators. We have a way of infusing our flavours, making the meat tender and succulent and most importantly, flavourful". Everything is "kissed" by smoke. "We push the coals to the side and funnel the smoke to our meat." The veggies, desserts and drinks, too.
MIXOLOGY MAGIC
Cocktails at Primal Eatery match the food and overall concept. All cocktails are carefully crafted, with the kitchen and business model in mind. "I like to take something normal, break it down into its components, shuffle it around, reconstruct it, then put a twist on it," says Brynn. "I like having an anomalous menu. Normal is boring."
Tip: Check out Primal Eatery's half-price cocktails during happy hour.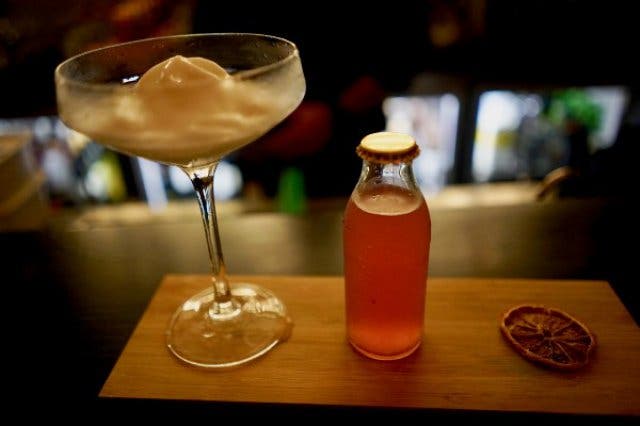 Tip: Meat is what you came for: Take your pick from the selection of butcher's cuts which changes daily.
What you wouldn't expect: Primal Eatery has live DJs. "In Greece, which is my heritage, they don't plan post-dinner activities. Dinner is the plan," says Kristina. "We wanted to offer a similar experience by creating a funky vibe. We want to leave people wondering, is this a fine dining restaurant or is it a bar?"
The Bill: Starters: R75–R105 | Mains: R135–R285 | Sides: R30–R45 | Desserts: R80–R85
50 New Church Street | City Centre | +27(0)21 422 3232
---
If it's meat you're after, here are the places where you can find great steaks around Cape Town.
Prefer to cook at home? Here's how you can become a master of the braai at these spots around Cape Town where you can make a braai in public.

Keep updated with all the new openings with this list of hot new spots keep an eye out for exciting restaurant specials.
---
Use our events section for an up-to-date overview of happenings in Cape Town. Also, don't forget to subscribe to our newsletter and if you have a smartphone, add m.capetownmagazine.com to your home screen for quick access on the go!
Follow us on Twitter, like us on Facebook, join our Google+ circle, connect with us on LinkedIn, check out our photos on Instagram and follow our Pinterest boards for updates on what's happening in and around the Mother City!