Kid-friendly Restaurants in Cape Town
Keep it in the family with eateries that are child-friendly, too
Last updated: 30 August 2019
Does the idea of a child-friendly restaurant in Cape Town fill you with dread? For many, the concept conjures up soggy sandwiches, sticky tables and crayon-scrawled placemats. But there's no reason why adults should suffer in order for the kids to have fun; that's an archaic way of thinking. The following Cape Town restaurants are both kid-friendly and appealing to grown-ups, too.
STEAK AND A LITTLE BIT OF EVERYTHING ELSE
The Milnerton steakhouse in The Paddocks Shopping Centre is the home of the Special Reserve 21, its signature dish since 1984. It's a beautifully tender, side-seared fillet tenderloin (matured for 21 days) topped with herb butter and cooked to perfection. But there's more than just steak on the menu – the restaurant does a little bit of everything, such as burgers, salads, fish and lasagne. And for the little ones that can't sit still, the mall's play area for kids is right across the way from Dale's Black Angus.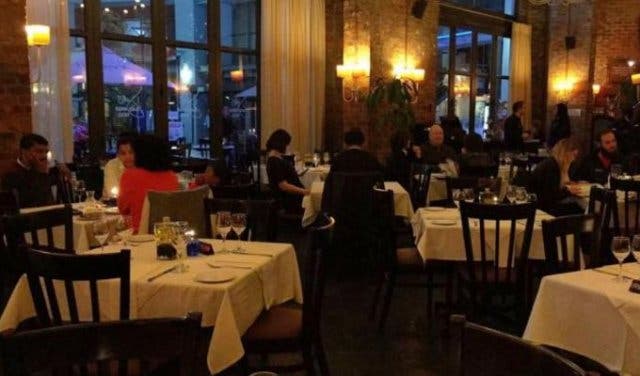 The Paddocks | Racecourse Road | Milnerton | +27 (0)21 551 7776 | office@blackangus.co.za
SUSHI FOR YOU, KIDDIES' MENU FOR THEM
Just beyond the dunes of Dolphin Beach in Blouberg (with an uninterrupted view of Table Mountain) sits this family-friendly eatery that is all about sushi, seafood and sunsets. They have an interactive kids' colouring menu, featuring food like chicken strips, calamari strips and fish 'n chips. There are even colouring pages, biscuit decorating and children's books, as well as baby seats and a designated area that caters specifically to families at Blowfish.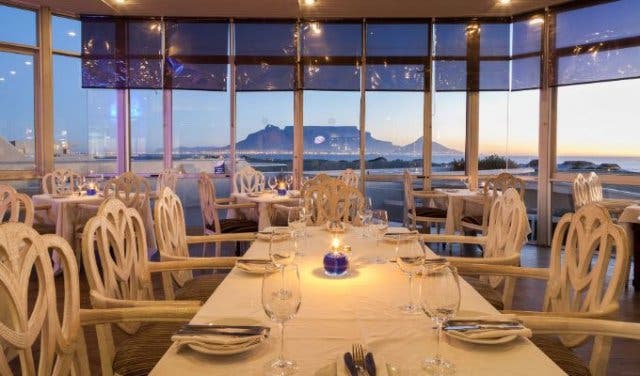 1 Marine Drive | Table View | +27 (0)21 556 5464 | info@blowfishrestaurant.co.za
Kids make their own pizza at Strolla Restuarant & Bar
Kid friendly is an understatement. This seaside eatery on Sea Point's Platinum Mile has a dedicated Kiddies Corner that allows kids to build their own pizzas, complete with their own aprons, chef's hats and a childminder to guide their creativity. And when they are done with their rolling pins, there is a games room, complete with bean bags, games, colouring books, a PS4 and a DVD player/DSTV with a range of child-friendly movies. It's the perfect recipe for fun family time, whether you choose to enjoy a cocktail and pizza on their Instragammable Corona Sunset Deck. Go midweek and get their awesome half-price rotisserie half chicken every Wednesday. Or catch live reggae bands such at The Rivertones at Strolla every Saturday from 3 to 6 pm.
313 Beach Road | Sea Point | Cape Town | +27 (0) 21 430 7778
Dutch Haven Bistro
This cheerful Durbanville-based restaurant doesn't just welcome kids, but as it's owned by a mother of three, it was designed with little ones in mind. So, not only does the clean, contemporary Dutch eatery boast a jungle gym with swings, a slide and more just outside, but it also claims a small safe play area for very tiny tots on its one side. And the menu is dotted with plenty for those only a half pint and a penny high, including breakfast bites, toasties, chicken strips and chips, pancakes, ice cream and other delightful options. As a nice and unusual extra touch, there are also a few nibbles for babies, such as Purity fruit and finger biscuits. But Dutch Haven is a sanctuary for adults too; the interior is fresh and elegant (not kitsch and kiddie-focused), the ambience is refined and welcoming and the Holland-inspired food is simply delicious. So, it's the sort of place mom and dad can enjoy as much as the little cherubs.
Tip: Dutch Haven is a great venue to host children's birthday bashes, and bubbly owner Wanda Lichtenberg will arrange every detail, including the party packs.
Bill: Prices are kept very reasonable. Kids' meals range from R10 to R34, baby bites are between R6 and R12 and adults can pick up a hearty breakfast or lunch for between R15 and R89.
Rosen Park | Bella Rosa Street | Durbanville | Cape Town | +27 (0)21 914 6120
Café Paradiso
'Children are not only welcome, they're invited'. Café Paradiso is part of the magic Madame Zingara collection, and in true enchanting fashion, the restaurant has gone out of its way to design an eating experience that allows adults to enjoy their meal while the kids are entertained and occupied. So, if you think the kids need some fresh air, this charming restaurant is a touch of country in the middle of the city.
Tip: Ask about the 'kids' projects'. These activities allow the little ones to get their hands dirty in the bakery making things like pizza, gingerbread men, cupcakes and cookies while parents eat. The projects run daily until 8pm and cost R45.
Bill: Mains are from R70 to R120, the kids' menu starts at R30.
110 Kloof Street | Cape Town| +27 (0)21 423 8653
Warwick Wine Estate
Book a picnic pod or a spot on this Stellenbosch wine estate's spacious lawn overlooking the dam. There are gourmet picnic baskets for sale suited for both parents and kids. Plus they have a monitored playground with only one exit and entrance, so feel free to relax with Warwick's award-winning wines while the kids go play.
Tip: Take note, the picnic season only opens in September
Bill: Warwick's Children Baskets: R49, full Gourmet Picnic for two adults: R299.00.
R44 | Between Stellenbosch & Klapmuts | Stellenbosch | +27 (0)21 884 3144
Ons Huisie
Set in a restored fishing cottage, this heritage building by the sea is just the place for fish and chips, for both generations—your rugrats may just want to eat theirs in the free-standing fishing boat.
Tip: Make a day of it, after lunch hit the nearby beach and playground.
Bill: West Coast hospitality with West Coast prices; R65.00 - R120.00 per person, and kids start at R29.00.
18 Generaal Jansen Road | Cnr Generaal Jansens & Stadler Roads | Bloubergstrand | +27 (0) 21 554 1553
Oude Molen Eco Village
Millstone is an eco-friendly farm stall and café in the heart of the Oude Molen Eco Village in Pinelands, one of Cape Town's oldest suburbs. It's an excursion for kids of all ages; the younger ones can wield dominion over the playground while the older kids ride horses. The on-site organic vegetable gardens not only lend a country air to the urban suburb, but they also inspire a fresh, wholesome menu too.
Tip: The village is home to a variety of micro-enterprises, from art studios to metal workshops.
Bill: The menu changes with the produce coming in, but all the meals are reasonably priced.
Oude Molen Eco Village | Alexandra Street | Pinelands |Cape Town | +27 (0)21 447 8226
Blue Water Café
Imhoff farm just outside of Kommetjie is an oasis of family-friendly fun; from camel rides for the kids to antiquing for the grown-ups. The place to eat here is the Blue Water Café; sit outside on the stoep and take in the views of the Atlantic Ocean, Hout Bay and Noordhoek while the kids play safely in the enclosed garden on the jungle gym and tyre swing. The menu is an array of Mediterranean-style dishes, but the pizzas are their most famous offering.
Tip: There's a neighbouring petting farm, Higgeldy Piggeldy Animal Farm, nearby.
Bill: Expect family-friendly prices too.
Imhoff Farm | Kommetjie Road (M65) | +27 (0)21 783 2007
Deer Park Café
You'll feel as if you're on top of the city at this steadfast Vredehoek restaurant. Set in a beautiful location right up against the mountain, it's an experience that highlights just how close our urban sprawl is to Table Mountain National Park. There's ample space to play, as well as a playground that includes swings, slides and jungle gyms. And the food's not bad either; look forward to French-inspired breakfasts, bistro mains and an extensive kids menu – no fish sticks in sight.
Tip: A great place for high tea too; there are plenty of confectionaries and hot drinks on offer.
Bill: The food is all reasonably priced; although, the wine menu seems a little steep in comparison.
2 Deer Park Avenue | Vredehoek | Cape Town|+ 27(0)21-462-6311

Café Roux
This restaurant is part of the Noordhoek Farm Village complex, and the emphasis is wholeheartedly on family fun. The grow-ups can sit under the oaks and watch the kids play at close range in the playground, while they enjoy a decadent breakfast, or a light, Mediterranean-inspired lunch.
Tip: Café Roux also caters for kiddie parties. They take care of both the food and the entertainment; think face-painting and miniature pony rides.
Bill: The prices are just as unpretentious as the experience.
Cnr Main Road and Village Lane | Noordhoek Farm Village | Noordhoek | + (0)21 789 2538
By Malu Lambert
---
Stay in the heart of Greenmarket Square at the ONOMO Hotel Cape Town. Check out their Friday lunch taco special and everyday dinner specials.
Popular the whole year but particularly over Easter, we've got the inside scoop on making the ultimate pickled fish recipe.
Let the kids learn and play at the Kids ART Excel Workshop. Also, be sure to check out Bugz Playpark in Kraaifontein.
Stroll on over to our Kids Decide section for more tips on fun things to do, for the whole family.
AC Hotel Cape Town has live music every Thursday and a weekly Sunday roast.
---
For your weekly update on what's happening in and around Cape Town, be sure to subscribe to our popular newsletter and don't forget to follow us on Twitter, like us on Facebook, join our Google+ circle and check out our Pinterest boards for updates.