Special and Hidden Rooftop Bars In the City: Great Views, Sleek Looks and Winning Vibes
Views and delicious drinks are a given, but these rooftop bars have a little something extra to offer
Last updated: 30 January 2020
There's more to a good rooftop bar than great views: some have pools, others serve great food, and one CBD hideaway even has a secret maze. Here are some of our favourites.
LIVE MUSIC SEVEN NIGHTS A WEEK
Soak in the view of Table Mountain while you sit next to the pool with a cocktail at Skybar, upstairs from The Piano Bar. A moody De Waterkant musical revue joint, The vibey Piano Bar is the place to go for easy listening funk, soul and blues. The sophisticated space features live music every night of the week (even on Mondays) and serves up exciting cocktails. Try the Basil and Clove Martini with freshly squeezed lime juice, and a selection of tapas at The Piano Bar.
The vibe: A laid-back environment that's open to everyone.
Operating hours: Tuesday–Sunday: 12pm–11pm
Must-try: The invigorating Basil and Clove Martini with freshly squeezed lime juice.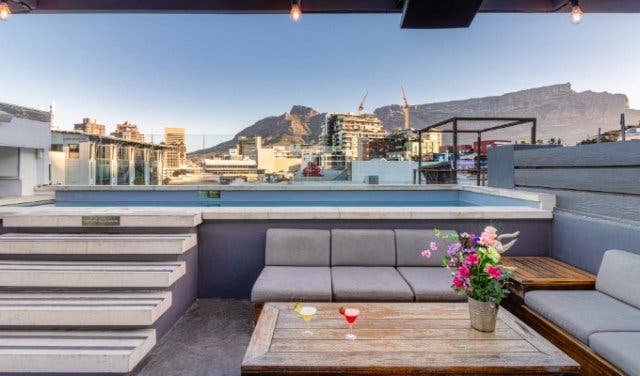 47 Napier Street | De Waterkant | +27 (0)21 007 5212 | bookings@thepianobar.co.za
THE ULTIMATE URBAN BUZZ
Pier Place is the Foreshore's newest rooftop space, where the extended outdoor balcony has customised pergolas, seating platforms, a container bar, greenery as well as a stage for live entertainment. Its clever use of space means it can work for any type of event. Some seating or lounging areas have been separated to create a sense of intimacy, while others allow for bigger groups to gather. What's more, it can adapt to any weather. The space gets hired exclusively, so the party can be moved indoors or bedouin tents can also be hired to protect against wind or rain outdoors. There's an event team plus a fully equipped chef's kitchen and bar service. Whether it's an end-of-year-bash, a product launch or even a wedding, any event will be a success at Pier Place.
The vibe: Modern, trendy and contemporary interior with beautiful views overlooking the city
Must-try: A selfie with the awesome graffiti wall and neon light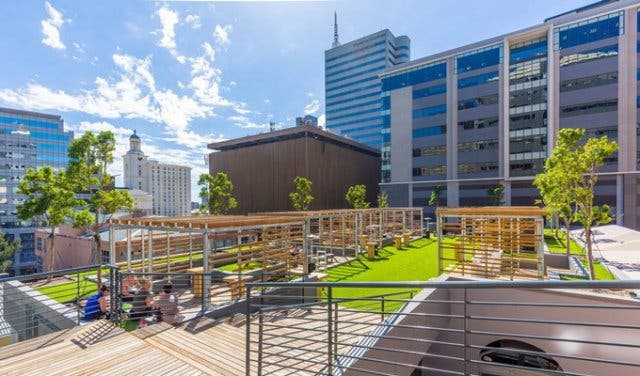 31 Heerengracht Street | Foreshore | +27(0)21 421 5550
A POOL OUTSIDE ON ORANGE
Hmm. It may not be strictly a "rooftop", but this one's still worth checking out. 15 on Orange has an extended deck with a pool, conveniently on the first floor (making it more accessible) and a pool bar with light meals, healthy juices, cocktails, and more. Plus: If you really want that view, the newly launched 15 on Orange restaurant looks out over Table Mountain. Discover the Murano Pool Deck at 15 on Orange Hotel, Autograph Collection.
The vibe: Full-on leisure focus with city views
Operating hours: Daily: 4pm–11pm
Must-try: The Bali-inspired Crushed Coconut Mojito – you won't find it anywhere else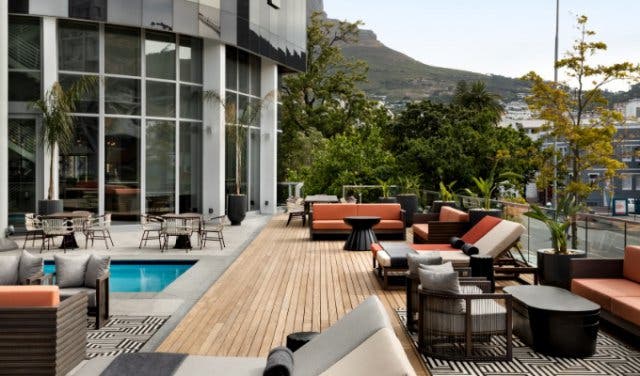 Corner of Orange Street & Grey's Pass | Gardens | Cape Town | +27(0)21 469 8000
SMOOTHIES, COCKTAILS AND LIVE MUSIC
From its perch on the sky-high 11th floor of the Park Inn Cape Town Foreshore, the Harald's Bar and Terrace boasts an impressive 180-degree view of the Mother City in all her glory: to the one side, there's Table Mountain rising above the skyscrapers; to the other, you have an unbridled view of the bustling harbour and the sea beyond. There's live music every Friday, with a selection of top DJs keeping partygoers buzzing with house and urban beats at Harald's Bar & Terrace.
The vibe: Tuck into a shared snack basket with friends, together with a signature cocktail, as you lounge on the sprawling couches or comfy deck chairs.
Operating hours: Daily: 10:30am–11pm
Must-try: The fresh citrus flavour of the popsicle, a signature cocktail designed by Harald's Bar and Terrace's staff, is perfect for a summer's day.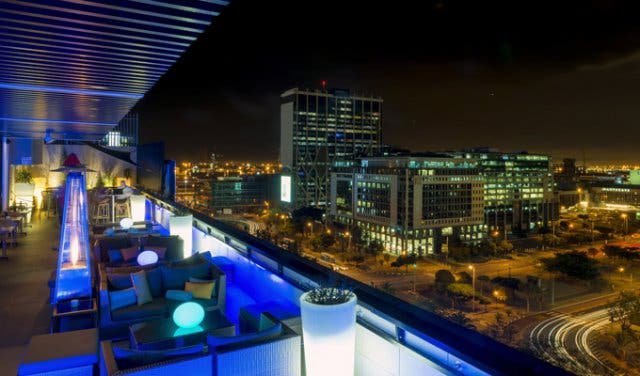 The Park Inn Hotel | 29 Heerengracht Street | Foreshore | +27 (0)21 427 4800
A POOLSIDE VIEW OF THE CITYSCAPE
Laze by the gorgeous pool while sipping a delicious cocktail at the ultra-stylish Ghibli Bar and Pool Terrace at the Radisson Blu Hotel. With its unique decor and welcoming feel, the Ghibli Bar is where you stop by for a casual drink or to catch up with friends. Enjoy a warm summer's day by the pool with the hubbub of the city at your feet and a cold drink in your hand. The restaurant also provides light meals, burgers and pizzas (amongst other things) until 5pm.
The vibe: Casual, relaxing, poolside vibes
Operating hours: Daily (bar): 11am–10:30pm; (food) 12pm–5pm
Must-try: The blue mojito is a refreshing citrus flavoured drink that brightly matches their pool.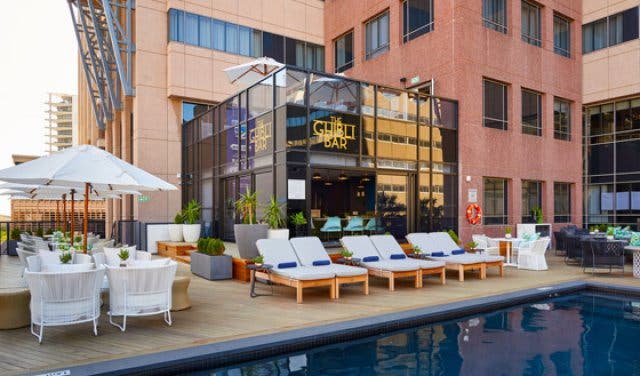 22 Riebeek Street | Cape Town | +27 (0)21 467 4000 | info.capetown.residence@radissonblu.com
LOUNGING ON CLOUD NINE
Two storeys above the ground, the bar at Cloud 9 Boutique Hotel & Spa sits flush against Cape Town's Kloof Nek sidewalk in Tamboerskloof, offering the best 360-degree views and a lively vibe. The bar serves a variety of cocktails and sourdough pizzas, making it ideal for social gatherings. You can even host a corporate event there. Relax after a long day at work by jumping into the pool with a cold drink from the extensive menu. Kick off summer at Cloud 9 Rooftop Bar.
The vibe: It's open to the public, who come to sip on the bar's selection of signature cocktails.
Operating hours: Daily: 1pm–11pm (2pm–11pm in winter)
Must-try: Relax by the pool with one of their refreshing signature cocktails such as the Basil Smash made with gin, basil leaves and fresh lime.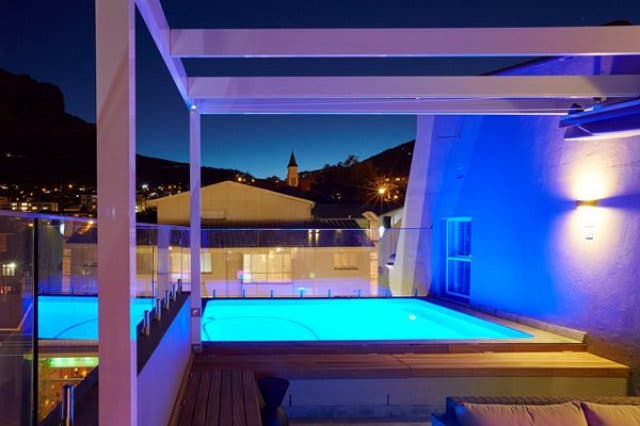 12 Kloof Nek Road | Tamboerskloof | +27 (0)21 424 1133
BREAKFAST, LUNCH AND DINNER AT CHARLIE
A new spot has opened up next to Cloud 9 Boutique Hotel & Spa. Charlie, a contemporary bistro and bar, is a hearty spot with a vintage setting and an open kitchen. They offer meals, drinks and a vibe for breakfast, lunch and dinner, with only free-range locally-sourced meats and all meals prepared in-house. Plus the view of Table Mountain from the terrace isn't half bad. Make it an all-day party at Charlie.
The vibe: Charlie is a hipster hub with vintage decor and contemporary food made from locally-sourced ingredients
Operating hours: Daily: 7am–11am; 12pm–10pm
Must-try: Sip one of their many wines by the glass, from a crisp white Sauvignon Blanc to their bold and fruity merlot.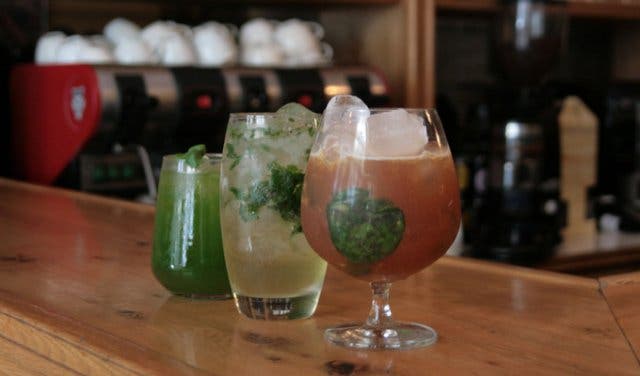 12 Kloof Nek Road | Tamboerskloof | +27 (0)21 484 1133 | info@charlie.co.za
A SEXY SUNSET AND INTERNATIONAL DJS
The sleek and sexy rooftop cafe and bar at Chinchilla is a hot addition to Camps Bay's strip of sensational sundowner spots. The beach is right across the road, so you'll always feel like you're on holiday - and let's not forget about Camps Bay's one-of-a-kind sunsets. Chinchilla hosts a rotation of local and international DJs to keep guests in a party mood, including the two resident DJs: American Tess Prins and Charles Webster from the United Kingdom. Chinchilla also offers cafe classics like toasted sandwiches, seafood and a scrumptious beef burger (amongst other things) with their extensive drinks menu.
The vibe: Chinchilla offers a laid-back vibe with music and decor that says sexy, but easy-going.
Operating hours: Monday–Friday: 4pm–10:30pm; Saturday and Sunday: 12pm–10:30pm
Must-try: Bring your friends and share Chinchilla's signature summery Peach Rosé Sangria that serves four.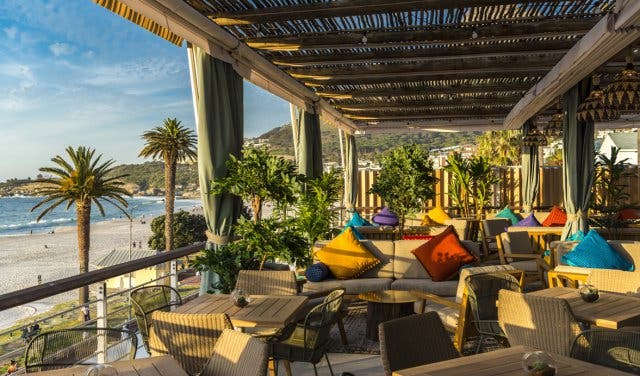 The Promenade Building | Victoria Road | Camps Bay | +27 (0)21 286 5075 | reservations@chinchillarooftop.co.za
A PEOPLE-WATCHING PARADISE
Check out Fiction in Long Street if you're looking for a bar with great views of Long Street that's also a dance club. Fiction has been on the scene for over 12 years, keeping patrons happy and dancing with great music and theme nights. Plus, the balcony that wraps around the corner of the building offers a great view of the top of Long Street and Table Mountain in the distance. Wednesdays are strictly 2000s, an ode to a bygone era of iconic pop music, and Thursdays are all about drum and bass at Fiction.
The vibe: They offer a selection of single malt whiskeys, gins and cocktails that pair perfectly with the people-watching on the street below.
Must-try: Keep an eye out for one of Fiction's specials, like their 2 for 1 double brandy and coke, or half price beer and ciders.

226 Long Street | Cape Town | +27 (0)21 422 0400
A NIGHT OF THEATRE AND REVELRY
If you're attending a show at The Fugard, make a night of it with pre-drinks or a night cap on their quaint rooftop terrace bar. It's open late on show nights.
The vibe: It's a place to mingle with creatives, theatre enthusiasts and intellectuals, or to dine with a date.
Operating hours: Hours dependent on showtimes
Must-try: They have their own house red and white wines – created especially for the Fugard by award-winning Stellenbosch winery DeMorgenzon.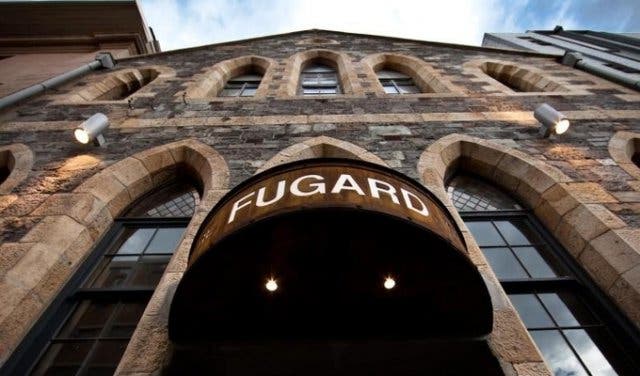 Corner Caledon & Lower Buitenkant Street | District Six | +27 (0)21 461 4554
ALL HANDS ON DECK
The Deck, formerly known as Batstone Pool, is a local favourite for scorching summer days when nothing but a poolside bar will do. It's situated on the fourth floor in Cape Quarter, a buzzing lifestyle centre in De Waterkant, and has quickly become a haven in the city. The backdrop is Table Mountain, so just think of all the Instagram-worthy selfies. For R50, you can get a sun lounger and towel.
The vibe: It's the perfect spot to enjoy cocktails, take a dip and lounge around in the sun.
Operating hours: Wednesday–Sunday: 11am–9pm
Must-try: Cool off with an ice cold Rooftop Margarita with El Jimador Blanco blended with triple sec and fresh lime juice.
Fourth Floor |Cape Quarter | 27 Somerset Road | De Waterkant | +27 (0)76 643 0287
CINEMA, TRAILERS AND A GORGEOUS VIEW OF CAPE TOWN
Grab a snack from the food truck downstairs then head up to Sky Bar at the top of The Grand Daddy Hotel, which shares its space with a rooftop airstream trailer park (seven vintage Airstream trailers hauled from the States, then popped onto the hotel's roof), which makes it a pretty unique venue, we'd say. Sky Bar also shares space with the Pink Flamingo Rooftop Cinema, where you'll find classics like Grease and The Lion King playing. Enjoy an unbridled view of Cape Town's skyline at Sky Bar.
The vibe: The wooden deck is intimate and perfect for a sundowner of cocktails, craft beer or champagne.
Operating hours: Daily: 12pm–9pm (weather-dependent)
Must-try: The Trailer Park Happiness is their gin and vodka based cocktail, with raspberry pureé, fresh lemon juice and lemonade or soda water.
38 Long Street | Cape Town | +27 (0)21 424 7247
A PARTY ABOVE LONG STREET
At the top of Long Street is Royale Eatery, and on top of Royale Eatery is The Waiting Room. The upstairs lounge is chic but chilled, and it features an eclectic mix of live music and DJs. The fairy light-lined rooftop offers a unique view of Long Street, Lion's Head and Table Mountain, Cape Town's favourites. There is live music (DJs and live bands) every Tuesday, Wednesday and Thursday (sometimes Monday, too), plus a variety of DJs on Saturday nights.
The vibe: Traditionally a favourite hangout of art students at UCT's Hiddingh Campus, the space is now frequented by locals looking for a good dance or a late-night drink.
Operating hours: Monday–Saturday: 9pm–2am
Must-try: Keep an eye out for one of the Waiting Rooms many specials. You can often get 2 for 1 beers or ciders before 10pm.
273 Long Street | Cape Town City Centre | +27 (0)21 422 4536 | waitingroombookings@gmail.com
COCKTAILS WITH A VIEW OF TABLE MOUNTAIN
The Oblivion Wine Bar and Restaurant has a roof-top deck, perfect for lazy weekend drinks or breakfasts with a view. It's also ideal for lunch and dinner with stunning views of Table Mountain, or you can just drop in for afterwork and weekend cocktails like classic mojitos and cosmos. Indulge in pizzas, tapas, burgers, ice-cold draught beers and a selection of cocktails at Oblivion. Plus, show off your general knowledge or expand your horizons every Monday at Quiz Night (starts promptly at 8pm).
The vibe: Join the locals to watch sport on weekends or book a spot for a large group of friends to spend a boozy afternoon.
Operating hours: Monday–Thursday: 7:30am–2am; Friday: 7:30am–2am; Saturday: 8am–2am; Sunday: 8am–11pm
Must-try: The Oblivion original Ice Cap craft beer topped with frozen margarita is a winner.

22 Chichester Road | Claremont | +27 (0)21 671 8522 | gm@oblivion.co.za
A HOTSPOT FOR ROOFTOP SUNDOWNERS
Up Yours is the rooftop café and bar above Yours Truly that feels like an urban jungle with flowers, vines and potted trees everywhere. The beer garden is frequented by young travellers (there is a backpackers downstairs) has an extensive drinks menu and live music every weekend. There are always DJs, bands and solo acts, international and local, playing everything from hip hop to vinyl rock for a day-to-night party.
The vibe: It draws a crowd of creatives and city slickers – it's become one of the ultimate spots for after-work drinks and weekend sundowners with friends.
Operating hours: Daily: 3pm–10pm
Must-try: The Blitz is a zingy tequila-based cocktail with fresh lime, ginger ale, and bitters.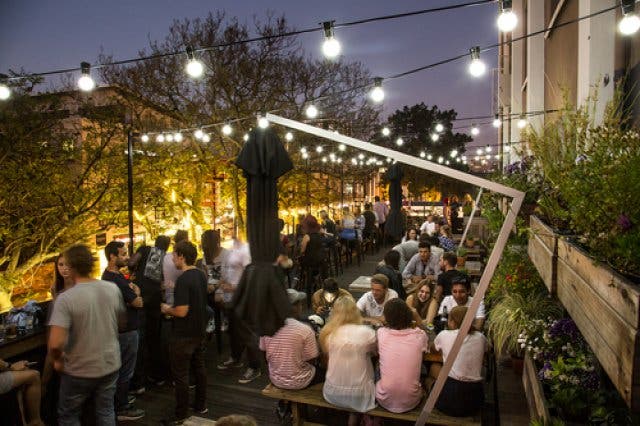 73 Kloof Street | Gardens | +27 (0)21 426 2587 | info@yourstrulycafe.co.za
---
You can throw one helluva party at Rooftop on Bree.

Start your weekend early by heading into the city for First Thursdays.

Discover a fusion of flavours at The Melting Pot.
Charm all five senses at Maaya Cape Town.

Cape Town is a party hotspot. Check out these Trending Party Places.
First options announced: Ideas to pitch to your boss for your end-of-year party.
Order a brew, hold on for the ride and let the good times roll at Friday Night Live at Aces 'n Spade.
Party in an underwater world, hang out on a city rooftop or escape into nature at these great birthday party places.
See the new Park Inn by Radisson Cape Town Foreshore here. For something new, check out these super unique things to do around Cape Town. And for a special occasion, see the most unique function venues in the city.
---
Use our events section for an up-to-date overview of what's happening in the city, 'burbs and dorpies. Join our newsletter and get quick access on the go by adding us to your mobile home screen for the ultimate guide to discoveries in Cape Town.

Follow and like us on Twitter ❤ Facebook ❤ LinkedIn ❤ Instagram ❤ Pinterest for updates.