Lockdown activities for your kids (and some to awaken your inner child)
Story Time with Amazon, face painting with Cirque Du Soleil, and virtual field trips across the globe
South Africa is under lockdown, and it's not all sunshine and Pinterest-worthy #workfromhome setups, especially not for parents. Schools are closed, and times are tough. Whether you need to entertain toddlers, tweens or teens, we've got ideas.
From face painting lessons and hours of audiobooks to virtual field trips, educational podcasts and kiddie workouts, we've gathered a whole list of activities to give you a breather (and possibly awaken your inner child, too).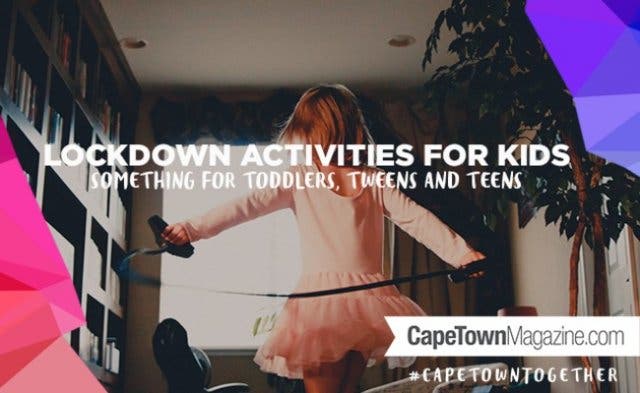 THE SHOW MUST GO ON
Cirque Du Soleil is bringing the show to your living room with filmed performances, Cirque playlists, VR experiences, karaoke, facepainting and more. Young kids will love Big Top Academy, a series about an extraordinary group of young acrobats, while the breathtaking performances will enthrall kids of all ages - and even adults.
Age group: All ages
FIND OUT IF THERE'S LIFE ON MARS
Get behind the wheel of the Mars Rover and explore the Martian surface in 3D. The website is created by Google and NASA, and is a fun and interactive way to learn about the Curiosity Rover's mission and see what life is like on Mars. Check it out by visiting Access Mars.
Age group: 7+ (although younger kids may enjoy it with parental guidance)
WALK ALONG THE GREAT WALL OF CHINA
Most school-age kids will have heard about China's most famous attraction, but not many have had the chance to visit the Great Wall of China. The China Guide has created a virtual tour in which you can visit parts of the wall and look around. You can explore the attraction and learn more about it on The China Guide website.
Age Group: 7+ (although younger kids may enjoy it with parental guidance)
VISIT YOUR FAVOURITE ANIMALS AT THE SAN DIEGO ZOO
The San Diego Zoo has created a website just for kids to watch their favourite animals via live cams. They can also take part in games and educational activities on Sandiego Kids.
Age Group: 3+
VISIT THE POLAR BEARS IN THE TUNDRA
Discovery Education and Polar Bears International have teamed up to create a series of learning experiences to engage and inspire children of all ages. Watch a 30-minute Polar Bear discovery broadcast or have all your polar bear questions answered with Polar Bear Chat at Discovery Education.
Age Group: 4-11
WALK THROUGH 3 FLOORS OF FUN
Rediscover dinosaurs with Explore-a-Saurus, construct your own building in the Construction Zone or get on stage with KidsStage through virtual tours at the Boston Children's Museum. There are also hundreds of playtime ideas and activities on offer, totally free, at The Boston Children's Museum, while you'll find daily videos including drawing lessons, activities, music and family yoga on their Facebook Page.
Age Group: 3-11
STORYTIME WITH FREE AUDIOBOOKS
Amazon has released hundreds of free kids' audiobooks to keep little minds active while safely at home. There are classics like Winnie The Pooh and Alice in Wonderland, and hundreds of other titles. You can just click play and let your kids enjoy the story with Amazon's Audible Stories.
Age group: All ages
PODCASTS FOR THE WHOLE FAMILY
Podcasts can be a shared listening experience both kids and their parents can enjoy, and they're a great way to keep your kids engaged and entertained without staring at a screen. The New York Times has put together a whole list of kids' podcasts, from narrative stories like "Circle Round", to educational ones such as "But Why", to the meditative "Bedtime Explorers" and "The Music Box". Most of them are free and you can take your pick from the New York Times Parenting website.
Age group: All ages
COLOUR, BAKE, AND HAVE FUN WITH SPOT
Fun With Spot is a childhood staple, and there are abundant activities to keep the little ones occupied for hours. Download colouring sheets of Spot and his friends, or help Spot find the perfect outfit for his daily excursions. Kids will love creating their own Spot stories online, too. There is even a Spot cake recipe for you to bake with the kids, with a decorating template to go along with it. All this is available free of cost on the Fun with Spot website.
Age group: 4-5
PLAY WITH PETER RABBIT
Let your kids join in the beloved story of Peter Rabbit by Beatrix Potter with their At Home with Peter activities and resources. Their teaching packs will help parents who need help home-schooling during this time, with lessons split for children aged 5-7 and 7-11. Or, let your child design their own Peter Rabbit adventure by picking their own characters, their names, how they look, and the story setting. There are also loads of videos on Peter Rabbit TV, colouring-in sheets with all their favourite characters, word searches, crossword puzzles, recipes, and crafts on the Peter Rabbit website.
Age group: 5-11 (with some adult activities for good measure)
LEARN ABOUT THE WORLD OF DAVID WILLIAMS
David Williams took to Instagram to empathise with parents in these trying times. "All those stuck at home with their kids may be able to relate to The World's Worst Children!" he said on his feed. "I'll be releasing an audio story every day for the next 30 days absolutely free". The stories are from his popular The World's Worst Children series, and you can listen via his website.
Age group: 6-12
GET THOSE BODIES MOVING
Being stuck indoors makes it hard to keep the kids active, happy, and healthy, but Joe Wicks has come to the rescue via his YouTube channel, The Body Coach. He's streaming workouts for kids every day at 9am. No equipment is needed, so if you need a breather you can step back and allow Joe to keep the kids happy, healthy, and active with these lighthearted 30 minute home workouts. Stream them live or watch them later on The Body Coach YouTube channel.
Age group: 4+
LEARN THE DANCE FROM FROZEN
Strictly Come Dancing star Oti Mabusa has paired up with husband Marius Lepure and co-star Karen Hauer to live-stream dance classes for all age groups. Every morning at 11:30 they teach the steps to dances from your kids' favourites, like The Greatest Showman, Frozen, and High School Musical. Adults can also join in and learn how to samba, jive and salsa all from Oti Mabusa's official YouTube channel.
Age group: 4+
LEARN THE BASICS OF CODING
Students and adults can learn the basics of computer science and coding with Code.org's weekly Code Break classes every Wednesday. Students of all ages and experience levels can learn the fundamentals of coding in a fun and interactive way. There are weekly activities and challenges, and special guests like Ashton Kutcher. Anyone can sign up and receive each week's free lesson via Code.org.
Age group: 5+ (there are activities for those without computers too)
LEARN TO DRAW MONSTERS, UNICORNS, AND DINOSAURS
Steve Harpster from Harptoons Publishing is hosting live drawing classes for anyone who wants to learn. The classes will have the kids (and you) expertly drawing cartoon monsters, unicorns, dinosaurs, and movie characters. Join in a class live at 8pm (or stream it later any time you choose) on Steve Harpster's YouTube channel.
Age group: 7+
GET CRAFTY WITH TODDLERS
Since all the childcare centres have temporarily closed for lockdown, parents need to find new and crafty activities to help their toddlers learning and development. HiMama.com has many at home toddler activities. Teach your toddler how the weather works with shaving cream rain to how to calm themselves down with their own sensory bottle. You can find out more at home activities you can do with your toddlers with Himama.com.
Age Group: 1-3
---
Celebrate local female talent for a heartwarming cause with The Venus Project
Upskill your life with free and discounted short-courses
Watch Juan Casey live in Neethlingshof Lockdown Sessions
Learn how to make cheap meals anyone can make.
Enjoy a live concert by Jon Shaban from ShowLive.
7 simple, fun and not too messy recipes to make with your kids in lockdown.
Keep up with all the coronavirus practical tips and updates.
You can still live a little for the next 21 days with all our events and things to do in lockdown.
From minibuses, taxis and trains find out what lockdown means for public transport.
Get Easter ready with two delicious Cape Malay pickled fish recipes.
Discover all the moments of joy and things to do from the lockdown diaries.
---
Use our events section for an up-to-date overview of what's happening in the city, 'burbs and dorpies. Join our newsletter and get quick access on the go by adding us to your mobile home screen for the ultimate guide to discoveries in Cape Town.

Follow and like us on Twitter ❤ Facebook ❤ LinkedIn ❤ Instagram ❤ Pinterest for updates.