Top places to eat lunch on Long Street in Cape Town
Spending time on Cape Town's favourite street
Last Updated:14 November, 2016
Long Street has been a hub for culture, fun-loving partying destinations and of course great places to eat, for what seems like coon's ages now. That being said, it is understandable, that choosing a place to eat can, sometimes be difficult. Not to worry though, because we've picked a couple of our favourites that you might fancy trying.


LIGHT CRISPY DOSAS OR FLAVOURFUL THALIS
Lunch at Indian restaurant Masala Dosa, where eating with your hands is encouraged, means feasting with all your senses. Food is served up in a modern, vibrant setting that mixes the flavours of the East with the energy of the South. As their name suggests, they specialise in dosas – a thin and crispy Indian-styled crêpe which is wheat-free, fat-free and rich in protein, and served with different fillings and condiments. But you shouldn't rule out their thalis – a collection of six bowls, each offering a different taste, from salty to sweet, spicy to sour. They also serve a range of salads, have a special vegan menu and yes, all their dosas are gluten-free.
Hours: Monday – Saturday: 12pm – 10:30pm. Closed Sundays.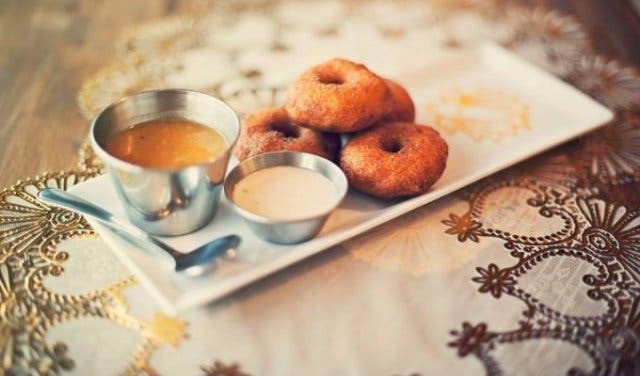 167 Long St, Cape Town | +27 (0)82 267 5967 | tabassumpansari@hotmail.com
Lola's
With the duality of colourful blocks that set off dark walls and creative chalkboard menus, Lola's is all about good ol' fashioned style and sophisticated fun. It's got that quaint cafe set-up, perfect for a couple's lunch retreat or a lunch break at work where you can enjoy the tranquility inside or the cacophony of the lively streets outside.Our favourite Lola's lunch is basil and herb crusted chicken, served with a creamy, mushroom risotto.They definitely don't skimp on their portions and for those days you are absolutely famished, you should try their homemade beef burger with triple fried chips & garlic aioli to regain your might.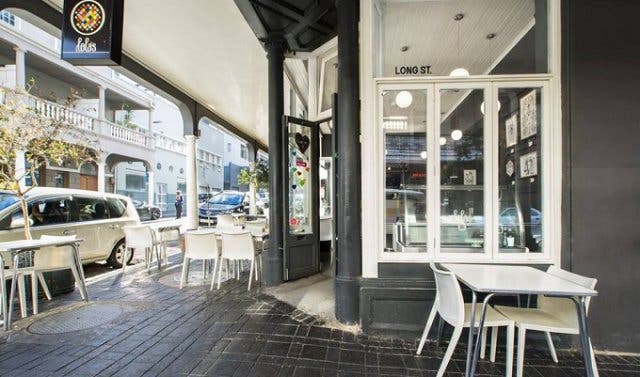 228 Long Street | City Centre | Cape Town | +27 (0)21 423 0885
Orchard Juice and Health Bar
This wonderful little health bar is perfect for those trying to maintain a healthy and balanced diet. They serve all sorts of wonderful smoothie and juice concoctions to delight not only the palate, but can be seen as the perfect station for revitalization. The setup is similar to a cafe-bar, with friendly, efficient staff manning daily operations. Our lunchtime favourite is the assortment of wholesome wraps, which goes perfectly with your choice of a fresh juice or smoothie.

Orchards Health and Juice Bar | 211 Long Street | City Centre | Cape Town | 8001
Royale Eatery
Arguably the best burgers in town, (the pizza's aren't bad either) Royale excels in both taste and variety – with a Bohemian, Tarantino styled ambiance to match. Some might argue that it's a bit too pricey, but not for the quality of food and service that you receive.


Royale Eatery | 273 Long Street | Cape Town | +27 (0)21 433 4536
Neighbourhood
True to it's name this establishment is part and parcel of Long Street's neighbourhood. It is enjoyed by inhabitants of town's busy streets as well as those who work in the CBD, looking to unwind after a long working week. Indeed it isn't only there for evening merriment, you can go ahead and enjoy a wonderful lunch with your friends at this Gastropub style restaurant .They always play great music and serve reasonably priced drinks with some household favorites to enjoy on the food end of the spectrum. Our favourite is the early Avery's cheese burger served with gherkins, lettuce, tomatoes, caramelised onions and melted cheese. Welcome to the Neighbourhood.

Neighbourhood | 163 Long Street | City centre | Cape Town | 8000 | +27 (0)21 424 726
Beerhouse
Long Street's big, funky yellow ale mecca, Beerhouse, is the perfect place to pair a pint or two with some sapid grub.The menu changes weekly,but favourites include BBQ baby back, pork ribs, warm spiced salmon and a candied bacon with avocado salad. Did we mention that this hotspot stocks a minimum of 99 bottled beers from 13 different countries? For all you beer connoisseurs, come to this beer valhalla and explore, what is quite literally, a world of craft beers and delicious food, of course.

Beerhouse | 223 Long Street | City Centre | Cape Town | +27 (0)21 424 3370
Long Street Café
Perfect for those WiFi outings and some quiet contemplation, thanks to quite a large indoor area, (or for a more bustling taste of Long street sit outside on the deck chairs) Long Street Cafe serves up some fantastic lunches – their sandwiches and pizza are especially great, but the burgers are my favourite item

Long Street Cafe | 209 Long Street | City Centre | Cape Town | +27 (0)21 424 2464

Fork
Tapas, Tapas, Tapas – done very authentically, embodying Spanish style with some South African twists. The food is absolutely delicious and our favourite combination is the braised lamb with some risotto tarts made using parmesan, truffled mushrooms and rocket. Not one dimensional by any means, they have quite an extensive wine and cocktail list, not to mention, a lovely desserts section on their menu too.The upstairs balcony is especially cosy – although maybe not the best idea in winter.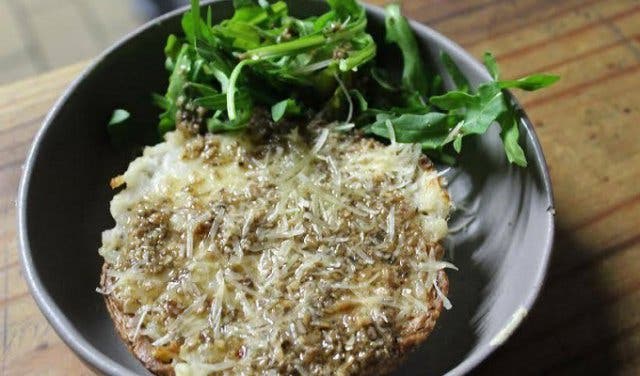 Fork | 84 Long Street | City Centre | Cape Town | +27 (0)21 424 6334
Clay Oven
A simple, yet effective interior setup that makes good use of the space by keeping the atmosphere light. This is a gem, with bottomless coffee on offer for those who need coffee to survive their daily lives with inexpensive lunch specials.Our favourite is the classic Greek Salad for one; a simple,healthy and tasty meal which makes a regular out of everyone who tries them.

Clay Oven | 166 Long Street | City Centre | Cape Town | +27 (0)21 424 7223
Tigers Milk
This incredibly sophisticated franchise has taken the Cape landscape by storm, it's stylish decor and great music creates a very vibrant atmosphere, giving it the stigma of a modern classic, despite its young history. You can catch whiffs of scrumptious cuisine being whipped up in the kitchen, as well as the aromas of freshly brewed coffee, daily. Their food prices aren't particularly cheap, but the quality of the food and service will definitely ensure your money's worth. We have opted for something affordable and understated as our favourite, try their Pizza Bianca which is made with, parmesan, rosemary and garlic with damage R45. If you are starving there is a wide selection of other food choices to satisfy your tiger appetite at Tiger's Milk.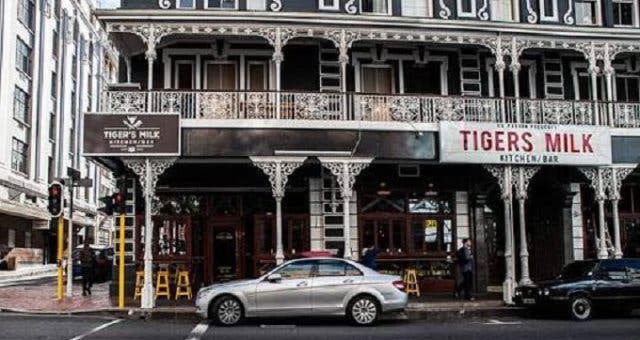 Tiger's Milk | 44 Long Street | City Centre | Cape Town | 8000 | +27 (0)21 422 0700
Masala Dosa
Alive with fragrant aromas and a setup that is both elegant and playful in nature. This restaurant could not be excluded, especially for fans of Eastern cuisine. 'Eat with your Hands' is what this Indian restaurant proclaims, and we're all too happy to oblige; Considering their name, it's no surprise their dosa (A thin crispy pancake) options are fantastic – the curried lamb is our pick of the lot. No idea what to eat? Head over to this Eastern jewel on your lunch break for an authentic Indian experience.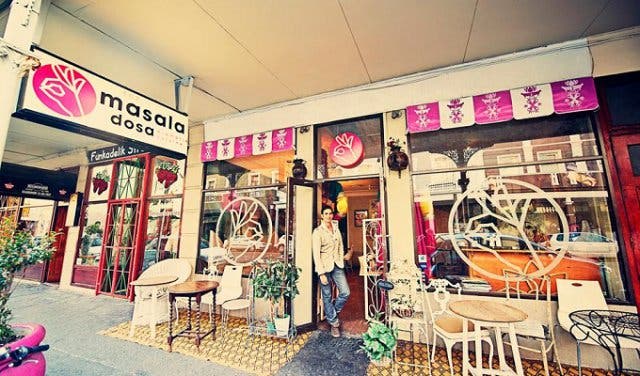 Masala Dosa | 167 Long Street | City Centre | Cape Town | +27 (0)21 424 6772
Yours Truly

Daniel Hollands coffee institution is frequented by locals who love to chill, chat and network. Feast on healthy sandwiches, sip on a good cuppa joe and admire the work of local artists, exhibited on the walls of the café. A truly popular spot among Capetonians, this restaurant needs no further acclaim. They serve a variety of great food choices from salads,wraps,sandwiches and pizza's to choose from. Our lunch time favourite has got to be the pulled beef wrap, but if you are feeling creative there is an option to design your own wrap,pizza or sandwich, which is a really nice touch.Read more about Yours Truly.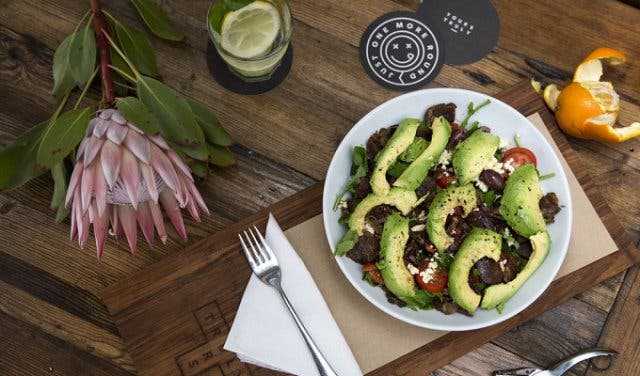 YoursTruly | 175 Long Street | City Centre | Cape Town | +27 (0)21 422 3788
Revelas Fisheries
There's nothing like a buttery bread roll, filled with hot chips. Long Street's oldest shop doesn't mess around when it comes to chunky chips and their battered fish is rated as the best in Cape Town. Go on, pick up a naughty lunchtime treat.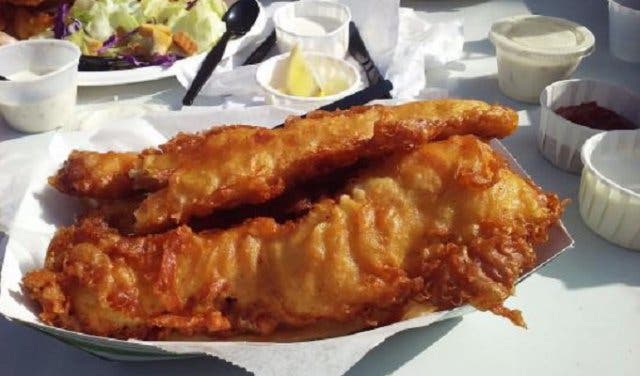 Ravela's Fisheries | 205 Long Street | City Centre | Cape Town | +27 (0)21 423 3522
Daddy Cool's
This place can be arcane and unfamiliar, because it's situated in the Grand Daddy Hotel. The confusion in finding the bar is well worth it, considering the chic decor, fitted with some slick wooden flooring and a whirl of white furniture for the eyes appease. A brief summary on what to expect would be great music, great service, fantastic food – and at fantastic prices, do try the Tapas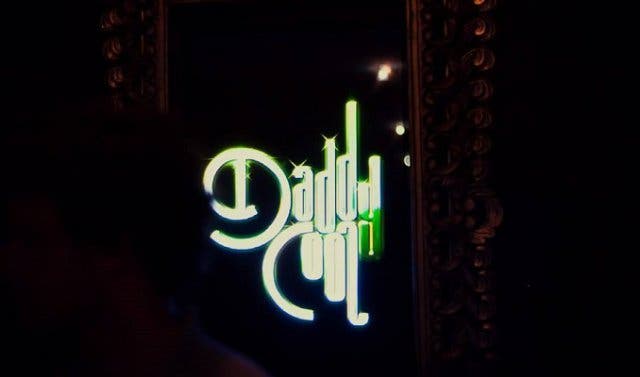 The Grand Daddy Hotel | 38 Long Street | City Centre | Cape Town | +27 (0)21 424 7247
SGT Pepper club
This is definitely a well known establishment and naturally it deserves it's spot on our list. Recognised as a hub for culture, fun and socialising, where people, regardless of personality types, gather to indulge in the imaginative decor with a food menu equally laden with the air of creativity. It has different sections throughout, with enough room for an intimate date or a group of friends to gather for some fraternizing. It was difficult to pick out just one favourite, so we narrowed it down to these two; the Taanie Tandoori which is a pizza using some delectable ingredients namely; Tandoori chicken, cream cheese, sweet chilli and rocket, heavenly? We know. Along with this tandoori delight we have chosen a mouth watering burger simply called 'Pixies', it's ingredients include the lethal combo of bacon, feta, avocado, sweet chilli and rocket. All this talk has gotten us hungry,so bon apetit.


SGT Pepper Club | 194 Long Street | City centre | Cape Town | +27 (0)21 424 5608
Bollywood Cafe
Yet another Indian inspired restaurant in Long Street. It seems to be a recurrent theme, but with good reason of course, Indian food is delicious. As the name suggests it is inspired by bollywood, the famed middle Eastern cousin of America's hollywood. It stays true to the glamour, but in an understated way. The setup is reminiscent of a busy restaurant in the heart of Delhi (I imagine) with a dash of Cape Town class, naturally. The food menu is vast with many categories from which to choose. Our favourite is the steak,egg and cheese sandwich, which has always been beloved by Capetonians.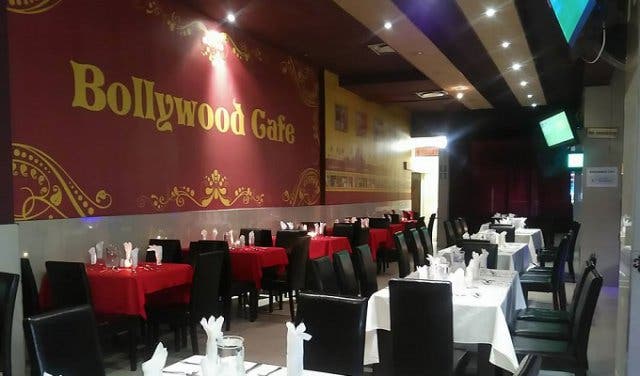 Bollywood Cafe | 217 Long Street | CBD | Cape Town | 8001
---
Learn to cook traditional Indian cuisine at a discount at Masala Dosa.

If these Cape Town eateries have tickled your fancy, be sure to read Cape Town's top bakeries and Cape Town's top specialty markets.
---
Use our events section for an up-to-date overview of happenings in Cape Town. Also, don't forget to subscribe to our newsletter and if you have a smartphone, add m.capetownmagazine.com to your home screen for quick access on the go!
Follow us on Twitter, like us on Facebook, join our Google+ circle, connect with us on LinkedIn, check out our photos on Instagram and follow our Pinterest boards for updates on what's happening in and around the Mother City!