Something Awesome for Early Evenings at The Daily Music Show on Loop
(call to check if it's open) The Daily Music Show offers activities and entertainment with substance to fill those awkward hours between when work ends and meeting up with friends
There's a good chance you'll be greeted with a warm As-salamu Alaykum as the show kicks off at new place The Daily Music Show in the city. It's an Arabic greeting commonly used in Cape Town that means "Peace be unto you." The entertainment at this new spot centres around the universal languages of good food, music, poetry and art. Because The Daily Music Show is Loop Street's answer to that old question: What am I going to do while waiting for someone?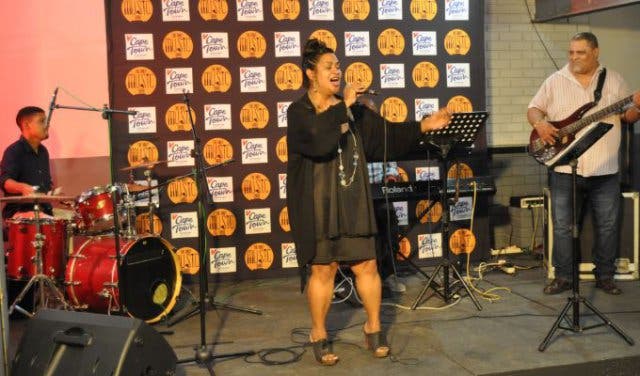 Best described as a collection of early-evening activities with substance, this place is the ideal way to fill those awkward hours between when work ends and your friends arrive (for dinner or theatre etc. later tonight). And it also doubles as a place to showcase the city's cultural heritage to both locals and tourists – you get to meet the artists in a relaxed setting, taste some wine and enjoy traditional Cape Malay finger food.
"By telling stories about our history, our people, our art and other elements that shape our way of life, we give tourists a better understanding of Cape Town and South Africa as a whole," says owner Joey Fourie.
Here's what you can expect at The Daily Music Show.
WATCH A TEASER OF THE EXPERIENCE
WHAT CAN YOU EXPECT AT THE DAILY MUSIC SHOW?
Every week is different with a selection of interviews, celebrity hosts, poetry and art but the highlight is the featured artist's performance and the opportunity to meet and interact with them. Ramon Alexander, for example, recently treated the audience to his unmistakable Cape jazz rhythms.
WATCH: RAMON ALEXANDER AT THE DAILY MUSIC SHOW
You can expect special interviews where artists give context and enlighten guests on topical issues in their field. Like when Joey interviewed musician Chad Saaiman.
LISTEN: CHAD SAAIMAN'S SONG, RECOVERY
Joey is the host but you can look forward to occasional celebrity co-hosts who add a comedic touch and thoughtful contributions when interviewing the stars on the stage.
One special segment of the show is titled "Against All Odds", and it showcases young people who have achieved great things despite coming from a disadvantaged background. Another features is regular segments by poet such as Khadija Tracey Carmelita Heeger who was raised on the Cape Flats but went on to perform at Amherst in the US as part of an artist's exchange programme.
MEET THE OWNER, JOEY FOURIE
Joey Fourie is the jovial host of The Daily Music Show. He is passionate about authentic cultural tourism and uncovering hidden gems for locals and visitors. He launched The Daily Music Show in 2018 and brought it to Loop Street on 11 January 2019. His aim is to offer an early-evening activity with real substance, something other than just another happy hour. He wants you to be able to meet the artists and interact with locals in a social setting during an exchange of music and culture.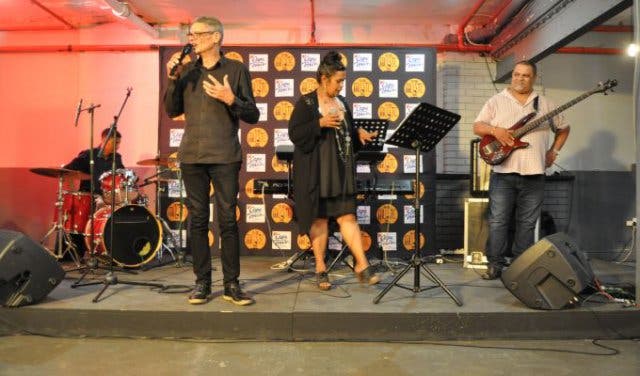 DAILY PROGRAM
The Daily Music Show is open Tuesdays to Sundays from 6:30pm to 8:30pm.
THE VENUE AND REFRESHMENTS
The home of The Daily Music Show is 110 Loop Street, in a building named Glaston House, which previously housed Deuce Bar and a couple of restaurants. The spacious venue is adorned with art by the artist in residence, Kenny Rogers, who also sketches and paints live during the show. The evening starts upstairs with live music, wine, and finger foods before moving downstairs for the show and a spot of dancing.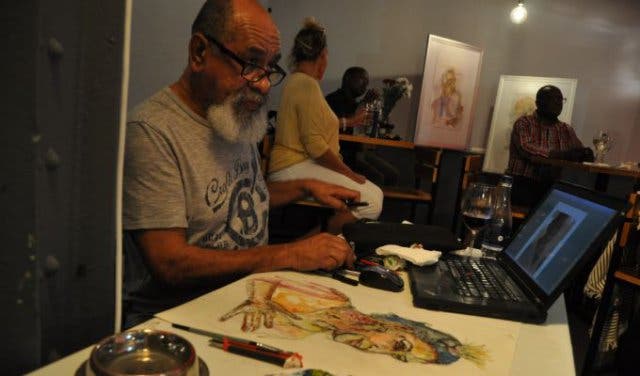 Enjoy local wines along with traditional Cape Malay finger foods such as smoked snoek pate on pretzel crackers, chicken and veg samosas, chili bites and probably the most creative Cape-Flats-cuisine-come-canapés: mini bobotie bunny chow.
View this post on Instagram
ATTENDING THE DAILY MUSIC SHOW
You can book your tickets for R175 for South African citizens and R250 for international tourists online. It's a good idea to call Joey on +27(0)84 880 7012 to find out about times and what's planned for the evening that you would like to attend or you can check the Facebook page for updates.
THE DAILY MUSIC SHOW
Address: 110 Loop Street, Cape Town
Contact: +27(0)84 880 7012, joe@thedailymusicshow.com
Hours: Tues–Sun 6:30pm to 8:30pm
---
See how Cape Town gets down to Durban music at Gqom Turn Up 2.
Let the music speak to your soul at these great spots for live music and live jazz in Cape Town as well as other things to do at night.
Upgrade your appreciation of arts and culture at any of these galleries in Cape Town and discover Cape Malay Cooking.
With new places popping up all the time, it's always good to explore Loop Street.
---
ABOUT #CapeTownMagNew:
#CapeTownMagNew discovers exciting new places in and around Cape Town and the Western Cape. We celebrate entrepreneurship and we tell their unique stories.
Follow #CapeTownMagNew on Twitter and Facebook for the latest updates or read more here about new places in Cape Town.
---
Use our events section for an up-to-date overview of what's happening in the city, 'burbs and dorpies. Join our newsletter and get quick access on the go by adding us to your mobile home screen for the ultimate guide to discoveries in Cape Town.

Follow and like us on Twitter ❤ Facebook ❤ LinkedIn ❤ Instagram ❤ Pinterest for updates.