The Perfect Cape Town Souvenir For Everyone (Even Your Dog)
They're easy to pack, totally unique, and distinctly Cape Town
Cape Town is a creative and cultural melting pot that leaves such a strong imprint on your heart, you'll want to share it with people back home. But how do you find perfect souvenirs? Unique, one-of-a-kind gifts that even locals are proud to own; easy-to-pack authentic "curios" made here, not in a factory somewhere far away; gifts that you, your kids, partner, parents, friends – or even your dog – will be excited to unwrap?
The Table Mountain Ring from Shimansky was just that kind of souvenir, and we've partnered with them to bring you the ultimate list of Cape Town's most precious souvenirs, so you can take a piece of Cape Town with you when you go.
AN ICONIC CAPE TOWN KEEPSAKE
Table Mountain is the iconic guardian of the city, as beloved by Capetonians as it is by visitors. Spotting its flat top through a plane window is enough to stir even the most stoic Capetonian. Of course, the mountain won't fit into your luggage, so Shimansky's Table Mountain Ring Collection is the perfect way to take this iconic landmark with you. Inspired by nature's most iconic design, the ring is the perfect reminder of moments we treasure.
Yair Shimansky started designing and crafting jewellery in 1991, which he would sell from a beachfront flea market. From those humble beginnings, Shimansky has put South African diamond jewellery on the map.
The Table Mountain ring is available in a variety of styles: from the diamond-encrusted setting in rose, yellow and white gold, with its 27 ethical diamonds representing SA's area code, to a beautiful silver band, and anything in-between.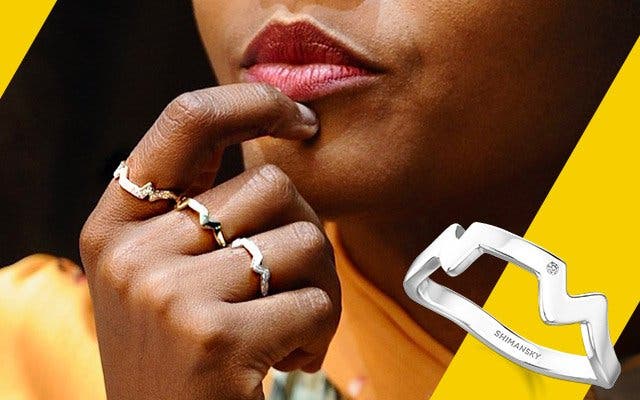 Browse the Table Mountain Collection, check out the Shimansky website, and connect on Instagram
Why we love it: From your first trip to the time you said "yes" on top of a Natural Wonder, the ring represents all your precious Cape Town moments in sophisticated style. We love that you can see it and carry it with you every day.
Price: R980 - R9,950, depending on the rings.
Where to go: Any of the Shimansky showrooms. The world-renowned jewellery manufacturer also offers a must-see Diamond Experience in the heart of Cape Town. The ring is also available for purchase at the top of Table Mountain for the whole of February, the month of love.

RAISE A GLASS TO THE MOTHER CITY
Impress your wine-loving friends and family with a bottle of wine that tells a story. Jane Austen wrote about "its healing powers on a disappointed heart". Charles Dickens tells of "the support embodied in a glass of Constantia and a home-made biscuit". And it is rumoured that the deadly poison slipped to Napoleon during his exile in St Helena was in a glass of "Constantia wijn". We're talking about the iconic Vin de Constance made by Klein Constantia: a smooth, natural sweet wine as old as the Cape Town wine route itself.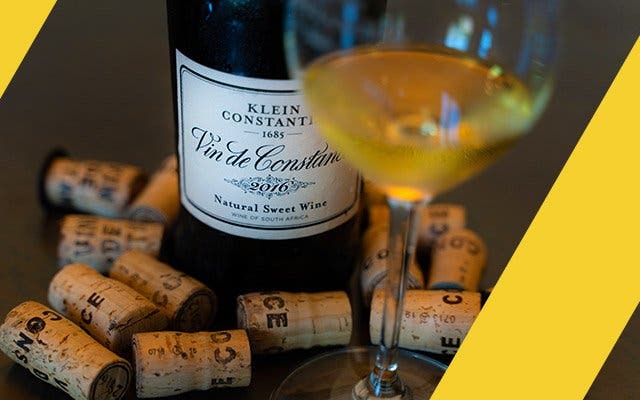 Check it out on Klein Constantia website
Why we love it: The honey-coloured wine pairs beautifully with chocolate, fruit, and all things decadent. It also keeps for many years if stored correctly.
Price: The current vintage (2015) is selling for R1095, the 2016 is yet to be released.
Where to go: Klein Constantia itself. It is one of the 10 estates that makes up the Constantia Wine Route, so you can grab this keepsake while you're wine-tasting.
TASTE THE CAPE TOWN SUMMER
Inverroche was started by Lorna Scott in her family home in Still Bay using fynbos, the magical plants that give the city's craft gins a truly Capetonian complexity. She wanted to "tell a story that (she) could put in a bottle, that could sit on a shelf anywhere across the globe and would speak about not just the Cape but about us, as a species", she told radio station Cape Talk. At Still Bay, the water runs through the limestone, nourishing the fynbos species that go into Inverroche's three distinctive gins. The smooth, flavoursome gins can be enjoyed neat. As for Lorna's perfect G&T? One part gin, three parts tonic, lots of ice, and never a slice of lemon – only zest.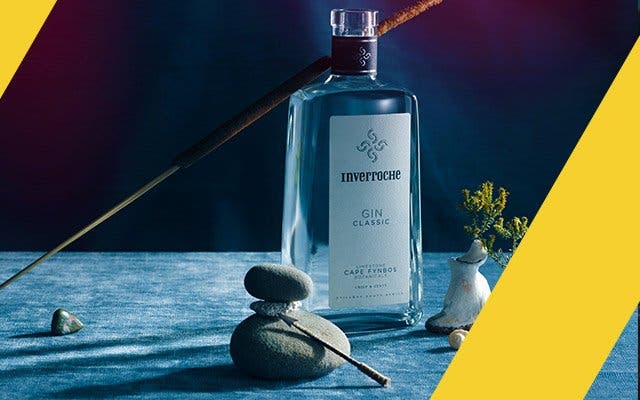 See more on the Inverroche website
We can't talk about fynbos without mentioning Cape Town's most famous endemic herb: rooibos. It only grows wild in one place on earth: the hills just outside of Cape Town. Farmers have tried to grow the plant all over the globe but failed. Rooibos is as local as it gets, and - like you - it is resistant to leaving. You can, however, take home the organic tea bags made by BOS.

See more on the BOS website
Why we love them: Capetonians are so proud of their fynbos, with its fragrant herbs and bold flavours. The taste takes us back home every time, which is what the best souvenirs should do.
Price: Inverroche is priced from R370-420, and BOS tea bags are R72.
Where to go: BOS tea bags are easy to pick up at any good supermarket, so they're an excellent last-minute buy. You can also find Inverroche in all good liquor stores, but it's worth a short trip to Still Bay to take a tour of the distillery and even infuse your own gin.
GLOW UP, CAPE TOWN STYLE
When it comes to local skincare brands, Hey Gorgeous is a firm favourite. It makes an amazing gift, with its trendy, colourful branding. The Vitamin C Serum rebuilds collagen density, helps to reverse sun damage and increases elasticity - but when anyone asks why you're glowing, just tell them it's the Cape Town sea air.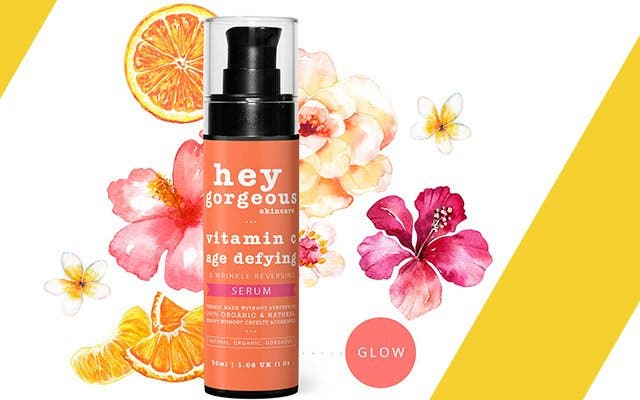 See more on the Hey Gorgeous website
Why we love it: Hey Gorgeous makes cruelty-free, eco-friendly, and proudly Capetonian products. They have product ranges for men too (because self-care is for everyone).
Price: R330.
Where to go: The great thing about Hey Gorgeous' products is that you can get them online, so you can spend your time soaking up the Cape Town scenery without having to stress about your gift shopping.

DON'T FORGET ABOUT THE KIDS (AND FUR BABIES)
Peta Becker started Projekt to provide employment for women from her home community, Hout Bay. She works with 25 women to create quirky, whimsical designs, including the Gentle Monkey (a wonderful gift for kids) and her popular crocheted cacti. "These beautifully hand-made toys reflect what we think of as Cape Town values: sustainability, creativity and local talent," says Peta.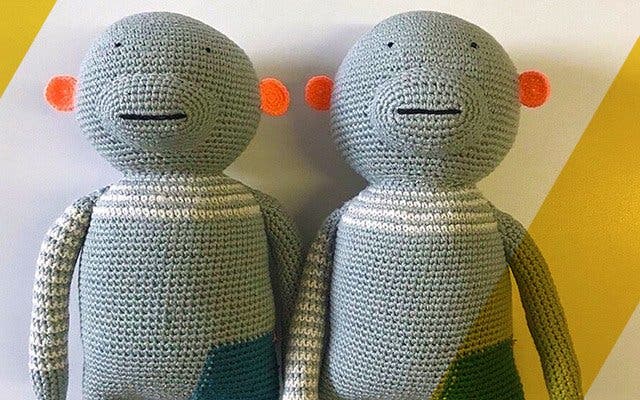 See more on Projekt's Instagram
Chommies' story is like something straight out of a rom-com: at a farmer's market in Cape Town, two dogs - Hiker and Ringo - met, and hit it off. Their humans, Nathalie Klijn and Zac Rusagara, also locked eyes, and today, the two are entwined both as romantic partners and the brains behind Chommies. Their leads and collars are totally unique and eye-catching. Who knows, they might even catch the eye of someone from your local farmer's market?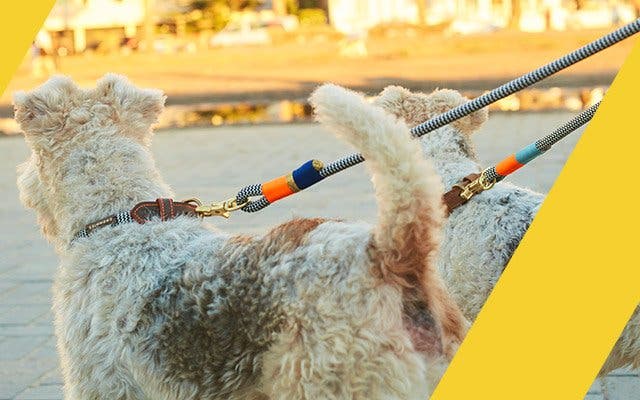 See more on the Chommies website
Why we love them: Both products are unlike anything you'll find anywhere else. They're hyper-local, hand-made, and downright adorable.
Price: Chommies lead and collar set is R1,450; the Projekt Gentle Monkeys gor for R755.
Where to go: Chommies' full range can be purchased online. Projekt's Gentle Monkeys are available exclusively from the Zeitz MOCAA gift shop, so you can check out the massive collection of art from Africa and its diaspora while you're there.

BE COOL, HYDRATE
Carrol Boyes started her career as a teacher, back in the 80s. In 1989, at age 35, she quit her job to pursue her dream of becoming an artist and started making jewellery from clay and cuttlefish out of her Hout Bay home. Her first sales were made from a stall in Greenmarket Square. From there, she sky-rocketed to success: by 1992 she had two factories. Carrol died in 2019, and her legacy lives on in the beautiful "functional art" crafted under her name.
Carrol Boyes' insulated water bottles are the coolest way to stay hydrated. The line-drawing-style designs are beautifully bold: everyone will ask you where you got the bottle, and you'll have a chance to relive your Cape Town days every time.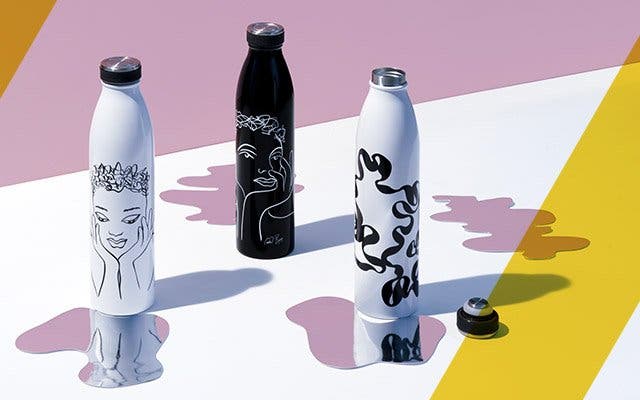 See more on the Carrol Boyes website
Why we love it: Everybody loves a souvenir you can actually use. These bottles are practical, beautiful, and tell a wonderful story.
Price: R445.
Where to go: There are Carrol Boyes stores in most Cape Town malls, including the V&A Waterfront. They also ship globally.
STAY FREE AND KEEP MOVING
Roal and Léan Boezaart grew up in a house of four boys, and their parents often had their hands full. "To maintain some form of order," the brothers explain on their website, "our dad introduced a house rule called 'Freedom of Movement'." It meant that if the boys worked hard and were disciplined they'd be rewarded with the freedom to do what they liked. In 2013, having qualified as a civil engineer and a chartered accountant respectively, the brothers threw caution to the wind and launched a lifestyle brand out of a small room at Stellenbosch University. They named it Freedom of Movement. Their leather products are as robust and practical as they are beautiful, and we're in love with their modern, trendy leather backpacks.

See more at the Freedom of Movement website
Why we love it: South African leather is known world-wide for its amazing quality, and these bags tell a great story about adventure and family. They exemplify Cape Town's fierce creative spirit - and, of course, they're trendy enough for the hippest peeps in town.
Price: R2,995.
Where to go: 190 Bree Street, the city's trendiest strip, lined with restaurants and boutique shops.
---
Support local creators, and choose gifts made in Cape Town.
The My Girl diamond and the Millenium Ring are just some of the amazing Shimansky designs.
It takes 3.3 billion years for a diamond to get to your finger. Learn all about their journey at Shimansky's showrooms.
Buying diamonds can seem overwhelming, but it doesn't need to be. You just need a guide to buying diamonds.
---

Use our events section for an up-to-date overview of what's happening in the city, suburbs and dorpies. Join our newsletter and add us to your mobile home screen for the ultimate guide to discoveries in Cape Town.
Follow and like us on Twitter ❤ Facebook ❤ LinkedIn ❤ Instagram ❤ Pinterest for updates.
---