Canoeing and Kayaking in Cape Town
Oceans, rivers and lagoons from the perspective of a two person vessel
Cape Town and the surrounding areas are great for outdoor sports. Why not look at the Mother City from the perspective of a two person kayak in the wide ocean, the river rapids or the waters of a peaceful lagoon? Reasonably fit people of all ages stand a good chance of coming up close and personal with stunning terrains and marine life. The summer brings warm sun and challenging waters on windy days whilst the winter brings cooler days and the opportunity to spot whales.

Don't let the fact that you've never held a paddle before put you off as expert guides and training centres are there to help and as long as you can manage a two-hour walk and preferably weigh less than 110 kg you'll be water bound in no time. Children over the age of 10 are also perfectly safe to paddle alone.

"Seeing the whiskers on a seal, hearing a dolphin blow, feeling your skin tingle when a whale surfaces close by is what sea kayaking is all about" – Downhill Adventures
To get a new perspective on the beauty of Cape Town, embark on a kayaking sea trip with Kaskazi Kayaks and Adventure Centre. The three- to five-kilometre paddle along the Atlantic Seaboard departs from Three Anchor Bay and takes kayakers either to Clifton Beach or Granger Bay, depending on weather conditions. Regardless of which route you take though, the excursion allows for spectacular views of Table Mountain and Lion's Head – and those who venture to Clifton also get the bonus beauty of the Twelve Apostles. Seals and dolphins are also known to make cameo appearances, and Southern Right, Bryde's and Humpback whales are often spotted during whale season. Your trip should take approximately two hours, and half-day trips can be arranged for the more experienced kayakers.
Kaskazi Kayaks | info@kayak.co.za |+27 (0)83 364 1146
Steeped in history the South African naval base of Simon's Town is blessed with a beautiful natural environment and the best way to sea Cape Town's suburban penguin colony is by boat so grab your paddle, pass the naval harbour and stop at a semi-private beach beyond Boulders Beach for refreshments swimming and snorkelling (Kayak Cape Town | +27 (0)65 707 4444).

In early June Southern Right whales leave their Antarctic feeding ground for the waters of the Cape Coast. In the company of an experienced guide glide across the sparkling waters of Hermanus and the Walker Bay Whale Sanctuary and you'll meet Brydes whales, Southern Right whales, dolphins, seals and the occasional otter (Downhill Adventures | +27 (0)21 422 0388).

Trace the route of thousands of sailors throughout history past the dramatic Cape Point and Cape of Good Hope. Starting and ending at the Cape Point Reserve at Buffels Bay you will often spot whales and dolphins seeking the protection of False Bay, before stopping for refreshments and lunch (Kayak Cape Town).

The Orange River is South Africa's longest river and empties into the Atlantic Ocean at Alexander Bay between Cape Town and Walvis Bay. Your four day exclusive adventure trip will see you meandering down its twisting channels through incredible rock formations and scenery. Reward your paddling efforts with dinner around the campfire, swimming and relaxing (Aquatrails | +27 (0)21 782 7982).

An hour and a half north of Cape Town, Langebaan is a popular weekend destination for water sport fanatics and nature lovers. Take a one to two day paddle through azure blue waters bordered by the West Coast National Park and you'll encounter bird life, local seafood and local fishing. Camp under the stars in canvas safari tents, tuck into hearty bush cuisine and sample additional activities including hiking, horse riding and water sports (Gravity Adventures | +27 (0)21 683 3698).

Sandvlei is a wetland river system and estuary situated on the False Bay Coast where you can explore a wide variety of Flora and Fauna including Fish Eagles, Cape Clawless Otters and a number of birds. Visit bird hides, embark on a short nature walk and relax with a picnic lunch in the protected Marina Da Gama channels (Kayak Scene |+27 (0)72 064 1249).

Fast-flowing water, narrow channels and overhanging trees are the ultimate challenge for the seasoned canoeist

There are two annual canoe marathons in the Cape Town area. The Berg River Canoe Marathon has been contested since 1961 and at 227km it is the longest race in South Africa. The four day race from Paarl to Velddrif is a tough challenge where winter weather is a fierce opponent.

The Breede River Canoe Marathon has been contested since 1968 and is an annual K2 doubles race which spans 75km from Robertson to Swellendam over two days. The race through scenic Winelands is usually held during September when conditions ensure reasonable water levels.

South Africa can also boast with some canoeing champions. Oscar Chalupsky's achievements include eleven-time World Paddle Ski Champion, multiple-winner of the Umkomaas River Marathon and Olympic Canoe Team Captain during the 1992 Barcelona Olympics.

Corran Addison has competed for South Africa in a number of world freestyle kayaking championships winning more events than any other competitor in the years 1993 to 1999; while Bridgette Hartley became the first person from the African continent to medal at the ICF Canoe Sprint World Championships and competed at the 2008 Summer Olympics in Beijing.

Think you can beat that? Here are some Canoeing Clubs to get you going:

Peninsula Canoe Club
Sandvlei Sports Club | Promenade Road (the end of Uxbridge Road) | Sandvlei | +27 (0)83 265 7025

Stellenbosch Canoe Club
+27 (0)72 147 1032

Milnerton Canoe Club
Woodbridge Island | Corner of Laxton and Otto du Plessis Road | Milnerton | +27 (0)82 877 4899

Elgin Valley Paddlers
+27 (0)82 338 7938

Century City Canoe Club
Century City Clubhouse | Century City | Cape Town | +27 (0)76 154 7832

Hout Bay Sea Paddle Club
3 Greenacres Close | Hout Bay | +27 (0)21 790 5611

By Lisa Nevitt
---
Discover exciting new experiences like canoeing and SUP, wine-tasting in the middle of a lagoon and pirate-themed mini-golf to private fishing boat charters and picnics by the lake at Lakeside Lodge & Spa.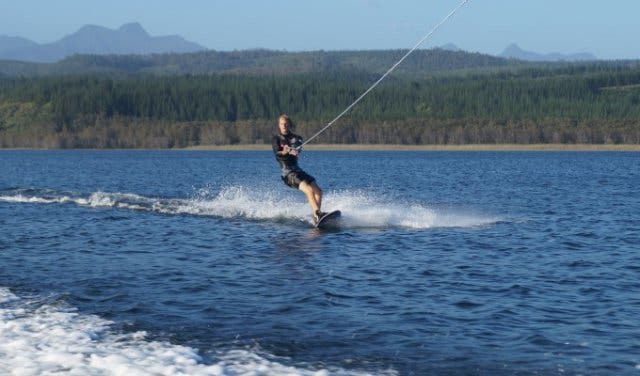 Want to know a great reason to run in Cape Town or how to train like a world-class Muaythai fighter? Be sure to read our Sports Section.