Excellent Food, Award-Winning Wines and Luxurious Sleeps At This Top Vineyard
Meals by a top chef, award-winning chardonnay and sauvignon blanc, and large, luxurious suites
Stellenbosch is one of South Africa's most scenic wine areas, and Jordan is one of its prettiest estates. In front of the winery is a lush lawn lined with shady trees that runs down to a shimmering dam, where birds thrive. Beyond that are fields of vines, and in the distance are the picturesque Stellenbosch mountains. It's a peaceful, gentle and extremely pleasant escape.
There are many ways to dip into the estate. Bespoke tours of the vineyards and wine cellar give an insight into the grit and joy of running a farm, while Jordan Restaurant is one of the finest in the broader region. Its chef, George Jardine, a Scot who's a committed South African, has many accolades to his name. It's a real treat to eat his food, but more about that later.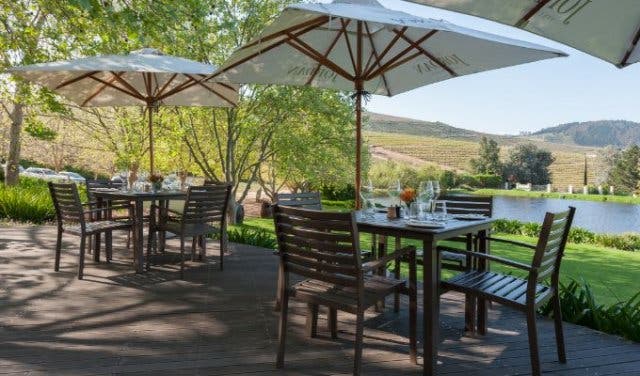 A FAMILY-RUN WINE FARM
Husband-and-wife team Gary and Kathy Jordan are the second generation to run the farm, and they've been making world-class wines since 1993. Gary's parents, Ted and Sheelagh, began an extensive replanting programme, specialising in classic varieties suited to the different soils and slopes, after buying the 164-hectare property in 1982.
Gary has a degree in geology, and Kathy in economics and industrial psychology. The couple, who live in London where they run, with business partner Neleen Strauss the Michelin-listed High Timber Restaurant and are embarking on a project to produce English sparkling & gin, south-east of London, have used their knowledge in their respective fields to transform Jordan into one of the country's leading wine estates. Their dedication has paid off – it's regularly rated as one of the top 10 wineries in South Africa.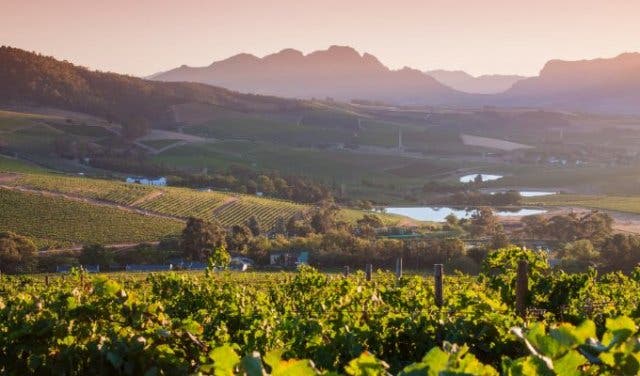 The winery is known for its Chardonnay with the Barrel Fermented Chardonnay recently winning the Chardonnay Trophy a the old Mutual Trophy show and regularly going head to head with the flagship Nine Yards Chardonnay for many awards and trophies including the International Wine and Spirit Competition (IWSC) - Chardonnay Trophy.
The Cobblers Hill, their flagship Bordeaux blend, celebrates 21 years of production and is sought after by many high-end wine collectors. With the blends changing each vintage to create the best flavour profile, the Cobblers Hill is not shy to awards, winning the IWSC Trophy on numerous occasions.

THESE SLEEPOVERS ARE PERFECT FOR ROMANCE OR A TREAT
Tucked away between shrubbery, vineyards and trees are Jordan's luxury suites, perfect for a romantic weekend away. Verandas overlook the vineyards, and it's lovely to sit there drinking the wines that come out of them. Most of the units have a large, luxurious, free-standing bath in the en-suite bathroom, addition to a walk-in rain shower, an enclosed fireplace (which means fires can burn all night) and a separate lounge. They are spacious, modern and ultra-comfy interiors (think New York studio apartment) like Egyptian cotton linen on king-sized beds.
And, of course, free wifi, a Nespresso coffee machine, air conditioning, DSTV, and mini-fridge.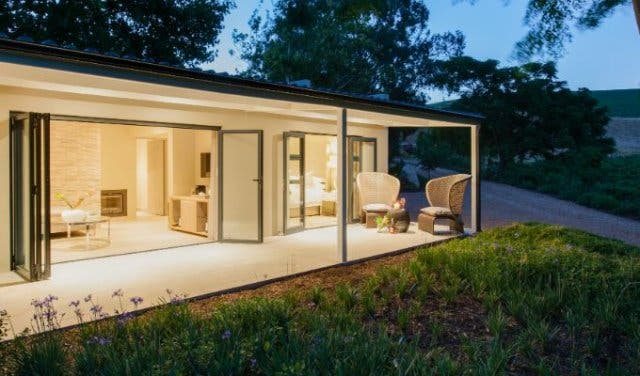 THERE'S NOTHING LIKE BREAKFAST IN A BAKERY
Breakfast and lunch is served while bread and pastries are baked – the smell, together with freshly brewed coffee, is heavenly at The Bakery. There's a selection of dishes of the day, charcuterie, breads, dips, cheeses and pastries. The view is equally spectacular, but the atmosphere's a bit more relaxed. Guests can also dine on the lawn or the newly completed wooden deck.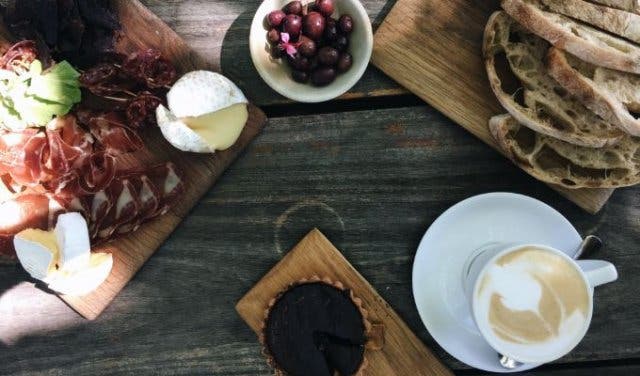 IT'S NEVER TOO EARLY FOR A WINE TASTING
Next to The Bakery is the tasting room (open from 9:30am). There's a range of experiences: the terroir tasting in which you can sample five wines in the tasting room or outside on the terrace; the Chardonnay brunch, which offers a three-course breakfast produced from locally sourced and seasonal ingredients – each course is perfectly paired with one of their award-winning Chardonnays.
Then there's the exclusive vineyard and cellar experience. The 360° tasting experience is a tour of the vineyards in an open safari-style Land Rover, during which a selection of wines is savoured in the sustainably grown vineyards. It includes a cellar tour with additional wines to be tasted in the barrel cellar or on the terrace.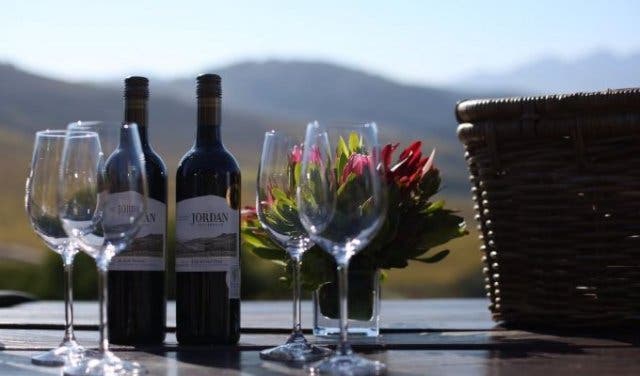 A MEAL BY GEORGE JARDINE SHOULD NEVER BE TURNED DOWN
The Jordan Restaurant, which has been in the top 20 EatOut Restaurants since inception in 2009, has panoramic views of the mountains and the dam with its ducks (there's a fish eagle resident in the area, which sometimes makes an appearance) and a wooden crocodile which keeps everyone wondering. It's a contemporary space, and chef George Jardine focuses on the flavours of locally sourced, seasonal ingredients, including from his kitchen vegetable-and-herb garden.
There's also a wine-barrel fish smoker and wood-fired oven in the kitchen, and dishes have smoky, smouldering country flavours in simple combinations, for example, smoked yellowtail, steamed Saldanha mussels, seared ribeye and springbok pot roast. Then there's the walk-in cheese room, where you can select your own board of artisanal Cape farm cheeses with preserves and breads. It's a wonderful experience.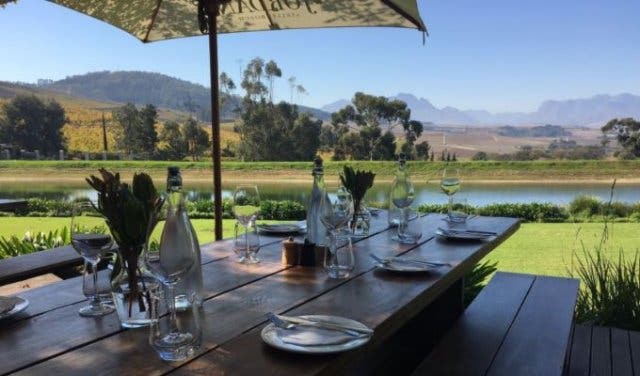 HOST YOUR SPECIAL EVENT AT JORDAN WINE ESTATE
Jordan Restaurant is available for private events for groups of between 20 and 65. Menus can be tailored to suit different budgets and tastes. The Bakery, for something more casual, seats 40 guests either on the deck or inside in the case of bad weather. The venue works really well for celebrations, year-end parties, sundowners or more relaxed functions.
By Daryn Wood
---
Vote for your favourite vino at a blind wine tasting.
Go for a hearty breakfast or lunch in Cape town.
Follow that up with a wine tasting.
In need of a weekend getaway? Check out these accommodation specials in Cape Town.
---
Use our events section for an up-to-date overview of what's happening in the city, suburbs and dorpies. Join our newsletter and add us to your mobile home screen for the ultimate guide to discoveries in Cape Town.
Follow and like us on Twitter ❤ Facebook ❤ LinkedIn ❤ Instagram ❤ Pinterest for updates.