EDRO Robotics Classes in Cape Town
See the practical and fun side of coding and programming by building your own robots
Any child would jump with excitement at the thought of being able to build their very own robot; one that zips around on wheels and follows instructions to perform any task. This childhood fantasy is now a surprisingly easy and affordable reality thanks to an innovative learning experience called EDRO.
This Woodstock-based company (which stands for Education Robots) offers step-by-step coding and programming classes to kids and teenagers aged between nine and 16-years-old. Starting with the basic principles of maths, science and technology, these hands-on and highly practical courses will teach your children about problem solving, computer programming, coding, electronics and engineering while allowing them to express their creativity at the same time. Eventually, your children will be able to build fully functioning robots that can move, draw and follow commands.
WHAT DO YOU LEARN AT EDRO?
Coding is becoming a vitally important skill in the 21st century and having the fundamental knowledge will help your child in any field of study. EDRO makes learning these basic coding languages easy, entertaining and rewarding as they get to play around with some Parallax S2 robots which can be programmed to draw intricate geometric patterns – like a modern, high-tech Spirograph that we all played with as kids.
After completing some of the EDRO modules, your child will start to build their own robots using electrical components and the Arduino Microcontroller supplied by EDRO. Using the principles of coding they learned in earlier modules, the kids will be able to programme their bots to escape mazes, follow paths, detect their surroundings and more.
WHERE CAN YOU FIND EDRO?
Not only does EDRO offer these unique interactive classes from their central location at the Woodstock Exchange, but also at certain extra-curricular and outreach academies around Cape Town, such as Fish Hoek Home Schoolers – making it more accessible to everyone. A handful of mainstream schools like Rondebosch Boys' Schools, Springfield Convent and Reddam have also incorporated EDRO's robotics programme into their curriculum. Eager learners not wanting to waste time waiting for the next school year to start can book a spot at one of EDRO's Holiday Workshops or Saturday classes at the Woodstock Exchange.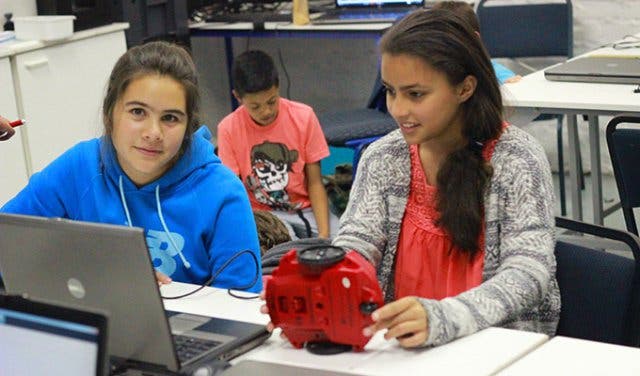 HOW EDRO BEGAN
The idea for EDRO came from industrial engineer Werner Venter in 2014 when he asked his children if they'd like to build robots with him, in an attempt to get them away from their computer games. The building bug bit them and they spent days and weeks eagerly programming and building little robots. The excitement and enthusiasm of Werner's kids to the challenge sparked the idea for him to set up an educational course in robotics.
Enter industrial psychologist Christina Clucas; she bought into Werner's vision and the two of them set up EDRO together. Christina also started the EDRO Outreach Academy, in partnership with the Bandwidth Barn, which offers opportunities for underprivileged learners to take part in the robotics courses through corporate sponsorship. The third member to join the team was molecular biologist and teacher John Naiker, who developed the course structures and practical components that make EDRO's programmes a world-class experience.
BOOKINGS FOR THE EDRO ROBOTICS CLASSES IN CAPE TOWN
Bookings for the holiday workshops can be made online via Quicket.co.za, and cost R650p/p for single child bookings or R590p/p for multi-child bookings.
To reserve a spot in any of the other classes and academies, visit Edro.co.za and click on the 'Academies' tab. Alternatively, you could phone +27 (0)21 409 7905 or email hello@edro.co.za for more information.
---
Learn magical things in a wild woman's home at the Herbalism Workshop in Muizenberg.
---
Use our events section for an up-to-date overview of happenings in Cape Town. Also, don't forget to subscribe to our newsletter.
Follow us on Twitter, like us on Facebook, connect with us on LinkedIn, check out our photos on Instagram and follow our Pinterest boards for updates on what's happening in and around the Mother City!