Temporarily Closed: Sea Point's Iconic Top of The Ritz Revolving Restaurant
Temporarily closed: The Grand Parade-style masala gatsby and Cape gooseberry sorbet chilli are a delightful surprise. The smoke-infused chocolate treat will transport you back to barefoot days at Tokai forest. This is some of what you'll experience on the seven-course menu at Top of The Ritz
NOTE: As of 2 July 2018, The Ritz Hotel has been temporarily closed due to a leasing agreement dispute. We don't have any further information but the management team have told us that they are working hard on reopening soon – we will announce it as soon as they do. Note that restaurants CASA and Top of The Ritz are also temporarily closed.
If you have any bookings at The Ritz or any of the restaurants or facilities, please know that you will be refunded. For queries on your existing booking, please contact virgil@theritzcapetown.co.za and eugene@theritzcapetown.co.za.
We'll keep you posted on the reopening. In the meantime, check out these exciting winter restaurant and experience specials.

...
Capetonians and visitors alike know there's nothing quite like celebrating a special occasion with dinner against the backdrop of unbeatable Atlantic Seaboard views at the city's newly refurbished, iconic Top of The Ritz revolving restaurant in Sea Point.
At 22 storeys high, nothing in this part of Cape Town compares to that iconic plated building with the UFO-like structure at its very top. It's a sight that says, you've arrived. Welcome back to The Ritz Hotel Sea Point.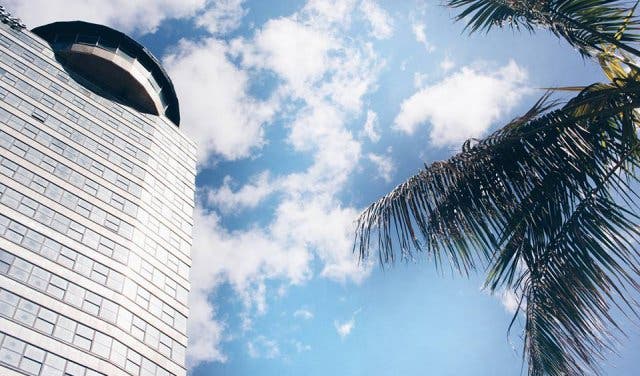 A SLICE OF THE HIGH LIFE
After being the epitome of Miami-style luxury in Cape Town for over four decades since 1972, the original The Ritz Plaza was closed in 2015 and reopened in late 2017 as The Ritz Hotel. And that incredible restaurant started revolving again.
The moment you walk in through those heavy glass doors, it's like stepping onto the set of a Baz Luhrmann movie. Everything is either glass or tinted polished mirror, beautifully balanced with a striking palm-leaf print design on select walls and accents of warm gold used sparingly but strikingly. So, still the well-to-do's playground but for the Instagram generation.
Tip: Come a little early (dinner seatings are for either 6pm, 6:30pm or 7pm) and start the evening with a warm-up drink poolside at the must-see CASA Restaurant and Cabanas.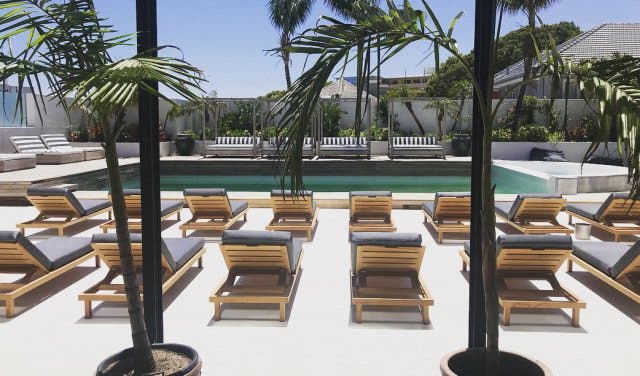 ENJOY THE VIEW
Next, you'll be guided to the elevator for a short trip up to the 21st floor (not quite 22 yet), where you're greeted with a drink of bubbly.
Then you're guided upstairs to your table, placed to perfectly line up with a section of that near-360-degree wrap-around windows.
The restaurant makes a full rotation every hour or so, and you have a seven-course meal ahead of you tonight. So the magic is that, throughout the evening, with every new course placed in front of you, you'll probably have done a quarter to a half rotation, so the scenery and the lighting constantly change around you.
A CULINARY JOURNEY THROUGH CAPE TOWN
The seven-course menu is an experience. A journey celebrating the tastes and sights of Cape Town through the memories of group executive chef Adrian Cook (whom you might recognise from Shimmy Beach Club), himself a Capetonian.
First up is a Knysna oyster with a red salsa and strawberries three ways. Then it's on to the Sea Point Avocado Ritz, a delicate chilled prawn and avocado espuma creation (espuma is a way of lightening and frothing up the avocado to the point where it's almost the consistency and lightness of a mousse but retains all of its taste), complete with salted dry ice to give off the smell of fresh salty sea spray.
By this time, your host will have firmly roped you into partaking of the speciality wine pairing menu. The only advice: go with it, they really know what they're doing here.
Tip: Forget driving. Pre-arrange your transport, because the wine suggestions at Top of The Ritz are just too good to miss. Do plan to spend a little extra, as the wine pairings are not included in the price of R850.
DON'T ASK, JUST TASTE
Next up is the bread and butter course. Mini baguettes are served with a Grand Parade-style masala steak gatsby pâté and three-cheese espuma with popcorn sprinkles.
After a very visual garden greens course (surprise: it's not very green, but gorgeously red and sweet instead) there's a Cape gooseberry sorbet chilli palate cleanser, followed by your choice of main course.
"I grew up with family working the docks and harbour, so we had fish in every way you can possibly imagine. This is my idea of what Cape Town fish and chips should be," chef Adrian remarks on the fish option, a beautifully seared bass and vinegar potato cigars with crispy kelp and a homemade tartare.
TOKAI FOREST IN A JAR
The meat options offer you a choice between a refined-dining twist on Portuguese-style steak and egg and chips. And then there's a succulent Karoo lamb option, with gently minted peas, a bit of spinach and a to-die-for fynbos croquette.
But the star of the evening is arguably the one-of-kind dessert: an earthy orange and oak-infused chocolate mushroom surprise that's a slice of childhood memory – Tokai forest in a jar.
THE (SURPRISE) EIGHTH COURSE
Round off the evening surrounded by the warm glow of photogenic Cape Town around you.
Then take a coffee and indulge in the petit fours, which are anything but petite. At this point the plate of chocolate bites almost feels like a surprise eighth course, completely exceeding all expectations.
Tip: Make an evening of it. Starting at 6pm and with seven courses to get through, dining at the Top of The Ritz is an experience that will easily last four or more hours.
Price-wise: The five-course set menu is R850 per person, with vegan and vegetarian menus also available. Seatings are from 6pm onwards, approximately 30 minutes apart. No children under 12. Seating is limited, so booking is a must.
Contact: +27 (0)21 439 6010
Where: Corner Main & Camberwell Road, Sea Point Cape Town
More info: www.theritz.co.za
---
If sipping a glass of bubbles in a stylish setting is your thing, try The Champagne Bar at The Ritz.
There's also more on fine dining in Cape Town with our look at the city's haute cuisine hot spots.
Plus, get loads more date-night ideas with our look at all the most romantic things to do in Cape Town.
---
View our guide to the hottest and newest places to dine in Cape Town, or check out the list on where to eat while getting treated to spectacular views.
In the mood for indigenous food? Here's where to find the best South African food experiences.
...
Check out our events section for an up-to-date overview of happenings in Cape Town. Also, don't forget to subscribe to our newsletter and if you have a smartphone, add m.capetownmagazine.com to your home screen for quick access on the go!
Follow us on Twitter, like us on Facebook, join our Google+ circle, connect with us on LinkedIn, check out our photos on Instagram and follow our Pinterest boards for updates on what's happening in and around the Mother City!