Temporarily Closed: CASA Restaurant & Cabanas at The Ritz
Temporarily closed: CASA and CABANAS at The Ritz is pulling out the stops to ensure glamorous poolside experiences
NOTE: As of 2 July 2018, The Ritz Hotel has been temporarily closed due to a leasing agreement dispute. We don't have any further information but the management team have told us that they are working hard on reopening soon – we will announce it as soon as they do. Note that restaurants CASA and Top of The Ritz are also temporarily closed.
If you have any bookings at The Ritz or any of the restaurants or facilities, please know that you will be refunded. For queries on your existing booking, please contact virgil@theritzcapetown.co.za and eugene@theritzcapetown.co.za.
We'll keep you posted on the reopening. In the meantime, check out these exciting winter restaurant and experience specials.
...
Oozing retro glam, CASA Restaurant at The Ritz, which flows out to the pool deck, will instantly transport you back to 1980s Miami with its urban-resort style and relaxed atmosphere.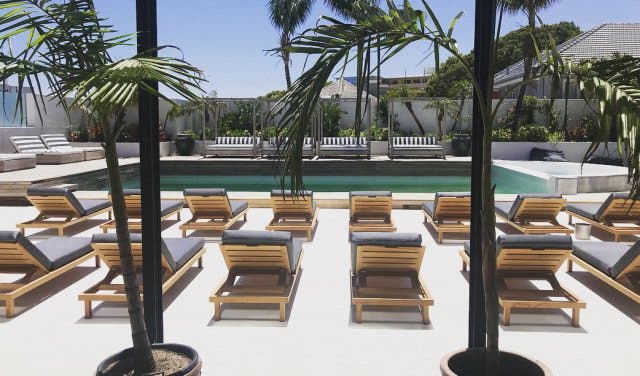 From a continental breakfast buffet to a decadent Sunday brunch, accompanied by DJs playing sultry house music, to all-day dining from a cosmopolitan menu that includes everything from sushi to pizza, CASA caters for all tastes and appetites.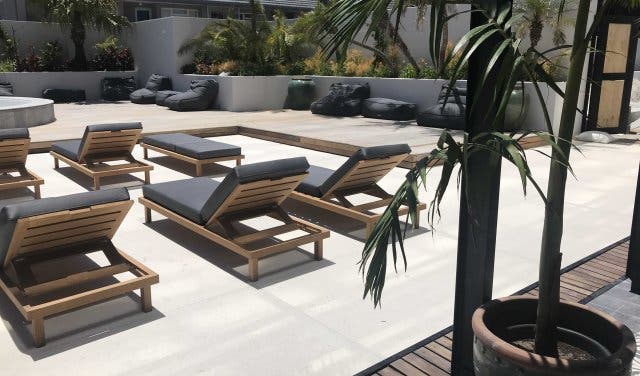 Recognising that local trade is just as important as filling rooms with guests, The Ritz encourages everyone to come and enjoy the facilities – whether it's a meal or simply a drink by the sparkling pool – and the budget-friendly prices reflect this.
"Will you fit in? Yes, you will," says general manager Johann du Plessis.
The palm-frond Martinique wallpaper, originally designed for the Beverly Hills Hotel in Los Angeles, adorns the walls and is reflected in pillars of smoky mirrors, while potted palm trees carry the tropical feeling outside to the pool. For the ultimate in sexy indulgence, seclude yourself in a private cabana and have your sushi platters and champagne served to you by attentive staff who put their focus on personal service. You can reasonably expect the waiter to remember your name and what you drink once you become a regular.
Got the kids in tow? No problem. A shaded and supervised play area is filled with toys to keep them happy, occupied, and out of the grownups' hair while they soak up the sun on a lounger where oversized sunglasses and big hats are the order of the day.
Take it up a notch at the Champagne Bar, which serves French bubbles alongside chilled Whispering Angel rosé from acclaimed Côtes de Provence producer Chateau d'Esclans, as well as numerous local brands on offer.
Stroll in at any time; booking is not required but advisable during peak season. CASA caters for private events (after breakfast) as well. Entrees range from R75 to R166, pizzas from R85 to R240, sushi from R45, desserts are priced between R55 and R75 and prices on the children's menu range between R25 and R75.
Take a look inside Cape Town's first revolving hotel and restaurant with our feature on The Ritz.
Dinner with a view - visit our feature on the iconic Sea Point eatery Top of The Ritz.
If sipping on a glass of bubbles in a stylish setting is your thing, look no further than The Champagne Bar at The Ritz.
--------------------------
Looking for some amazing sundowners spots in Cape Town? We've got you covered with this guide. Also check out this list of impressive rooftop bars in the city and places to swim this summer.