Watch, Cheer And Make A Day Of The Cycle Tour
7 great spots to watch and how you can still enter
Last updated: 28 February 2020
The Cape Town Cycle Tour is the biggest cycling event in South Africa with 35,000-plus riders taking on the 109km route starting at the Grand Parade precinct and finishing in Green Point.

Even if you're not riding, you can still be a part of it by supporting the thousands of bike riders at key supporter points when the race happens on 8 March.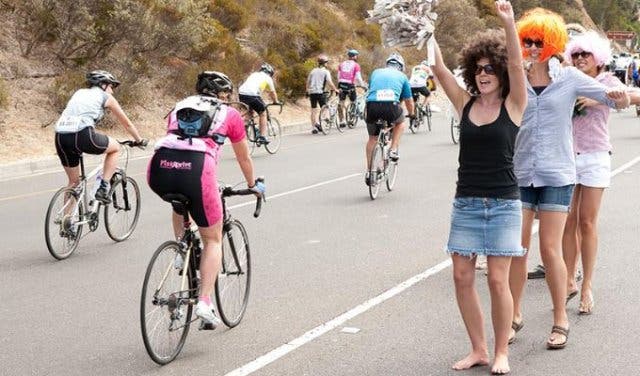 WHERE TO WATCH AND WHAT TO DO
The Cape Town Cycle Tour is regarded as one of the most beautiful races in the world. So when you hit the roadside to cheer on the cyclists, you'll also have amazing views to admire yourself. Here's where you can watch the riders passing through and show some gees.

Edinburgh Drive
Edinburgh Drive also known as Wynberg Hill is an early test of the riders' mettle because of its steep gradient. Your support will be most welcome, especially to those who at that point feel that they may not have trained enough for the race.

Getting There: It's a pretty long slog but you can catch a train to Plumstead and walk to the top. Alternatively, you can drive there and find roadside parking, or park in the lot opposite Victoria Hospital.

Glencairn Beach
This is a flatter part of the route where racers normally maintain a quick pace. Watch them zoom by and spur on those who may still be feeling flustered after Edinburgh Drive. If it's a scorcher outside, you can head down over the train tracks to take a dip in the tidal pool.

Getting There: Road closures rule out using your car to get here. Instead, grab a train to Glencairn Station and make a day of it.

Simon's Town
It's a pretty hectic slog along this section and, depending on the time you're there, most riders will be going pretty slow, some may even be struggling. Help them along with words of encouragement and maybe even a cold Coke (although there is a water point in the vicinity). While you're there, why not set some time aside to explore Simonstown.

Getting There: As with Glencairn, driving here is out of the question, but a select amount of trains go all the way to Simonstown.

Noordhoek
With the biggest test lying just ahead (Chapman's Peak) every rider will be a little nervous heading through this section, especially beginners who have no idea what they're getting into. A little "you can do it" will go a long way to give them the motivation to take on the challenge. If you get tired of cheering the cyclists on why not head to Noordhoek Farm Village which is home to the famous Cafe Roux.
Getting There: With no train station and no escape from road closures, this vantage point is best saved for those within walking distance of Noordhoek's main road.

Hout Bay:
Tired, but relieved cyclists will be coming through the Hout Bay area after mastering the gruelling Chapman's Peak. The experienced ones will know what lies ahead, the inexperienced may only have heard the legends. You can head to the Bay Harbour Market for a break between clapping.

Getting There: If you're a smart driver and use the open sections of the M4 and M3, you can find and access a good viewing point with your car, especially if you live nearby.

Suikerbossie
This is what lies ahead of Hout Bay. It's neither steep nor long, but Suikerbossie has become a legend along this route because most riders are spent after what came before. Your support is probably most needed here. It's close to the final stretch, so a little reminder of this could provide some motivation.
Getting There: Strictly for those who live close by.
Sea Point The final stretch:
jubilant riders will only be thinking about the finish line. They may or may not need your support anymore, but it's satisfying to see them flying along after the long and hard route is done and dusted. You can do this while having a drink and a bite to eat at Strolla Restaurant and Bar.
Getting There: Natives of Sea Point and surrounds have it easy. A smart driver will be able to avoid the road closures and get to Sea Point Beach Road although some walking will be required.
HOW TO ENTER THE 2020 CYCLE TOUR
Entries for the 2020 Cape Town Cycle Tour were still available at the time of writing, but you need to hurry because they sell out fast, so enter now.
A CHANCE TO ENTER AFTER IT'S CLOSED: HOW TO SUBSTITUTE
If you miss out on an entry, your other option is to substitute another rider. It's important to do this properly because if you don't, you and the rider you're substituting for can be banned from entering again.
To substitute, the original rider needs to withdraw from the event and make his/her entry available for substitution. Then you can substitute in for that rider. The substitution fee is R260, but remember that the withdrawing rider won't get a refund, so they may ask you for their entry fee back. Find more details here.

THE OUT-OF-TOWNER'S GUIDE TO FLYING WITH YOUR BIKE
The Cycle Tour attracts riders from all over the country and the world. If you're from out of town and flying your bike down to Cape Town, here are some steps to take to ensure your bike arrives in perfect condition for your big race day.

Packing Your Bike
This isn't as simple as it looks. Here are some pointers on getting your bike into a box or bag:
Turn the handlebars parallel to the frame
This is to make the bike streamlined enough to fit into a regulation bike bag or box. You can also remove the handlebars to make it fit, but that creates extra admin when you arrive and can mess up your bike fit.
Lower the saddle
This will ensure that the bike fits the height dimensions of a standard box or bag. You may want to go for a quick bike fitting when you get to Cape Town to get the saddle height perfect again.

Remove the pedals
Like turning the handles, removing the pedals is for width reasons.

Deflate your tyres
Fluctuating air pressure levels in plane cabins can make tyres gain pressure, this causes tyre burst and pinched flats mid-flight. Letting out some air helps to avoid that.

Place the bike in a bag, box
If you follow the procedure above, your bike should fit perfectly into your bike bag or box.
What can be checked in as luggage
If you're bringing all your own stuff, you'll need to know what you can and can't check into luggage. Here are the regulations commonly used by airlines.


Inflation pumps filled with division 2.2 carbon dioxide non-flammable gas will be accepted for transportation as checked baggage only. Make sure you declare this when checking in for your flight.
Wheel bags cannot be carried as hand luggage and need to be checked in as checked baggage. The standard checked baggage allowance will apply.
If you do have more baggage than you are allowed, you can pay for the extra baggage beforehand or at the airport.
Spare wheels need to be packed properly before they are checked in. At check-in, the spare wheels will be tagged with a limited release tag.
Speedometers and any other electronic equipment, as well as helmets and shoes, can be taken on as hand luggage.
Courtesy of Kulula Airlines
---

Head to Hout Bay for night of air catching, hair raising freestyle MTB and BMX at the Night Harvest
Make a month of it and find more things to do in March
Once you've ticked off the Cycle Tour, add some more items to your bucket list

Prefer to do your own things when you cycle? Try one of these cycling routes
---
Supercharge your event? Our Events Support Programme gets results. Contact support@capetownmagazine.com or +27 (0)21 422 2444.

Use our events section for an up-to-date overview of what's happening in the city, suburbs and dorpies. Join our newsletter and add us to your mobile home screen for the ultimate guide to discoveries in Cape Town.

Follow and like us on Twitter ❤ Facebook ❤ LinkedIn ❤ Instagram ❤ Pinterest for updates.