Cape Town's unique presents
Give locally made gifts this year

Last Update: June 21, 2017
Support local businesses and stock up on presents from these great suppliers. We've put together some of our favourite places to buy gifts and you might as well treat yourself to something nice while you're there too. From one of a kind bags and vintage clothing to artisan chocolates and teas you'll find something for everyone.
Ajeless Africa
Spoil the woman close to your heart with a locally produced lipstick from Ajeless Africa. The proudly South African cosmetics brand caters for the African climate and has been specifically designed for African women and their complexions. The creamy pigment-rich formula is enriched with SPF 15 to protect the most sensitive skin of the face from the harmful UV rays of the sun and to restore the moisture lost during the colder months. Catering for skin tones and complexions usually excluded by mainstream cosmetics, Ajeless Africa considers the specific climate conditions and complexions prevalent on the African continent. "I want to cater for women who have not been catered for," says owner Astrid Jonker. The lipstick is available in ten beautiful shades; Skin (a blush-coloured shade), Natural (a flamingo-coloured shade), Soft (a rose-coloured shade), Smile (a shade the colour of ballet slippers), Foxy (a rouge-coloured shade), Peach (a salmon-coloured shade), Play Nice (a watermelon-bubblegum-coloured shade), Strong (a plum jam shade), Naked (a raisin-coloured shade) and Sunshine (a marmalade-coloured shade).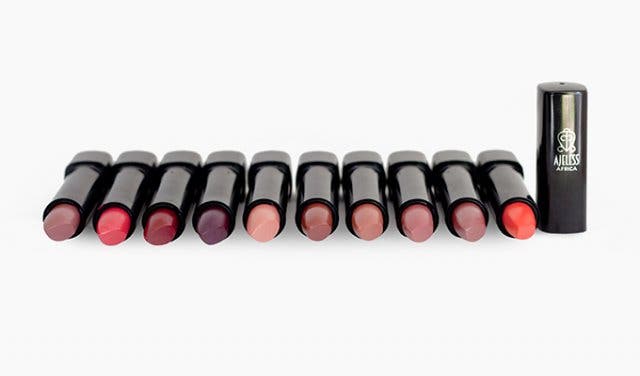 queries@ajelessafrica.co.za | +27 (0)76 701 9571
Afraid of Mice
This light, romantic vintage store stocks 'the clothes you wish your mother had kept for you'. Sisters Bianca and Simone Brandi have handpicked the designer vintage clothing. Expect one-of-a-kind pieces by well-known designers such as Diane von Furstenberg, Oscar de la Renta and Ralph Lauren. Pick up a silk scarf or a vintage Chanel bag for the chic women in your life.

Opening Times: Monday – Friday: 10am – 4pm, Saturday: 9:30am – 12:30pm.
88 Long Street | City Centre | Cape Town | +27 (0)21 423 7353
Chapel Bags
This is just the place get a present for the designer in your life – buy them a backpack that will fit their 15-inch MacBook and everything else they need for the day. The bags are made locally from sourced canvas and leather suppliers in Woodstock, and come in a variety of shapes and sizes and great colours. Previously without a permanent shopfront, Chapel Bags have now made a permanent home at the newly-renovated Woodstock Exchange and they've got an outlet at the V&A Waterfront.

Woodstock Exchange | 66-68 Albert Road | Woodstock | Cape Town | +27 (0)83 289 8326
Casamento Furniture
You might want to save this gift for yourself: brighten up your home with Casamento furniture made perfectly to suit your style. Starry-Eve Collett, the founder of Casamento, takes inspiration from nature and Mid-Century designs and incorporates it into her unique furniture. These chairs and couches are custom-made according to the size and design you prefer, and you'll be involved in the creative process right from the start.

Woodstock Foundry | 160 Albert Road | Woodstock | +27 (0)21 448 6183 | www.casamento.co.za
Dark Horse
From bags to furniture these cleverly designed pieces will make a statement. "We support environmentally conscious design, using locally produced materials and manufacturers including recycled tyres, natural hemp for our handbags and steel from a local manufacturer," says owner and designer, Lise du Plesis. Their furniture is functional and comes in bright colours that will add an element of smart design to your home.

Opening Times: Monday - Friday: 10am - 6pm, Saturdays: 10am - 3pm.
Woodstock Exchange | 66-68 Albert Road | Cape Town | +27 (0)76 517 7894
Melissa's The Food Shop
If you're looking for the perfect gift for a spouse, family member, friend or colleague you can't go wrong with Melissa's. Whether you're wanting to say Thank You, Happy Birthday, Congratulations or I'm Sorry, Melissa's has got the perfect item, hamper or box of goodies to suit any occasion. Melissa's has everything from intricate and delicately designed cutlery and crockery, and beautifully handcrafted earthenware, for the tasteful homemaker, to hampers and gift baskets packed with yummy Melissa's goodies. You can either pop into one of the 13 stores in the Western Cape (and enjoy a delicious meal at the eatery while you're there) or you can shop online and have the gift delivered to your doorstep. Go to Melissas.co.za to peruse their extensive catalogue, or to find a store near you.
Opening Hours: Monday-Friday: 7am- 7pm. Saturday 8am- 7pm. Sunday 8am- 6pm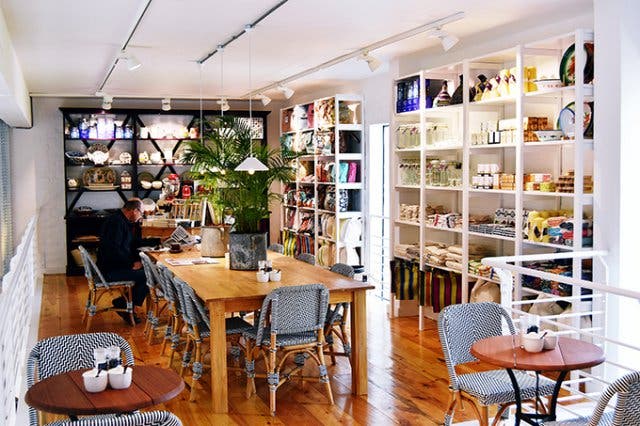 94 Kloof Street | City Centre | Cape Town | +27 (0)21 424 5540
David West/Doktor and Misses
This store is a collaboration between these two cutting-edge designers. Doktor and Misses is run by Adriaan Hugo and Katy Taplin, who design and produce a selection of furniture, lighting, and objects. And, David West designs simple, beautiful clothing.

Opening Times: Monday – Friday: 9:30am – 6pm, Saturday: 10am – 2pm.
113 Long Street | City Centre | Cape Town | +27 (0)21 801 4722

DV Artisan Chocolate
Cornell and Peter De Villiers produce a chocolate range with five origins, beautifully packaged in slick black boxes imprinted with the wavy lines of Hermanus's Voelklip Mountain. There are only about seven or eight other factories in the world that make micro-batch chocolate from bean to bar as they do so this is a delicious, special treat to give as presents.

You can find their chocolate at The Foodbarn Deli +27 (0)21 789 1966, The Cape Quarter Spar +27 (0)21 418 0360, Chef's Warehouse +27 (0)21 422 0128, Giovanni's Deli +27 (0)21 434 6893, Melissa's +27 (0)21 424 5540.
Zana Products
Sue and Robyn Britz teamed up to start Zana Products in 2012 and the business has grown immensely since then. Zana stocks unique, simple designs to spice up your home, such as table mats, duvet sets and quirky cushions. If you're looking for something you can wear, check out their cute range of bags, purses and pouches.
Where to buy: www.zanaproducts.co.za
Unit 2 | 20 Brickfield Road | Woodstock
Oh Lief Skincare products
This local company sells a range of skincare products for adults and babies, and they've got you covered from head to toe. You can purchase body wash, moisturisers, wax and balms – everything your body needs. Oh Lief is proudly organic, so all of their products are made using biodegradable ingredients and they don't make use of animal testing.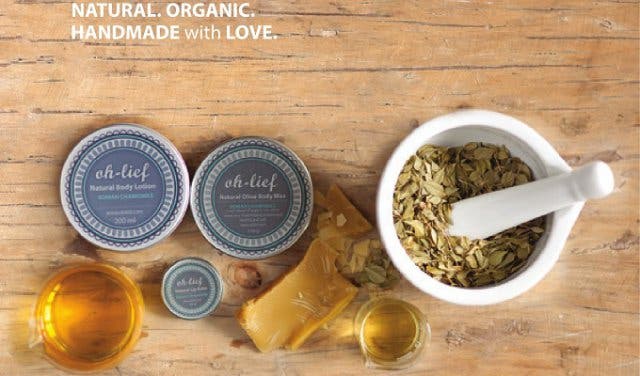 Price: R85 – R245
Where to buy: www.ohlief.com
Huguenot Fine Chocolates
This sweet little store in Franschhoek makes traditional Belgium chocolates with a South African twist. Owners Danver Windvogel and Denver Adonis studied the fine art of chocolate making in Belgium and have brought these techniques back and added local ingredients like rooibos and Amarula. Choose and assortment of truffles for your friends and families or take them with for a chocolate tasting (it's only R35) and let them choose their favourites.

Opening Times: Monday - Friday: 8am - 5:30pm, Saturday - Sunday: 9am - 5pm.
62 Huguenot Rd | Franschhoek | +27 (0)21 876 4096
Jorgenson's Gin
"Usually, gin's made up of three main ingredients; coriander, citrus and juniper berries. Instead of orange, I used organic naartjies, and Cape lemon in place of Spanish lemon," says Roger Jorgensen of Jorgenson's Gin. A South African gin that will change how you see this traditionally British tipple. It's the perfect gift for that relative who won't drink anything other than G&Ts.

Opening Times: Tastingsby appointment.
Versailles Farm | Regent Street | Wellington | +27 (0)21 864 1777
Missibaba
Chloe Townsend's luxury bags and jewellery handcrafted from leather are sure to be on a lot of Christmas wish-lists this year. Treat the woman in your life to one of these stunning creations. The handbags range from quirky and inventive to the more subtle, classic ones but all of them have beautiful design in common.

Opening Times: Monday – Friday: 10am – 6pm; Saturday: 10am – 2pm.
229 Bree Street | City Centre | Cape Town | +27 (0)21 424 8127

Nigiro Tea Merchants
Origin is known for its top-quality coffee, but at the back of the coffee shop it's all about tea. Buy your tea-loving friends one of their loose tea varieties (they have over 200) or treat them to a High Mountain Tea ceremony, a calming experience that uses the traditional Chinese and Taiwanese tea making methods.

Opening Times: Monday – Friday: 8:30am – 5pm, Saturday and Sunday: 9am – 2pm.
Shop 2 Heritage House | 20 Dreyer Street | Claremont | +27 (0)21 801 1555
Red Espresso
'Who would have thought a tea could play by coffee's rules?' This isn't the rooibos tea you grew up with, it's pure rooibos tea that's been ground to be used in an espresso machine, which brings out its natural oils and creates a caffeine free, healthy brew with a smooth, full-bodied taste. Give this to both tea and coffee lovers – the unique concept is something in between the two and is really good for you, with five times more antioxidants than green tea.
You can find Red Espresso at a number of stores, including Pick 'n Pay +27 (0)800 11 22 88 and Spar +27 (0)860 313 141.

The African Music Store
This colourful shop on Long Street covers the whole spectrum of African music including pop, gospel, reggae, jazz, traditional music, soul, R&B, kwaito, hip hop, lounge, rock and even African lullabies for children. If you're looking for obscure African music this is the best place to start your search, or go and browse their extensive collection and ask the staff for their favourites. Sick of your little cousin's love of Justin Bieber? Give them some real music to help point them in the right direction.

Opening Times: Monday – Friday: 9am – 6pm, Saturdays: 9am – 2pm.
134 Long Street | Cape Town | +27 (0)21 426 0857
Ora Natural Skincare
With a background in aromatherapy and physical therapy, owner Louann Lambert, progressed to making her own natural skincare products—by hand. Her range includes, luxurious body butters scented with essential oils from ylang ylang to jasmine, refreshing shower gels and facewash. As well as all kinds of body scrubs and detoxifying bath salts. Her secret ingredient is an alchemist's knowledge of essential oils and plant compounds that she weaves into intoxicating and healing products, which leave you looking beautiful, and feeling it too.
What to try: The rose oil and rooibos face moisturiser as well as the fabled Healing Body Cream, which banishes blemishes and helps to heal topical injuries.
Where to find it: They make deliveries.
Blouberg | Cape Town | luorasa@gmail.com | +27 (0)21 557 5341 / +27 (0)72 3722 485
Miss Figgy
Miss Figgy products and grown and produced on the Westevrede Fig Farm, in Prince Albert. Their figs are delicious, nutritious and they have no sugar added, the fig produces the original Adam's fig variety. The dried figs are hand-picked then they are hand processed before letting them dry on the scorching Karoo sun.
Weltevrede Farm | Prince Albert | Western Cape | +27 (0)23 541 1229 | www.figfarm.co.za
---
Take a piece of Cape Town wherever you go with these souvenirs.

Find amazing handmade gifts among "the best stuff you've never seen" at 2019 Kamers in Cape Town.

Experience this Cape Town-born internationally recognised brand in their new store – Sealand Gear.
Make this delicious Christmas trifle and keep in the loop by subscribing to our newsletter, liking us on Facebook and following us on Twitter.
Get top quality skincare products for less with BOTANē Skin Actives summer promotion.