Byblos Trading Co at The Palms
A first for the booming coffee industry in Cape Town
The Vibe: With a very vivid memory of the city of Byblos, founder Mikhael Bou Rjeily, commonly known as Mischu, recreated a space very near and dear to him. At the age of nineteen, Mischu found himself in Byblos where he decided to venture into entrepreneurship and in doing so, he met four of his lifelong friends. "We were five guys with a bar and café, which was open till late. We partied there and of course, we didn't make profit, but it wasn't a loss," says Mischu with a nostalgic chuckle. "Byblos has quite a special place in my heart, it was an amazing chapter in my life and it's still my favourite city". Walking into The Palms hotspot, one is welcomed by the montage of fond memories displayed in a sleek representation of Lebanon, specifically the city of Byblos. With blue and turquoise colours to represent the Mediterranean seas, and to frame the furniture and artwork, copper as one of the primary minerals of the area, topped off with the ambiance-defining sounds of Arabian nights, Byblos at The Palms draws one into a fantastical world resembling the story of Aladdin. "I chose the music to make people feel like they are on a magic carpet, and Aladdin is going to stop by any minute," says Mischu. "Instead of using Uber, he's using a magic carpet".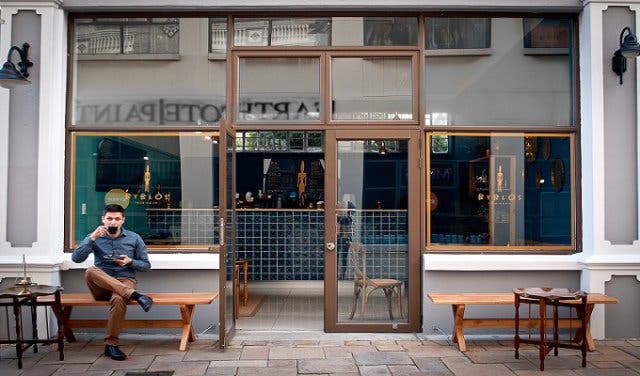 The Offerings: As a child, Mischu has always been surrounded by the aroma of coffee, and only until he became a barista himself, did the passion develop. "I was trained by Panda, who ranked fifth at the World Barista Championship", recalls Mischu. "That's when it all started". Byblos at The Palms offers a variety of espresso-based coffees, Yerba Mate, Turkish Apple teas and coffees, as well as little Lebanese sweet appetizers, such as authentic Turkish delights and baklava made by a Lebanese pastry chef with the finest imported Lebanese products, to accompany your beverage. Visiting Byblos, I had to try the infamous Turkish coffee, which I must admit was probably the best cuppa to ever pass my lips. "The Turkish coffee has a very bad reputation," says Mischu. "You look at it and it's short, black, and traditionally served with lots of sediment. At Byblos we brew it the milder way, and we show you how to get rid of the unpleasant part". And right on cue, Mtho, the barista arrives with my Turkish coffee. Mischu was right. The rich colour could seem a bit unappealing to the eye. That first sip whisks me away and contrary to what I was expecting, the strength is just right. Made with cardamom, brown sugar, and finely ground Isabella blend coffee, the flavours seem to be doing plies on my palate. "There is no filter system in making a Turkish coffee," explains Mischu. "So everything you started off with is still there. You don't want to be drinking the last bit, and if you don't understand the Turkish coffee, you're definitely not going to enjoy it the first time".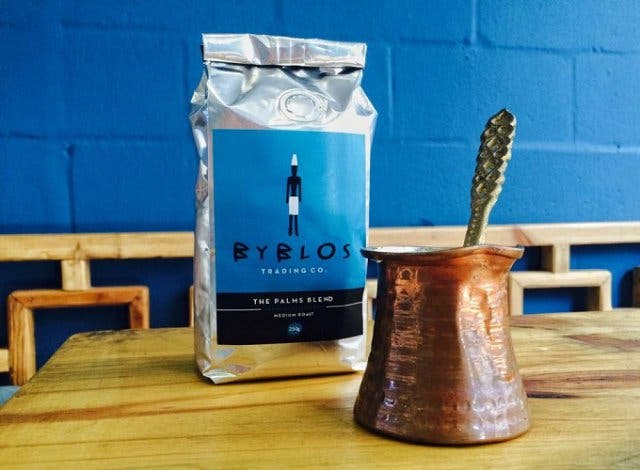 If you're not a cuppa-lover, try one of the oriental teas, like the traditional Turkish Apple Tea, which is served by the pot, with sweet apple bits that one may confuse with dessert (as I did) or the Yerba Mate tea. This smokey South American tea, which can be compared to a rooibos blended with green tea, with an extra smokey flavour, is to be consumed in what is called a Gourdes, with a bamboo or metal straw, which sifts through to the bottom and stops any particles from being ingested. This is a healthy source of caffeine, minerals and vitamins, that can't be easily found in other teas. Specialising in various espresso-based coffees, Mischu advises all coffee lovers to drink their cuppa within the first minute of receiving it. "Foam is a combo of air and milk, and the cream of the espresso does not like to be in contact with the air for too long," says Mischu. "At first, you see the glossy foam on top, and about a minute later, it looks dry. That means that the milk has drained all the way the way down to the bottom, and the texture of the foam is more airy."
Tip: Mischu offers an alternative for slower drinkers (such as myself). Once the foam has lost its glossy texture, simply swirl your coffee clockwise and anti-clockwise twice to allow the coffee to separate on each sip, giving you a taste of espresso, milk and foam. This creates a circular shape on the edge of the mug, also known as the Mischu Happy Ring!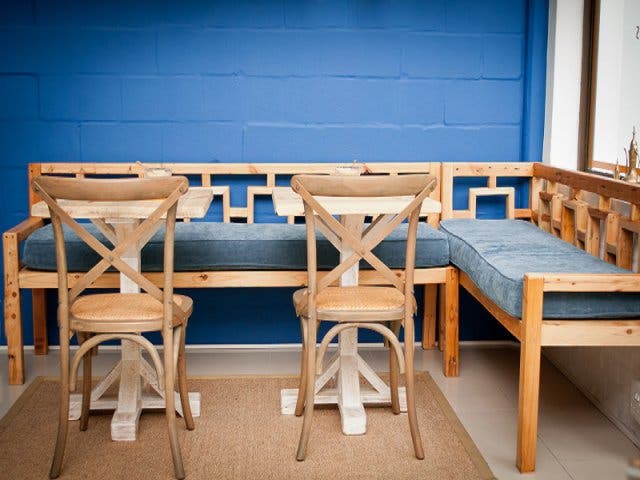 Note: Along with a couple of blends unique to Byblos and mischu coffee showrooms, Byblos offers the Isabella blend, a mild, sweet blend named after Mischu's daughter, "because she is a sweet little girl," says Mischu with a twinkle in his eyes. For a stronger, slightly bitter taste, try The Palms blend, which was born where Byblos finds itself. "When I looked into The Palms, I knew this was going to be home. When you think about the Mediterranean, you think about coffee and history. It was first consumed in the deserts, and it was and still is an important part of the North African and Arabic culture, eaten as whole beans or ground with dates to give soldiers lots of energy to combat and fight. You think about the coffee journey and it all relates to The Palms," says Mischu. Plans to introduce a biodegradable coffee capsule are also in the pipeline.
What you wouldn't expect at Byblos: With a special emphasis on imported Lebanese products, the deli and retail section of Byblos includes cutlery, crockery, cooking and baking ingredients, Byblos acts as the middleman to authentic Turkish and Middle Eastern products. The décor and design of the space was done by the talented interior designer, Angelic Bou Rjeily, wife of Mischu. "I did the shopping and she chose what to buy, otherwise, it wouldn't be as pretty as it turned out to be", says Mischu. The bar tiles were individually made in a town in Mexico, where each tiler specialises in making one pattern, as opposed to making a set of platters and as you come close to the counter, patrons might notice that all the tiles are not exactly the same. These tiles are also used as tea and coffee coasters.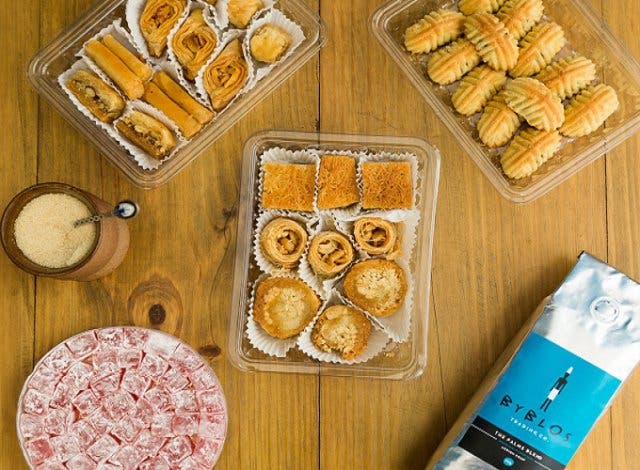 The Bill: Tea: R18.50 - R30 | Cold drinks: R20 - R40 | Hot drinks: R10 - R35 | Alternate Brewing (Turkish coffee, including baklava): R55 - R100
Where to find Byblos: Within the rustic but modern Woodstock business centre, The Palms.
Weekly discoveries: Grab three packs of Mediterranean sweet treats for the price of two!
For more info contact Byblos on info@byblostrading.co.za or +27(0) 21 461 2612.
---
By Marian Volkwyn
---
COMING IN JUNE: Discover authentic Turkish food, khave, shisha and more at EatStanbul in Kloof Street.
---
Use our events section for an up-to-date overview of happenings in Cape Town. Also, don't forget to subscribe to our newsletter.
Follow us on Twitter, like us on Facebook, connect with us on LinkedIn, check out our photos on Instagram and follow our Pinterest boards for updates on what's happening in and around the Mother City!