The Brass Bell Restaurant in Kalk Bay
Experience this beloved hotspot just outside Cape Town
This classic restaurant and pub is located in the heart of Kalk Bay and makes Capetonians proud as it has one of the most beautiful views in Cape Town. The venue is surrounded by the roaring, rolling waves and is filled with a down-to-earth, soulful energy. Visitors have raved about this establishment for years because of their unforgettable dining experiences.

The history of The Brass Bell gives this little gem an even bigger place in our hearts! Initially it was built as a council-run tea room in 1939, and has transformed into a beautifully bustling seaside eatery. Owner Tony White and his team have taken Brass Bell from strength to strength and have successfully transformed it into a household name. The venue contains seven phenomenal different venues.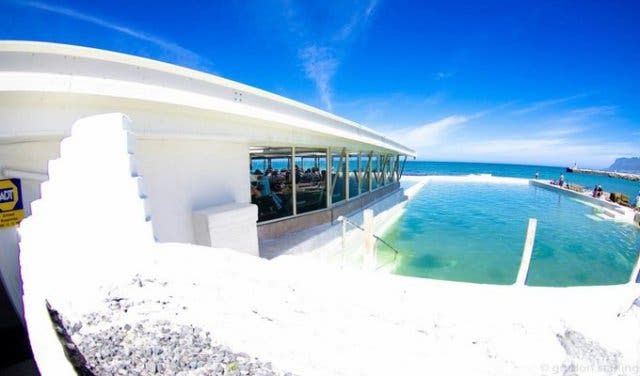 The heart of The Bell lies in The Brass Bell Grill and Captains Deck. This exquisite dining area forms part of the original building. The atmosphere is relaxed and beautifully styled to give you breathtaking views and delicious food. A positive aspect about this place is that it is all-weather friendly as it has sea-facing windows running the full length of the restaurant. So come rain or sunshine you will have a view, which makes it the ideal venue for functions and events.
Be sure to have a peak in The Bikini Deck stage as it hosts some of South Africa's hottest bands and both new and old favourites, such as Johnny Clegg, Taxi Violence and Arno Carstens. You'll be able to grab a seat along the tidal pools on lazy days and relax during the evenings with friends in a cosy environment. Seeing as The Bikini Deck takes up to 140 seats, you can still be guaranteed a good time as it spills out into the tidal pools - fabulous right!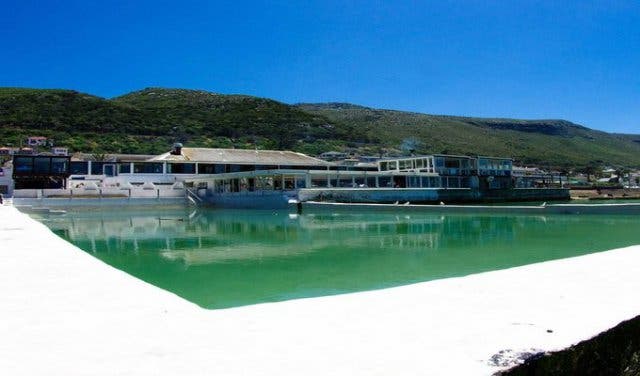 The charm and candor of The Cabin restaurant can't be missed as it is joined to the local Cabin pub. The dining area inside can seat up to 40 people and has unsurprisingly beautiful views. Being a local favourite you are bound to have a peaceful, relaxed and intimate evening. We recommend you try the seafood, it's a must!
Make your way to The Waters Edge Terrace which is situated downstairs and is the ideal place to sit and relax. This is where you will feel even more connected to the soul of the establishment. Built into the sea wall, the seating arrangement goes right into the tidal pool edge and gives visitors the most gorgeous experience right on the water. The sea will make you feel like you should have extended your visit as it will creep into the venue with a few splashes. There is no other sea-side dining venue that will guarantee this type of experience. Try the wood-fire pizzas or a seafood dish, both are equally as yummy.
The Pavilion seats about 50 guests and is raised above the terraces below. It resembles a glass gazebo and is the most divine place to get a panoramic view that will take your breath away. It is directly above the tidal pools so make your way upstairs for a little look. Finally there is The Beach. The Al Fresco type dining experience offers guests twin raised decks and a sandy centre with a paddling pool for children.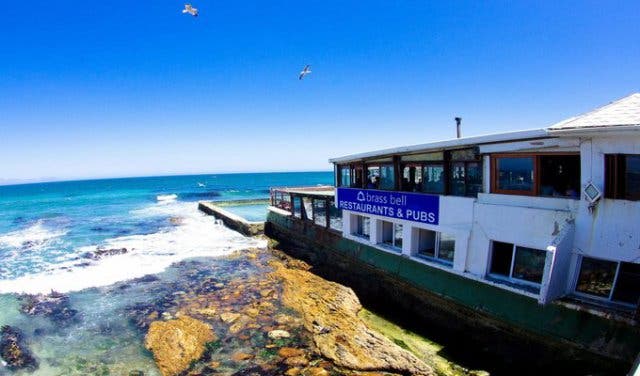 We love the beautiful views and eclectic energy!
Tip: bring your family and friends to visit perfect for any occasion.

Main Road | Kalk Bay | +27 (0)21 788 5455

By Tarina Meiring
---

For a party that peaks from start to finish, happens at the Brass Bell and starts and ends on a train, get on board the Make Believe Train Party.

Also check out nearby Kalk Bay staple restaurant Harbour House.
STAY TUNED AND SUBSCRIBE TO OUR NEWSLETTER FOR MORE INFORMATION
---
The Mother City is fast developing so to keep you clued up; we've rounded up some of the hottest latest additions to Cape Town in our New Restaurants and Hot Spots overview. Discover it
---
Use our events section for an up-to-date overview of happenings in Cape Town. Also, don't forget to subscribe to our newsletter and if you have a smartphone, add m.capetownmagazine.com to your home screen for quick access on the go
Follow us on Twitter, like us on Facebook, join our Google+ circle, connect with us on LinkedIn, check out our photos on Instagram and follow our Pinterest boards for updates on what's happening in and around the Mother City!