Best Pizza Places in Cape Town
Cheesus crust we love pizza!
Last Update: 13 Februray 2019

"When the moon hits your eye like a big pizza pie, that's amoré," and I think we can all agree that Jack Brooks was right in equating love to pie (forget the babble about the moon). This doughy, multi-topped, edible plate for your cheese goes perfectly with practically everything – beer and friends, cold weather and DVDs, Coca-Cola and sunshine, more pizza. In the Mother City, where pizza ovens are as plentiful as the shameless seagulls that try steal a slice right off your plate, there's no reason to settle for anything less than fantastic pizza.
Thus, we've looked high and low to put together a list of the tastiest pizza places in Cape Town. Whether you like a simple thin-based margarita or enjoy a hearty, family-sized pie, there is most certainly something to suit your palate. We've done the hard part for you; we've sampled some slices to ensure you're not disappointed. Now all you have to decide is: will it be eat-in, take away or delivery; a budget spend or splurge. Whatever you choose, just make sure you've brought your appetite.
ROCK 'N ROLL PIZZA
If you gotta Whole Lotta Love for pizza then Sgt Pepper will rock you. Putting a tasty twist on the classics, each pizza is personified in line with the bar's rock 'n roll vibe. From the spicy smiles of Tannie Tandoori to the wonderful wiles of the Wild Thing and the "hon" that is The Don. Grab your mates and capitalise on the double pizza deal, which gets you two pizzas for the price of one on Tuesdays at Sgt Pepper in Long Street.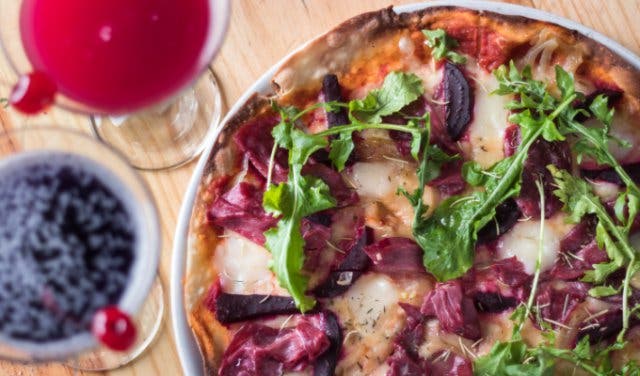 194 Long Street | Cape Town | +27 (0)21 424 5608 | info@sgtpepperct.com
GRAB A SLICE OF ARTISANAL PIZZA AT THIS POPULAR BREE STREET RESTAURANT
Whether you are looking for lunchtime snack or a hearty dinner, Arcade Cafe in Bree Street has you sorted. From the delicious Pablo pizza to the popular chicken-based Chucha, all the pizzas are made from scratch with fresh, organic, free-range ingredients. The originality of the pizzas will give your taste buds an experience that is going to need repeating pretty soon.
Top tip: If you aren't in the mood to share (and trust us, with these you wouldn't want to share), Arcade Cafe offers 2 for 1 specials on their pizza and cocktails on a Tuesday.
152 Bree Street | Cape Town | +27 60 861 0511 | hello@arcadecafe.co.za
Dizzys
If you're looking for delicious pizza in a restaurant packed with character then Dizzys was made for you. The iconic, family-friendly Camps Bay gem is famous for many things – its community focus, welcoming warmth, quirky decor, extensive craft beer selection, and its originally named pizzas. Picture thin, crispy wood-fired bases covered in a melted amber cheese-coat, a smattering of scrumptious toppings and a fresh sprinkling of home-grown herbs.

41 The Drive | Camps Bay | +27 (0) 21 438 2686
Ristorante Posticino
"Less is more," first said by English poet Robert Browning, is an ethos the Ristorante Posticino takes seriously. Rather than serving pizzas untidy with topping and lacking in true flavour;, this restaurant keeps it simple and lets the carefully chosen ingredients speak for themselves. This neighbourhood favourite turns 20 in May 2018, and its age is a testament to its popularity – especially in a city where eateries open and close as frequently as they do. The traditional, thin crust bases are generously topped with fresh, seasonal ingredients, and some pies offer extra special ingredients, like caviar and chicken livers pan-fried in wine.

Albany Mews | Corner Albany & Main road | Sea Point | +27 (0) 21 439 3974
Massimo's
Having originally started their first pizzeria in the garden of their farmhouse in France, in 2004, Massimo and Tracy hold preparing good food and providing a memorable dining experience in the same standing. Their ingredients are locally sourced – some of the vegetables are grown in their own garden – and the pizzas are made with the finest fior di latte mozzarella and stone ground Eureka Mills flour. The "Italian Feast" caters to tables of six or more: unlimited pizza (all different kinds), a side salad and shared starters. Massimo's vegan meals ensure those who are friends of fur don't feel left out.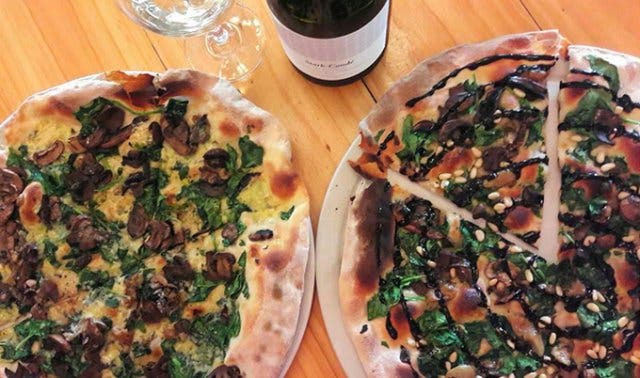 Oakhurst Farm Park | Main Road | Hout Bay | +27 (0) 21 790 5648
Pizza Vesuvio
There is something so comforting about dining at a family-owned restaurant. It's as if you know the mother of the house – and restaurant by extension – is going to ensure that you are well fed, taken care of and made to feel at home. This Italian restaurant is no different. Especially loved by those who live in the Northern Suburbs it is often completely booked out by tables of families looking for that home-away-from-home atmosphere. Hearty portions of wholesome food are on the menu and their pizzas are a real treat! Pair yours with the perfect glass of wine (of which this restaurant has many) for an unforgettable night by candlelight.
Corner Waterfront and Fountain Road | Bellville Park | Bellville | Cape Town | +27 (0)21 914 1414
Extrablatt
You wouldn't expect an eatery with German and Moroccan influences to take pizza seriously, but with Extrablatt nothing could be further from the truth. Owner Guido Dierschke insists of serving some of the tastiest traditional dishes from all over the world. From a classic German Konigsberger Klopse and Italian bruschetta to jalepeño poppers traditional Chinese spring rolls. Their pizzas are something special though! Make the most of their Monday Madness special where you get two 30cm pizzas for only R109 every single Monday.

Exhibition Building | 79 Main Road | Green Point | +27 (0) 21 434 3759
NY Slice
No one embodies, 'go big or go home' quote like Americans do, and this conveniently located pizza place celebrates that culture. They execute their four classic pizza flavours excellently, and after your first bite you'll be hooked. Think you can handle a mammoth 25cm slice from this USA-inspired pizzeria or are you brave enough to take on an entire pie made up of eight of their signature slices? With three branches all over the region (Kloof Street in Gardens, Regent Street in Sea Point and Bird Street in Stellenbosch) you have no excuse not to get your pizza fill.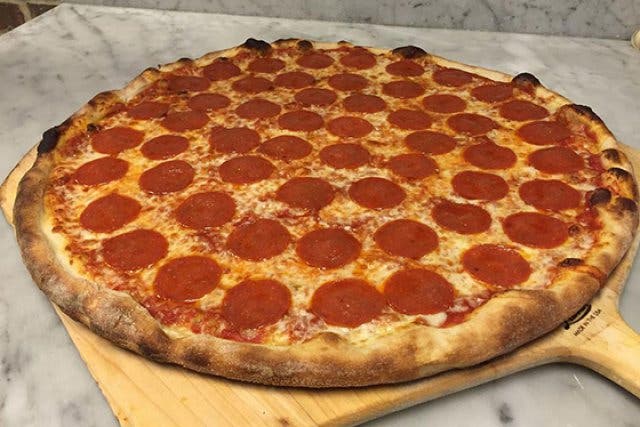 49 Kloof Street | Gardens | Cape Town | +27 (0) 21 426 4141
Basilico
Known for its relaxed atmosphere and unusual, though heavenly, pizzas, this Italian-inspired restaurant is the go-to spot for diners in the Southern Suburbs. Picture a pizza topped with thin slices of springbok Carpaccio, avocado and rocket or a bacon, blue cheese and pear combination. There are plenty of drool-worthy meat-free options too. Not to mention, kids can make their own pie by choosing 2 of 12 different delectable toppings. Look out for Basilico's specials, which offer favourites at a discounted price.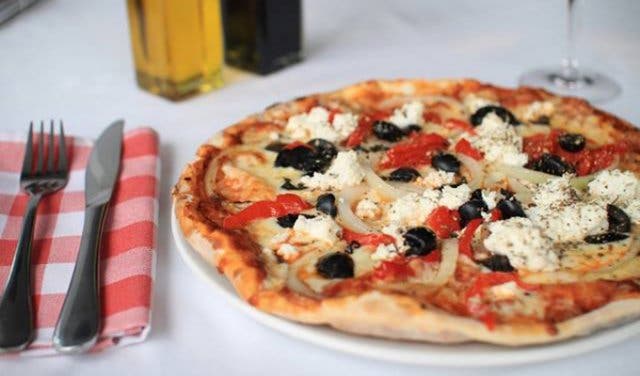 32 Kildare Road | Newlands | Cape Town | +27 (0) 21 683 5989
Narona
Kick your feet up, crack open a cold one and tuck into one of Narona's incredible pizzas. Because this laid-back restaurant delivers, you can either enjoy your meal at theirs or at yours. With flavour combinations that are as bizarre as they are delicious, you'll certainly be spoilt for choice. The restaurant has branches in Observatory and Gardens, and both deliver until 10pm, seven days a week (deliveries start at 5pm during the week and at noon on weekends).

39 Trill Road | Observatory | Cape Town |+27 (0) 21 447 2206
Mash Tun
This eatery is so well tucked away in Woodstock that if you blink you might miss it. For their crispy, thin crust, sweetened base sauce, soft, oozing cheese topping and perfectly paired flavours though, you'll make a concerted effort to find it. Show this inconspicuous restaurant some love every Tuesday (well, they're really showing you the love!) – get two large pizzas and two craft beers for only R159.
7 Ravenscraig Road | Woodstock | Cape Town | +27 (0) 21 447 161
Bacini's
This institution has been serving pizza-loving Capetonians for more than 20 years. Running on traditional Italian preparation methods and family recipes, Bacini's was also one of the first restaurants in the Mother City to bake pizzas and pastas in a clay brick oven. The focus is on good flavours and traditional combinations. Lauded for its familiar atmosphere and fun vibes, Bacini's offers both sit-down dining,in their cosy indoor or airy outdoor areas, and a take-away option if you don't want to be seen inhaling a whole pizza in public. It should also be noted that they serve up good value for money considering their generous portions.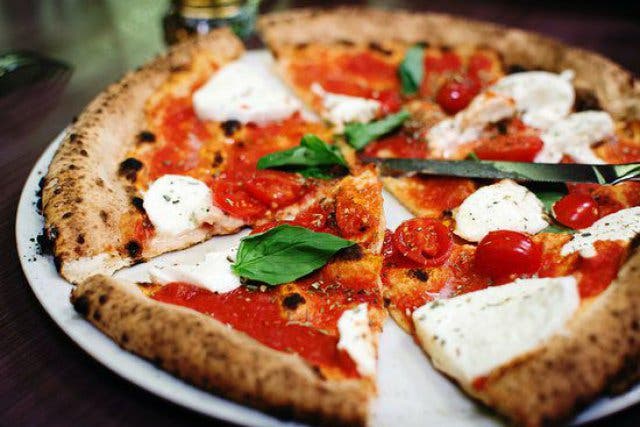 177 Kloof Street | Tamboerskloof | Cape Town | +27 (0) 21 423 6668
Café Chameleon
If we're being honest, the sensational view of Table Mountain is enough reason to pay this sophisticated eatery a visit – and their pizza menu caters more to vegetarians than meat-eaters. Café Chameleon's signature thin-base wood-fired pizzas are made with nothing but the freshest of gourmet ingredients. Whether you're an adventurous eater, enjoy taste combinations like bacon, blue cheese, green figs and pecan nuts, or prefer to play it safe with a classic Margherita, you'll find your fill here. The pizzas come in the 25cm medium size, or the or 34com large size.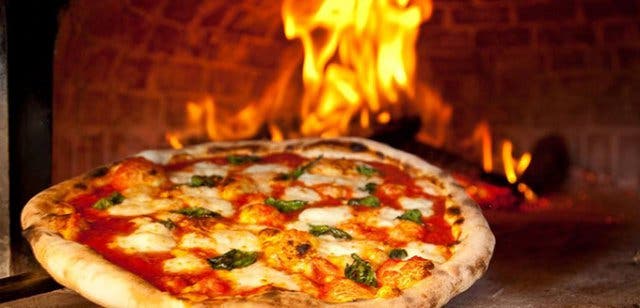 Shop no 5 Plattekloof Centre | Corner Plattekloof and Olienhout Road | Plattekloof | Cape Town | +27 (0) 21 911 1025
Morituri Pizzeria and Ristorante
Morituri vows to make the best pizza in the city and they take that promise seriously. Generously topped and packed with flavour, these pizzas will have you loosening your belt. They make a mean thin-crust pizza that you can enjoy with a glass of wine or craft beer. The eye-catching pizzas are handmade to approximately 30cm and the prices are reasonable. Add R20 and get yourself a Gluten-free pizza base.

214 Main Road | Claremont | Cape Town | +27 (0) 21 683 6671
Bardelli
At Bardelli's they make mouth-watering pizzas with a lot of delicious toppings. On their menu pizzas are divided into three segments: The Wood Fired Pizza, which includes both breakfast and regular pizzas that are available in medium and large. The Supremo Range consists of large pizzas only (we like this option!). Last but not least, the Olympia Range boasts more lavish pizzas that take a bit more time to prepare, and aren't available on busy days.
18 Kloof Street | Gardens | Cape Town | +27 (0) 21 423 1502
Hail Pizza
Any inner-city pizza lover needs to keep this restaurant on their radar. Their wholesome wood-fire pizzas are irresistible, and the buzzing state of their restaurant is a testament to their popularity. Housed at the back of Clarke's Bar and Dining Room, you can look forward to your cheesy dough plate to be topped with anything from broccoli and beetroot to poached eggs and aubergine. Brunchers will be happy to hear that Hail Pizza has a running mimosa special. Every Saturday and Sunday you can sip on this bubbly cocktail to your heart's content, for R150/p.

133A Bree Street | Cape town | +27 (0) 72 349 3551
Gino's
Enjoy delicious wood fired thin-base pizza at one of the best pizza places in the greater Cape Town area – at Gino's they pride themselves on making good food. Their menu has a selection of pizzas you can choose from, though we highly recommend the L' Africana with biltong and chilli. Pizza prices range from R90 – R140.

63 Dorp Street | Stellenbosch | | +27 (0)21 887 9786
Burrata
This trendy restaurant goes all out to make sure customers get delicious quality pizzas with the perfect crust. Burrata houses a state-of-the-art oven which can reach 480 degrees celsius and can cook pizza in less than 90 seconds. The menu is mouthwatering and a definite must-try for any pizza lover worth their base sauce. The restaurant does get quite busy so make a reservation to avoid disappointment.
The Old Biscuit Mill | 373-375 Albert Road | Woodstock | Cape Town | +27 (0) 21 447 650
Words by Inga Sibiya
---

Check out Cape Town's very own Pizza & Pasta Festival.
City cafe is easy, affordable and open 365 days a year at Cafe Extrablatt in Cape Town and check out the wholesome buffet breakfast and Sunday brunch with the buffet at Cafe Extrablatt.

Come for dinner and listen to the Alvin Dyers Trio, or better yet bring your own instrument and jam with them at the Cape Town Comedy Club Jazz Jam Sessions.
New: Pizza and neon signs at I Love the Dough in Bree Street.
Experience the magic of each of the Madame Zingara restaurants in Cape Town. Plus, check out their everyday drink specials.
Check out the all-new beach-style Folk Cafe in St James.
Friends, family or date night Italian supper? Check out the all-you-can-eat pasta dinner special at RBG Grill & Bar in the Foreshore.
---
Use our events section for an up-to-date overview of happenings in Cape Town. Also don't forget to subscribe to our newsletter, follow us on Twitter, like us on Facebook, connect with us on LinkedIn and check out our Pinterest boards for updates.