Your Perfect Cape Town Function Venue
Function venues with a difference, plus plenty of traditional options, for your next event
Last updated: 10 March 2020
If you've ever been tasked with organising a birthday bash, bachelor/ette party, wedding, baby shower, anniversary, family reunion, board meeting, conference, workshop or a bar/bat mitzvah, you'll know that finding the perfect venue can strike fear in the heart of even the most enthusiastic party planner. Panic not – we've got the definitive line-up of places that'll ease the pain and take your event to the next level.
ROOFTOP GLITZ AND GLAM
If you're looking for a place to throw a classy shindig, then how about a rooftop venue overlooking Cape Town's city centre? There are panoramic views of Table Mountain, Lion's Head and the city skyline, a large balcony, floor-to-ceiling windows all around, a contemporary built-in bar and an impressive retractable skylight roof at Rooftop on Bree.
Capacity: 120 people
Nice to know: You'll have the option to hire a production manager, who will take charge of all your production needs.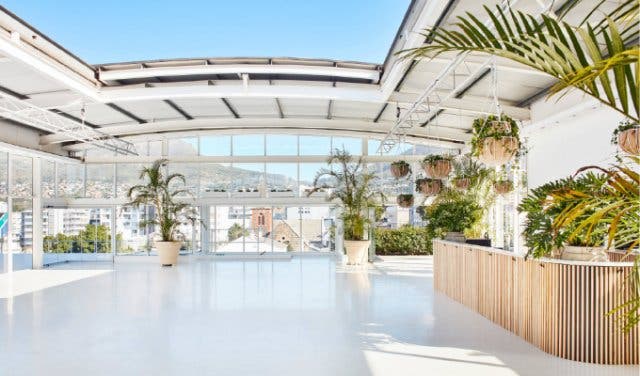 170 Bree Street | Cape Town CBD | +27 (0)78 879 0562 | bookings@rooftoponbree.com
A VERSATILE SPACE THAT GUARANTEES SUCCESS
Pier Place is wide open space overlooking the centre of the Foreshore with a container bar, stage for live acts, neon light-lit walkways and some of the best sound equipment in the industry. It's the Foreshore's newest indoor-outdoor rooftop event space that covers everything from catering to entertainment, plus a fully equipped chef's kitchen and bar service. The event team will organise everything for you, from equipment through the experts, like photographers, videographers and sound and music professionals. Whether it's an end-of-year-bash, a product launch or even a wedding, any event will be a success at Pier Place.
Capacity: 240 people
Nice to know: The space is hired exclusively so it can move indoors or out, whatever the weather.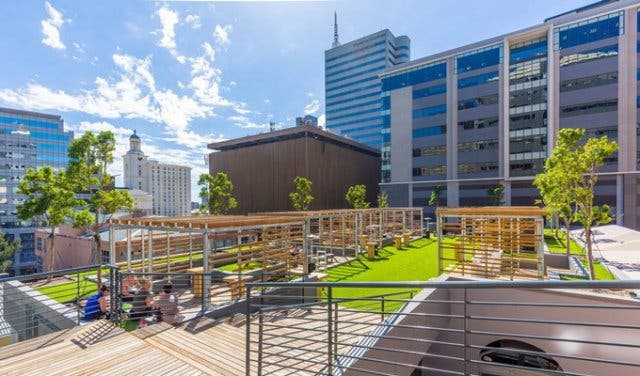 Pier Place | 31 Heerengracht Street | Foreshore | (021) 421-5550
SEA VIEWS AND ENTERTAINMENT FOR THE KIDS
Feel at home at a function venue that offers indoor and outdoor seating, beach and sea views, entertainment for children, and a cosmopolitan selection of food and cocktails. Raise a glass together as you watch the sun go down and the fairy lights come on. Dutchies is an easygoing, beachside restaurant, situated a stone's throw from the Blue Flag Grotto Beach in Hermanus. Parents will appreciate the kid's menu and colouring books. Host a memorable function at Dutchies in Hermanus.
Capacity: 135
Nice to know: Dutchies is able to cater for most specific requests such as music, outdoor tenting, special menus etc.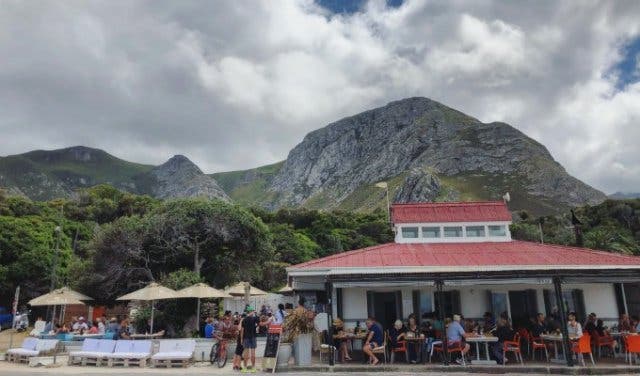 Grotto Street, Grotto Beach, Hermanus, info@dutchies.co.za, +27(0)28 314 1392, Dutchies website
A WINE BAR ABOVE BREE STREET
Frogitt & Vonkel's Bree Street wine bar is an ideal venue for parties, product launches, corporate meetings and networking events. Situated in a 220 year-old heritage building, the bar serves a selection of the country's best boutique and limited-production wines, as well as imported superstars. Host your private event or function at Frogitt & Vonkel Wine Bar.
Capacity: 40 people
Nice to know: You can order your favourite wine at the bar for home delivery.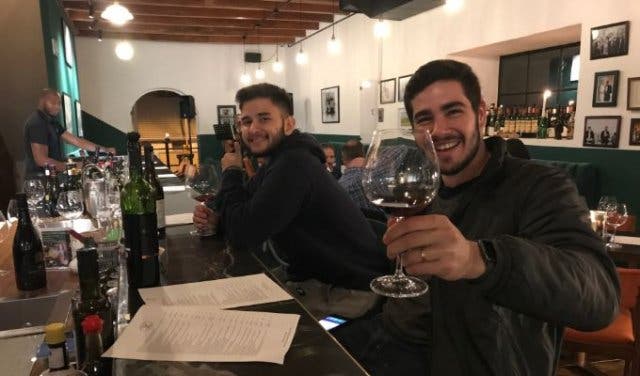 103 Bree Street | +27 (0)87 898 2206 | winebar@frogitt.co.za
IT'S ALL ABOUT WINE (AND UNIQUE CUISINE)
The Wine Glass is a spacious venue, stylish but also easy-going, a place where friends can meet for lunch, a fun celebration or sundowners on the sun-drenched deck. The decor is contemporary, with bursts of turquoise, white chairs, sleek grey couches and the Instagrammable wine wall of fame. This trendy Hermanus wine-tasting venue and restaurant has close to 100 wines on offer, either to savour by glass, or in a tasting flight (group of wines) of six. Once you find the one you love, you can take a bottle or two home. Plus, you can also order unique dishes such as the firecracker duck or antelope spring rolls at The Wine Glass.
Capacity: 100-140
Nice to know: Test your palate or broaden your knowledge with a blind or horizontal tasting.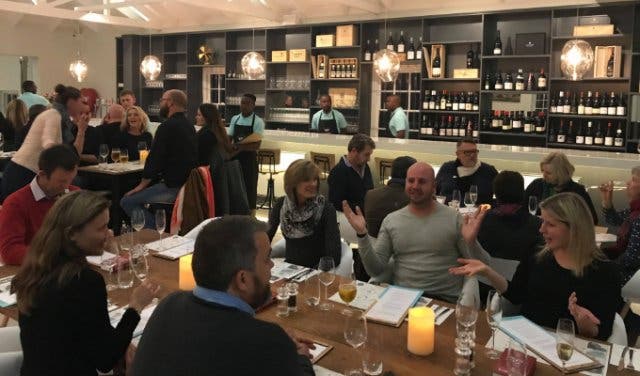 2 Harbour Rd, Hermanus | +27 (0)82 082 0007 | info@thewineglass.guru
ON BREE STREET'S DOORSTEP
La Parada on buzzing Bree Street is perfect for any function, with its Spanish-inspired decor and food, and its extensive drinks menu. You can chill outside in summer, beneath the mist of the sprayers above, or sit inside where the magic happens. Choose from tapas like tuna tacos, prawn croquetas, grilled or fried calamari, or if you're hungrier, try the lamb rack, seared tuna or wagyu beef burger. Alternatively, you can contact La Parada for the function menu. Check out La Parada on Bree.
Capacity: 120 people for sit-down dinner; 400 people for a canape/cocktail-style event
Nice to know: La Parada can customise a set menu for you dependant on the needs and budget of your group, or you can pre-order tapas from the snack platters


107 Bree Street | Cape Town City Centre | +27 (0)21 426 0330 | breestreet@laparada.co.za
CHOOSE BETWEEN A TASTING ROOM OR A PANORAMIC DECK
This winery between Paarl and Stellenbosch is an excellent environment for corporate functions and seminars. It has inspiring views, tranquillity, and offers unique team-building activities. Functions can be held in either the spacious tasting room or on one of the two panoramic decks, at the villa, which also has a braai area, or in the beautiful, landscaped gardens at Marianne Wine Estate.
Capacity: 150 people
Nice to know: There is accommodation for up to 43 people for longer conferences.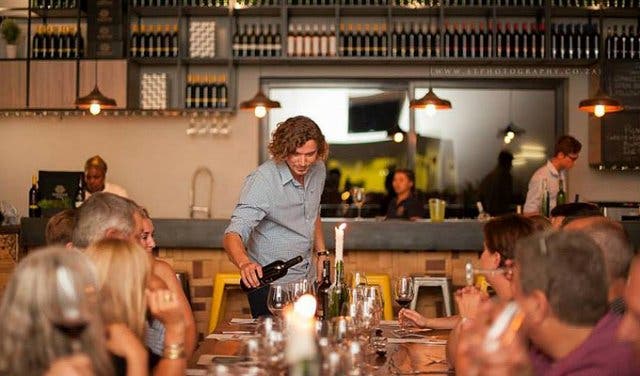 Valley Road, off R44 | Stellenbosch | +27 (0)21 875 5040 | info@mariannewinefarm.co.za
THIS VENUE SET IN NATURE IS PERFECT FOR FUNCTIONS
Bona Dea Private Estate is set high on the mountain slopes surrounding the gorgeous Hemel-en-Aarde Valley. It's a unique, luxurious wedding and function venue just 90 minutes from Cape Town International Airport. Close to the small town of Hermanus, which is famous for its excellent whale-watching, the estate has excellent facilities, including an elegant ballroom, for conferences, seminars, executive board-meetings and gala dinners. Even team-building sessions are offered at Bona Dea Private Estate.
Capacity: Up to 200 people.
Nice to know: There's a large ceremonial tree-filled terrace adorned with 20 000 fairy lights.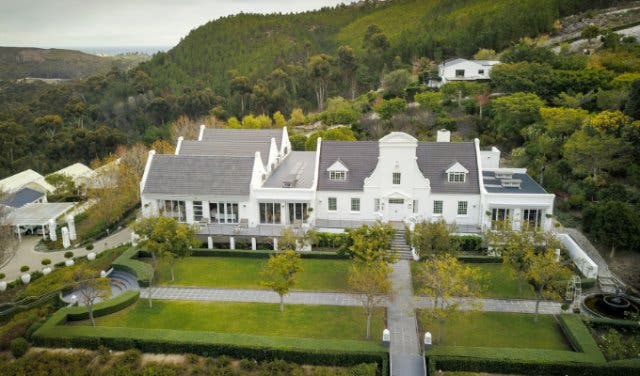 Camphill Road, Hemel-en-Aarde Valley | Hermanus | +27 (0)28 050 0370 | eventsmanager@bonadea.co.za

CITY ROOFTOP OR PRIVATE LOUNGE?
Voted one of the best new bars in the world by Condé Nast Traveler in 2012, Tjing Tjing Rooftop Bar has been a favourite hang-out since 2011, and is as popular as ever. Killer cocktails, views and an inner-city vibe under wooden mansards in an old attic with an open rooftop area make this space special. There's also great indie and electronic music, moreish bar snacks and cool décor, like the red Japanese-shrine-inspired bar and the black and white Tokyo photo wall. One floor down is the moody, intimate Momiji Lounge, with sunken booths and a long, low couch. Sip on Japanese folklore-inspired cocktails, or something from the extensive wine or spirit list (including Japanese whiskies). Both Tjing Tjing Rooftop Bar and Momiji Lounge are ideal for private functions or events.
Capacity: Up to 20 people in Momiji Lounge; 80-100 people in the Rooftop Bar of Tjing Tjing House.
Nice to know: There is no venue hire cost.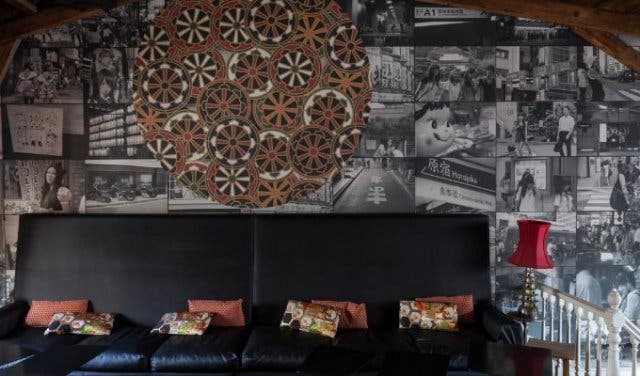 165 Longmarket Street, Cape Town | +27 21 422 4920 | info@tjingtjing.co.za
IDEAL WEDDING RECEPTION VENUE
This Rawsonville holiday resort, an hour's drive from Cape Town, has eight conference centres in various sizes and layout and can accommodate up to 800 people in total. The jewel of the resort is the stunning Slanghoek Conference Centre, which seats up to 100 and has its own restaurant and bar. With panoramic views of the Breedekloof Valley, it's ideal for a wedding reception, and the centre is walking distance from the Slanghoek Villas at Goudini Spa.
Capacity: 100–800 people
Nice to Know: There are five heated pools. Also the bridal couple gets a free stay in the Slanghoek Villas.

Wyzersdrift Road, Rawsonville | +27 (0)23 349 8100 | goudini@atkv.org.za
A PRIVATE UPSTAIRS NOOK
The Attic is a cosy, private nook up the stairs of popular Beluga restaurant in De Waterkant, perfect for birthday parties, business meetings or engagement dinners. It accommodates up to 18 people and caters for special meal requirements, including halaal. The venue hire cost works like a tab. You pay R5,500 into a tab and can order from the food menu and the bar to your chosen value. You can also become a member of the new Beluga Whisky Lounge for special events and tastings of whiskies from unique locations at Beluga.
Capacity: Up to 18 at the upstairs nook
Nice to know: The restaurant can be booked for functions for larger groups, too.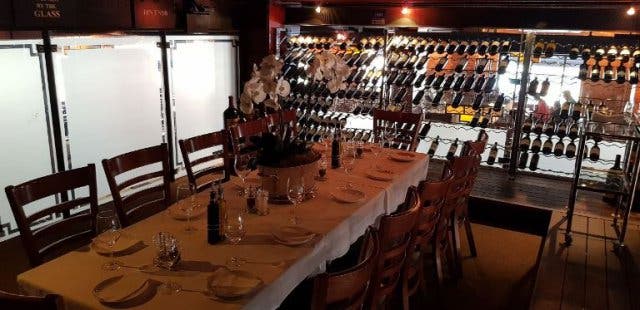 70 Prestwich Street, The Foundry, De Waterkant | +27 (0)21 418 2948
PICTURE-PERFECT ESCAPE IN APPLE COUNTRY
"Weddings here are just different, so relaxed, no stress – it must be the fresh air or just this place," says one happy Cherry Glamper. This ultra-cosy glampsite, In Elgin, with a lounge, family table, fireplace, braai, covered viewdeck with adjoining lapa and firepit is ideal for functions (you don't pay venue hire, just the accommodation) and big birthday parties. It's just an hour from the city. Go Cherry Glamping with your team for a low-tech team getaway.
Capacity: Seating for 80, accommodation for 100. (but more can be arranged upon request)
Nice to know: Also try low-tech Wednesdays at Cherry Glamping's team-building getaways.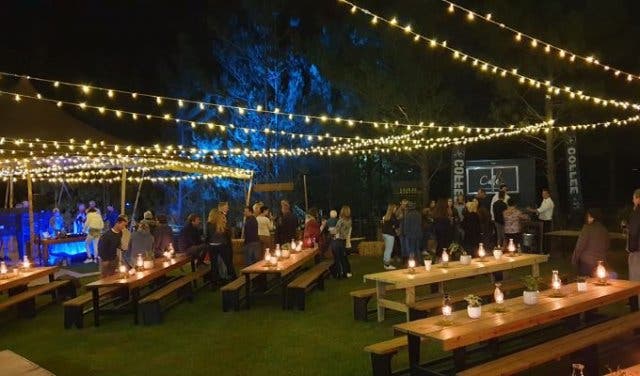 Groenrug Estate, N2, Grabouw | +27 (0)82 788 9837, info@cherryglamping.co.za
BE IN THE MIDDLE OF ART AND CULTURE
ONOMO hotel, housed in one of the oldest buildings in the city (and a declared heritage site), towers over bustling Greenmarket Square. They offer several venue hire options, depending on whether you need the hotel to provide the staff, food, entertainment for your cocktail function, birthday or baby shower. ONOMO Hotel Cape Town has a Friday lunch taco special and everyday dinner specials.
Capacity: Up to 150 people
Nice to know: The large terrace, which is lit up by fairy lights at night, can be covered by a marquee or Bedouin tent.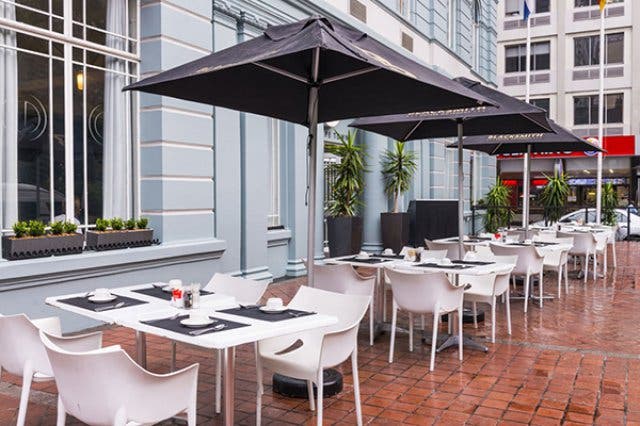 10 Greenmarket Square, City Centre | +27 (0)21 423 2050
IDYLLIC COUNTRY ESCAPE
The perfect location for a destination wedding, girls getaway, family reunions or simply to come and do absolutely nothing. They offer great packages from a romantic couples breakaway to a girls gin getaway that is a great bachelorette option. The package includes goodie bags, spa treatments, yoga classes overlooking the green pastures and delicious food from the restaurant at the Rotterdam Boutique Hotel.
Capacity: Accommodates 60+, sleeps 40
Nice to know: The Restaurant patio has uninterrupted views of the Langeberg Mountains and the perfect place to watch a golden sunset while having a glass of wine.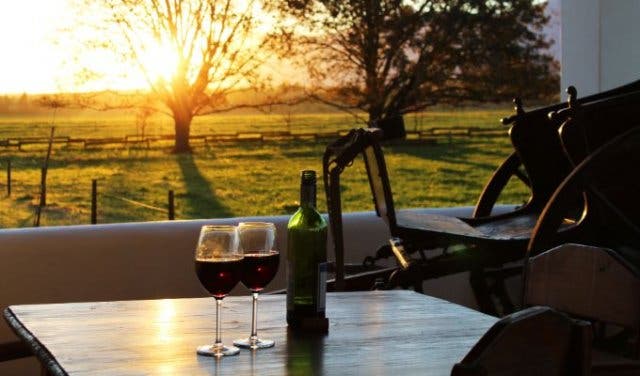 Olivedale Road, Buffeljags River, Swellendam | +27 (0)76 738 4664, info@therotterdam.co.za
GET TOGETHER AT ONE OF THE MADAME'S EATERIES
Whether you're planning a relaxing afternoon of lunch and drinks at The Company's Garden Restaurant or an untamed night out at Café Manhattan, you're guaranteed to get an excellent vibe, great food and attractive backdrops for photos at any of the Madame Zingara Group's restaurants.
Capacity: 30–150
Nice to know: Madame Zingara has happy hours every day of the week with these drink specials around Cape Town.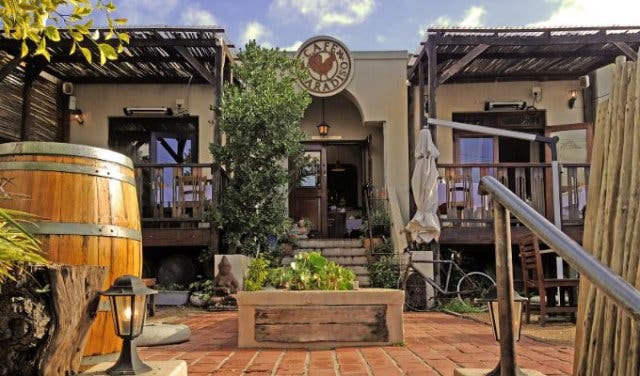 Various locations | +27(0)21 423 6805, media@madamezingara.com | MadameZingara.com
A SOCIAL DINING EXPERIENCE
If you're looking for a private, intimate space to host up to 20 guests where food and wine is the main focus, then the Green Room at Grub & Vine is the private dining experience you've been waiting for. Chef Matt Manning, the owner and chef-patron of Grub & Vine, is well-known for creating unique social dining experiences (for example, One Ingredient, Manning's five-course cooking and dining experience that centres around one key ingredient.) Let his team of chefs and sommeliers cook for you and your guests at your private event at Grub & Vine.
Capacity: 20
Nice to know: The bistro has a sommelier.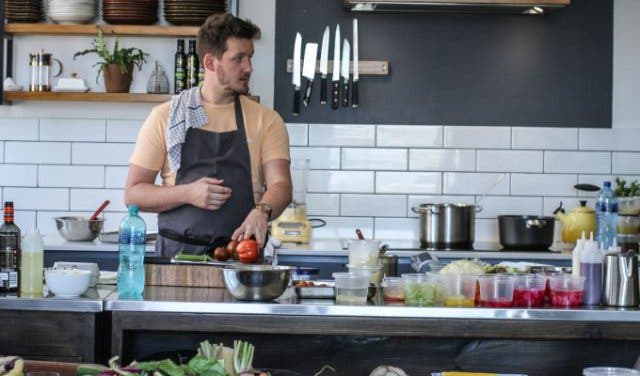 103 Bree Street, Cape Town City Centre | +27 (0)76 256 8654
URBAN AFRICAN BEACH RESTAURANT WITH KILLER VIEWS
Vibrant colours, a live DJ, an exotic local menu, refreshing cocktails and a view over Big Bay, Table Mountain and Robben Island – surely a combination for a successful event? This is one of our favourite hidden gems and perhaps the best place to get the full Cape Town experience. Find out why moyo at Eden on The Bay is perhaps the most Capetonian beach restaurant.
Capacity: Up to 400.
Nice to know: You can dangle your feet in the shallow pool below your table.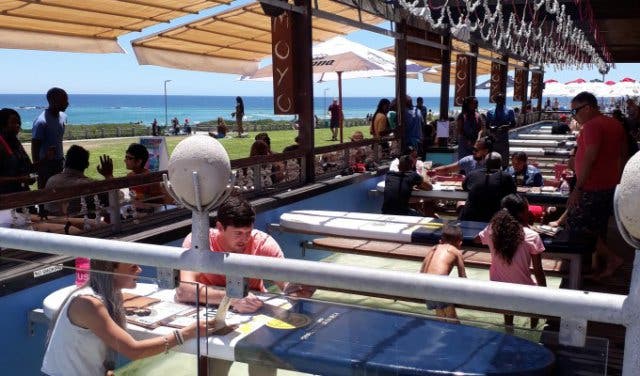 Eden On The Bay Mall | Otto Du Plessis Dr, Big Bay/Blouberg | blouberg@moyo.com, +27 (0)21 286 0662
NEW: AC HOTEL CAPE TOWN WATERFRONT
The hotel, located on the quiet Dockrail Road next to the harbour, has four state-of-the-art meeting rooms and a boardroom with a total of over 250m2 of event space. All the meeting rooms boast floor-to-ceiling windows overlooking the harbour. Their event spaces include cutting-edge audiovisual technology and high-speed internet access. Enjoy snacks while on a creative coffee break in the AC Lounge or experience a bespoke private dinner in the AC Kitchen. There are 188 guest rooms and suites at the AC Hotel Cape Town Waterfront.
Capacity: Enquire online
Nice to know: At the gin & tonic trolley you get to choose between three different infused tonics and your preferred gin.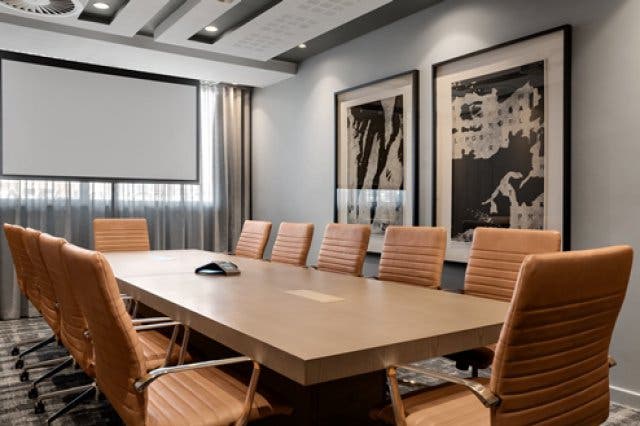 Dockrail Road, Foreshore, Cape Town | +27 (0)21 137 1100
UNDER THE SEA: UNIQUE FUNCTIONS IN THE CITY
This underwater wonderland at the V&A Waterfront is an out-of-the-ordinary option for events. For large conferences and expos, there's the two-level AVENUE at the Two Oceans Aquarium. For a smaller event, choose one of four spaces, three of which look out onto kelp forests, ragged-tooth sharks, stingrays, turtles and small exhibits of spider crabs, jellyfish, anemones and more. Venues can be adjusted to suit specific needs when hosting events and functions at the Two Oceans Aquarium.
Capacity: 10–1500 depending on the room you choose and the function type.
Nice to know: Your booking includes access to the aquarium (for day functions).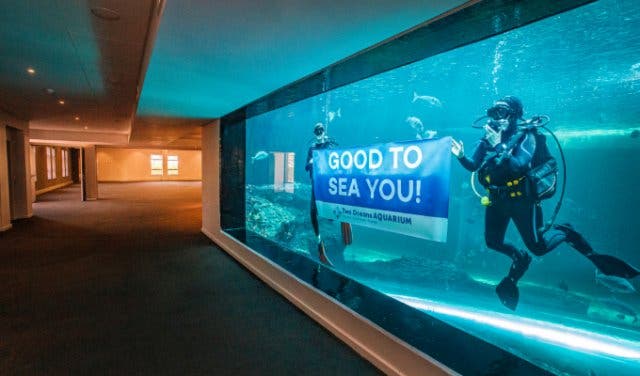 Dock Road, V&A Waterfront, Cape Town | +27 (0)21 418 3823 | functions@aquarium.co.za
AWE-INSPIRING WINELANDS FOR CONFERENCES
Lanzerac Wine Estate offers a hotel, spa, four restaurants and wedding, function and conference facilities. Located in the Jonkershoek Valley on the outskirts of Stellenbosch, the estate boasts mountain and vineyard views and gardens shaded by towering oak trees. From the main Cellar Hall venue to five individually decorated boardrooms, Lanzerac offers state-of-the-art facilities, services and banqueting for sophisticated corporate conferences, management meetings, teambuilding and more.
Capacity: 2 to 24 guests between the five boardrooms; up to 150 guests banqueting-style in the Cellar Hall and up to 250 guests on the lawns.
Nice to know: The private dining venue was built in the mid-1700s and offers a grand setting with chandeliers and fireplaces, and can host up to 40 guests for a conference, dinner or party.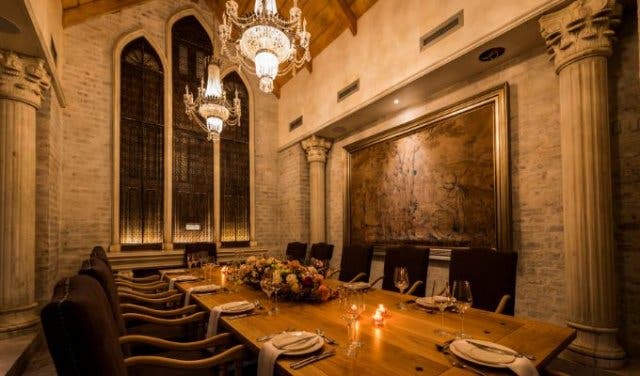 1 Lanzerac Road, Stellenbosch, Western Cape | banqueting@lanzerac.co.za, +27(0)21 887 1132
TASTY DINNER, KILLER COCKTAILS
Knife, the Louisiana-style steakhouse loved for its ribs, is set up for functions of all kinds – from intimate family celebrations to large corporate events. Plus there's a semi-private side room that can host up to 45 people. You can arrange your own decor and DJ, or let them do it for you. Book a spot for any and every occasion in the spacious Knife Restaurant.
Capacity: Two to 200 guests seated. More for a casual stand-around function.
Nice to know: You get a free meal in your birthday month if you bring a party of five or more (minimum six, including yourself) at the Knife Restaurant birthday special.

Crystal Towers | Corner of Century Boulevard and Rialto Road, Century City, Cape Town | +27 (0)21 551 5000
PARIS IN THE WINELANDS
An explosion of green on Franschhoek's Wemmershoek Road. Every kind of wedding "environment" you can dream up. Massive grounds for outdoor events, a versatile indoor banquet hall or intimate cellar venue. Discover La Paris Estate, with a bistro, deli and on-site bakery for your next function in Franschhoek.
Capacity: 90–450 people
Nice to know: All of this just 12 minutes outside of Paarl and Franschhoek.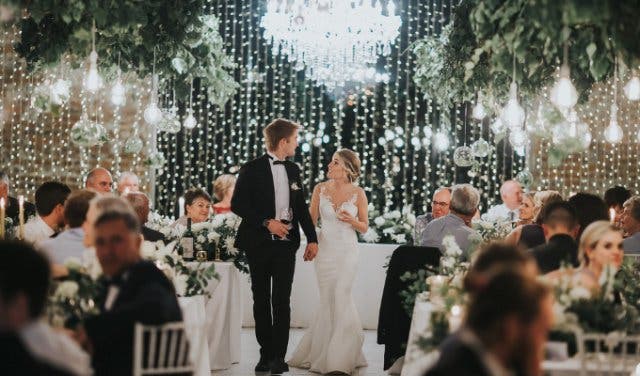 R301, Wemmershoek Road, Franschhoek | +27 (21) 8670171 | events@laparis.co.za
BEACH, POOL AND MUSIC AT THE V&A
This picturesque venue offers the best of both worlds: A man-made beach featuring two pools (one of which is an infinity pool) and a sophisticated eatery. Inside, oak wood floors and dining tables offer a classier alternative. Shimmy Beach staff and a dedicated events manager are always on hand to help you create memorable moments for your corporate functions, company/brand launches, weddings and bachelor/ette parties. Year-end office parties get quite festive at the beach club too.
Capacity: 20–2200
Nice to know: An outdoor DJ stage provides the perfect setting to host a fun summer pool party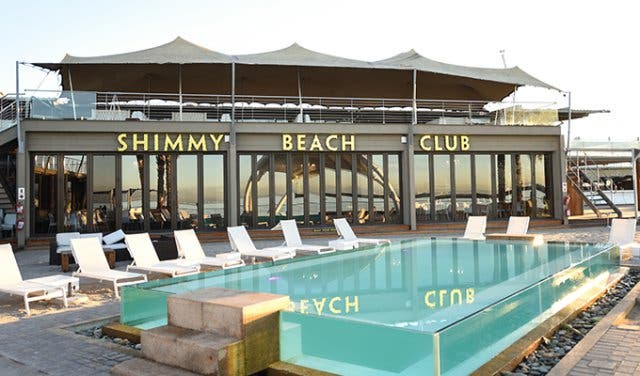 12 South Arm Road, V&A Waterfront, Cape Town | +27 (0)21 200 7778
PARTY THE NIGHT AWAY AT THIS BEAUTIFUL STELLENBOSCH VINEYARD
Haskell Vineyards is the idyllic setting for an intimate function. The picnic area is ideal for an informal function like a family picnic or a baby shower, while the Longtable Restaurant can seat guests and a dance floor can be set up outside. It is an excellent location for beautiful views and to dance the night away under the stars. There are also two houses that are perfectly suited for the bride and groom to get ready in or spend the wedding night. Read about their 2019 Platter's award and find out about Haskell's 2019 sundowners and picnics.
Best for: Intimate weddings and functions
Capacity: The Longtable Restaurant is also the perfect venue for a small wedding, as it seats up to 75 people, and 120 maximum if you incorporate the outside area as well.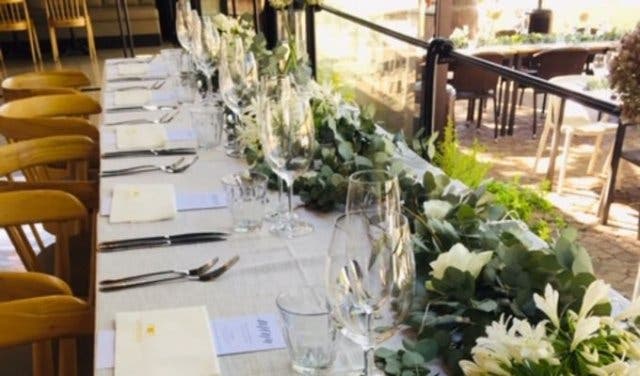 Haskell Vineyards | Annandale Road (off the R44) | Somerset West | +27 (0)21 881 3746
BE A PART OF THE ACTION ON LONG STREET
A familiar favourite on top of bustling Long Street, Lola's is available every evening for private functions. The décor is warm and lush with plants, and its contemporary bistro fare includes steamed, perfectly plump mussels, beautifully-cooked fish and the famous Karan steak sandwich. It's the perfect venue for small to medium groups looking for their own private space, where one can watch the night on Long Street unfold at Lola's.
Capacity: 20–50 (minimum booking of 15 is required)
Nice to know: Also available for engagement parties and film and photoshoots

228 Long Street | Cape Town | +27( 0)21 423 088 5228 | hello@lolas.co.za
---
Pitch your tent beneath a canopy of stars at any of these camping sites.
Join the shiny happy people floating to happiness on the river at Wolfkop Weekender.

There's a variety of wines on offer at the boutique wine shop and tasting bar, Frogitt & Vonkel.
Experience the city's hottest new live, local music venue – The Jagger Lounge.
Plush hotels suites at the epicentre of Cape Town at Cartel House Hotel.
From lofts among the trees to a luxurious seven-bedroom villa surrounded by vineyards at Marianne Wine Estate. Plus, if you're an SA or SADC resident, you get a 20% discount off your stay.
One of Stellenbosch's most peaceful, pretty escapes. Have you been to Jordan Wine Estate?
They are known for their very big steaks, but they also serve tapas at Dale's Black Angus. Check out their everyday lunch menu and Sunday roast and carvery.
Get together and eat shisa nyama and soul food at MV Meat Lounge in Nyanga East.
Find team building activities you'll actually enjoy in our overview of team building Cape Town.

Rock the night away with legendary pizzas, classic tunes, musically inspired cocktails, friendly vibes and weekly pizza and burger specials at Sgt Pepper on Long Street. They can also host your party for free on Mondays.
Do something adventurous and check out Zeestock Adventure Lodge.
Have a look at our updated overview of free things to do for your birthday.
Party in an underwater world, hang out on a city rooftop or escape into nature at these great birthday party places.
See the new Park Inn by Radisson Cape Town Foreshore here.
Unique function venue with a farm feel, group accommodation options and one-of-a-kind experiences? Discover the spank-tjing new Tjing Tjing Momiji. Discover our brilliant serviced office space in the heart of the city centre, as well as some lesser-known, yet quality co-working spaces in different suburbs of cape town.
Looking for ideas specifically for 21st, 30th and 50th bashes? Consult our guide to special birthday party venues in Cape Town.
---
Use our events section for an up-to-date overview of what's happening in the city, 'burbs and dorpies. Join our newsletter and get quick access on the go by adding us to your mobile home screen for the ultimate guide to discoveries in Cape Town.

Follow and like us on Twitter ❤ Facebook ❤ LinkedIn ❤ Instagram ❤ Pinterest for updates.