Spend a day in: Paarl
Discover the pearl of the Winelands
Picturesque Paarl stands as the largest wineland town in the country and can be found nestled between the Drakenstein and Paarl mountain ranges. It is the third oldest town in South Africa and is utterly draped in historical heritage and culture.
We spent a day in Paarl, and we thought it would be the perfect opportunity to take you along with us and introduce a new playground that you can (and should) explore and experience. Paarl is only an hour or less (depending on how much speeding you do) from Cape Town, and offers plenty of idyllic activities and places to visit.
Our trip to Paarl took place on a cold and rainy day, and we still had a blast. It is the perfect multi-season destination because it features activities suitable to both sunshine and rain. You might be thinking that vineyards (of which Paarl has many) are a summer destination, and in most cases you would be right, but imagine a charming wine farm, a gentle sprinkle of rain, a roaring fire in an old manor house and a glass of Gulhwein on which you sip while learning more about the wine world from the very best in the business.
Start your day with a little arts and crafts:
For those more creative souls, Fanglasstic is the place for you. This family-run glassware producer is the perfect place to visit for anyone who loves design and drawing. Even if you can't draw a stick man without someone asking what it is, then this is still an experience you can enjoy. Some of us at CapeTownMagazine.com have the artistic range of a squirrel, and we managed to make some pretty impressive looking stuff. In the workshop, you are taken through the production process and given useful insight into how the amazing artistry comes into being. There is also the added bonus of the endless inspiration of their finished products on display. The artwork displayed is simply amazing, and the creators themselves will be on hand to help you create your own masterpiece.
Fanglasstic | +27 (0)83 222 9823 | info@fanglasstic.co.za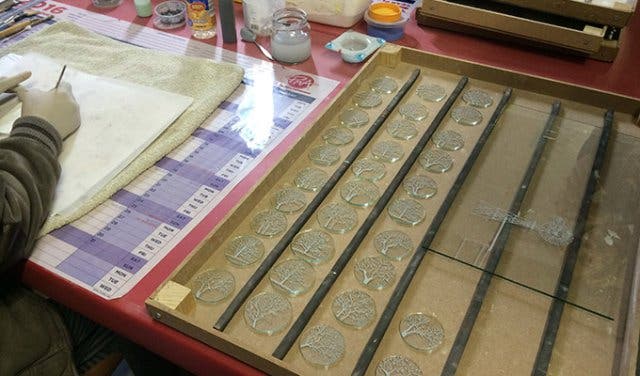 Spend some time having a scrumptious lunch:
After all of that creativity, you're bound to be pretty ravenous. Knus Karoo Kombuis is the perfect spot for a yummy bistro-style lunch. This picturesque little café is quaint and charming, with a menu that puts a modern spin on old Afrikaans classics. The koeksisters are the nicest ones we have ever tasted, ever. Choose from hearty comfort food, or instead opt for a lovely sweet treat. Knus is famous for their meat dishes as they get their meat fresh from the Karoo region, which includes their Karoo burger served on a homemade roosterkoek which is cooked over the fire pit outside. Still not enchanted? Well, the decor is not only homely and very country chic, there is also the added attraction of their thorny roof. Yes, you read that right. The ceiling above the coffee bar is covered in the branches from a camel thorn tree. Trés chic!
Knus Karoo Kombuis | +27 (0)21 876 8008 | Pieter Hugo Street, Paarl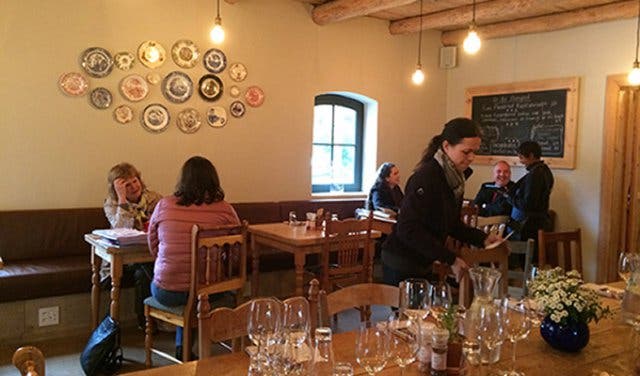 Finish off your afternoon with a wine experience like no other:
You cannot possibly go to Paarl and not experience the wine culture that they are so famous for. South Africa is known for wine, and for rugby. Our bokke are our shining glory, and we like nothing better than watching them smash their way to a win. Mitre's Edge, a family owned boutique winery on the outskirts of Paarl, has paired with three of our most beloved sportsmen to create a wine trio sensation. Head winemaker at Mitre's Edge, Lola Nicholls worked in collaboration with Eben Etzebeth, Scarra Ntubeni and Siya Kolisi to produce a Merlot which carries the characteristics that make Mitre's Edge wines so special. The players only produced enough of their 2015 Merlot to fill 500 bottles, and these are being sold in a gift pack along with a 2012 Cabernet Sauvignon and their signature wine the Sholto, also from 2012. The proceeds from this wine set will go to the Western Province Rugby President's Trust, which aims to develop the skills of springbok hopefuls from lower income areas.
Mitre's Edge does offer wine tasting experiences, and is open year-round by prior arrangement with the owners. Lola Nicholls used to be a wine maker at KWV, and 90% of Mitre's Edge grape crop goes to bigger wineries. That remaining 10% is used by Lola to create their wide variety of wines. Their Cabernet Sauvignon and Sholto have been awarded a four-and-a-half star rating from Platter's Wine Guide.
Mitre's Edge | +27 (0)21 875 5960 | info@mitres-edge.co.za
Paarl is home to some of South Africa's most well-known wine estates, including KWV, Nederburg and Boland Kelder. KWV has been an institution in SA's wine scene since its establishment in 1918. KWV's cellar is one of the largest of its kind in the world. Their tasting emporium is a must for any true lover of wine. Having said that, they are also very well-known for their brandy, port and even a large array of liqueurs. Wine pairing experiences are all the rage in Cape Town and are about as popular as markets, and we all know how much we enjoy a good market. The KWV tasting emporium offers a huge array of experiences that you simply have to try. Having very clear motivations, we partook in the sweet wine/liqueur and cake pairing and it was amazing. Not only is the alcohol sensational, but paired with the delicate little cakes the whole experience was delicious. They also offer the following pairings: sparkling wine and nougat, brandy and fudge, tea and chocolate, biltong & nuts and wine, chocolate and brandy, and general wine and brandy tastings.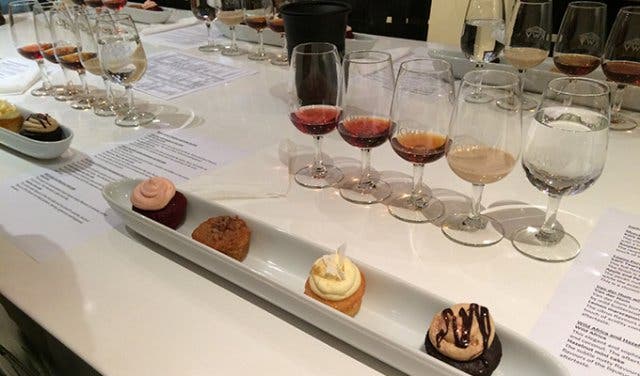 The tasting emporium is not actually on the KWV site, but instead is conveniently located just off the N1, making it relatively easy to find. For more KWV-style fun, why not visit their actual estate and explore all that this mammoth brand has to offer?
KWV Tasting Emporium | +27 (0)21 863 3803 | the_wine_emporium@kwv.co.za
Paarl is as jam-packed with fun activities as any other Winelands town, and is definitely worth a visit. Need directions? Just get on the N1 and keep driving until you get to Paarl, it's that easy. For more information on other things to do in Paarl, take a look at Paarl Tourism's website (Paarlonline.com) for the low-down on local hot-spots and essential places to visit.
If you fancy exploring somewhere a little closer to town, why not have a look at our Spend A Day in Kalk Bay? There's loads of fun stuff to do with people of all ages, and even some insider info on the best places!
By Charlotte Rogers
---
From lofts among the trees to a luxurious seven bedroom villa surrounded by vineyards at Marianne Wine Estate. Plus, if you're an SA or SADC resident, you get a 20% discount off your stay.
A day of polo for a good cause at the Cintron Pink Polo event in Paarl.
---
Free beer, kassler, eisbein and lederhosen at Wilderer First Fridays.
If you are on the search for the best wine tasting venues and vineyards, have a look at our list of our 20 Favourite Places to do wine Tastings in and around Cape Town. If you're having rather wine-derful time drinking your way through Paarl and you need something to absorb all that alcohol, take a look at our selection of Restaurants at Wine Estates in Paarl.
---
Use our events section for an up-to-date overview of happenings in Cape Town. Also, don't forget to subscribe to our newsletter.
Follow us on Twitter, like us on Facebook, connect with us on LinkedIn, check out our photos on Instagram and follow our Pinterest boards for updates on what's happening in and around the Mother City!