Restaurants offering food and wine pairings in Cape Town
Go on, spoil yourself to a tasting menu paired with top Cape wine
Last Updated: 12 April 2017
With the Cape Winelands on our doorstep, local wine has a long history of being a staple at Cape Town's restaurants. Experts in food and wine pairing, our chefs and sommeliers have a far more complex approach than simply, 'red goes with meat and white goes with fish'.

Rust en Vrede
The original cellar is a National Monument and has been converted into a central kitchen, surrounded by a relaxed and ambient restaurant. "Our quail and fig, with braised bacon, goat's milk and pistachio cream and a pickled beetroot purée should be paired with Nature in Concert Pinot Noir 2009," says head chef, David Higgs. And that's just one of the courses.
Menus: Four courses are R720p/p and a six-course, food and wine pairing menu R1450.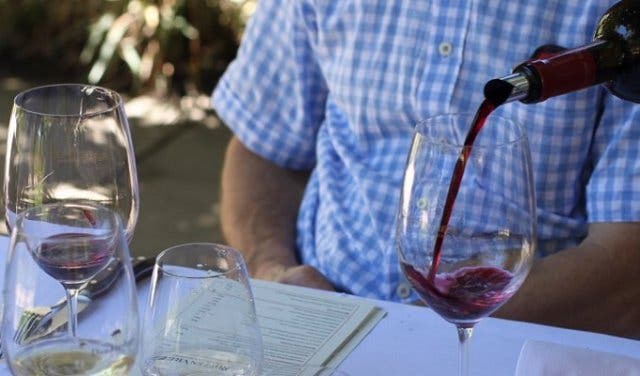 Rust en Vrede Wine Estate | Stellenbosch | Cape Town | +27 (0)21 881 3757

Towerbosch Restaurant
In a semi-renovated house, tucked into a corner of a beautifully manicured valley, you'll find handmade chandeliers, antique crockery and sophisticated food and wine pairings to boot. The Pantère 2005 is an undemanding red blend that walks hand-in-hand across your taste buds with slow roasted shoulder of lamb. We found Towerbosch enchanting.
Menus: A menu of traditional favourites and famous Country Feast Menu lunches for R265p/p, on Sundays.


Knorhoek Wine Farm | Knorhoek Road | off R44 | Koelenhof | Stellenbosch | Cape Town | +27 (0)21 865 2627

The Foodbarn
After a care free drive over Chapman's Peak, stop at family-friendly, Noordhoek Farm Village for food prepared with respect, savvy and love. The Steenberg menu pairs fresh, grilled fish on pissaladière (thin crust pizza) with garlic cream, with Steenberg Nebbiolo 2009. Read more about the Foodbarn.
Menus: Tasting Menu with wine pairings at R695p/p.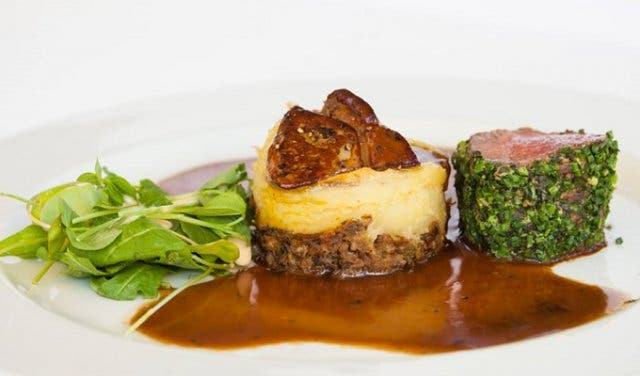 Noordhoek Farm Village | Corner of Village Lane and Noordhoek Main Road | Noordhoek | +27 (0)21 789 1390

Backsberg Restaurant
A drive up the long, acacia and oak tree-lined driveway leads to a lingering lunch. "Our signature lamb on the spit is best washed down with Family Reserve blend," says restaurant manager, Dalene Kapah. We found dining at Backsberg blissful.
Menus: A varied à la carte menu featuring traditional South African fare, and a three-course, set menu, priced at R2500p/p, is served on Sundays.


Backsberg Estate Cellars | Simondium Road | Paarl | Cape Town | +27 (0)21 875 5141

The Greenhouse
Award-winning chef, Peter Tempelhoff, has conceptualised a menu full of exciting surprises. Try shellfish on 'the beach 'comprised of: scallop, langoustine, prawn crouton, edible sea sand and sea foam, paired with Buitenverwatching Chardonnay 2010.
Menus: The African Hunter Menu with wine-pairings is R1600p/p and the African Gatherer Menu with wine pairings is R1400p/p.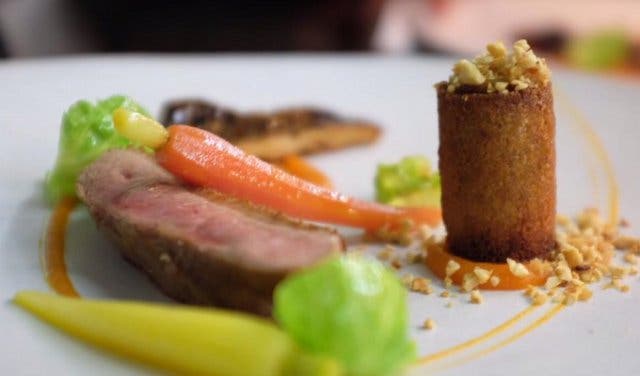 93 Bromersvlei Road | Constantia | Cape Town | +27 (0)21 794 2137

Planet Restaurant
The fine dining extension of the famous Planet Bar features a milkyway carpet, zodiac-themed mirrors and a star-inspired chandelier. Journey through foodie space via chef Rudi Liebenberg's six course menu, which showcases diverse ways of presenting seasonal vegetables. We enjoyed pairing Planet Restaurant's tomato selection, including hard-to-find, green Spanish tomatoes, with a Neil Ellis Sauvignon Blanc.
Menus: Five Course dinner with wine pairings cost R1285p/p.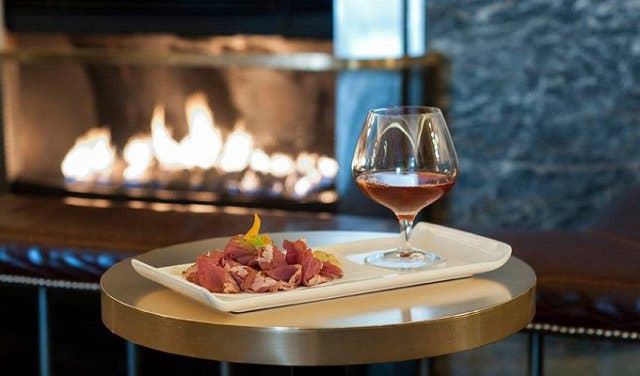 Mount Nelson Hotel | 76 Orange Street | Gardens | Cape Town | +27 (0)21 483 1000

The Restaurant at Waterkloof
Dine inside a glass box, where vines, ocean and sky are displayed next to artistic works from the Everard Read gallery. French chef Gregory Czarnecki serves up starters like the oyster mushrooms, served on a Venetian, porcelain plate with a bird's nest of crisp wisps, and paired with Waterkloof Viognier. Read more about Waterkloof.
Menus: The Degustation Menu with wine pairings is R1350p/p.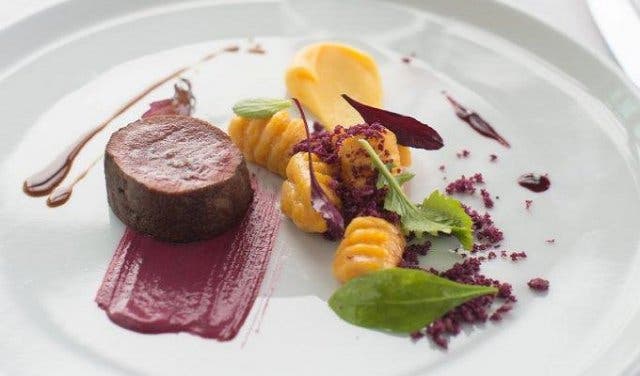 Sir Lowry's Pass Road | Somerset West | Cape Town | +27 (0)21 858 1491

La Colombe
"My signature dish is pan-fried scallops with langoustine glazed, confit pork belly, smoked parsnip purée and black forest ham veloute, served with pea and lemon dressing and pork crackling," says head chef, Scot Kirton, "I recommend pairing this dish with Raats Chenin Blanc 2008." There's a French-inspired tasting menu worth lingering over at this homely, country-style restaurant. Read more about La Colombe.
Menus: The Full Gourmand Menu with wine pairings cost R1890p/p.


La Colombe at Constantia Uitsig Wine Estate | Constantia | Cape Town | +27 (0)21 794 2390

La Mouette
"Our signature dish of roasted beef sirloin, smoked mash, caramelised shallots, port 'caviar' and oxtail sauce, is paired with Warwick First Lady Cabernet Sauvignon," says co-owner, Gerrit Bruwer. Enjoy in one of three dining rooms or in an airy, outdoor courtyard.Read more about La Mouette.
Menus: The six-course tasting menu with wine pairings costs R820p/p.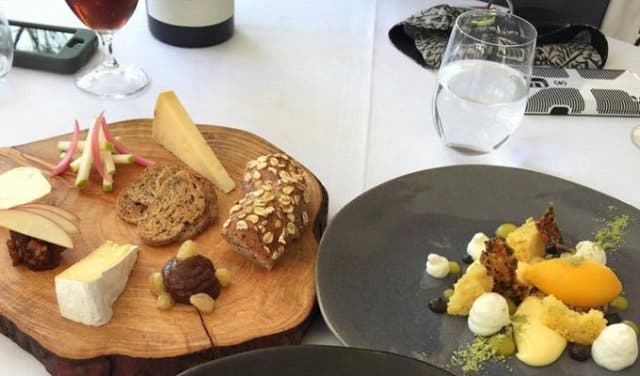 78 Regent Road | Sea Point | Cape Town | +27 (0)21 433 0856

Aubergine
The former home circa 1830 of the first chief justice of the Cape, Sir John Wylde, has been transformed into a contemporary venue with charming fireplaces, refined private dining areas and alfresco dining under the African sky at night. Pair aubergine involtini, fried in a potato coat and served with a pumpkin seed vinaigrette, with Aubergine Cuvee Chenin Blanc (made exclusively for Aubergine by Teddy Hall).
Menus: Tasting menu: three courses R790 with wine; four courses for R990 with wine; and five courses for R1200 with wine.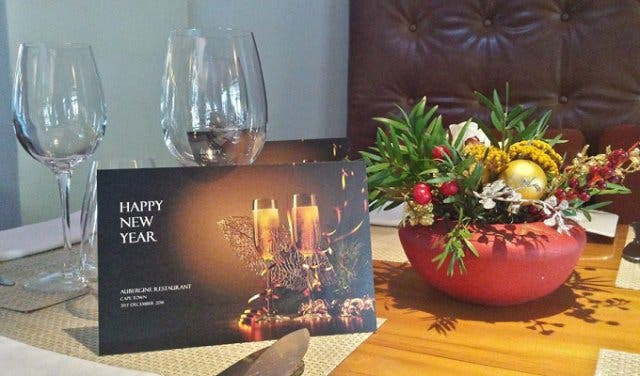 39 Barnet Street | Gardens | Cape Town | +27 (0)21 465 4909


Visit our restaurants section, subscribe to our newsletter, follow us on Facebook and follow us on Twitter.

---
Indulge in a decadent cut of steak at HQ's Raise The Steaks.
---
Check out our events section for an up-to-date overview of happenings in Cape Town. Also, don't forget to subscribe to our newsletter and if you have a smartphone, add m.capetownmagazine.com to your home screen for quick access on the go!
Follow us on Twitter, like us on Facebook, join our Google+ circle, connect with us on LinkedIn, check out our photos on Instagram and follow our Pinterest boards for updates on what's happening in and around the Mother City!