Fancy Dress Costume Hire in Cape Town
Making your way to a dress-up party, Halloween hoedown or masquerade ball? Browse our list of costume hire companies to find the perfect party look!
Last Updated: 18 October 2018
We all know that getting kitted out for a fancy dress party can be a daunting affair. Do you succumb to social pressure and dress to impress with something risqué or go all out with an outfit that's wild and wacky? The choice is ultimately yours, but whether it's bold or brash, hero or villain, sexpot or sailor you're after, with the help of our overview of costume hire companies in Cape Town, you're bound to stand out from the crowd.
AUTHENTIC HOLLYWOOD-CALIBRE COSTUMES TO WOW
Step closer to the stuff of legends for your next themed party. From Hollywood movie outfits to vintage and roaring 20s costumes, this is where you want to be. Wow them with luxury rental costumes made by Emmy- and SAFTA-nominated costume makers and an Oscars panel judge. Forget the oddly-smelling party shop up the road, step into the authentic Theatre and Film Costume Workshop for themed parties. Also check out their Wednesday 25% off costume hire special.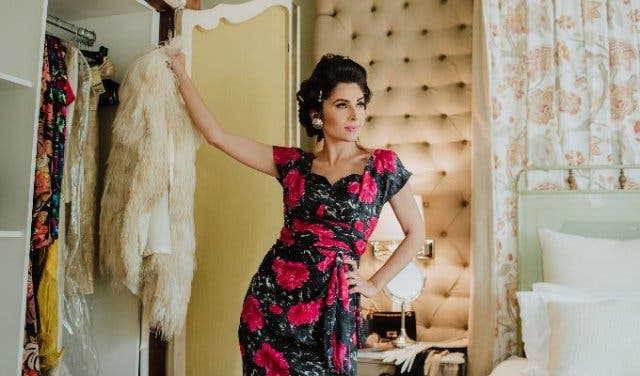 Plus: The movie thing is real. Here's just one of the hundreds if productions they did recently:

6 Upper Camp Road | Maitland | +27 (0)21 510 4007 | tfcw@iafrica.com
Mardi Gras
Founded in 1999, this Cape Town costume hire business stocks fancy dress for any occasion. Costume options include character get-ups (Shrek, Batman, sumo wrestlers and the like); 60s-, 70s- and 80s-inspired outfits; pirate, cowboy and Indian garb; movie star and medieval gear; and even adorable 'onesies'. The charming city centre shop also offers vintage frocks and evening gowns (think genuine 1920s garments). What's more, you can book out the store, have your pick of any outfit and enjoy a pre-party drink while you get dressed up! Not to mention, Mardi Gras also has all the gear, goodies and planning services required to put together an unforgettable hen or stag night. Plus, the shop sells the accessories (wigs, face paint, fake eyelashes and more) crucial to nailing that perfect look.
10 Loop Street | Cape Town +27 (0) 21 424 9716
Hollywood Costume
Looking to re-enact a specific movie scene or just want to win best dressed at a staff costume party? Well, you should check out Hollywood Costumes. The store gives you the best of both worlds: either fancy dressed or custom made costumes to suit a theatrical production. The items you desire can be bought or hired. Hollywood costumes covers a wide range of costumes and party accessories. In simple terms, whatever you need to host the perfect costume party or simply just look fabulous, then you a hollywood kind of person.
139 Albert Road | Woodstock | Cape Town | +27 (0)76 119 4202
Theatreland
What started as a small home-based business in Wynberg (Fancy That Costumes) has evolved into a larger-than-life costume hire store with all the get-ups under the sun. With thousands (yes, thousands!) of options to choose from, you're sure to find something just right at one of the brand's three branches. Even more exciting, this company hires out mascot costumes that are ideal for theatre, corporate marketing and sports teams (available via the Pinelands branch). New costumes are made daily by the in-house designers, so you'll never miss a beat – or a look – with Theatreland. Customers can also choose from a range of wigs, beards, moustaches, hats and masks to boot (available for purchase or hire).
55 Morningside Road | Pinelands | +27 (0) 21 531 5919
159 Main Road | Plumstead | +27 (0) 21 797 3002
16 Voortrekker Road | Tygerberg Centre | Bellville | +27 (0) 21 949 5782
This Is Not a Post Office
From the creators of the mighty Madame Zingara brand comes a rabbit hole filled with 'party kak and paraphernalia', as they put it. The set-up alone, with its wild colours, interleading spaces and all things bold, bright and sparkly, is reason enough to plan a visit, but the wacky wonderland does also offer up an array of fun accessories, quirky gifts and imaginative party gear for sale (not hire). From eccentric wigs and naughty toys to seasonally themed wear and standard costume attire, it's all here. And, to top it off, there's a creative team on hand to assist you with organising the finer details, from décor and props to goodie bags and entertainment, of your party or event.
114 Kloof Street | Tamboerskloof | +27 (0) 21 423 7817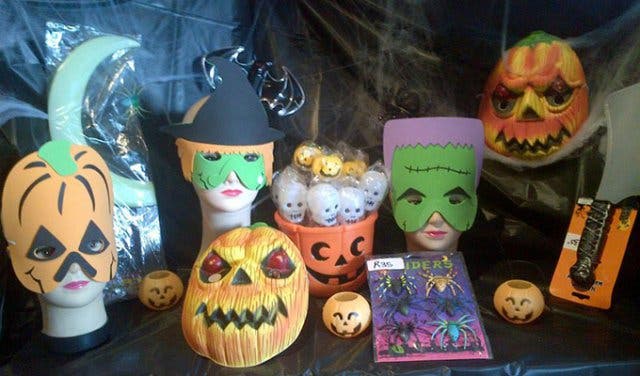 Annie's Angels
From feathers and fur coats to period, astronaut and war costumes, Annie's Angels (formerly known as Annie's Wardrobe) is bound to have something for any age and any look. The store is known as the largest hirer of contemporary wardrobe in South Africa and is also the only stockist of US Woodlands camouflage, a specific pattern that was no longer produced as of 2006. To boot, Annie's Angels is the number one supplier to the film industry (boasting outfits from the set of Blood Diamond!). With over 80 000 items, including an expansive kiddies range, there's no chance you'll leave empty-handed.
27 Durham Avenue | Salt River | +27 (0) 21 447 4050
BKE Costume Rental
Dying to dress up like Princess Leia, Cat Woman or maybe Disney's The Evil Queen? This Goodwood-based costume hire store specialises in Star Wars and superhero garb for adults. For those looking for something different, they also offer a range of more mainstream outfits, including everything from Teletubby one-pieces and clown costumes to pirate threads and period formalwear. All stock is for hire only.
21 Monte Vista Boulevard | Monte Vista | Goodwood |+27 (0) 73 198 6623
Showstoppers
Looking for a sexy burlesque outfit? Or maybe some naughty Oktoberfest-style attire? Then look no further – Showstoppers has what you need. Specialising in 'short and sexy' get-ups, plus-size fancy dress and kiddies' costumes, Showstoppers spoils customers for choice. In addition, they stock all the good, old favourites – from superhero to Wild West gear – and also sell the accessories required to give you the look you desire. Garments are both for sale and for rent, and the accommodating owner will also assist in sourcing your desired costume if it is not in stock. It is recommended that you make an appointment.
1 Blaauwberg Road | Tableview | +27 (0) 61 086 5919
Costumes WP
Choosing a dress up outfit is always tough, but it no longer has to be, thanks to Costumes WP. This Somerset West based costume paradise is filled to the rafter with every fancy dress outfit you could imagine. Want to mix and match? Feel free to build your own costume and rent whichever aspects you need. They've got wings, hats, masks, dresses, wings, plastic guns, suits, ties and accessories. Don't believe us? Some of their selection is on their website (Costumeswp.co.za), so head over there and have a look!
6 Dickenson Road | Somerset West | +27 (0)21 851 0244
Costume Wonderland
Costume Wonderland in Durbanville, which originally started as a kiddies costume business for ages three to 12, now stocks a wide range of adult garments, including medieval gear, cowboy outfits, pirate get-ups, character and animal costumes and Mexican, Indian and Arabian clothes. To add to your look, Wonderland Costumes sells wigs, feather boas, beards and moustaches, make-up and other accessories.
25 Wellington Road | Durbanville | +27 (0) 21 202 2448
Stage Creations
Specialising in party apparel hire for school dress-up days, Stage Creations boasts a wide variety of gear that includes medieval get-ups, Egyptian dos, character and villain costumes and loads of accessories – think everything from wigs to body paint. They offer threads perfect for a range of age groups, specifically two- to eight-year-olds, teenagers and adults. The Maitland store stocks latex and special effects make-up – so if you're looking to vamp up your Halloween costume or get kitted out like Count Dracula, this is the place for you. Stage Creations also offers a range of made-to-measure mascots for both hire and purchase.
21 Upper Camp Road | Maitland | +27 (0) 21 510 1820 or +27 (0) 83 789 2970
Kids Fancy Dress Costumes
Kids Fancy Dress stocks a range of girls and boys costumes for both tots and teens. Visitors can expect the likes of Barbie, Tinkerbell, the characters from High School Musical, Hannah Montana and The Little Mermaid. There are also plenty of animal costumes, superhero, pirate, cowboy, knight, Harry Potter, Monsters Inc and Ben 10 outfits… and much more! You can also hire one of their staff members to come dressed in a mascot costume – so little ones can be wowed by the appearance of Minnie or Mickey Mouse, Hello Kitty, Winnie the Pooh or Barney. Items are for hire only.
Shop 5 | Lifestyle Centre | Parklands Main Road | Parklands | +27 (0) 21 557 6891
---
Free beer, kassler, eisbein and lederhosen at Wilderer First Fridays.

Show off your style at Fashion Clubbers' first birthday, Cirque Royale.
Laugh at the Queen and at yourself at this hilarious Cape Town drag show.
Our spirit of inclusion welcomes Mr Gay World back to our shores for Mr Gay World 2019.
Party with the LGBTQI crowd at these awesome gay and lesbian bars in Cape Town.
Throwing a party? Browse our overview of Birthday Party Venues in Cape Town for some inspiration.
---
Use our events section for an up-to-date overview of happenings in Cape Town. Also, don't forget to subscribe to our newsletter.

Follow us on Twitter, like us on Facebook, connect with us on LinkedIn, check out our photos on Instagram and follow our Pinterest boards for updates on what's happening in and around the Mother City!