Bombay to Manhattan: 5 Restaurants Where the Madame Zingara Magic Still Lives
Did you know the guys behind The Theatre of Dreams run these restaurants in Cape Town?
Choose your magic: Spend the night among crouching tigers and fairy lights; watch the sunset from a beach house in the suburbs; or sip on a piña colada tea in an urban oasis.
Oh yes, that good old Madame Zingara voodoo is still very much alive in Cape Town.

For those who don't know, Madame Zingara was a spectacular and celebrated 80-seater food experience that gave birth to the Theatre of Dreams – the award-winning travelling dinner cirque that conquered South Africa and Europe, palming in the accolades. And, although the final show in that famous vintage mirror tent (one of the last remaining in the world) was in 2016, you can recapture some of the spirit of the Madame Zingara experience at these five restaurants in the city.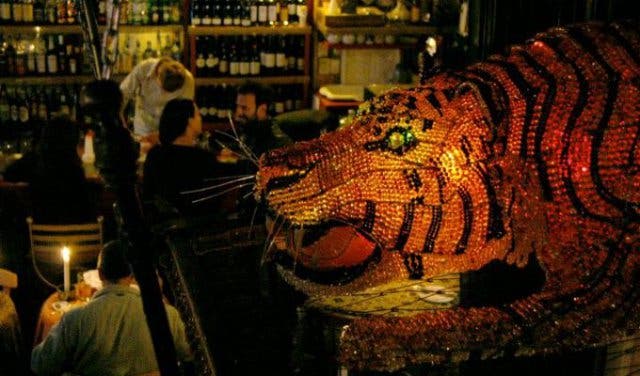 PARTY AT THE BOMBAY BICYCLE CLUB
Many come for the decor. The fairy lights, drapes instead of curtains, antiques and trinkets on every wall and swings in place of chairs. And don't be alarmed if you catch sight of a decorative tiger or two hanging from the ceiling. The lights are dim and the setting intimate, especially if you sit upstairs in the loft. The party isn't limited to inside – revellers can chill under the stars or dance on the pavement.
This wacky, bohemian jewel in Kloof Street is a good reminder not to take life too seriously, and to have a little fun. The Bombay Bicycle Club is just that – a party. People eat a lot and drink even more. You will be welcomed by a doorman draped in bright silk and the waiters are always in a festive mood. It's a place for friends to reunite (and for making new ones), and it's a favourite venue for celebrations of all kinds – inviting guests to stay up way past their bedtime.
The food and drinks are an experience all of their own – think the chocolate-chilli steak with a coffee martini. And, of course, there's a pleasant vibe with funky tunes to get you through the door and keep you there.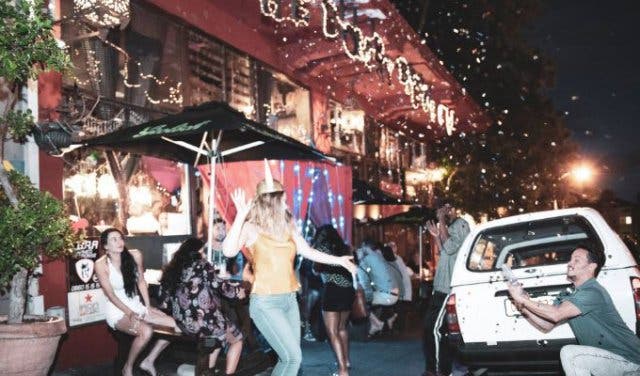 158 Kloof Street, Gardens | +27 (0)21 423 6805 | bombay@madamezingara.com
GIVE IN TO THE SIDEWALK CAFÉ'S CHARM
This delightful Vredehoek café, set against the backdrop of Table Mountain, has a beach-house feel. It is bright and sunny by day and becomes cosy and intimate by night.
The Sidewalk Café is disarmingly casual with just a dollop of sophistication and is perfect for lazy breakfasts, leisurely lunches, sundowners or romantic dinners. When the sun is shining, the cute benches outside offer a real neighbourhood atmosphere and some fresh air. If you plan on staying for a while, there is free Wi-Fi and plenty of plug points.
The food offers familiar South African flavours, presented with a touch of French flair. Get a good start to the day with the wicked classic breakfast stack. And when they say stack, they mean it. Between two ciabatta slices is a towering pile of bacon, egg, tomato, mushrooms, a hash brown and a pork sausage. Think you can handle that? Otherwise, pop in for a midday cajun calamari sandwich. After a long day, relax at the counter with a cold glass of rosé while you watch the sun set over the mountains.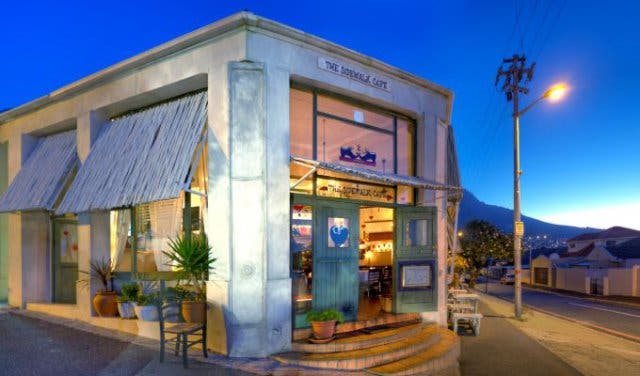 33 Derry Street, Vredehoek | +27 (0)21 461 2839 | sidewalk@madamezingara.com
BRING THE FAM TO CAFÉ PARADISO
On a perfect day, you'll want to sit under a canopy of trees in the beautiful garden setting as you take in the mountain views. When it's a bit chilly, the interior is warm and inviting as the fires roar and the smell emanating from the bakery puts you at ease.
The cosy, sprawling house of Café Paradiso in Kloof Street is a touch of country in the middle of the city. They make the pasta fresh in-house and there's a farm-style bakery producing breads and treats every day.
The menu is a tempting array of light meals. Think risottos, roasted chicken dishes and grilled sirloin with Café de Paris butter. There are antipasti platters, too, and decadent breakfasts. But the big drawcard is the 100% authentic Italian wood-fired pizzas.
Proudly family- and pet-friendly, Café Paradiso sports a "kids' projects" section where the brood can get their hands dirty in the bakery making things like pizza, gingerbread men, cupcakes and cookies while mom and dad enjoy some wine and quiet time.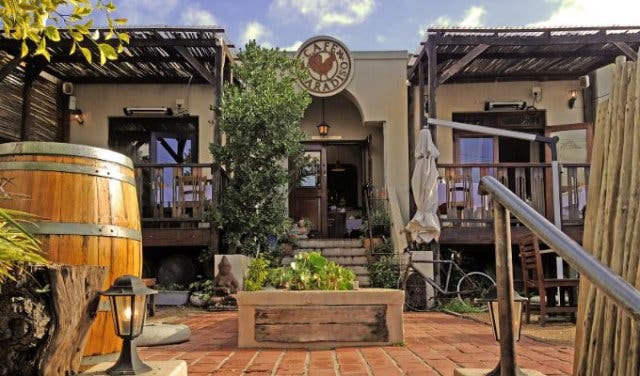 110 Kloof Street, Gardens | +27 (0)21 422 0403 | cafeparadiso@madamezingara.com
PAINT THE NIGHT RED AT CAFÉ MANHATTAN
With a splash of the Wild West and a hint of mischief, the Madame Zingara stable has restored this lively gay eatery in the heart of the trendy De Waterkant. It's a great place for a cheeky afternoon cocktail on the shaded terrace, a quick bite to eat or a late night rendezvous.
The decor is industrial-chic but cheerful and bright. Whether you're surrounded by pot plants or trees outside, or sitting on the couch inside next to the wall of old clocks (which might mean time to party), the vibe is always palpable.
There are bar snacks galore, but also mains like a fillet steak (beef or ostrich) with portobello mushrooms, rocket and skinny fries. Or try the Dirty Mexican, a char-grilled burger with choc chilli sauce.

74 Waterkant Street, De Waterkant | +27 (0)21 421 6666 | manhattan@madamezingara.com
SIT IN SERENITY AT THE COMPANY'S GARDEN RESTAURANT
Sip on a pina colada tea over a feta and spinach phyllo pie before challenging your date to a game of chess on the giant chessboard. Here at The Company's Garden is where you escape the bustle of the city centre and relax in the shade of the towering trees as squirrels scurry home.
For the little ones, there are a series of whimsical oversized weaver nest-style structures that hang from the trees and make for fabulous climbing frames, a large swing that's a perfect reading base, and plenty of open green spaces for running and relaxing on.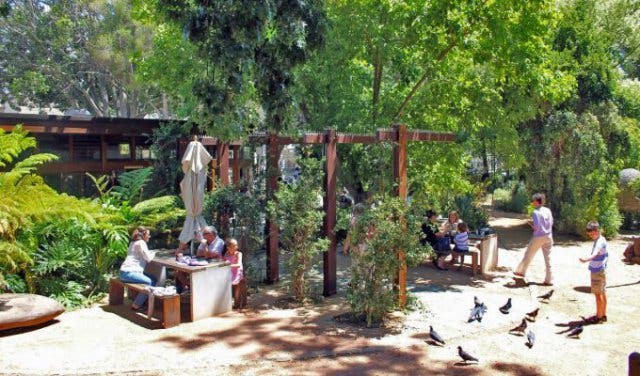 15 Queen Victoria Street | +27 (0)21 423 2919 | gardens@madamezingara.com

Read about all five restaurant's daily 2-for-1 happy hour specials.




By Daryn Wood
---
For a caffeine fix, pop into these coffee shops, or go for a hearty breakfast in Cape Town.
These are great places to have lunch or get a good steak.
For a good night out, head over to these party places in Cape Town.
---
Use our events section for an up-to-date overview of what's happening in the city, suburbs and dorpies. Join our newsletter and add us to your mobile home screen for the ultimate guide to discoveries in Cape Town.
Follow and like us on Twitter ❤ Facebook ❤ LinkedIn ❤ Instagram ❤ Pinterest for updates.