Openwine in Cape Town
The Mother City's first enoteca offering a wide selection of proudly South African wine
Enoteca (plural enotecas)
noun
An Italian word derived from the Greek word Οινοθήκη, which literally means 'wine repository'.
A wine bar giving visitors or tourists the opportunity to sample locally-produced wine with a view of buying it.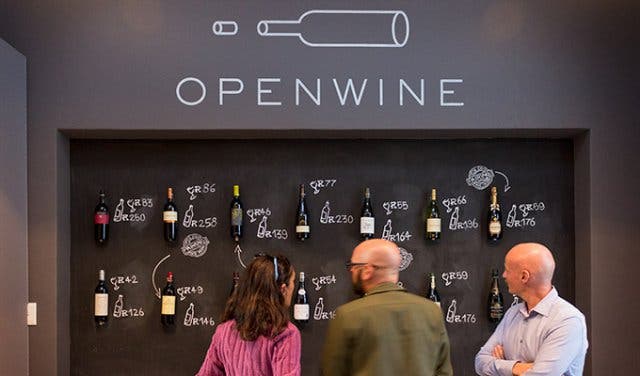 "Openwine is an enoteca", explains Raphael Paterniti, who co-owns the new inner-city vino haunt along with his partner Marta Gobbo. "It's a place of wine, where the wine is at the centre and you're invited to come inside and discover our wines."
Tucked away neatly on Cape Town's bustling Wale Street, Openwine – which officially launched in July 2016 – is an all-new Mother City wine-concept store that invites customers to indulge in a wide selection of proudly South African wines served with an Italian-cum-French flair. Dedicated to all things vino, Openwine is the ultimate wine-lovers paradise offering patrons a vino-experience like none other in the city. From the moment you step on the white 'flying carpet' painted on the floor outside the site's entrance, oenophilias are truly taken on a magical wine tasting-ride of some of the finest vintages known to the Cape.
Independently showcasing a wide range of South African wines (think Tamboerskloof, Kanonkop, Anthonij Rupert and Tokara, to name only few) all under one roof, Raphael and Marta selected Openwine's first vino-offering owing to their personal experiences and love for each vintage. Their selection process is somewhat intricate as they not only wish to taste each wine and visit the winery but also meet its creator. "We really like to meet the winemaker so that we have a story to tell about the wines rather than just serving it – it's important to build a relationship", Marta explains.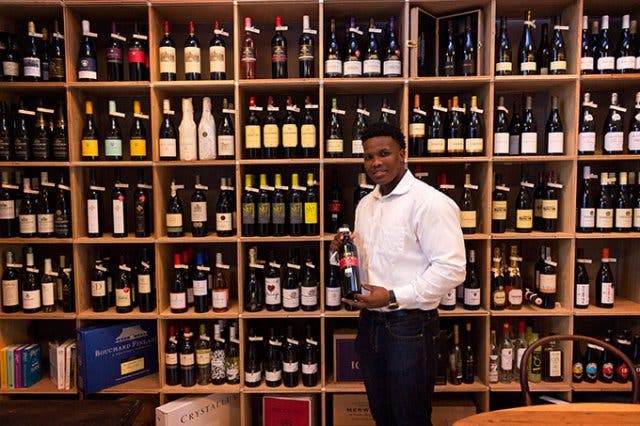 Dividing the space into three sections; The Kitchen, The Lounge and The Cellar, Raphael and Marta wish to create an inclusive space to enjoy a glass (or two) of good quality local wine with a European-twist. "We only deal with South African wines", Marta says. "The idea is to serve them in a French and Italian way." (Raphael is originally French and Marta Italian.) "We also want people to be able to come here and read about our wines and discover a wine for them to taste", Raphael adds.
The Kitchen area contains a bar-like counter compete with high stools as well as a wood-fired pizza oven. Guests are encouraged to sniff, swirl and sip in the informal setting whilst nibbling on some delectable bite-size treats prepared by Marta and Openwine's expert kitchen team.
The Lounge offers guests a more comfortable setting: "You can have a seat on the couch and enjoy a glass of full-bodied red while watching our wonderful TV", Raphael enthuses referring to the large open street-facing window. "The picture changes constantly", he quips.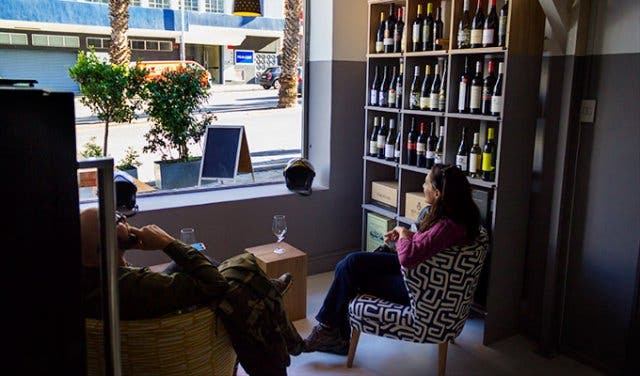 It's The Cellar, however, or the "the heart of Openwine" that has everyone talking and comprises a floor-to-wall wine shelf filled with various reds, whites and bubblys as well as a black chalkboard-wall mounted with various wine bottles. "Our idea is to have a large selection of wine by the glass", Raphael explains. "Not only what you see on our drinkable blackboard but we can also open any other bottles found on the wine shelf." Equipped with a couple wooden tables and chairs – all made- and sourced-locally – The Cellar provides the ultimate atmosphere to discover the true essence of each wine.
"The Cellar is mine, The Kitchen Marta's and we meet in The Lounge", Raphael laughs.
Although Openwine cannot be described as a restaurant, it does serve some wine-inspired food items. "The idea is to start with the wine, so we don't have a normal three course menu but instead have a short menu that changes weekly and is composed for the wine lover", Raphael enlightens. The weekly-changing chalkboard menu comprises four dishes each paired with a suggested wine; one for the bubbly-lover, the white-fanatic, a light red wine drinker as well as for the full-bodied red devotee. "We propose you try the food pairing option, which is a half portion of each dish with a glass of the suggested wine", suggests Raphael. "Obviously you're also welcome to order one of the dishes and choose your own wine to accompany it."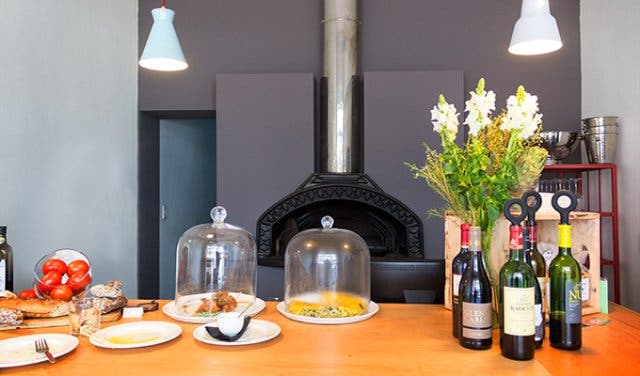 Passionate for South African products and in realising its high-quality, Openwine strives to work closely with the various wine farms they feature in-store, aiming to not only house their vintages but also any other top-notch products from the farm such as olive oil. Openwine also serves a tasting of local craft beers, gin and olive oil.
"We're building a stronger connection with the wineries because we want them to come to us to present their wines and use us as an office in town; as a place for them to display their wines", Raphael concludes. "We want to share our wine and knowledge as well as learn more from our customers and wineries. This is a place for wine and the wine is at the centre."
NOTE: In the future, Openwine aims to further extend their current South African craft beer offering by devoloping some beer and food pairing options. What's more, although they don't have the licence just yet, in the near future Openwine also aims to retail their wines.
"Foodage" Tip: This concept is Raphael and Marta's take on 'corkage'. While they will not accept patrons bringing a bottle of wine that Openwine already houses, they're open to people bringing a new bottle of good quality wine – as long as they're willing to share and experience the wine with the owners. Furthermore, in realising that they're not a restaurant, Openwine will not dispute if customers bring in their own quality food – at a small fee, similar to the corkage concept.
The Bill: Varies as the wine selection and food dishes continually change. For a rough idea, however, wine by the glass ranges between R42 and R90 whereas a bottle of wine can cost anything between R126 and R269. For one of Openwine's food dishes, you can look at paying between R80 and R145 and for the Full Pairing around R255.
*Please note that the above prices are a rough indication and are subject to change.
Opening Hours: Monday to Friday: 12pm – 8pm | Times may adapt with events and seasons

72 Wale Street | CBD| info@openwine.co.za | +27 (0) 21 422 0800
by Krysia Gaweda
Image and Video Credit: Josh Oates
---
ABOUT #CapeTownMagNew:
#CapeTownMagNew is a long-standing project that is dedicated to discovering exciting new places in and around our pretty city. We tell their stories, find out what they offer, and delve into what makes them unique. From cafés and restaurants to trampoline parks and dog hotels, there is always one new place in the city that we uncover each week. You can follow #CapeTownMagNew on Twitter and Facebook and subscribe to our newsletter to track recent features or read more here about more Hot Spots and New Restaurants in Cape Town and Surrounds.
DISCOVER OTHER EXCITING NEW SPOTS IN THE CITY:
Mulberry & Prince Kitchen and Bar

---
Discover the artisanal and unique wines of the Western Cape at the Publik Wine Fair.
New: Strictly African food in a unique Mzansi-style at Afrobar & Pitso's Kitchen.
The Mother City is fast developing so to keep you clued up; we've rounded up some of the hottest latest additions to Cape Town in our New Restaurants and Hot Spots overview.
---
Use our events section for an up-to-date overview of happenings in Cape Town. Also, don't forget to subscribe to our newsletter.
Follow us on Twitter, like us on Facebook, connect with us on LinkedIn, check out our photos on Instagram and follow our Pinterest boards for updates on what's happening in and around the Mother City.