New: Lekker Vegan Junk Food Now Open Kloof Street
Lekker Vegan's gourmet veggie burgers, gatsbys, soft serve and more – just better and cruelty-free – are now open in a second location at Palmhof Centre on Kloof Street
The future of vegan fast food dawned on the city in late 2017 when Lekker Vegan opened its doors in the East City Precinct area. Since then, they have impressed vegans (and carnivores) so much that they have opened a second branch in Kloof Street.
LEKKER VEGAN IN KLOOF STREET
Lekker Vegan has opened at Palmhof Centre (the Checkers Centre). Word on the street is that they are applying for a liquor license, so it's sure to be popular with late night Kloof Street revellers. We hope that they will also stay open until 3am on Fridays and Saturdays as the Barrack/Harrington Street branch does, but for now they stay open until midnight on Fridays and Saturdays. There is a new outdoor seating area too, great for soaking up the afternoon sun.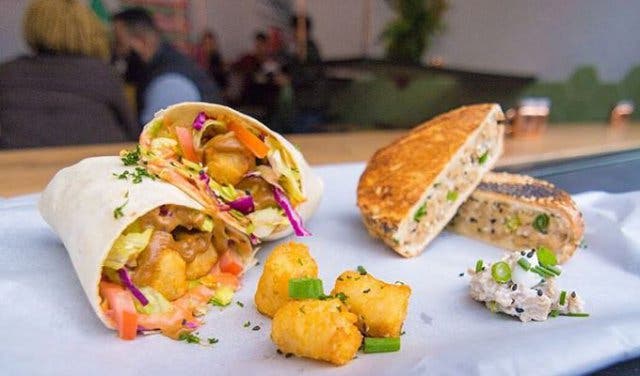 FROM AMSTERDAM TO CAPE TOWN
The eatery is owned by a Dutch family who ran a vegan restaurant in Amsterdam, where the idea of cruelty-free junk food is popular. Lekker Vegan showcases how tasty vegan food can be through popular take-out dishes. They brought the concept to Cape Town because they noticed a shift to plant-based diets. The owners claim that up to 80% of Lekker Vegan's patrons are non-vegan.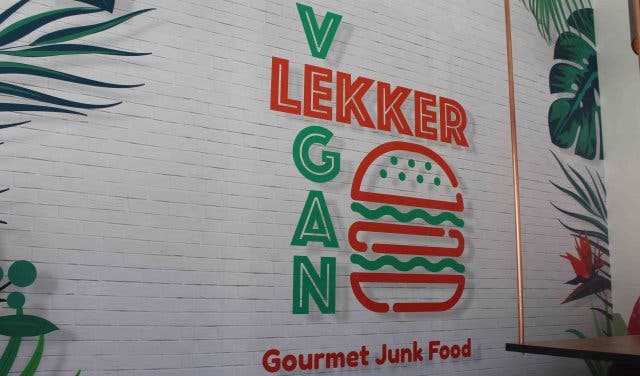 WHAT'S ON THE MENU?
Sink your teeth into a juicy, crispy burger with all the trimmings, rest assured that it's 100% cruelty-free. The "meat" products are made from soy and wheat protein, and contain no genetically-modified ingredients. The new lunch options include the Bunini Toastie, a panini-style toasted burger bun stuffed with vegan goodness. At R35, it's a steal! The lunch wrap (a "wrappy") includes deep-fried crispy chewy potato and onion balls wrapped together with sauce and salad and is also available in a gluten-free option. Desserts include chocolate cheesecake and coconut-based soft-serve ice-cream.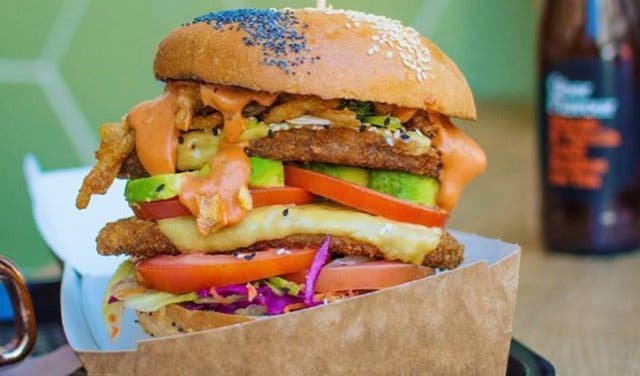 Tip: Lekker Vegan Barrack/Harrington Street is open until 3am on a Friday and Saturday.
The Bill: Food items range from R35 to R155
Hours:
Barrack/Harrington: Sun–Thurs: 12pm–10pm. Fri & Sat: 12pm–3am.
Kloof: Mon–Thurs: 10am-10pm. Fri 10am–midnight. Sat: 10pm–midnight. Sun: 11am–9pm.
LEKKER VEGAN
East City: 37 Barrack/Harrington Street | Cape Town. 076 734 7098
Kloof Street: 105 Kloof Street, Palmhof Centre (Checkers Centre) | Cape Town. 076 734 7098
---
New: Fast and healthy plant-powered food at Bamboo Plant Power in Loop Street.
Save your bacon with creative and delicious plant-based cooking at the Playful Vegan Cooking Course.
Get the details about the mysterious Dark Horse bar in Kloof Street.
Get good grub and support the spirit of Ubuntu at the same time at RobinHood Burger & Grill in Kloof Street.
See our round-up of veggie restaurants has something for everyone and these places with veggie options in Stellenbosch. If you love healthy food, see our list of healthy eateries in the city.
Experience all the new places in Cape Town and discover more things you can do in Kloof Street.
---
ABOUT #CapeTownMagNew:
#CapeTownMagNew discovers exciting new places in and around Cape Town and the Western Cape. CapeTownMagazine.com celebrates entrepreneurship by telling the unique story of your business. Follow #CapeTownMagNew on Twitter and Facebook to stay up to date on new places and experiences or read more here about new places in Cape Town.
---
Use our events section for an up-to-date overview of what's happening in the city, suburbs and dorpies. Join our newsletter and add capetownmagazine.com to your mobile home screen for quick access.

Follow and like us on Twitter ❤ Facebook ❤ LinkedIn ❤ Instagram ❤ Pinterest for updates.