The A-Z of South Africa's Great White Sharks
How they breach, their favourite eating spot, why you can't keep them in captivity and more
There's been speculation in the media that great white sharks have disappeared from False Bay. But about 170 kilometres away, in Gansbaai, they're still very present: the White Shark Diving Company (WSDC) says it has seen regular sightings since May, including 36 sharks over 20 good sea days in September. There are about 15 unique individuals in Kleinbaai that regularly pay WSDC's tourist boat a visit, it says.
Seeing one of these apex predators is a once-in-a-lifetime experience. If it's on your bucket list, book a great white shark-cage diving experience with WSDC.

But before you go, buff up on your knowledge. Here's the A to Z about one of the most misunderstood marine species on Earth.
AMPULLAE MAKE SHARKS SUPER-SENSITIVE
Ampullae of Lorenzini are minute pores positioned around the snout and eyes of a great white shark (and rays) that contain a gel sensitive to magnetic and electrical fields. These senses enable them to detect the electromagnetic field emitted by the movement of creatures. Recent research has shown that great white sharks are repelled by strong magnets because of this sixth sense.
BREACHING IS A HUNTING TECHNIQUE
Great white sharks breach when hunting agile prey, such as seals. According to ocean education website ocean.si.edu, they do this by swimming close to the surface, which allows them to reach speeds of up to 65 kilometres per hour. They can then propel themselves up to three metres into the air. To see a shark breach is a fairly rare occurrence and is generally only seen at particular times of the day and in certain conditions.

CARCHARODON CARCHARIAS IS ITS LATIN NAME
Carcharodon carcharias is the Latin name for the great white shark. More commonly, these fish are referred to as "great whites", "white sharks" or "the white death".
DYER ISLAND IS THEIR ULTIMATE SNACK BAR
Dyer Island, situated five nautical miles off the coast of Gansbaai and a roughly 15-minute boat ride away, is home to the shark's favourite food, seals, and consequently, the area has one of the densest known great white shark populations in South Africa (and even the world). Much shark research and viewing is conducted there.

EXPENSES: HERE'S THE COST TO SEE THEM
Shark-cage diving and viewing with the WSDC costs R1,900 to R2,200 for adults and R1,500 for children under 12. A shark-breaching-and-diving combo trip will cost divers R2,950pp.
FEEDING IS A SURFACE ACTIVITY
Great white sharks are surface feeders and thus all its feeding activity takes place on or very close to the top. Cape fur seals are South African great white sharks' primary source of nutrition. Luckily, there are about 50,000 to 60,000 seals living in the area of Gansbaai (hence the title of 'Great White Capital of the World').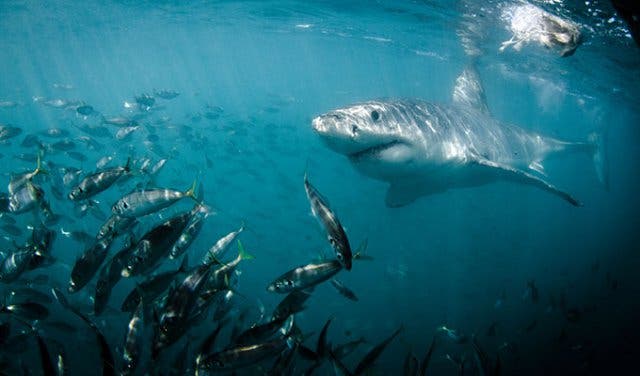 GANSBAAI IS GREAT WHITE SHARK MECCA
Gansbaai is only 170 km from the City of Cape Town (roughly a two-hour drive) in the Overberg region, and means "goose bay" in Afrikaans. The little coastal village is one of South Africa's greatest tourist attractions thanks to the prime shark research done there, and viewing and cage-diving opportunities.
HOOKAH MEANS ANYONE CAN DIVE
WSDC is the only cage-diving tour operator in Gansbaai to offer the exclusive Hookah cage-dive experience. The onboard air-supply system allows divers to remain underwater while in the cage for optimal shark viewing, with no previous diving experience necessary.
ID DOCUMENTS: SHARKS HAVE THEIR VERSION
The dorsal fin of each great white shark is unique and can be used as a way to identify individuals. WSDC's Shark & Marine Research Institute collaborates with Stellenbosch University to monitor the Great White Shark population via dorsal fin identification software called Identifin, which was designed by world-renowned Great White Shark expert, Dr Sara Andreotti.
JAWS SUCKED FOR SHARK CONSERVATION
Jaws was American-writer Peter Benchley's best-selling novel in 1974. The subsequent 1975 film adaptation directed by Steven Spielberg made the public view the great white shark undeservedly as a 'man eater'.
KILLER REPUTATION IS SO WRONG
Despite some people's opinions, great white sharks are not merciless killers. If anything, they are cautious predators.
LONG-LINE POACHING IS JUST ONE THREAT
Commercial long-line poaching for jaws, teeth and fins is one of the greatest threats to these sharks and could ultimately be responsible for their extinction. South African great white sharks are also being killed at an alarming rate due to the demand for shark-fin soup in the East. Then there are shark nets/'ghost' nets, drumlines, bycatch, and loss of food due to overfishing, as well as environmental changes. A five-year study, carried out between 2009 and 2014 and spearheaded by the University of Stellenbosch, recently revealed that only between 353 and 522 great white sharks still exist along the South African coastline. Their extinction could have a disastrous effect on the greater marine ecosystem.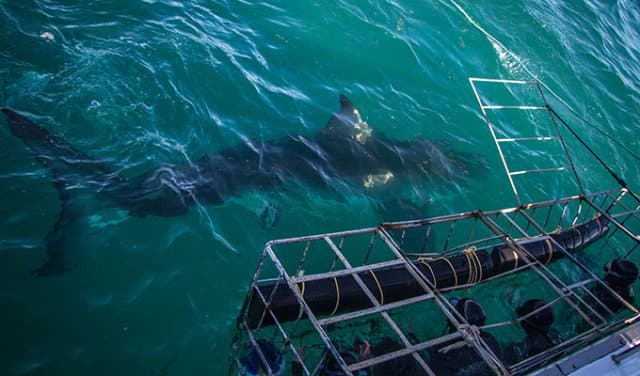 MATING HABITS ARE STILL LARGELY UNKNOWN
Researchers are largely in the dark when it comes to great white shark courtship, coupling and reproduction. What is known is that to reproduce, a great white shark needs to be at least four to five metres long. Most large sharks are ovoviviparous, meaning they incubate and hatch their eggs in the womb and only give birth to live young after they have developed enough to survive on their own, which is usually once they reach a metre long.

NO TO CAPTIVITY: THEY DIE
Many aquariums around the world have tried, but nowhere is the great white shark on display. In captivity, great whites sharks are known to become very stressed, even if everything is going right. Great white sharks are not used to hanging around in one spot for long periods of time as they prefer swimming large distances, and when placed in a tank, they constantly swim into the glass and eventually die.

OCEAN IS THEIR OYSTER
Great white sharks are found in almost all coastal and offshore waters in all major oceans, especially those bodies of water surrounding South Africa and Australia.

PROTECTING THESE SHARKS IS VITAL
WSDC is fully committed to the preservation of great white sharks and the marine environment as a whole. It has various conservation and social-responsibility initiatives and is involved in facilitating and funding several ocean conservation enterprises. WSDC supports on-going research through its non-profit organisation Shark & Marine Research Institute, which monitors the shark populations along the Gansbaai coast. Research projects are run in collaboration with the Department of Environmental Affairs and the University of Stellenbosch.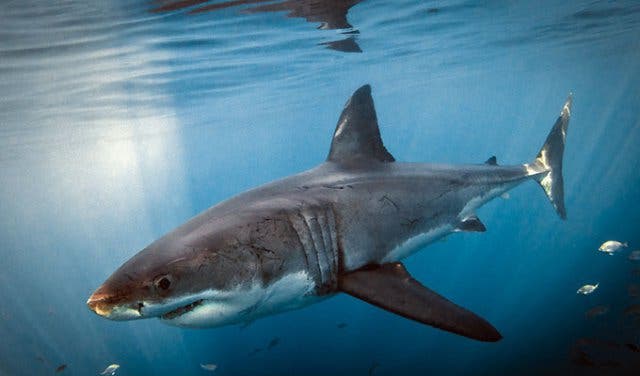 QUESTIONS: THERE ARE STILL SO MANY OF THEM
Despite years of research, we actually know very little about great white sharks and one of the most phenomenal aspects of these formidable creatures is their ability to remain elusive and unpredictable. A lot of information – how long they live, how many months they gestate for, when they reach maturity and so forth – revolving around great white sharks is still subject to debate because reports are often based on rough estimations or speculations.

RESEARCH IS IMPORTANT, AND WE SPREAD IT
WSDC conducts multiple collaborative research projects through its Shark & Marine Research Institute. From ethical angling, tagging, measuring and genetic sampling to data collection via snorkelling surveys conducted in the local kelp forests, where smaller shark species are caught by hand. All the data collected is analysed and submitted to a national database to aid the government in making better management decisions affecting our oceans and sharks.

SHARKSAFE BARRIER: WSDC IS TESTING IT
WSDC is involved in the innovative new technology to promote beachgoer safety, without costing the lives of marine creatures. The Sharksafe Barrier is an eco-friendly and non-lethal alternative to shark nets and drumlines that uses strong magnets (which we referred to in the A section above), and using a kelp forest-style barrier (see the above paragraph) that keeps great white sharks at bay.

THIS TEAM WILL KEEP YOU SAFE
WSDC's crew members are specialists in shark behaviour and have full safety authority credentials.

UNIQUE EXPERIENCES DON'T COME BETTER
Shark cage diving in South Africa is on the Top 10 experiences of virtually all South African travel guides. To ensure each diver has more dive time and thus a better personal experience with the great white sharks, WSDC allows a maximum of 22 passengers on board its boat and a maximum of eight divers in the floating cage.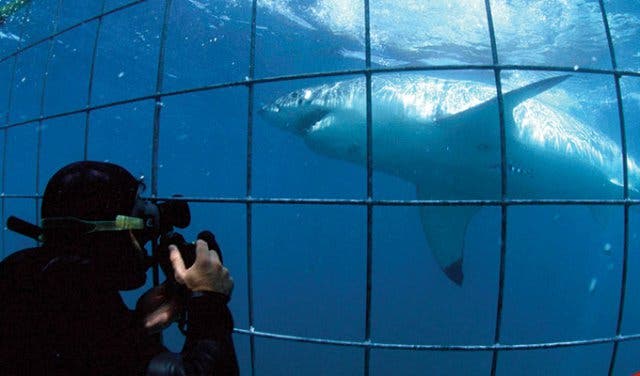 VOLUNTEERS, YOU'RE WELCOME
The WSDC's Volunteer Programme offers volunteers the chance to become involved in groundbreaking research whilst studying great white shark populations and their behaviour, shark and ray diversity and abundant fish biology, marine debris accumulation and ocean conservation. Assistant researchers will also receive first-hand experience onboard WSDC's tourist boat, play a vital role in data collection and management, as well as get ample cage diving time. WSDC is the winner of the TripAdvisor Certificate of Excellence for five years running, from 2014 to 2019.

WSDC IS A WINNER
WSDC is the winner of the TripAdvisor Certificate of Excellence for five years running, from 2014 to 2019, and is bound to get you closer to great whites than any other operator.

X-TRA FAST: THESE SHARKS MOVE IT
Sharks are poikilotherms, meaning they are 'cold-blooded' animals whose internal body temperature varies widely. Great white sharks, however, are unique in the sense that they are also heterothermic, which means that they maintain an internal body temperature that is around five to 15 degrees warmer than the surrounding water. The warmer temperature enables the muscles to contract more quickly, giving it the ability to swim faster. Recording sensors suggest that the sharks swim at an average speed of 7kph and can reach maximum speeds of 30kph.

YEARS OF EVOLUTION AHEAD OF US
The great white shark is probably one of the oldest species that we can still see in the ocean today. Earliest ancestors of great white sharks were around 400 million years ago, but whites probably arrived around 60 to 100 million years ago.

ZERO: THE NUMBER OF ACCIDENTS WSDC HAS HAD
WSDC has been operating for 20 years with a 100% safety record. The staff and crew members are well-trained and the company facilities are constantly upgraded to ensure continued growth through customer satisfaction.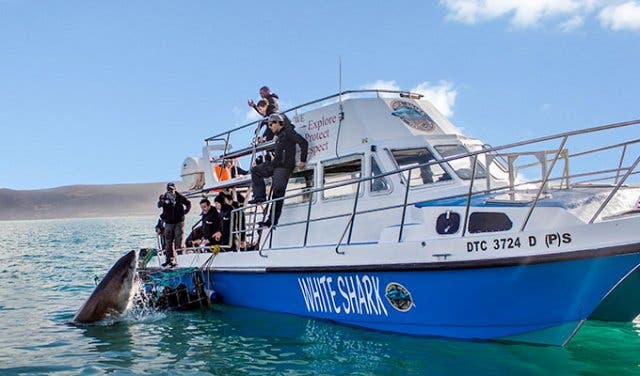 WHITE SHARK DIVING COMPANY
Now that you know all the necessary facts about sharks, book a shark-cage diving or breaching experience with WSDC. It's based in Gansbaai, well-known for its year-round (although May to September are prime viewing months) presence of great white sharks. Meet at Kleinbaai harbour or arrange to be picked up in the Mother City (at an extra cost).

Day tours start early in the morning, as this is the best time to meet the marine masters, and guests are taken by boat (a 12-metre long sea-cabin cruiser catamaran seating maximum 22 passengers) to Dyer Island, a roughly 15-minute boat cruise. Thanks to the thousands of Cape Fur Seals that live and breed on the nearby island, divers are almost always guaranteed to spot the impressive fish from the safety of the submerged steel eight-man floating-cage.

WSDC offers shark-cage diving trips, shark-breaching tours, as well as viewing-only excursions, and everyone on board – no matter if they are in the water or not – is guaranteed a quality shark-viewing experience they'll never forget.
To qualify for a discount, mention CapeTownMagazine.com when booking.
---
Read more about encountering the Atlantic's most ferocious fish in the great white shark capital of the world in our article Great White Shark Cage Diving in Gansbaai with White Shark Diving Company. You can also read more here about White Shark Diving Company's Breaching Tours.
---
Use our events section for an up-to-date overview of happenings in Cape Town. Also, don't forget to subscribe to our newsletter and if you have a smartphone, add m.capetownmagazine.com to your home screen for quick access on the go!
Follow us on Twitter, like us on Facebook, join our Google+ circle, connect with us on LinkedIn, check out our photos on Instagram and follow our Pinterest boards for updates on what's happening in and around the Mother City.