How does your garden grow during water shortage?
Gardeners know all the dirt!
Last Updated: 6 February 2017
Droughts can be devastating but nobody feels the effects more than farmers and gardeners.
Cape Town is experiencing a water shortage crisis – and the rain seems to be on vacation. If you have started making progress with your garden, this crisis will most likely counteract all your hard work because water is vital to the health and nutrition of your garden's soil and produce.
Unfortunately, there can be times during a drought when people are ordered or encouraged to save water, which can make maintaining a garden quite a challenge. However, there are things you can do to keep plants growing when there's not much water.
Here are a few tips on how to have a healthy growing garden during water shortage:
Which type of soil to use
It will be important for you to know what kind of soil you have in your garden. Certain soil types will need watering more often than others so make sure you choose a hearty soil that can withstand long periods without rain. Consult with someone who knows more on the quality of soil like a farmer or a member of the department of agriculture.
Which plants to use
Your choice of plants are essential, and can mean the difference between saving water and going over the restriction limits. Plants that are drought-resistant will withstand the heat with little water better than those that aren't. It will be ideal for you to plant early before the temperatures climb in the summer season. This will give you a head start on growing season and may help plants get passed the delicate seedling stage before local droughts cause damage.

The Arctotis is a lovely groundcover with attractive, dense grey foliage.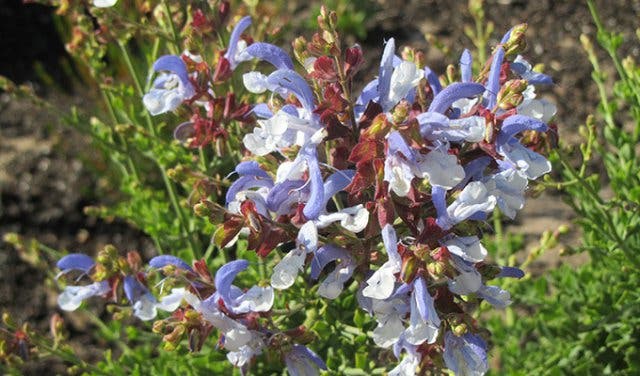 The Salvia Chamelaeagnia is one of the loveliest shrubs for dry areas.
Planning ahead
Plant in smaller amounts or choose plants with a shorter growing season, both of which will require less water. Planting in groups can also provide shade for plant roots, a definite bonus if you need to save water.
Mulch
You may also want to use mulch around your plants. Mulch is decaying leaves, bark, or compost used to enrich or insulate soil. The use of mulch is great at aiding water retention, and is a bonus because it cuts down on weed growth – which competes with your plants for water.
Water methods
When watering, try not to over water your plants. Not only is this not good for the plants, it can waste water, which we cannot afford. It is important to recognise when a plant needs water (yellowing, or wilting leaves), then you may be aware when to water them more efficiently. You can also feel your soil to know when they need water: dry soil needs water and moist soil is fine. If you water your plants deeply, it means you saturating the soil right around the plants to allow for maximum water absorption by the roots. This way you won't have to water your plants as often.
Storing your water
You might want to consider using a rain barrel or a custom-made water storage container for backup during the dry days when restrictions are in place. Bathwater can be used in your garden, or water from your washing machine. The common detergents and soaps used daily shouldn't harm your plants, so don't hesitate to use it.
Gardening during times of water shortage can take a little more planning and care, but it can be done. So planning in advance will give you less stress when the drought hits.
---
Do you have any gardening tricks you use during the drought? Email us your ideas at news@capetownmagazine.com.
---
By Garth Prins
---
Use our events section for an up-to-date overview of happenings in Cape Town. Also, don't forget to subscribe to our newsletter and if you have a smart phone, add m.capetownmagazine.com to your home screen for quick access on the go!
Follow us on Twitter, like us on Facebook, join our Google+ circle, connect with us on LinkedIn, check out our photos on Instagram and follow our Pinterest boards for updates on what's happening in and around the Mother City!