Taste 100 Wines From The Walker Bay Region Here
The Wine Glass in Hermanus, which features 96 regional wines, is also a gastronomic destination
Ever done a horizontal wine tasting? How about a blind tasting? Maybe you'd like to pair that with the firecracker duck or kudu carpaccio. In Hermanus, there's a place just for these types of one-of-a-kind wine and gastronomic experiences. It's called The Wine Glass, a restaurant and wine bar, where you can taste any of their almost 100 wines exclusive to the Walker Bay region.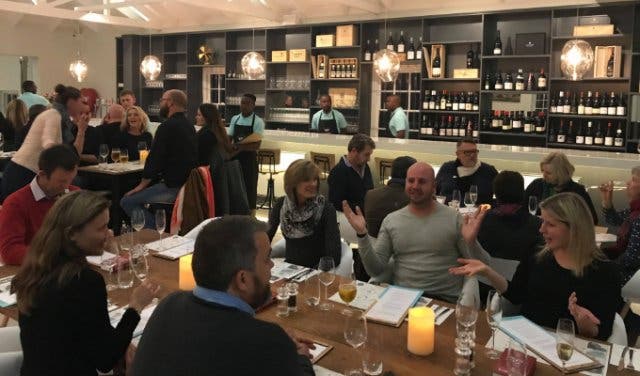 COOL CLIMATE WINES WITH LOCAL CUISINE
This fertile ground for cool climate wines has some of the best farms in the country, in Hemel en Aarde, Botrivier, Stanford, Elim and Agulhas.
The intention of owners Jacques Le Roux, Mark Kahts and Brennan Davis is to showcase all that makes this wine region unique, and by adding local and international cuisine, local craft beer and unique cocktails they have further broadened The Wine Glass' appeal to tourists and locals alike. "We are an extension of the wine farms in the area, so visitors get to experience the whole region in one space, in a tasting by the glass or by the bottle," says Davis.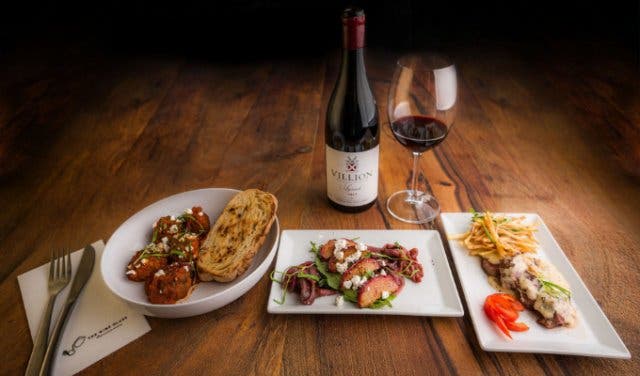 TAKE A PIC IN FRONT OF 96 FLOATING BOTTLES
There are bursts of turquoise (including a piano that doubles as a wine rack), scattered contemporary design elements, like the white Scandinavian-style chairs and the wall of fame of 96 floating bottles at The Wine Glass.
Set in the heart of the historic Old Town it is upmarket, yet unpretentious, a place where friends can meet for early morning coffee, a lazy lunch, a fun celebration dinner or sundowners in the courtyard.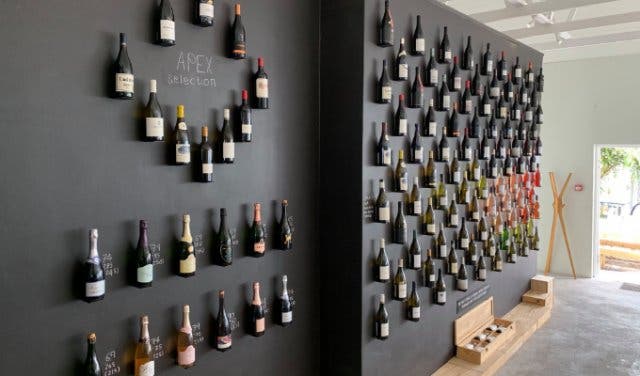 YOU CAN ORDER ALL WINES BY THE GLASS
The Wine Glass has a range of affordable and premium quality wines. White grape varietals such as chardonnay, sauvignon blanc and chenin blanc flourish in the relatively cool climate of the region. Reds like pinot noir, pinotage and shiraz perform excellently as well.

You can try any of them in a tasting, by the glass or bottle, and then purchase a bottle at cellar-door price for take-home, if you choose. "We're the only place where you can have any bottle of wine by the glass and buy a bottle for sit down or take-away if you wanted," says Davis.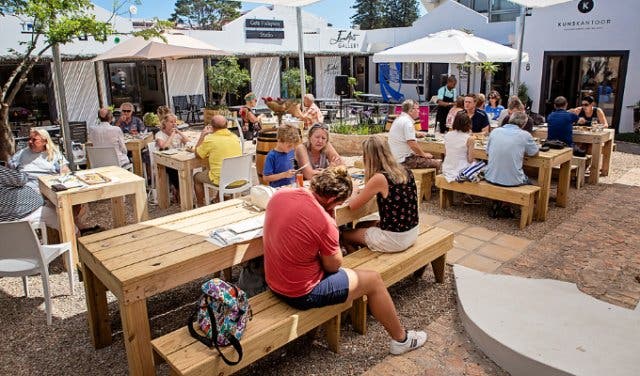 Good to know: The Wine Glass has a world-class wine preservation system. The technology effectively preserves wine without any risk to it's subtle structure by removing the oxygen to a precisely controlled level, The wine-makers themselves enjoy The Wine Glass and keep a close eye on their wines, ensuring that the quality is always maintained.
IT'S A KIND OF OENOLOGICAL TRAVEL
A horizontal tasting lets you taste a range of wines from the same varietal (and vintage). This gives you the opportunity to first taste wines from different estates, before deciding on which ones you'd like to visit. Throughout the tastings, you are guided by friendly and knowledgeable staff and reference material.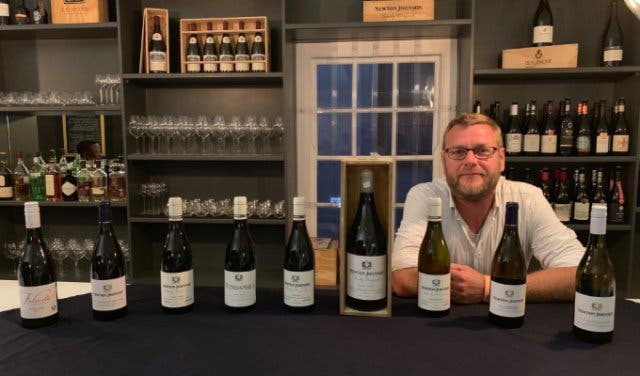 BLIND TASTING IS POPULAR
The tastings are divided into three flights of six wines: lifestyle flight (entry-level pricing), savouring flight (medium-priced, more serious wines) and premium flight (top-end wines). Then there's the Apex Tasting, which features 10 of the best wines in the region.
Something fun to try is the popular blind tasting, where you get to test your palate (and challenge your friends). You have to guess which wine is from which farm, based on the tasting notes provided.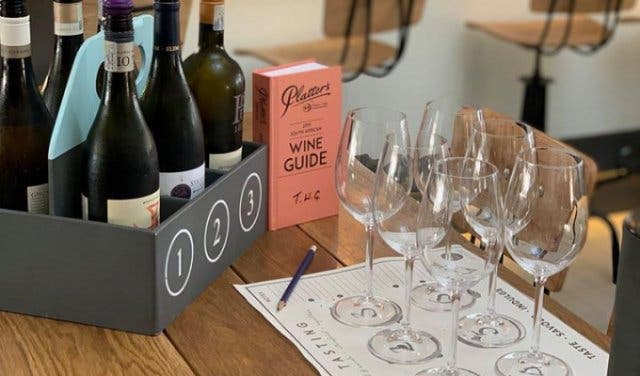 PAIR THE WINE WITH DELICIOUS FOOD
At The Wine Glass, the food and wine is of equal rank and importance. The restaurant serves locally inspired cuisine (with small and big plate options). Top sellers include seafood, such as crayfish, perlemoen and oysters, various mediterranean and asian Chef's Plates, and the South African menu, which features unique regional flavours such as game spring rolls, traditional curries and a cheese and biltong platter.
There are also tasting plates made to share. Ask your waitron what pairs wells with the Moroccan lamb tagine, Cape lamb curry or boquerones.
And don't forget the sweeter side of life, paired with a freshly brewed coffee. Try the summer fruit pavlova, chocolate-orange torte or the Irish coffee panna cotta.
Note: The Wine Glass hosts functions. Give them a call to find out more.
By Daryn Wood
---
Start or end your weekend with The Wine Glass Friday and Sunday specials.
Check out these other wine tastings in Cape Town.
Host your event at these function venues.
Discover Cape Town's hidden gems.

---
Use our events section for an up-to-date overview of what's happening in the city, suburbs and dorpies. Join our newsletter and add us to your mobile home screen for the ultimate guide to discoveries in Cape Town.
Follow and like us on Twitter ❤ Facebook ❤ LinkedIn ❤ Instagram ❤ Pinterest for updates.