The Sneaky Sausage in Shortmarket Street is No More
But something new and exciting opened up in its place
Imagine our surprise when we stopped in to check if the "secret" sign above the secret door at The House Of Machines was on (to indicate whether this hidden sausage spot was open or not), only to find that The Sneaky Sausage has closed down.
The good news, though, is that we discovered a brand-new Argentinean place that opened up here. Check out Picadas, the cosy new spot behind the secret door.
Sneakily situated inside The House of Machines on Shortmarket Street, The Sneaky Sausage brings the German beer hall to Cape Town, by seamlessly combining German staples of beer and sausage.
The Shortmarket haunt is home to many a wurst (sausage): bockwurst - pork sausage; knackwurst - pork sausage with added garlic and thick skin (hence the name which refers to the sound); bratwurst - a pale in colour pork sausage with some extra flavour: the sausage is poached in And Union beer with added onion. If that doesn't say YUM, I don't know what does!
The Sneaky Sausage offers a variety of pork sausages as well as a vegetarian and vegan alternative from Noble Ways Food and Frankie Fenner Meat Merchants. In addition to the juicy, meaty delights, the eatery also offers some tasty battered and deep-fried foods, which can be an extra to the wurst or ordered on their own. Think risotto balls, potato and sweet potato fries and my favourite: jalapeno wontons. This slightly spicy treat resembles a popper with bits of jalapeno mixed in creamed cheese and fried to crispy perfection in a fortune cookie fashion, served with The Sneaky Sausage homemade aioli.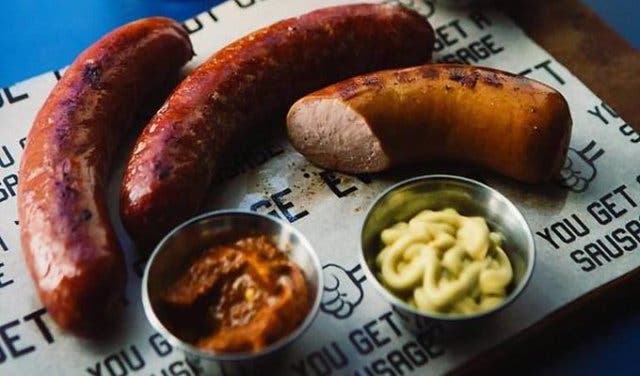 For the less pork-enthusiastic, The Sneaky Sausage also offers a variety of salads including the green quinoa salad, the spicy butternut and kale salad, as well as the mushroom and barley salad.
The German beer hall was used as inspiration for the use of large European tables, encouraging patrons to purchase a couple of things and taste one another's selection. The menu offerings makes it quite ideal to share. The establishment features a sleek blue, white and red interior. "We took a lot of inspiration from the old And Union in Bree Street," says Operations Manager Monique Tonsing. "We used the same tiling from the floors of And Union on our bar, to keep it familiar".
The tongue-in-cheek eatery plays on the naughty but nice. "It's a place where you can come and let your hair down", says Monique.
Start your First Thursdays at The Sneaky Sausage where a currywurst stand awaits. As in Germany, the stand is situated outside the hash house bringing the German street food to the streets of Cape Town. On First Thursdays the entire menu is available upstairs, except for the currywurst, encouraging patrons to mingle outside before venturing off to the madness of the monthly rendezvous.
On a weekly basis, The Sneaky Sausage offers Sneaky Sippings every Tuesday between 6pm and 7:30pm where wineries can showcase their wines. Winemakers are welcome to come in and offer tastings to patrons. The featured wine will then become the wine of the week at The Sneaky Sausage. Booking for this event is essential as the intimate space can only accommodate for 20 to 25 people.
Tip: Bookings are only available to groups of 10 or more, except for the Tuesday event of Sneaky Sippings. The space is also available for hire.
Note: The Sneaky Sausage will also be bringing home-cooked dishes back to their kitchens come the winter months. Think macaroni and cheese, soup, stew, with added wurst or sausage served on the side!
The Bill: Currywurst: R50 - R60 | Grilled Sausage Selection: R25 - R60 | Battered and deep-fried sides: R25 - R55 | Sneaky Salads: R50 - R75 | And Union Beer: R38 - R50 | Wine: R40 - R60 per glass | Dessert: R35
84 Shortmarket Street | City Centre | +27(0)21 426 1759
---
By Marian Volkwyn | Video credit: Josh Oates
---
ABOUT #CapeTownMagNew:
#CapeTownMagNew is a long-standing project that is dedicated to discovering exciting new places in and around our pretty city. We tell their stories, find out what they offer, and delve into what makes them unique. From cafés and restaurants to trampoline parks and dog hotels, there is always one new place in the city that we uncover each week. You can follow #CapeTownMagNew on Twitter and Facebook and subscribe to our newsletter to track recent features or read more here about more Hot Spots and New Restaurants in Cape Town and Surrounds.
DISCOVER OTHER EXCITING NEW SPOTS IN THE CITY:
The Raptor Room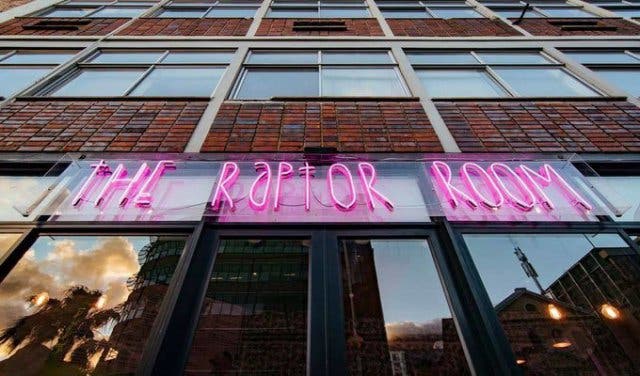 STAY TUNED AND SUBSCRIBE TO OUR NEWSLETTER FOR MORE INFORMATION
---
The Mother City is fast developing so to keep you clued up; we've rounded up some of the hottest latest additions to Cape Town in our New Restaurants and Hot Spots overview. Discover it
---
Use our events section for an up-to-date overview of happenings in Cape Town. Also, don't forget to subscribe to our newsletter and if you have a smartphone, add m.capetownmagazine.com to your home screen for quick access on the go! Follow us on Twitter, like us on Facebook, join our Google+ circle, connect with us on LinkedIn, check out our photos on Instagram and follow our Pinterest boards for updates on what's happening in and around the Mother City