Mojo Market in Sea Point
Mojo Market, the trendy new addition to Regent Street in Sea Point
With the Sea Point lifestyle already being hip and happening, the new Mojo Market, located at the ground floor level of the Mojo Hotel, brings more culture to the seaside suburb. Boasting more than 80 stalls, which include 45 designer retail stalls, 20 food vendors, 2 bars, a daily fresh food market, a live entertainment stage and a wellness zone, and open to the public 7 days a week, this market is set to become Cape Town's hottest spot.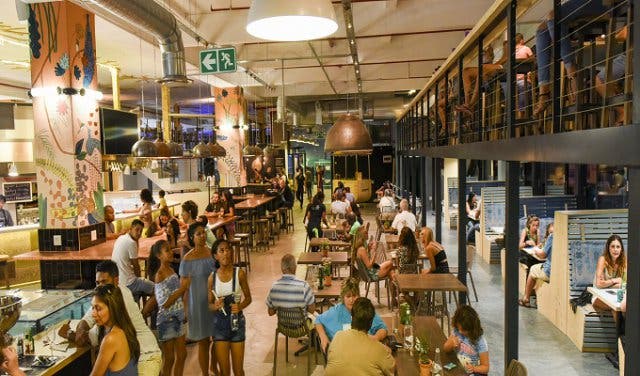 Owners of the Mojo Hotel, and now, the new addition to the hotel and Sea Pointers in general, Graeme Robinson, Robbie Lessem and Tara Lerner, sought to offer their hotel guests an added experience to their leisurely stay, while also offering the community a unique new space to unwind. Co-owner Robbie says that the concept of the market was inspired by some of the world's great city markets, but due to Cape Town's high supply of farmers markets, Robbie reiterates "it [Mojo Market] isn't a farmers market, it has the energy of the city." Upon our visit to the lifestyle joint, we noticed that not only does it have the energy of the city, but the market blends all sorts from local to foreign, oyster-obsessed to grub lover, the Mojo Market creates a unique versatile vibe that can be ideal for catch ups with friends to romantic dates.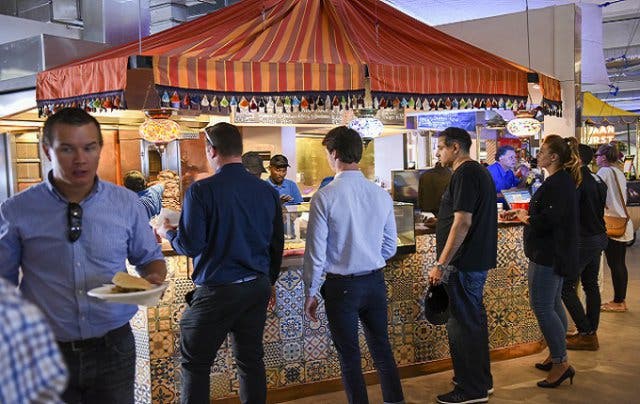 The space contains globally infused food offerings from a variety of fresh and health vendors like Beet Box to exotic dishes from all around the world. Think Manga Sushi, Kubu African Grill, The Mussel Monger, Argies Argentinian Grill, Te Awesome Tea, The Candy Shoppe, IYO Burger, Chilo, Hokey Poke, Cape Point Bakery and everything in between. The offerings represent the Mojo Market clientele - any person from any part of the world, with any adventurous palate.
Looking around the space, the Mojo Market's seating area overlooks picturesque palm tree views of the Pavilion Pools and the Sea Point Promenade, giving the space a romantic look and feel, especially if visiting around the time the sun sets over the Atlantic seaboard. The live entertainment area makes for an ideal chill sesh with a couple of mates, a couple of craft beers, and some jamming tunes by some of Cape Town's finest musos.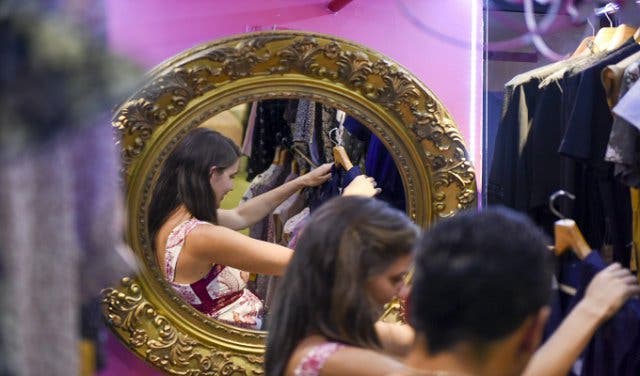 Not only does this Sea Point social hub offer great food options, but also retail vendors for the tourist visitors looking to stock up on some unique Cape Town souvenirs, and for locals to find contemporary wares. Mojo Market offers everything from clothes to accessories to homeware. Vendors include Flock Clothing, Sexy Bum Bikinis, Shika Clothing, Natasha Collins Jewellery, Henna Art & Beauty, Afrikanus/XYZero, Just a Rumour Jewellery, Totecraft, Vanilla Tree Clothing, Natasha Wood & Lulipulani, Modern and Tribal, Kwaai Gallery, Janet Dobie Womanswear and many more. Of Red Rum Fame, a creative hair salon for woman also provide a new barber experience for men, called Blades and Bones, to keep your looking your best throughout the Mojo experience.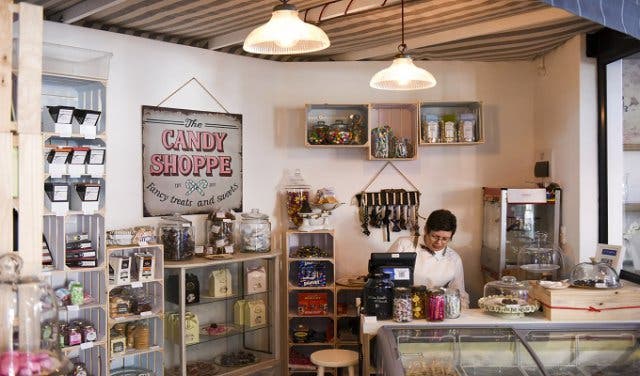 Tip: Mojo Market also caters to the coffaholic or the student who needs that coffee fix to push them through the night by offering 24-hour coffee at The Mojo Coffee Collective, where the best of the Cape's roasters will be served. Selected vendors plan to further extend their hours too.
Note: The long awaited Baskin-Robbins will also open it's door at this Sea Point hotspot in the near future.
Opening Times: Food stalls: Summer: Monday – Sunday: 10am – 10pm | Winter: Monday – Sunday: 10am – 9pm
34 Regent Road | Sea Point
---
By Marian Volkwyn
---
ABOUT #CapeTownMagNew:
#CapeTownMagNew is a long-standing project that is dedicated to discovering exciting new places in and around our pretty city. We tell their stories, find out what they offer, and delve into what makes them unique. From cafés and restaurants to trampoline parks and dog hotels, there is always one new place in the city that we uncover each week. You can follow #CapeTownMagNew on Twitter and Facebook and subscribe to our newsletter to track recent features or read more here about more Hot Spots and New Restaurants in Cape Town and Surrounds.
DISCOVER OTHER EXCITING NEW SPOTS IN THE CITY:
---
Picnic on the lawns to the sounds of jazz at the Kirstenbosch Craft & Food market.
2019 markets update: And from the market named after a dog to a slow market in Langa, there's lots to see at these City of Cape Town markets. We've also curated outstanding and out of town markets worth travelling for.
---
Use our events section for an up-to-date overview of happenings in Cape Town. Also, don't forget to subscribe to our newsletter.
Follow us on Twitter, like us on Facebook, connect with us on LinkedIn, check out our photos on Instagram and follow our Pinterest boards for updates on what's happening in and around the Mother City